The fall has come, and as Old Man Winter rears its head, COVID-19 is not dissipating. In fact, it's seemingly spreading faster than ever, creating major challenges at nursing homes, filling up hospital beds and closing schools.
Nicollet County has not been an exception, and Public Health staff is responding aggressively.
On Nov. 17, the county pursued its most enterprising step yet, hosting a COVID-19 testing event at the St. Peter Community Center. Public Health staff, led by Director Cassandra Sassenberg, along with Jody Fischenich and Bree Allen, organized an efficient and pandemic-safe makeshift test site in the gym, allowing for social distancing, as nurses administered nasal swab tests to interested participants.
The team was hoping to administer at least 600 tests and finished with 686. They won't know the results until a few days after.
"Locally, the last couple weeks, the cases have really surged," Sassenberg said. "Not just the number of cases, but the amount of time people are spending with each other is really increasing. People are spending more time indoors with family and friends."
As of Nov. 17, Nicollet County had reported 1,245 positive cases, including 22 deaths. Among those deaths, eight were in the 90-99 age range, six from 80-89, four in 70-79, two in 60-69 and two in 50-59.
Sassenberg noted that when they find positive tests and work on contact tracing, it's not uncommon now to quarantine up to 20 individuals or even more. This is an increase from the earlier months of the pandemic, and it indicates people are experiencing pandemic fatigue and are venturing out more. However, as cases continue to rocket upward (more than 6,000 new confirmed daily in Minnesota), and hospitals and nursing homes become overwhelmed, it's bad timing for residents to break safe habits.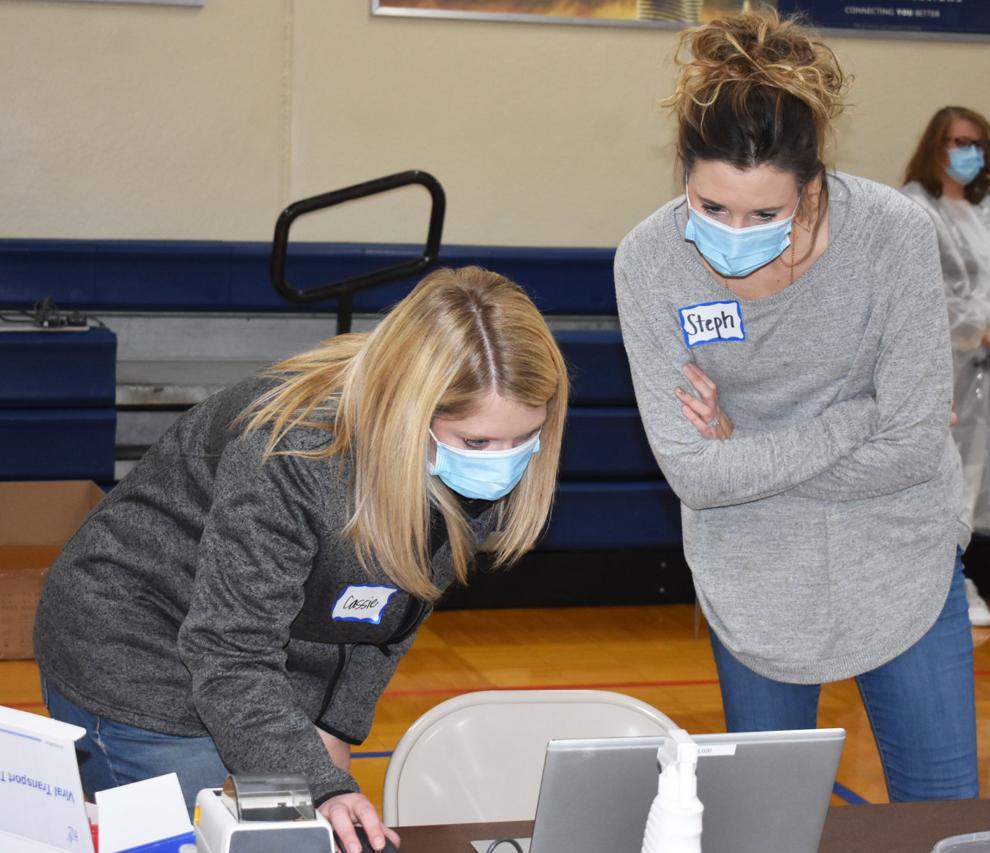 "We know our local hospitals are busier," Sassenberg said. "And it's not just been older residents; there has been a wider spread of age."
The good news, though, Sassenberg said, is that community members continue to respond loudly to preventative actions, such as the testing event in St. Peter. She said people were "really eager to participate" and also helped with outreach, spreading the word to others.
Sassenberg also pointed out the positive relationships Public Health has had with community partners. A number of school districts have recently switched their learning models to help reduce potential spread, including St. Peter, which switched to distance learning only, likely until at least early January.
"Our communication and partnerships within this community have been strengths for us," Sassenberg said. "Regular communication with long-term care, hospitals, schools. We haven't ran into partners who haven't engaged."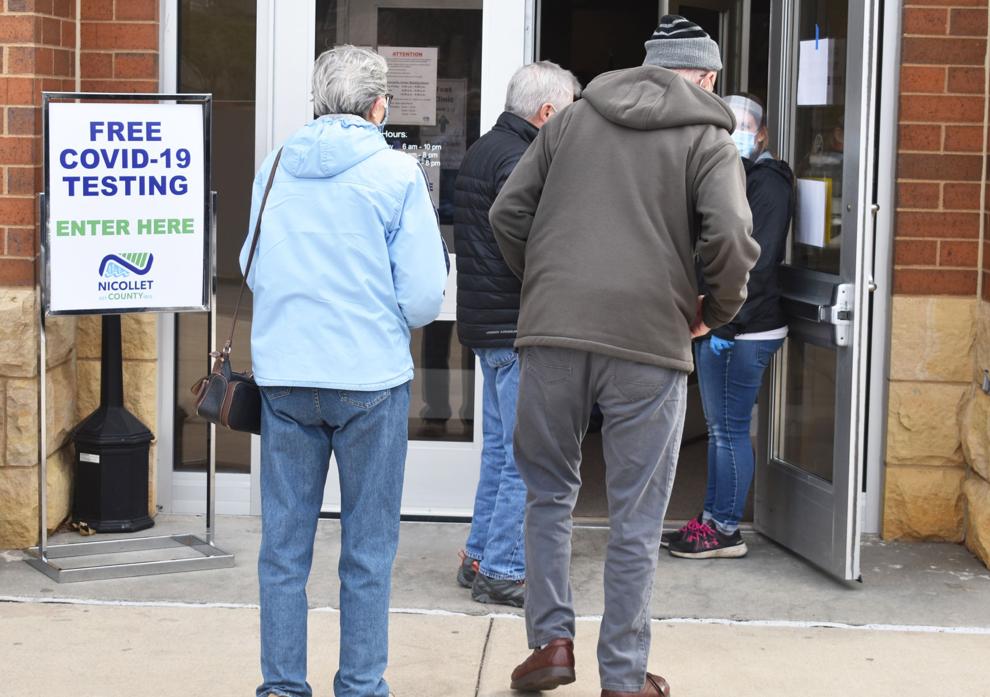 The purpose of a testing event in a community like St. Peter is to get as many people informed on their own status as possible. Public health workers everywhere are consistently finding positive tests in asymptomatic individuals.
People without symptoms wouldn't be aware they have the virus, and therefore may be more likely to interact with a larger subset of people. The virus then spreads, and eventually people more vulnerable end up with the disease.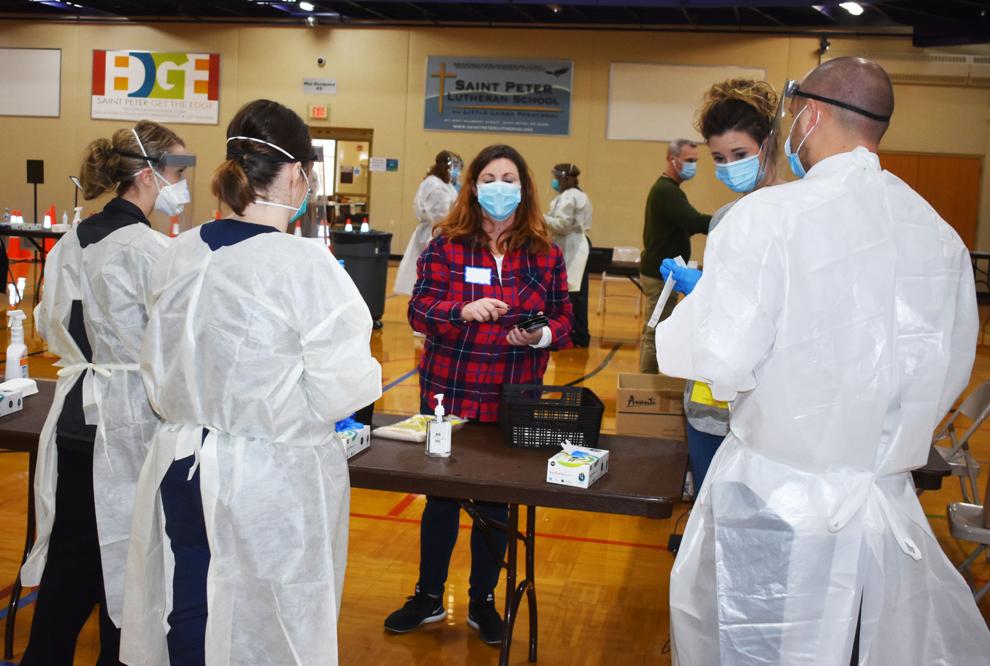 If more people know their positive or negative status, then the county can do more contact tracing, get more people quarantined, and those individuals who are positive can take immediate precautions to avoid spreading the virus. This is especially important as major holidays approach.
"Particularly, if we're catching people who are asymptomatic or have mild symptoms, we can help them identify who else they might've spread it to, and we can encourage them to stay home," Sassenberg said. "More people not interacting with so many others, especially during the holiday season, can really lessen the spread."
Fischenich, who serves as the disease prevention and control coordinator for Nicollet County, explained how the Nov. 17 event was set up. Participants entered and were asked if they had registered online; if not, they were sent to do a computer station to do so; if they had, they were put in the testing line. In the testing line, there is one more check, so organizers can mark that the person showed up for the test and give them a label to go with their test. Then the participant heads to one of the nurses to have a nasal swab sample taken. At each table, one nurse takes the swabs, while another handles all of the used and contaminated materials.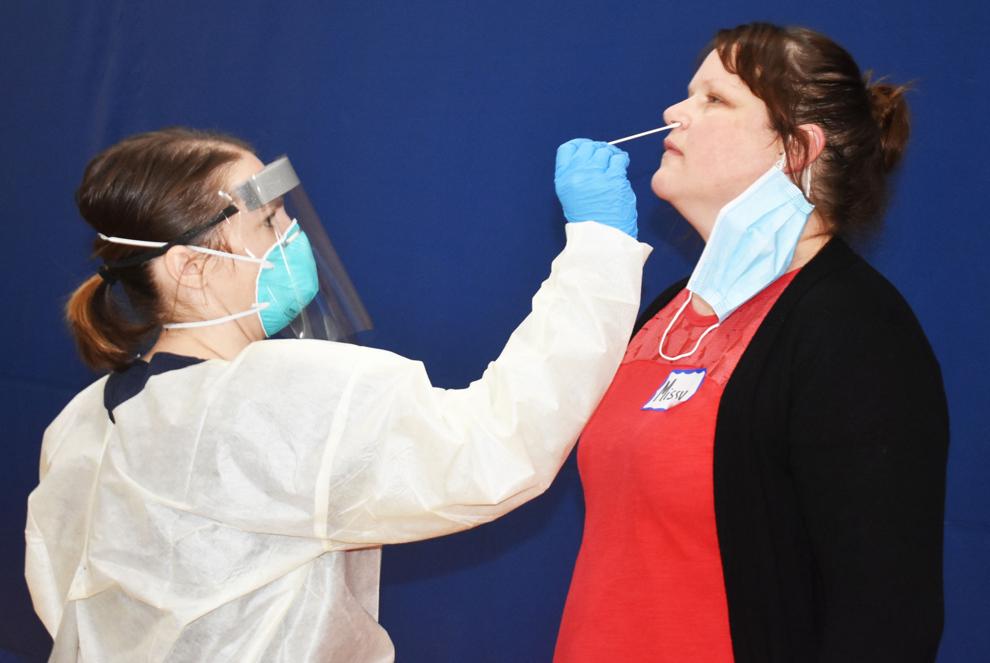 "The model has been used throughout the state," Fischenich said.
A bit after 11:30 a.m., the team started welcoming in the first participants, who had arrived before the noon scheduled start time. The first in line was Pat Stoll. She wasn't experiencing any COVID-19 symptoms but wanted to be sure of her status.
"I tested several times while I was working, but now I'm retired, so I just thought I'd check again," she said.
Asked what concerns her during this pandemic, Stoll had a simple response.
"Getting it," she said. "Being around my family, which I haven't been recently. That's been hard."
She noted that getting a negative result back "certainly" offers her reassurance and a sense of calm as the virus continues to spread. Stoll felt the testing event in St. Peter offered a level of convenience, as did Kayla Donahue Lee, who also joined the line to get tested.
"I am a health care worker, and I have to get tested twice a week. Typically, I get tested in Mankato, but today I have a patient here, and since I live here, I'm testing here," Donahue Lee said. "I think these events are great. I think they are needed in the community. So far, there has been a lack of resources to get people tested, so I think it's great the community is providing this at no cost."
As a member of the medical community herself, Donahue Lee expressed firm belief that testing can make a difference in preventing spread.
"It absolutely can, as long as your following the guidelines," she said. "If you're testing positive, you might be asymptomatic, and staying home is going to help prevent the spread to people who are going to be symptomatic and possible have bigger issues."
Before the testing event at the Community Center, Nicollet County led a testing event at Gustavus Adolphus College for the students and staff there. The team was able to process 1,365 tests on a six-hour day Nov. 13. The impetus for the testing was a recent increase in cases at the college, but the results returned were actually quite hopeful.
According to the Minnesota Department of Health, about 7.5% to 11.5% of tests usually come back positive from college testing events across the state. But Gustavus' positivity rate was only 1.5%, or about 20 positive cases in all.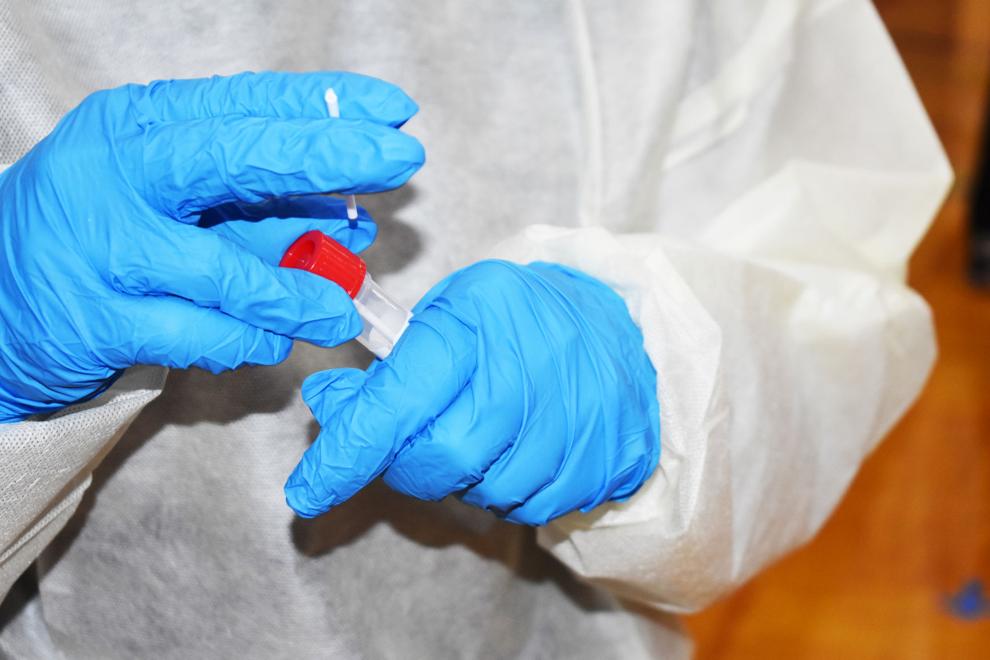 "We were expecting maybe 10%," Nicollet County's Fischenich said. "That was pretty exciting. Gustavus has taken a lot of steps with contact tracing and quarantining, and that work has paid off."
The reason Public Health staff is encouraged by those results is that it indicates strict actions and procedures can help limit the spread. But it won't mean anything if health workers don't continue to send the message of continued caution to those on the Gustavus campus and beyond.
"The low numbers means the actions we're taking are working, but it's a matter of still communicating the messages," Fischenich said. "We're looking at ways to keep going with that partnership with Gustavus. We have tests leftover and we're talking about strategically the best time to test again."
The two testing events in St. Peter were well timed, according to organizers, with major holidays coming up, and with them, potential gatherings. If more people know they are positive and more contact tracing can be done, it might help prevent interactions that could lead to more unwanted statistics.
"Many people who have tested positive are people who thought they were being very careful," Sassenberg said. "You really can't be as sure as you think you can."