The hope for Shoreland Country Club General Manager Jason Harrell, and his new head chef Jason Keuhl, is that the club's new restaurant will be a good option for a quick lunch but also for a special night out.
"The goal is to be a place for an affordable meal after your round, but also be the first place for your anniversary," said Harrell.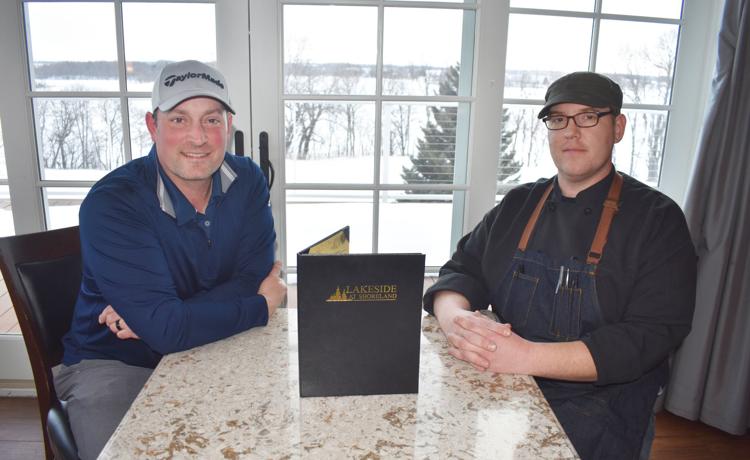 Lakeside at Shoreland is the new in-house restaurant on the ground, and it's currently open with limited hours. Replacing The Woods, an outside-owned restaurant that leased the space at Shoreland for six years, Lakeside brings a new menu and a new philosophy.
"The beauty of this place is something we want to take advantage of," Keuhl said of the space, which sits at the top of a hill, overlooking the golf course and Lake Emily. "Something lacking in southern Minnesota is upscale dining. For my cooking, I like to do things from scratch when possible; I feel that is also lacking in the area."
He continued, "At the same time, we have our regulars and locals, so I can cook a nice piece of halibut but also get you a burger and fries."
Keuhl is a St. Peter native, who returned to town recently. He went to culinary school at South Central College in North Mankato, before he started a career in different chef capacities. He worked at Travail Kitchen and Amusements in the Twin Cities and also at Pig Ate My Pizza. His most prominent experience was as the executive chef on a 26-member crew at Resurrection in Seward, Alaska.
He and his wife, Jackie, decided it was time to move back to St. Peter with their two kids in tow. He eventually met Harrell, and the two decided to work together, as the space at Shoreland opened up.
"St. Peter has always been my home, even when I was in Alaska," Keuhl said. "On top of that, this facility has potential just screaming out of it. If we get the right people here with the right food that we have already, nothing can really stop us."
The new menu at Lakeside varies from standard fare to something a bit more refined. You can get the halibut, which comes pan seared with brown butter and bruschetta, plus risotto and a vegetable, or you can get a standard burger with bacon and cheese. On the starters page, you can try the clams, served in a broth with lemons and bread, or you can go with the chicken strip basket and waffle fries.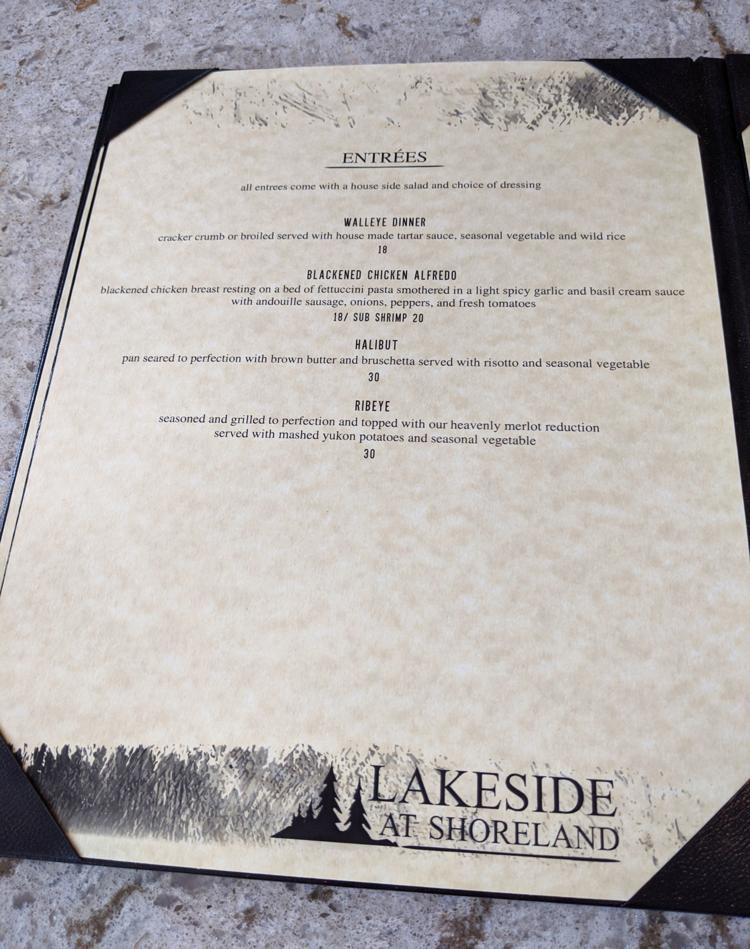 The menu is at a starting point and will continue to expand — Keuhl mentioned Thai, Caribbean and authentic Mexican as potential additions — as the restaurant expands its hours. But beyond the variety, Keuhl is excited to already offer what he believes are high quality versions of some of the standards.
"One thing I am extremely proud of is that we have an excellent rib-eye steak on the menu," he said. "A pet peeve of my father and I is 'Where can you go for a good steak?' We get our rib-eye steak from Black Canyon Angus Beef in Wisconsin. I could've went with a cheaper steak, but there steak tastes the way I want it to."
Keuhl also noted the cheese plate, which offers a rotating selection of locally sourced cheeses, plus accouterments like house made pickles and candied nuts.
New direction
After six years in the space, The Woods owner Rick Prososki requested to be released from his lease in the Shoreland space a year early. The Shoreland Recreational Cooperative Board granted his request and decided to take advantage of the opportunity to offer an in-house food and beverage operation.
"We are excited in the future of the clubhouse operation and look forward to bringing a wonderful experience to all who visit Shoreland for years to come," stated a letter from the board to shareholders in August 2019.
As general manager, Harrell is now overseeing the restaurant, like he does with the grounds. Harrell has been around for seven years, but he's never had the opportunity to oversee an in-house restaurant; before The Woods, the space was leased to the owner of Kokomo's Bar and Grill, and before that, it was the owner of Whiskey River.
"I have been a general manager at other courses, and the restaurants were in-house there," Harrell said. "That situation, where food and beverage is outsourced, is unique in the golf industry."
Running the restaurant means Shoreland is on the hook for costs, but Harrell said "… when you see the potential, I see a lot more positives." He added, "I've been looking forward to the opportunity since I took the job. Being able to do the complete customer service project, having it all under one umbrella, it works well."
Harrell and Keuhl said they've received a lot of positive feedback so far, with only small critiques on what they could do better. While the space itself may look similar to what customers have seen in the last six years, Harrell and Keuhl say Lakeside is a completely new offering.
"We're hoping we fill a lot of food needs, along with being kind of that social center of this area," Harrell said. "Our golfing community is extremely active. Whether you're out here for just a drink or a round, we want you to be comfortable and be able to enjoy all the views. There is food on this menu that you don't see elsewhere in this area, and that's what I'm most proud of."
Keuhl added, "I want to be know as a dining destination in southern Minnesota, a place that people say 'You have to come out.'"