The newest downtown business in St. Peter should be music to the ears of many residents.
Eric Ouren, a resident of Kasota and a former art teacher at Bethany Lutheran College in Mankato, has moved what was a very small shop in North Mankato to a larger space in the Four Seasons Mall off Minnesota Avenue in St. Peter. The store, Ouren Instruments, sells handmade and/or vintage refurbished wood string instruments, including guitars, banjos, mandolins, violins and more.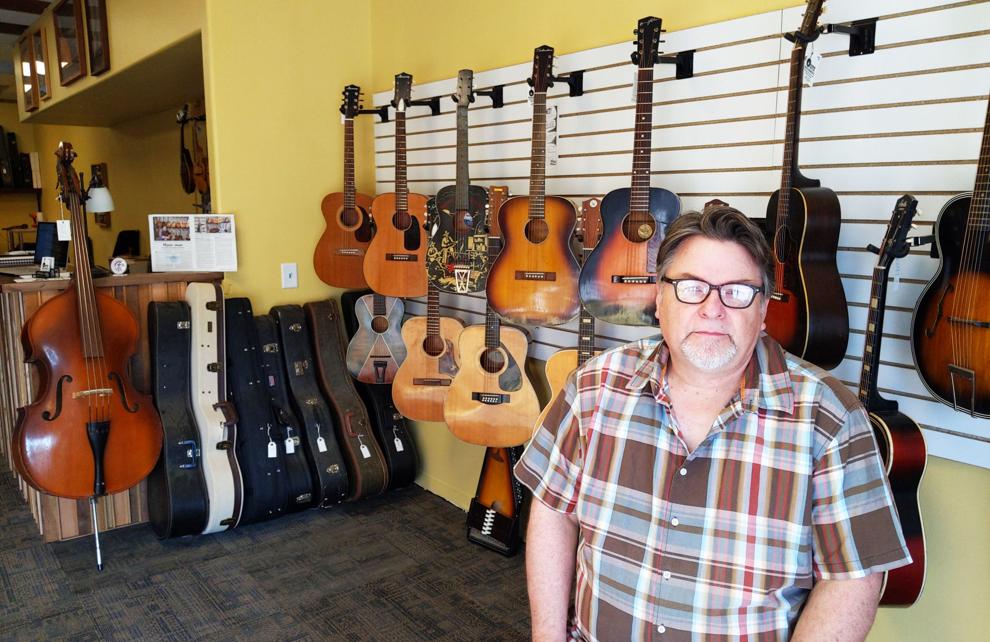 "I've never been a big player of instruments, but I've always enjoyed the idea of a constructed thing that made music," Ouren said. "When I was a kid, the strings went flying off my guitar, because I had put steel strings on a nylon guitar, and it ruined the guitar. It was one of those things where you peer inside your guitar and go 'This is such a waste.' I could repair it now, but I couldn't then."
At Bethany, Ouren taught a variety of classes, but one of his interests was sculpting. And it was from there, that he developed an interest in instruments.
"When I was doing sculpting, I was carving life-size figures, and they were so heavy to move, so I carved one out and made it hollow," he said. "That made me think of violins, so I made this violin; it's just this hollow thing with strings that sings. That was around 2005."
He continued, "I started making more, and I basically did it lumberjack style. You find whatever you can that's going to make noise and put it together. That's from the 19th century when the lumberjacks were in the woods, and they'd make interesting instruments from this, that and the other thing.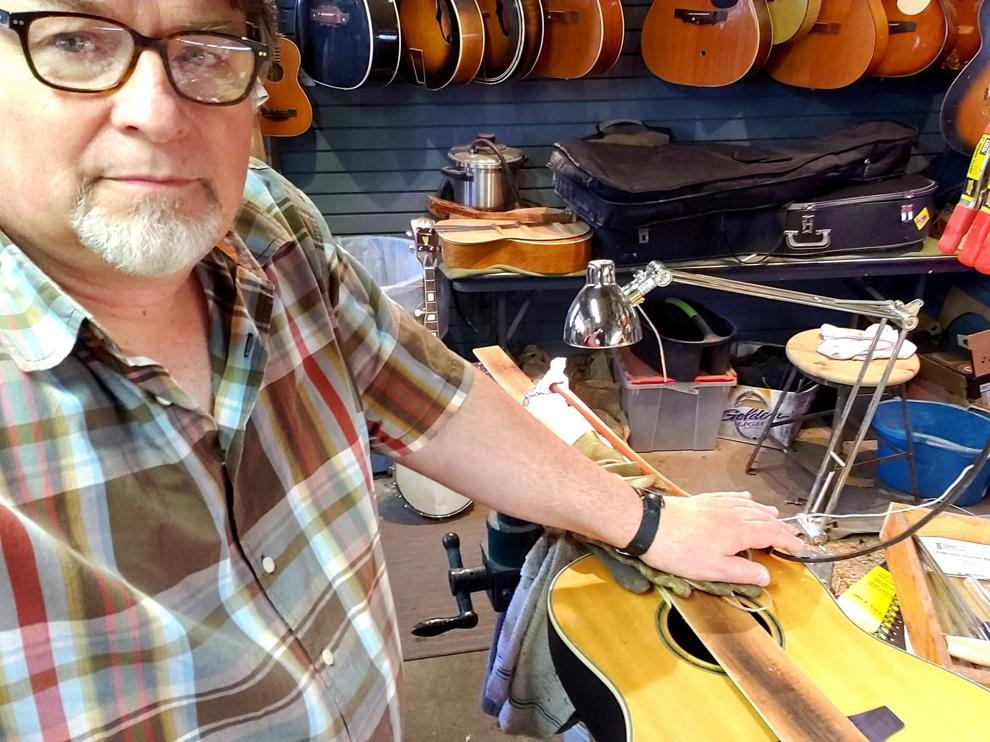 "I started making banjos after that in about 2014. And after I got laid off (at Bethan), I thought 'I should learn how to repair guitars and other instruments and keep doing this full-time.' I went and did the guitar repair program at Minnesota State Southeast In Red Wing — that's a world renowned program there. That was just two years ago."
Then Ouren set up shop in North Mankato, selling and repairing. His shop was in a 10-foot by 10-foot space off of an alley. He wanted the store to grow, so that situation wasn't ideal, especially during pandemic times, as he would literally have to step out of the shop to allow someone else in.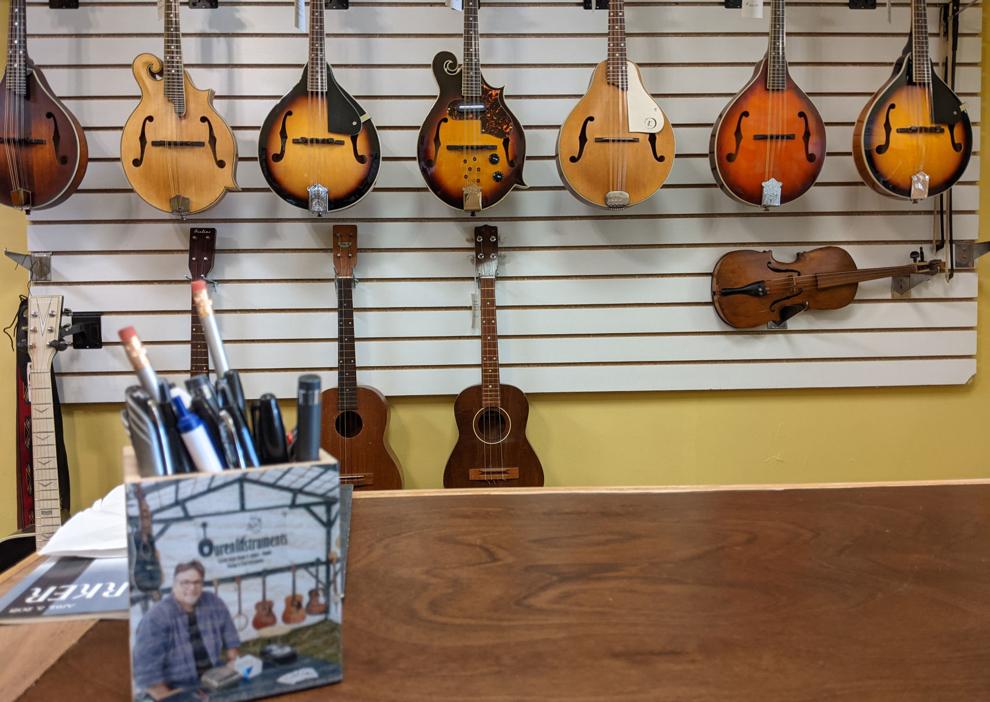 The store in St. Peter is much more spacious — large enough, in fact, that Ouren would like to have music lessons in the building at some point. For now, though, he just has his handmade banjos and vintage refurbished guitars and mandolins lining the walls.
If a customer comes in, they can expect to find an instrument, at a price comparable to a standard mass produced option, but something more akin to a work of art. Many of his guitars, for instance, were made in Chicago from the late 19th century to the early 20th century — Harmony, Kay, etc. He takes those old instruments, brings them back to top condition, often with neck resets or partial refrets, and turns them back to his customers. Or, as in the case for most of his banjos, he makes them from scratch.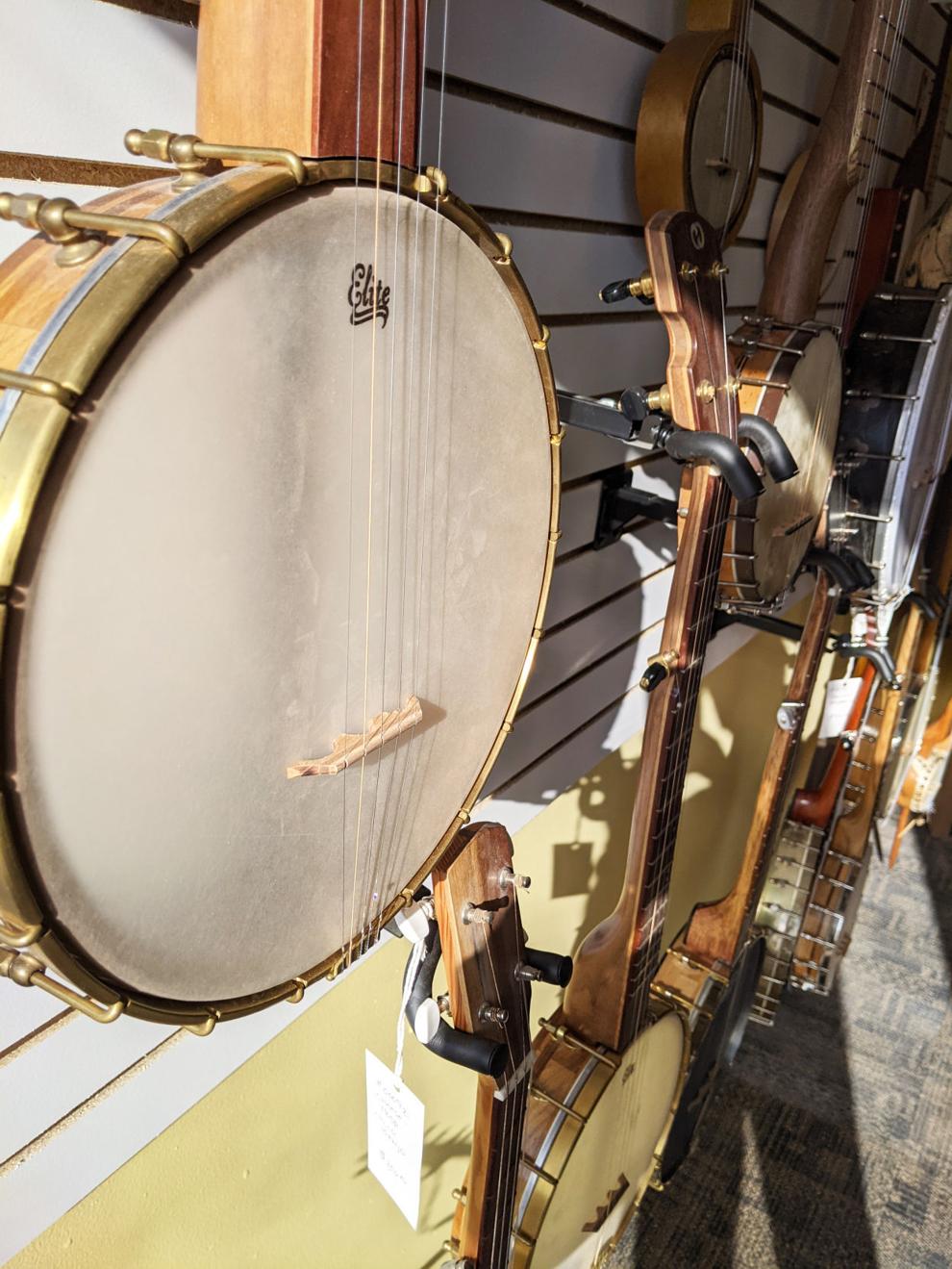 "The best part, for me, is to take an instrument that would otherwise have gotten thrown away and bring it back to life," Ouren said. "The other best part is that it goes to somebody who really like how it sounds, and then they can make music and that makes them happy."