Ten years ago, you could have visited all the wineries and breweries in southern Minnesota in a day.
Today, that task is simply out of the question.
There are a plethora of breweries/wineries/distilleries, within a short drive from anywhere. It's a good time to be one who enjoys the occasional cocktail. Summing it up, locally, we have a proud, strong, growing and stable collection of wineries and breweries to keep us cheerful.
We have a long list of venues to visit in Southern Minnesota, and here's a little guide through just some of them.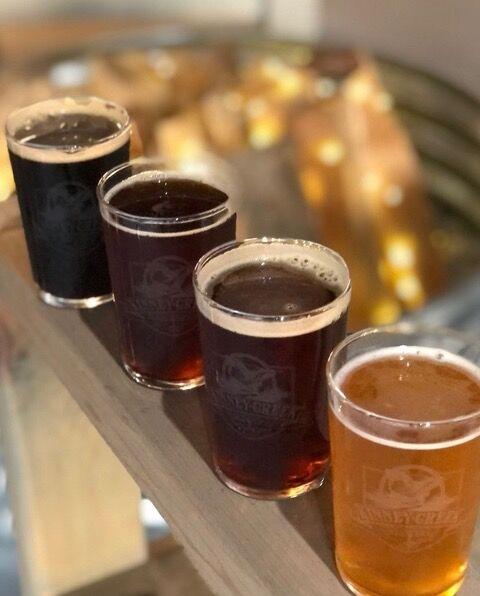 Owner and Head Brewer Donovan Seitz celebrates his 10th anniversary at Kinney Creek Brewery.
"Being Rochester's first craft brewery since Prohibition, we strive to create a welcoming and entertaining environment for our guests," said Seitz.
The venue boasts more than 40 tap lines, with 14 craft beers and 26 hard seltzers, all fire-brewed on Seitz's nano production system. Aside from keeping the customers hydrated, there are also several games for guests to play, from giant Jenga to shuffleboard. The patio space is dog friendly and is a great spot to enjoy one of several outdoor fire pits on those summer evenings.
Kinney Creek Brewery observes its 8th Annual Picks n' Pints event on July 2. This is a free event, held on the front patio, with drinks, music, games and more.
"We aspire to bring as many local aspects to our event as we can, from musicians and artists to food trucks and sound systems," Seitz explained.
On Mondays and Thursdays, the venue offers happy hour from 4-6 p.m. - with BOGO 50% off pints. On Tuesdays, all growler refills are half-off. Every Wednesday is 2 Pints + 1 Pizza for $22 and Trivia starting at 7 p.m. There is live music for guests to enjoy, on Fridays and Saturdays. Along with fire-brewed craft beer and hard seltzers, Seitz also sells several apparel options, coozies, pints glasses, tackers and more.
SOUTH BY SOUTHEAST MINNESOTA BREWING COMPANY
Co-owners Ann Fahy-Gust & Tessa Leung have operated South by SouthEast Minnesota Brewing Company (SxSE for short) in Pine Island since September 2020. The ladies offer a full-taproom with cheese, meats, pretzels, crackers and BB's frozen pizza that guests can bake to order. They stock a local craft soda (Northern Soda), as well as an assortment of shandies or radlers (depending on the time of the year).
"We also have 3 acres of outdoor space that has a Rainbow play system for children. We are pet friendly outdoors, and there is even a mown path that connects us to the Douglas Trail," said Leung. "We have food trucks, comedy shows, bingo, and some live music starting this year too! Watch our Facebook page to see when these occur."
Some of the fun things to do at SxSE include enjoying a monthly special beer release called the Scenic Series. Kids can play outside and run around while parents relax. The venue has a tent in the vineyard that can accommodate private events; and host comedy shows and live music. SxSE also sells pints, t-shirts, thermal mugs, stickers, coffee with our proprietary blend from Trail Creek Coffee Roasters, crowlers and growlers.
"We are a women-owned business, with a female master brewer. We are a near-zero waste brewery and we pride ourselves on providing a comfortable, cozy place where even if you don't know craft beer, we can help you find something you like. There is a beer right here for everybody," said Leung.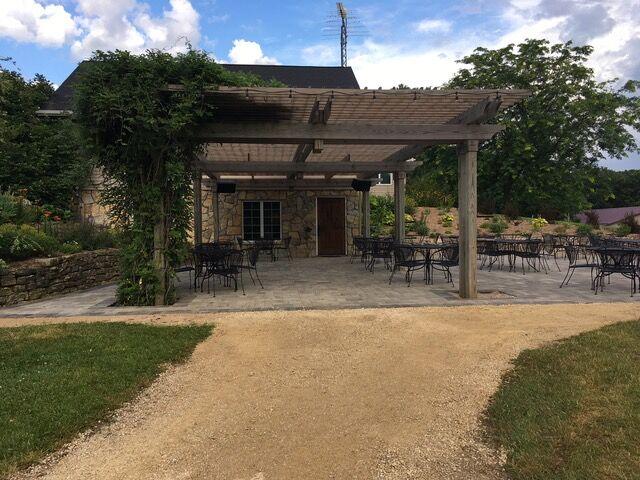 Entering their 13th season at Whitewater Wines in Plainview, Eric and Wanda Hanlon offer more than 30 wines for tasting, and they range from dry to sweet; in red, white, and blush. To better guide people through the extensive wine lists, the Hanlons provide wine flights specific to people's palates; dry reds, dry red and whites, semi-sweet wines, etc. People can also purchase wine to drink by the glass or by the bottle.
"We offer a limited food menu of cheese, summer sausage and smoked salmon, however, we welcome people to bring in their own food," said Wanda.
The property is rural on the bluffs of the Whitewater River. It boasts a two-acre prairie planting with mown walking trails throughout, along with 15 acres of woods also with groomed walking trails encompassing. Eric and Wanda host live, outdoor music events on Saturday evenings from 7-9, for the eight Saturdays between July 4 weekend and Labor Day weekend.
In addition to tasting/drinking wine, the premises has a very large mown area with picnic tables, where people hang out, often playing yard games or flying kites. Whitewater State Park is circa 10 miles down the road; for hikers, and Plainview has recently opened a few boutique shops for folks to enjoy.
"We have complimentary bottles of water for everyone, and a few soda types for sale as a non-alcoholic option. We have a small merchandise corner with wine-related items," Eric said.
The Hanlons moved from PA and purchased the property 26 years ago, with the plan to start a winery. They planted a small vineyard at the time and learned everything they could about growing cold, hardy grapes and making wine from them. They opened their doors to the public in 2010, and in 2021 they celebrated Eric's retirement from the day job.
"We would be remiss if we didn't mention our fantastic staff. They all do a great job of engaging with our customers and of learning as much as they can about our wines to order, to answer customer questions, and to just offer information. They truly create the experience we want our customers to have when visiting Whitewater Wines. We are very much looking forward to our first season as sole, winery owners," said the Hanlons.
ASPELUND WINERY AND PEONY GARDENS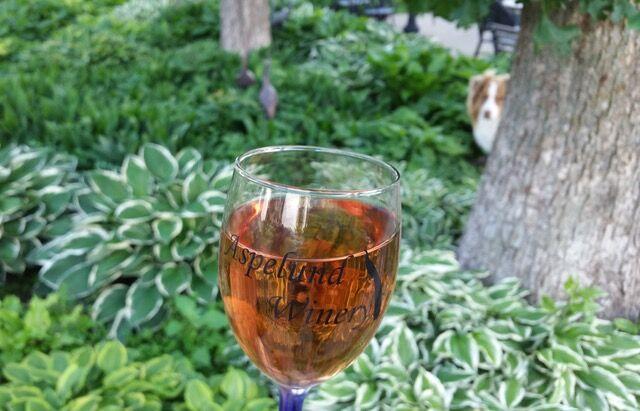 Aspelund Winery and Peony Gardens in Kenyon are owned by Bruce and Dawn Rohl. They started selling peonies in 2007 and opened the winery in 2015.
The peony roots are for sale, and the Rohls also offer wine tastings. Too, they serve glasses of wine, snack trays, and have bottles of wine for sale. Customers are welcome to bring in their own food. The first two weekends in June are generally the best time to come and see the flowers in bloom.
AWPG opened April 23 for the season, and they are available Saturdays and Sundays, 12-5 p.m. Wines, maple syrup and popcorn products can be purchased again starting April 23, 2022.
"Our garden sits on several acres and is open on the weekends, noon to 5 p.m. or by appointment. Talk to one of our experts to see which peonies are right for you. Visit us for an unforgettable experience in wine and peonies," said Dawn. 
HALF PINT BREWING COMPANY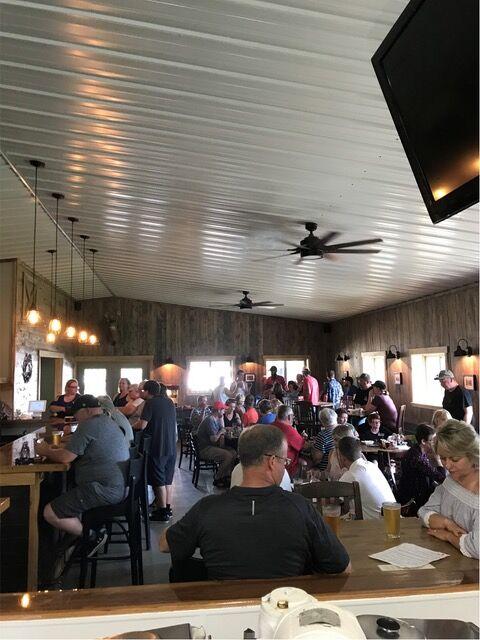 A going concern since December 2019, Mike McQuery is owner/Head Brewer at Half Pint Brewing Company in Waseca. Amy McQuery is co-owner and the brewery is located on their property. Other owners are Todd and Jenni Norton, and Tim and Katie Dahle.
"We have beer, hard seltzer, gluten-reduced beer and home-made root beer. We also partner with Pleasant Grove Pizza Farm for pizza delivery," Mike McQuery said.
The McQuerys feature outdoor, live music five times per year in the summer; they bring in food trucks on occasion;, and their main event of the year is Hop Picking, at the start of September, when they invite the public out to help pick the hops. They offer outdoor games, and the McQuerys invite the public to walk through the hop yard and ask questions about how the hops growing process transpires.
The good folks at Half Pint sell the beer and soda for on-site consumption, and to go into growlers and crowlers. Also, they sell clothing and merchandise, adorned with the brewery logo.
"We are Minnesota's first Farm Brewery and Taproom. We are unique in that we grow our own hops, which we use in the beer that we make right here at the brewery," Mike said.
MOUSSE SPARKLING WINE COMPANY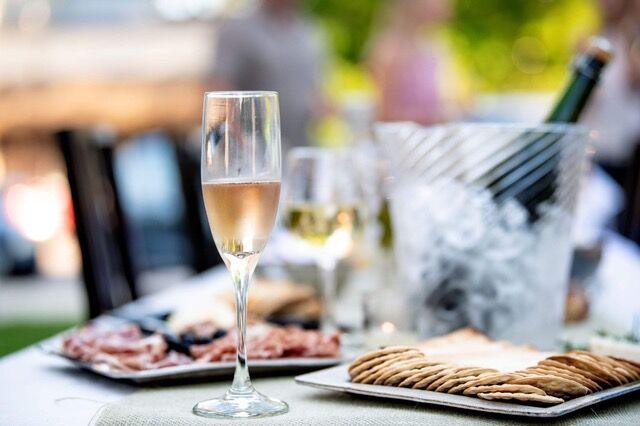 Josie Boyle, owner and winemaker of Mousse Sparkling Wine Co., opened the venue in September 2020 in downtown Jordan, after a few years of dreaming and planning.
Josie learned how to make sparkling wines while working in Michigan, and she dreamed of moving back to Minnesota to make sparkling wines from Minnesota grapes. Boyle specializes in sparkling wines, so there is a wide variety of those on the menu, but she also offers hard cider and still wines (without bubbles).
"When you visit, you can try a flight of wines, you can enjoy a glass of wine or share a bottle, and we have a selection of mimosas available year-round. We offer a few non-alcoholic beverages as well," Boyle said.
The Mousse features live music every other Saturday evening from late May - September, and Josie has booked food trucks for every Saturday and some Sundays May through October. Additionally, Josie has classes planned, such as Paint 'n' Sip, craft workshops, and bingo nights throughout the year.
The venue's patio is a relaxing place to enjoy wine with friends and listen to live music on a Saturday evening, or try a mimosa flight on a Sunday afternoon. And it's good to enjoy lunch or dinner from a food truck, or bring your own picnic to enjoy with your wine.
"We sell a selection of non-alcoholic beverages, appetizer-sized cheese and charcuterie plates, and our feature dessert is slices of Crepe Cake made by Suzette's restaurant in Jordan," said Josie. As the only winery in Minnesota-specializing in sparkling wines, MSWC is a distinctive destination and offers a unique take on Minnesota wines.
Chapel Brewing in Dundas celebrates its 5th anniversary in September. The establishment is owned by Steve Schmidt and Tracie Vranich, and they are assisted by David Frost, Brewer. In addition to the intimate taproom (which was built as a chapel in 1880), the venue boasts a spacious deck and other outdoor seating, along the Cannon Riverside.
Customers are encouraged to bring in their own food or have food delivered from local restaurants. On Saturdays from May to October, there are food trucks and music on the deck.
"On alternating Thursdays, we release a small batch of ExperimentAle, each with a unique flavor profile, designed by our brewer," said Schmidt.
The Chapel Brewing venue is located at the end of a biking/walking/running trail that is a 6-mile loop to Northfield and back. It is also a short distance from Nerstrand State Park and several county parks. You can end your day at Chapel, enjoying the view of the Cannon River.
The spacious outdoor area is kid and dog friendly. In addition to craft beer and seltzer, Schmidt also has non-alcoholic kombucha and root beer, along with a variety of local snacks: meat sticks, cheese curds and pretzels. Chapel Brewery is a small-batch brewery on the banks of the Cannon River in Dundas and is open seven days a week.
KEEPSAKE CIDERY & WOODSKEEP ORCHARD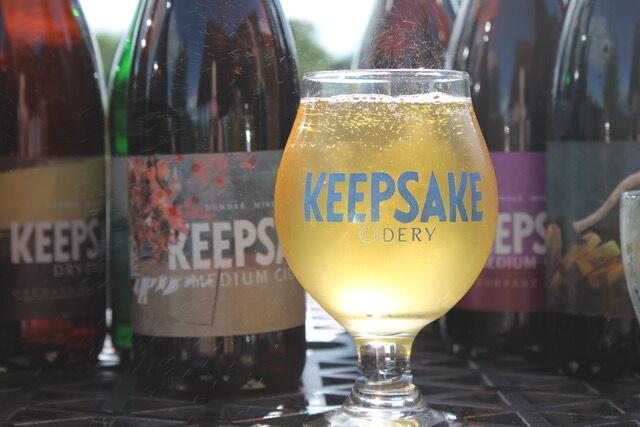 Tracy Jonkman and Nate Watters are co-owners and partners in the Keepsake Cidery in Dundas. The venue offers a local food menu, and an array of natural hard ciders and other beverages, during all of the open hours; with plenty of both indoor and outdoor seating.
March-May Sat/Sun, 12-6 p.m. June-November Fri 4-9 p.m.; Sat 12-8 p.m.; Sun 12-6 p.m; Fridays June-Oct "Friday Night Cookouts" featuring guest chefs cooking outside at the farm; Saturdays 4-6 p.m., featuring local musicians; The Keepsake folks offer monthly festivals e.g. HerbFest in July, CheeseFest in August, FiberFest and OktoberFest in September, AppleFest in October and Thanksgiving Market in November (list not fully inclusive).
"We feature local products all season and have December Christmas markets on Saturdays. We also have space available for private or business parties to rent, and allow a limited number of weddings at the Cidery every year," said Jonkman.
Keepsake is surrounded on three sides by the Cannon River Wilderness Area, with trail access from the Cidery grounds, so hiking into the beautiful river valley and then heading back up to the Cidery for Toasties, meat and cheeses, cider and more from the local food menu, is a great way to spend some time. We have plenty of both indoor and outdoor seating to accommodate during all types of weather, with games to play, orchards to stroll, animals to pet.
The Keepsake staff sells various natural, long aged, spontaneously fermented ciders, fortified ciders with apple brandy and ice ciders as well as house-made kombucha and other non-alcoholic beverages options.
"We are a perfect day trip for all types who want to experience a unique family run farm-based business in southern Minnesota — the old and young, families and couples, you and your dog, ciders lovers and soon to be cider lovers, you get the picture," said Jonkman.
FOREMOST BREWING COOPERATIVE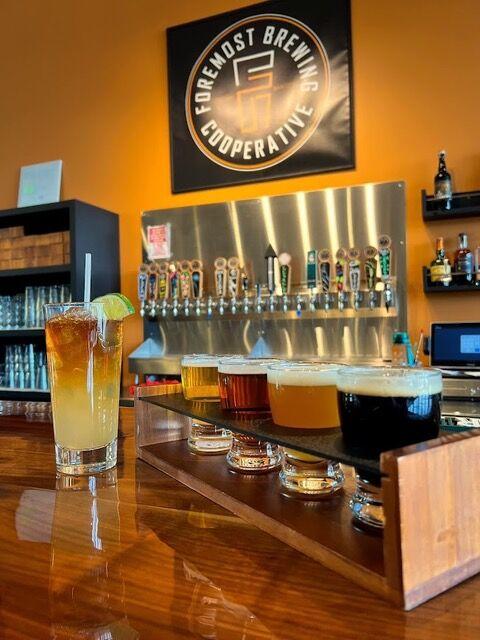 Foremost Brewing in Owatonna is cooperatively owned by 640-plus individual members. It is overseen by a board of 9 directors, voted in by membership, and a General Manager who oversees day-to-day operations. Foremost is a brew/pub that offers on-site brewed beer, food, wine, craft cocktails, non-alcoholic beverages, and live music in a family friendly environment. The venue offers weekly happy hours, live music, monthly Pints with a Purpose Event–Raising money for local Owatonna organizations. "We offer a wide variety of on-site brewed craft beer. Visitors can order a flight of beer to taste the different beers we offer, while enjoying our beautiful space located in downtown Owatonna. We are also a family friendly environment with something for everyone in their group," said member and Marketing Coordinator Molly Kerr.
Beverages: on-site brewed beer, wine, craft cocktails, non-alcoholic homemade root beer & cream soda, other non-alcoholic options; Foremost merchandise: T-shirts, sweatshirts, pint and Belgian glassware, canvas bags, hats.
Foremost is about more than beer. Foremost Brewing Cooperative is the result of local people coming together to achieve their common goal of making Owatonna a more desirable place to live and visit, by creating from the ground up, a brew/pub that has become a local treasure. While you don't have to be a member to eat & drink at Foremost, membership does have its perks. Like a free beer during your birthday month and exclusive member happy hours to name a few.
Owners Rod Baker, Mark Sebring, and Bill Cronin, opened Mineral Springs Brewery in its current location along Owatonna's Riverfront in November 2019. It is a fully operational production brewery and taproom.
"We have both indoor and outdoor seating, bands every Saturday night, an array of food trucks (hosting 19 different trucks in 2022), and winter outdoor igloo seating. We also host an annual OktoberFest tent event in September, featuring polka bands, beer, and a great time," said Bill Cronin.
In the summer, customers can enjoy one of the craft beers on Mineral Springs' large patio. Enjoy that same beer in the winter in a private, unique settings in one of the cozy igloos.
"We have 14 operating tap lines, selling beverages that are all brewed just 40 feet away in our brewhouse. We also have a merchandise setup with apparel, glassware, stickers, and other unique gift ideas," Cronin added. "We consider our place to be 'Owatonna's living room'—as a comfortable place to gather with friends and family over a great craft beer. We'd love to see you at MSB."
ANGRY HOG BREWERY & TAPROOM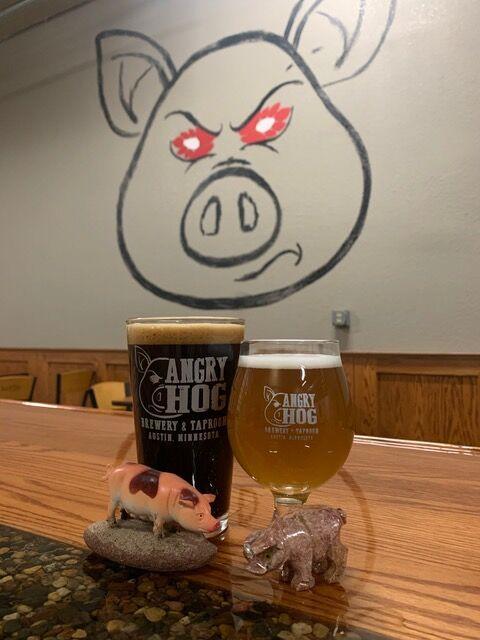 Owners Kevin Jones and Joe Bower opened the Angry Hog Brewery & Taproom in Austin in June of 2018. This is a small NanoBrewery, striving to produce some of the freshest craft beer that one could ask for. The venue stocks 8 beers on tap, and they craft root beer too.
"Hogtoberfest, in September, is our biggest event, and occasional events vary, so watch Facebook for details," said Jones.
During the summer, folks can enjoy some rays on the large outdoor patio, and some Saturday evenings there is live music. There are occasional food trucks on Friday and Saturdays.
The guys sell craft beer and root beer on tap, T-shirts, sweatshirts and hats. Be sure to ask for a free sticker. Check to go specials on drinks.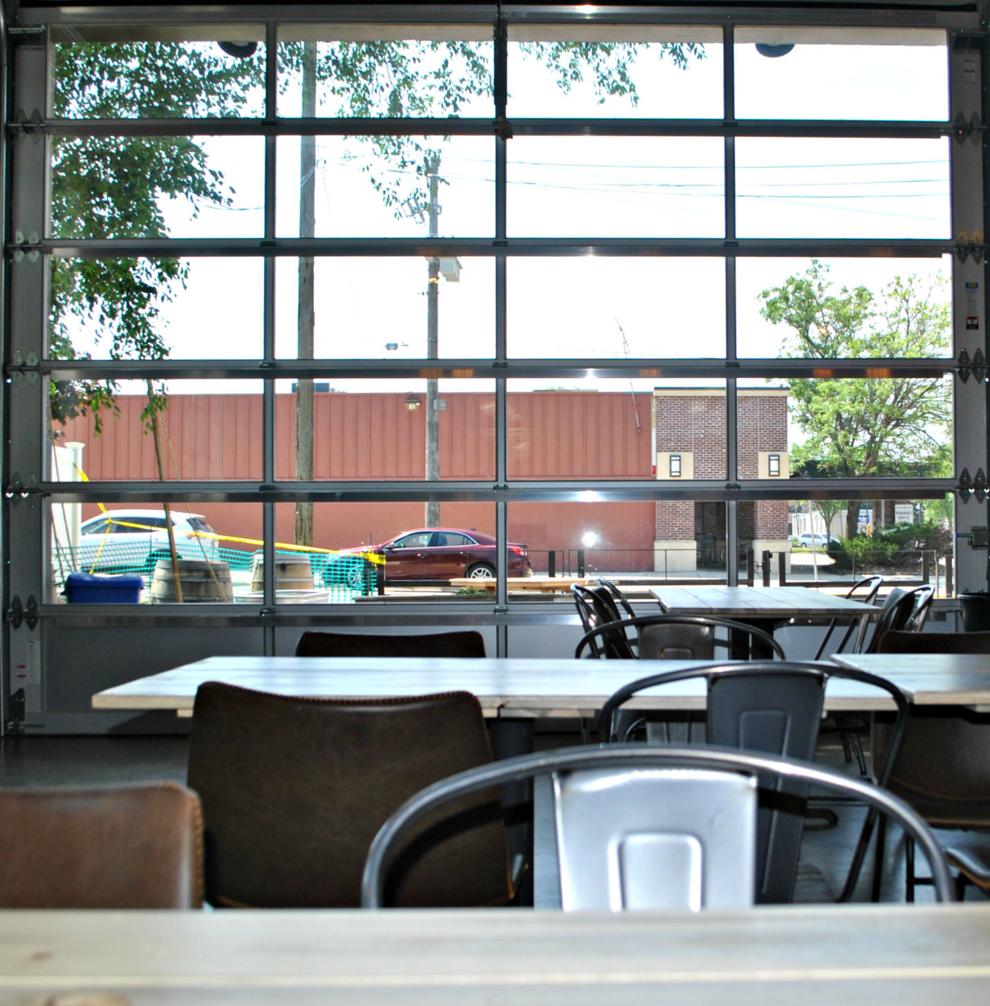 Owners/operators Derek and Laura Meyers, opened their doors at Imminent Brewing in Northfield in June 2017. They are assisted by Justin Holden, Head Brewer; Jared Allerson, General Operations Manager; Katie Tauer, Tap Room Manager. All beers are crafted in-house by Head Brewer, Justin Holden, with the help of sidekick Jared Allerson and the support of a great team of owners, managers and staff.
"We offer a variety of non-alcoholic beverages and snacks, and we place a large emphasis on local products. Our team of exceptional beertenders are integral in helping us to cultivate relationships based on mutual respect and genuine care for our neighbors and customers. One of our mottos is, Kind humans and friendly canines are welcome here," Laura Meyers said.
Imminent Brewing presents a variety of events and activities, including Trivia, Live Music, and more. The venue stocks plenty of board games, and folks are permitted to bring in their own games as well. Imminent Brewing does not currently have a kitchen, but the Meyers have a rotating lineup of food trucks to bring in for a fun variety of food options. The mantra at Imminent Brewing is "It's About The Time."
"It's about the time we spend crafting delicious, fresh beer; it's about the time we spend with our friends and neighbors, enjoying good conversation over said delicious, fresh beers! It's also always just about time for something new in our rotating tap list!" said Laura.
Derek and Laura like to keep folks on their toes and are continuously changing up the beer menu. However, they also have a few "staple" favorite brews that are always on tap, such as the refreshing Dragon Squirrel Juicy IPA.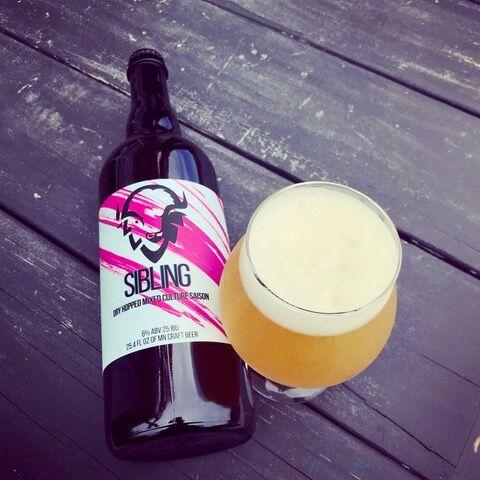 The owners, Lauren and Jim Parejko, have operated LocAle Brewing Company in Mankato since October 2018. Jim and Lauren have about 14-16 beers on tap, consisting of light lagers, dark stouts, hazy IPAs, funky mixed culture sours, and fruited hard seltzers. They fill growlers and have a range of 750 (ml) crowlers or bottles available to-go.
"Our taproom has live music every few weeks, as well as food trucks. During the summer months, we have group mountain bike rides that ride local trail systems on Thursday nights. We have our anniversary party in late January when we feature new beers and open new memberships for our taproom membership program (similar to a mug club)," said Jim.
The Parejkos often partner with local businesses to host special events. This summer, LocAle is working with Bent River Outfitters, and their Friday night Happy Hour floats. People can float down the river on either a paddle-board or kayak, then they are shuttled to LocAle's taproom for beer (generally a flight) that is included in their ticket.
"We are also the start and finish for the River Valley 100 bike ride in late summer. It is a regional bike ride that features either a 100-mile road ride or 100-kilometer gravel ride. It brings in riders from all over Minnesota and parts of Wisconsin. We have a food truck that provides food for the riders and often feature a few beer releases that day as well," Jim explained.
Parejkos' taproom is the perfect spot for groups of friends or families to meet for a relaxing time in the bright, open and airy space. They frequently open up the overhead doors during the warmer months, to extend the outdoor patio indoors.
"In our first competition as a brewery, two of our sour beers won awards, including 1st and 2nd place in the American Wild Ales category at the 2021 MN Brewer's Cup, which featured hundreds of beers from most of Minnesota's breweries," said Jim. Many of Parejkos' beers include or feature Midwest ingredients, like grain, hops, honey and fruit.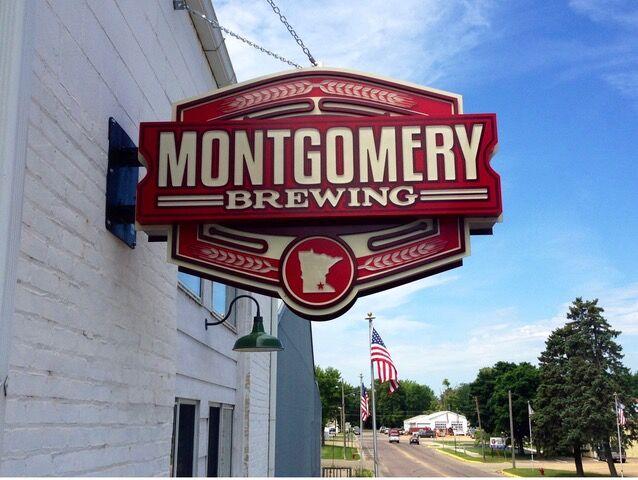 Charles (Chuck) Dorsey is owner/brewer, and he is assisted by Lindsay Simon, distribution; Josh Kaderlik, head brewer; and Ron Taylor, packaging lead. Montgomery Brewing is in its 7th year of business. The Brewing company is the first and only 100% black-owned brewery in the state.
"I don't often mention/market that stat. Beer is my passion/business. I don't want my race to be any sort of bias to anyone's pallet. But it is still a fun fact, and I am proud of it," explained Chuck Dorsey.
Montgomery Brewing brews beer of all styles, with a focus on IPAs and fruited sours. There are 12 beers on tap at all times, with all beer to-go via crowlers or growlers. During the summer (May-Sept) Chuck closes the street on the last Saturday of the month. He hosts live music and provides a food truck. Chill on the street, have a beer (MB's of course) and don't forget to bring your own chair. It's a fun time! "We brew great beer and love what we do.
Montgomery is a town that has a lot to offer—from award winning pizza (pizzeria 201), to a Beatles-themed golf course—local cidery (Montgomery Orchard)—our historic bakery (Franke's), and so much more! Montgomery is a great place to visit," Dorsey said.
The venue has sodas and bagged snacks available, along with plenty of merchandise for sale. Montgomery Brewing (current) is located and named after the brewery that started its roots in the town (same building) in the late 1800s, Montgomery Brewing Company.
"We've had big shoes to fill from day one, with so much history already here. I feel we are doing a good job and it's awesome being able to integrate the past with the future," added Dorsey.
AUGUST SCHELL BREWING COMPANY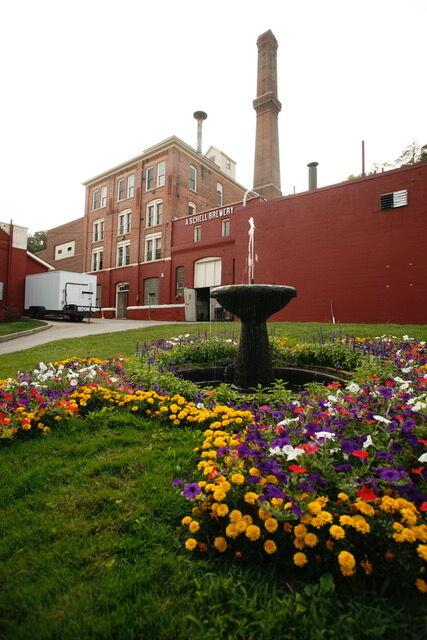 The Marti family owns and operates Schell's Brewing Company in New Ulm, with Ted as president, Kyle as vice-president, and Franz as facilities manager. Schell's is an historic brewery, and while brewing and packaging beer is their main priority, they do much more.
Schell's provides a Bier Halle for people to sit and enjoy a beer; a patio that overlooks the river; its renowned Biergarten—that offers outdoor seating; tours; a museum full of history; a bike trail trough the wooded area; deer and peacocks viewing; and beautiful gardens in which to roam around. Schell's hosts its annual Bock Fest in March and Oktoberfest in October, with other, small events throughout the year.
While visiting the venue, folks can learn about years of brewing history, by taking a trip through the museum or on one of the scheduled tours. On a nice, warm day, one can stroll around the historic gardens, taking in the thousands of flowers, and observing the frolicking deer and colorful peacocks, before stopping in the Biergarten and relaxing with a beverage, under the majestic walnut trees. The Martis also offer 1919 root beer and Buddy's Soda; in addition to a fantastic gift shop on-site, containing a wide variety of merchandise.
"We are the second-oldest family owned-brewery in the United States, as well as being Minnesota's oldest. People travel from all over the world to come and experience the history that Schell's has to offer, so if it isn't already on your bucket list, you should add it now," said Marketing Director Leigh Wendinger.