"Where the Deer and the Antelope Play: The Pastoral Observations of One Ignorant American Who Loves to Walk Outside" by Nick Offerman
c.2021, Dutton $28.00 / $37.00 Canada 333 pages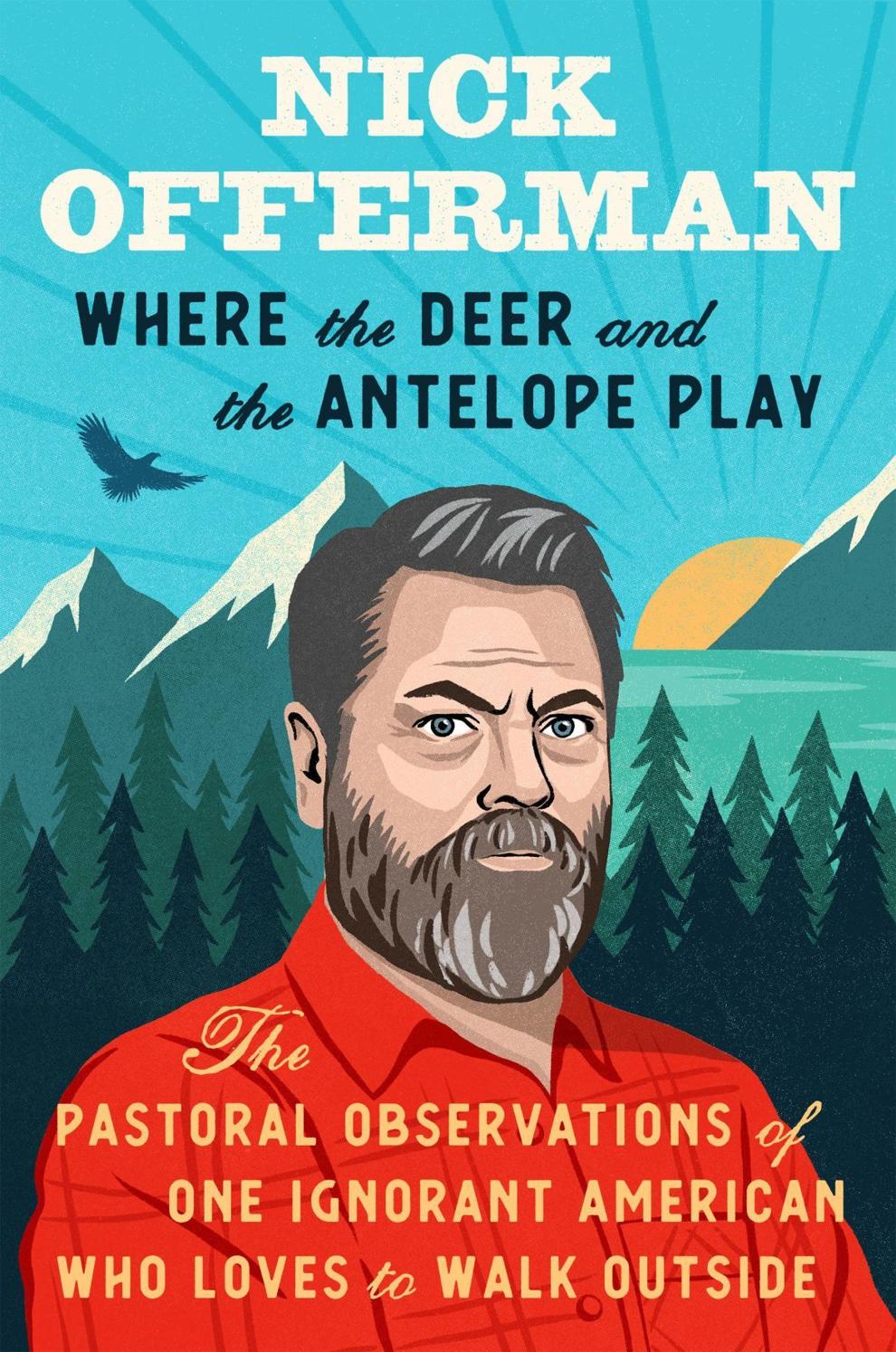 Last year, for at least some period of time, you stared at four walls.
Four walls, a few windows, and you remembered how nice it was to get out on a normal day. You thought about the people you missed, about what you would've been doing at work at that moment, and where you'd go as soon as you could. Outside was a treat then and "Where the Deer and the Antelope Play" by Nick Offerman is, too.
Twenty-five years ago, when he was still surviving by "creating pop culture of one sort or another," someone gave Nick Offerman "some Wendell Berry stories." Agrarian in nature, those tales captivated Offerman then, as now, and they spurred him to act.
As a kid growing up on an Illinois farm, he was always outside but when he received those stories, Offerman says his focus was off: he'd been pursuing "shiny materialism" rather than natural things. The Berry stories – and meeting the Berry family – convinced him to want to write "about our population's general lack of any intimate knowledge of nature..."
And so, in July of 2019, Offerman hired a guide, met two close friends in Montana, and went on a week-long fact-finding hike in Glacier National Park. The wilderness was "pristine," trails were sometimes challenging, wildlife surprised them, and Offerman had chances to muse on the works of Roosevelt's Civilian Conservation Corps, and how Native Americans lost their land. Plus, outdoorsy hikes are great excuses to buy gear.
Because he'd likewise been "glued" to the works of author James Rebanks, Offerman also traveled to England that year, to spend time on Rebanks' sheep farm. It was an opportunity to work with his hands, build stone fences, and to think about "the deeply flawed system" that American farmers work against.
And then the pandemic hit, and you know what an enthusiastic outdoorsman does when he's supposed to stay inside: he buys "twenty feet of Ford and thirty of Airstream" that he barely knows how to use, and heads cross-country...
Loaded with funny observations and laced with profanity, "Where the Deer and the Antelope Play" is not just what's promised. It's more.
Getting outside is actor-author Nick Offerman's opportunity to meander, both physically and literarily, and so this book isn't just about parks and farms and such. Offerman muses about this and that, and general subjects that are ultimately tied to the outdoors and nature in a guys-in-the-mancave kind of way, with wild and wooly thrown in for good measure. It's accomplished in a stream-of-consciousness that feels like that quick dash you make through the house before you take a last-minute trip: things are grabbed at random and you'll figure it out later.
And that's okay; outdoor enthusiasts, farmers, environmentalist, and readers who can laugh will find that there's where the fun of "Where the Deer and the Antelope Play" lies, and there's no getting up at 4 a.m. to pack the car and go for it. For a book this good, seldom is heard a discouraging word.
"Capote's Women: A True Story of Love, Betrayal, and a Swan Song for An Era" by Laurence Leamer
c.2021, Putnam $28.00 / $37.00 Canada 356 pages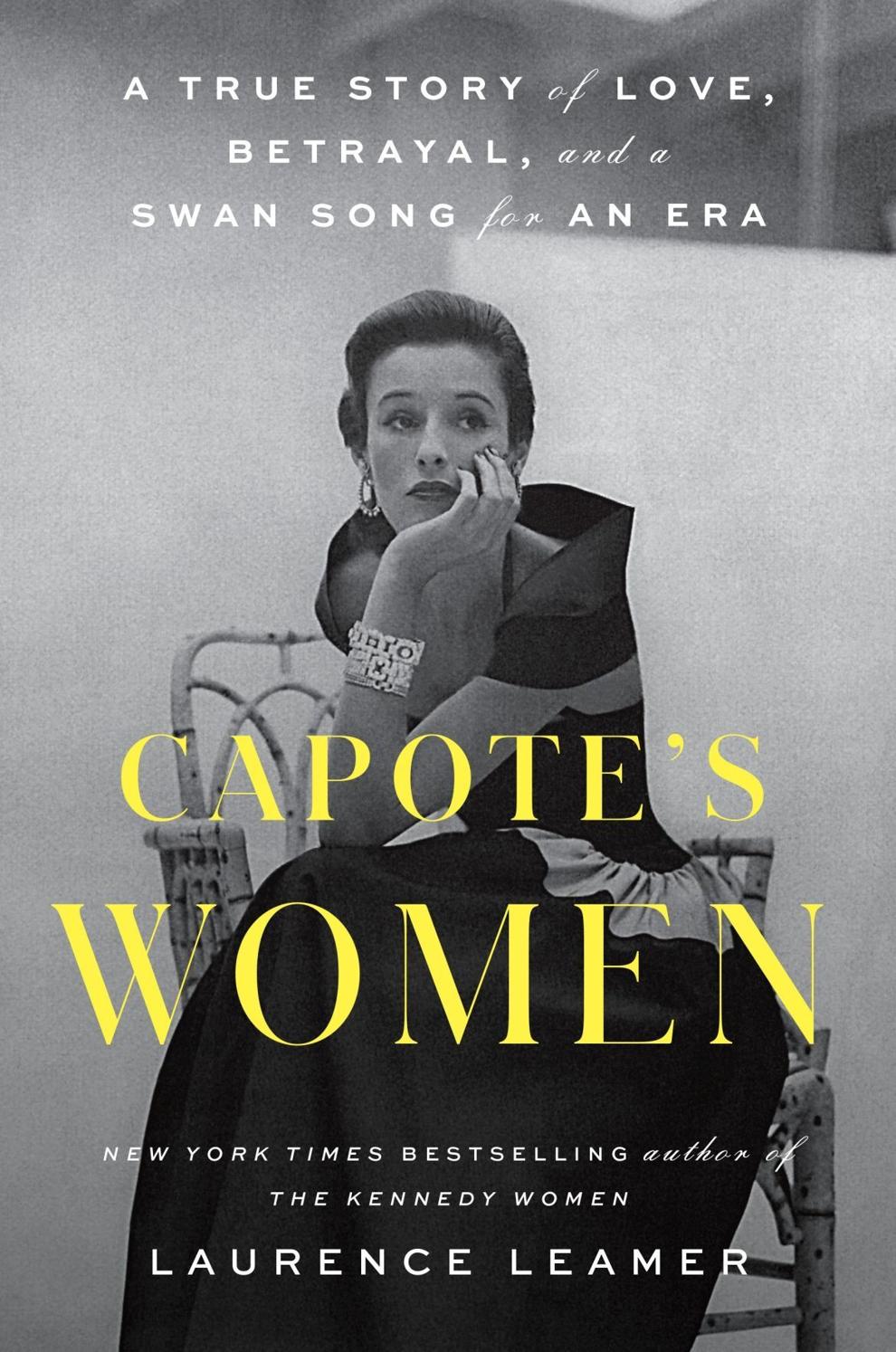 Her lips are locked tight.
Your best friend knows all your secrets, and she's keeping them; you told her things you had to tell somebody, and she's telling nobody. You always knew you could trust her; if you couldn't, she wouldn't be your BFF. But as in the new book "Capote's Women" by Laurence Leamer, what kind of a friend are you?
For months, Truman Capote had been promising a blockbuster.
Following his success with Breakfast at Tiffany's and In Cold Blood, he was "one of the most famous authors in the world" but he needed a career-booster. The novel he was writing, he teased, would be about "his swans," seven wealthy, fashionable women who quite personified "beauty, taste, and manners."
His first swan was Barbara "Babe" Paley, whom he'd met on a trip with the David Selznicks to Jamaica. For Capote, "Babe was the epitome of class," simply "perfect" in every way; it helped that the famously gay writer was no threat to Paley's "madly jealous" husband.
Babe's "dearest friend" was Nancy "Slim" Keith, who quickly learned that if a lady wanted her confidences kept, she didn't tell Capote anything. She shouldn't have trusted Babe, either: When Slim left for a European trip, Babe asked if Slim's husband could accompany Babe's friend, Pamela Hayward, to a play.
Slim was aware of Pamela's predatory reputation, but what could she say?
Of course, Pamela, another of Truman's swans, stole Slim's man, a scandal that Capote loved.
Gloria Guinness was highly intelligent, possibly enough to be a spy in Nazi Germany. Lucy "C.Z." Guest was an upper-crust "elitist" with a "magical aura." Marella Agnelli "was born an Italian princess"; Lee Radziwill, of course, was Jacqueline Kennedy's sister.
Through the late 1960s, Capote claimed to be writing his masterpiece, his tour de force based on his swans, but several deadlines passed for it. He was sure Answered Prayers "would turn him once again into the most talked-about author in America."
Instead, when an excerpt from it was published, his swans got very ruffled feathers.
Every time you stand in line for groceries, the tabloids scream at you with so much drama that you either love it or hate it. Or, in the case of "Capote's Women," you cultivate it.
And that's infinitely fun, as told by author Laurence Leamer.
Happily, though, Leamer doesn't embellish or disrespect these women or Capote; he tells their tales in order, gently allowing readers' heads to spin with the wild, globe-hopping goings-on but not to the point that it's overdone. While most of this book is about these seven beautiful, wealthy, and serially married women – the Kardashians of their time, if you will – Capote is Leamer's glue, and Truman gets his due, as well.
Readers who devour this book will be sure that the writer would've been very happy about that.
"Capote's Women" should be like catnip to celeb-watchers of a Certain Age but even if you're not, find it. If you're a Hollywood fan, you'll want to get a lock on it.
"Rock Concert: An Oral History as Told by The Artists, Backstage Insiders, and Fans Who Were There" by Marc Myers
c.2021, Grove Press $30.00 / higher in Canada 400 pages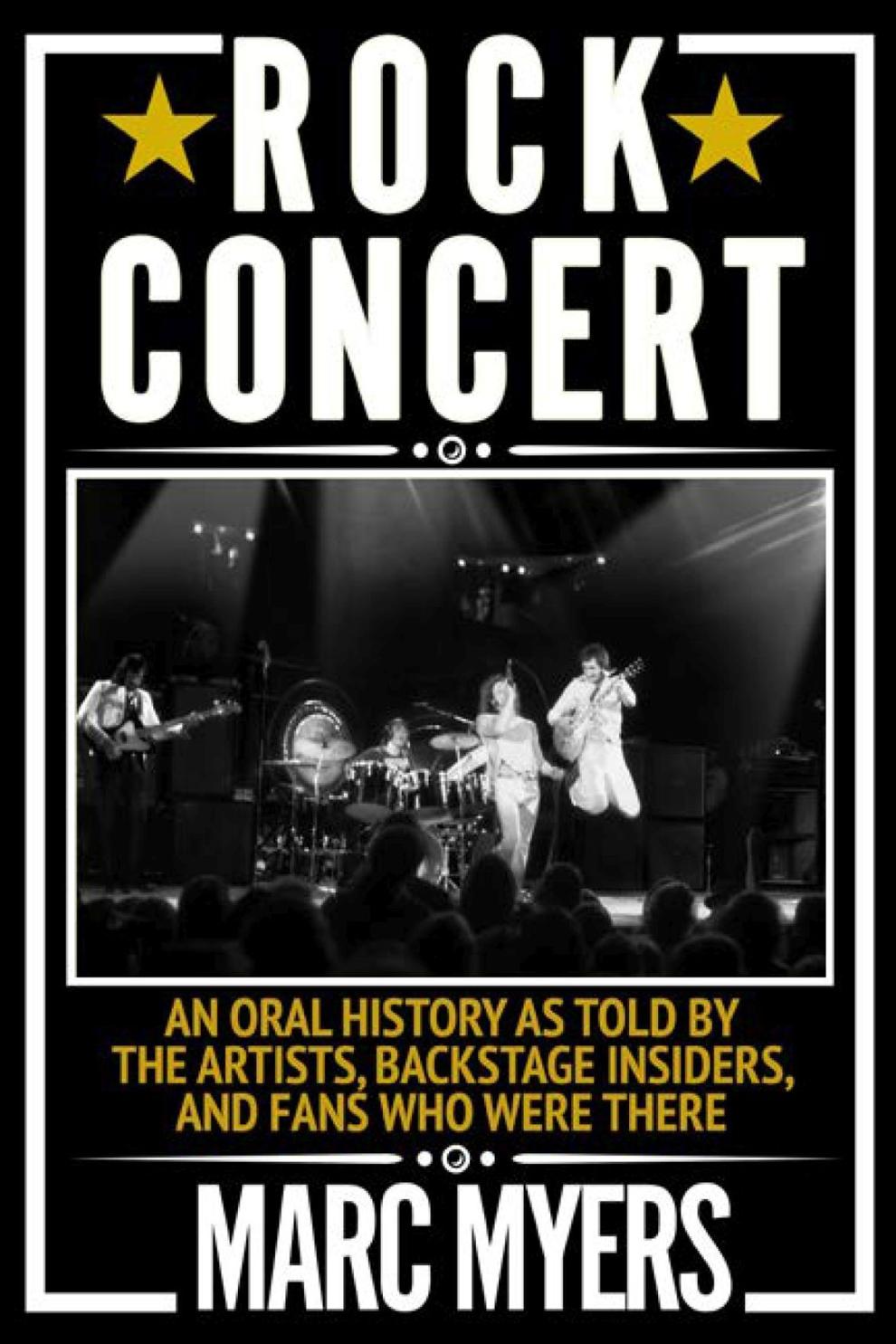 You barely made a sound until the lights were up.
And then you roared. Your favorite band was about to come onstage and you, plus 14,999 of your best friends, were makin' some noise, ready to sing along and dance, ready to feel the bass. Read "Rock Concert" by Marc Myers, and you'll remember the days...
In the beginning, there was R&B in the Watts section of Los Angeles.
Back then, the city, says Myers, was "filled" with artists, independent record labels, and radio stations playing R&B for Black listeners. "By 1951," listenership had extended to white and Latino teens who got a taste for the genre and loved it; when a radio station or DJ sponsored an R&B concert, teens came "in droves."
They also bought records – lots of them, but visiting a record store in the 1950s wasn't the same as now. Then, buyers could choose a record, take it to a booth, and listen to it before buying it. Leo Mintz, owner of Record Rendezvous in Cleveland, noticed that certain records were more popular than others, and he began helping radio DJ Alan Freed to find the music teens wanted to hear.
"The next natural step for Freed after radio and records," said Grammy Award-winner Tommy LiPuma, "was a concert."
When it became obvious that money could be made with live performances, that was the next natural step for everyone with access to performers and venues. Sure, there were things to learn – ticketing was mandatory, crowd-control even more so – but people truly wanted to see live performances by the musicians they knew from records. Later, it became apparent that they wanted recordings of the concerts, too.
As America changed, so did the rock concert industry. Cozy sing-alongs were popular, until Dylan went electric. Outdoor concerts grew outsized and outrageous, then sports arenas became the venue of choice. Today, though, rock music isn't the "force" it was before. Says Myers, if the industry hopes to survive, rock artists will need to "connect meaningfully with" young people's "concerns and agenda," just like they did fifty years ago...
Five notes are about all you need to remember where you were when you heard a certain song, how old you were, and who you were with. Five pages, and you'll be just as hooked on "Rock Concert."
Told in a multitude of voices from people who did the work, sang the songs, catered to the stars, played the records, or knew somebody who did, this book brings back so many memories that you may be tempted to stand on your chair and hold your lighter aloft. Stories that tell a tale of evolution – both in music and in culture – are here, but author Marc Myers packs those tales with and between little-known anecdotes and trivial occurrences that concert-goers, DJs, fans, and music-lovers will relish.
Your inner rebellious-teen will thank you for reading this book, and your real-life teenage music fan will like it, too. For both of you, "Rock Concert" will light up your eyes.
"I'm Possible: A Story of Survival, A Tuba, and the Small Miracle of a Big Dream" by Richard Antoine White
c.2021, Flatiron Books $27.99 / higher in Canada 256 pages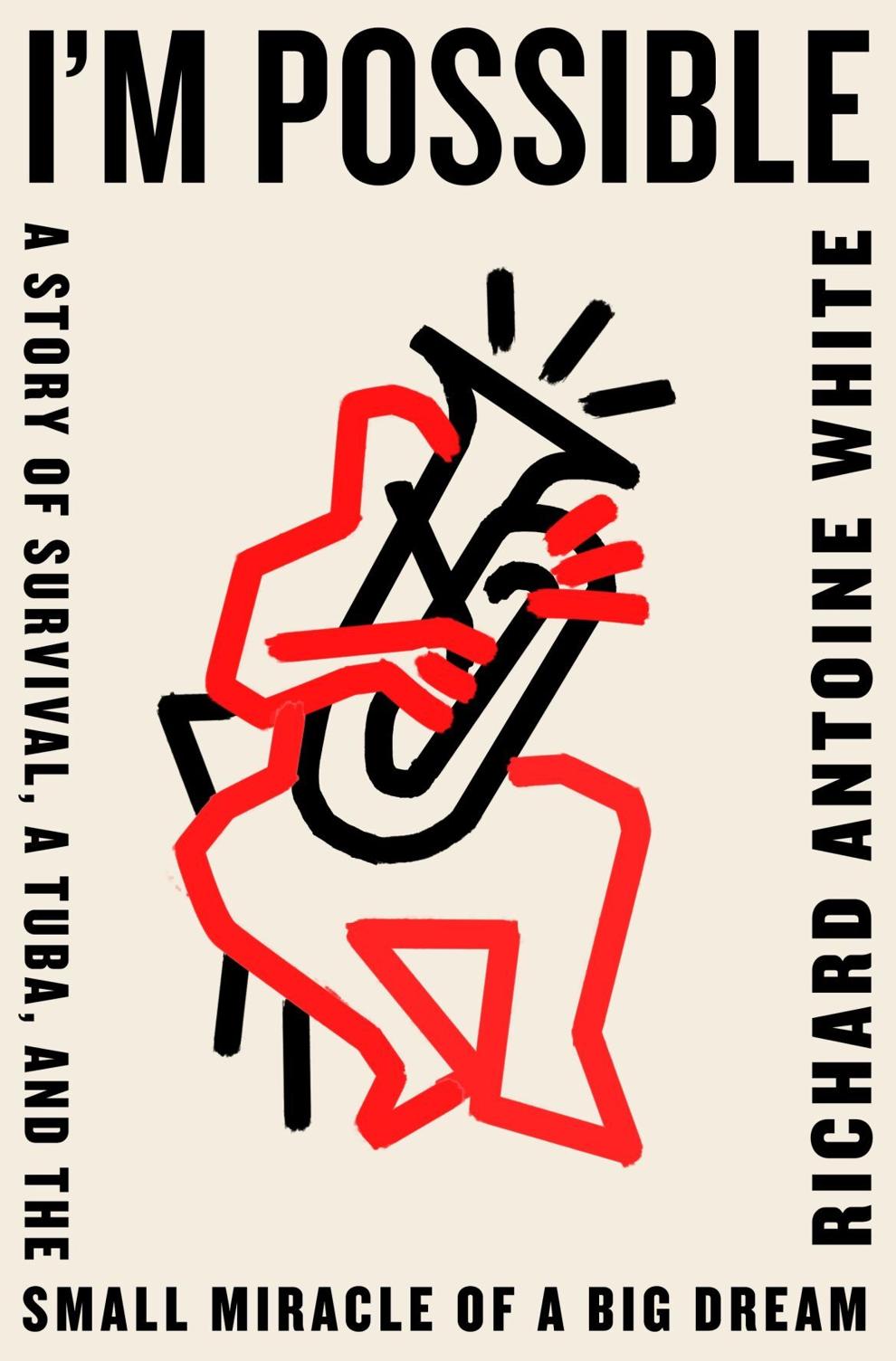 Each note is an individual.
You know that, but you probably don't hear it that way. No, your ears are catching a mountain stream of notes that whisper and shout to create your favorite song, the one that runs through your head, the one you know all the words to. As in the new book, "I'm Possible" by Richard Antoine White, it's beautiful music.
Looking for his Mama was an everyday occurrence for Ricky White.
If she wasn't in the boarded-up building where they slept, she might be by the tree, drinking. If she wasn't there, she might be at either of Ricky's grandma's houses, or with Miss Vivian. Then again, Mama might be at a store or somewhere and if he was lucky, Ricky found a few coins while he was looking for her, and he'd get something to eat that day. This was his life, until the night he almost froze to death and the McClains took him in, just as they did his Mama when she was little.
Old enough to have grown children of their own, the McClains taught "Baby Ricky" that he didn't have to sleep on the floor. He was kept clean, fed, and responsible for chores; he was taught respect and confidence, but also shame and empathy. Most of all, Vivian and Richard McClain gave him a home and a normal childhood, including the chance to attend school regularly. It was there that he first fell in love with the trumpet.
It became his reason for going to school, doing his homework, and staying off the streets. For the first time in his life, White felt like he belonged. He learned the art of discipline; later, he learned that practice was key and improvising was never going to get him anywhere.
By then, he'd switched to the tuba. Learning that instrument would give him more time to play with a group because not a lot of people wanted to play the tuba.
Even fewer African Americans did...
If ever there was a book that can make your heart sing, "I'm Possible" is it.
Part of the reason is that author Richard Antoine White seems so eager to show readers how he lived before he was given up by his mother, an act that he ultimately sees as selfless and brave. There's no complaint in any of this, just facts, told with the slightest sense of humor and a whole lot of acknowledgment that he wasn't the easiest kid to love.
And that's the other part here: this book is the sweetest love song for his adoptive parents, for music, for miracles, and for those who supported White all along.
So go ahead. Be charmed; in fact, once you get toward the end of this feel-best of feel-good books, grab a mirror and just look at that happy grin on your face. You need that kind of a boost this time of year, or a perfect antidote for a case of the I-Cant's, so grab "I'm Possible," and take note.
Books for Midwesterners Like Us, Don'tcha Know
c.2021, various publishers $17.99 - $35.00 various page counts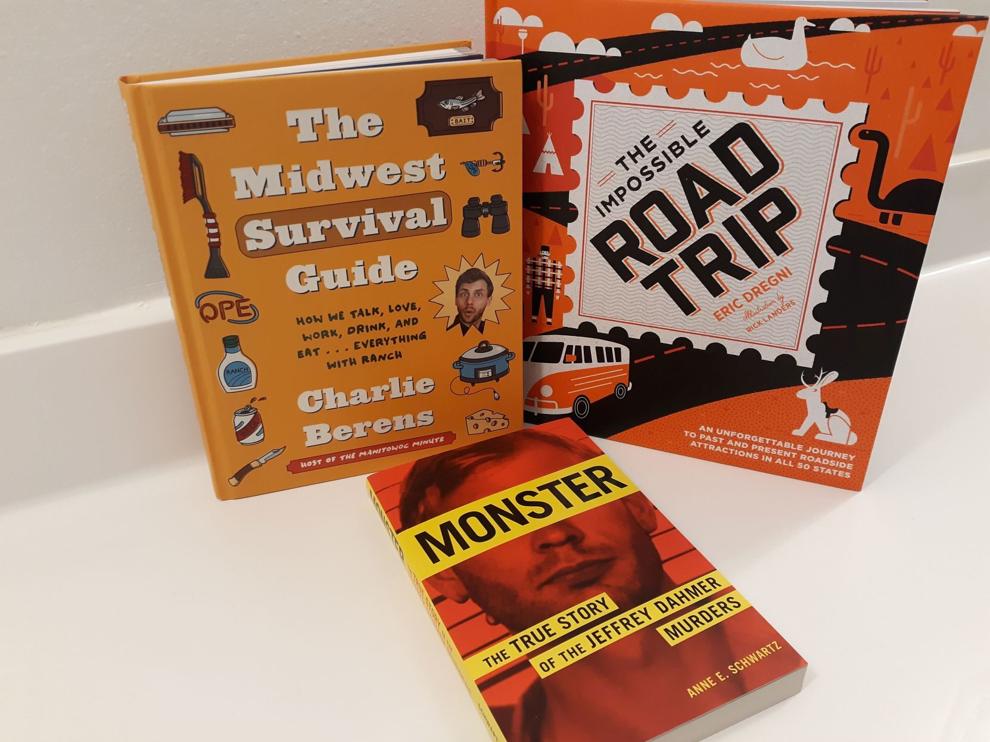 Hey dere. We all know we live in the best place in the country. We have gorgeous hills and great lakes, beautiful sunsets and awesome Northern Lights. We enjoy places to fish, deer-hunt, and ride the snowmobiles in the winter; fish, turkey-hunt, and grill brats in the summer, and we love it here. So now read books about our home state, don'tcha know.
First up, you know you need "The Midwest Survival Guide" by Charlie Berens (William Morrow, $26.99). It's meant for us up nort', hey. There's a little bit of everything innis book: where to buy your flannel, how to fish (and how not to fish), the fish you will (maybe) catch, where to fish, and all about ice fishing. You'll find out where to snowbird when you're ready to retire, if you're not fishing. Find out what to do in case a tornado is coming and you can't fish. Play games while you wait for trains to pass by. Play "spot the deer." Learn how to speak like a real Midwesterner, what to bring to a cookout, how to act in polite company, and how to say "goodbye" Wisconsin- and Minnesota-style.
Or let's say you're heading out of town for a bit this winter. Then you'll want "The Impossible Road" by Eric Dregni, illustrated by Rick Landers (Quarto, $35.00). There's really no way you're going to want to miss seeing the Circus Museum, the House on the Rock, or the Rock in the House if you're driving around Wisconsin, yeah. You'll want to give yourself time to see Big Ole and the Jolly Green Giant while traveling in Minnesota, for sure. And if you're getting way out of town, there are other great sites to see around the country, including large cows, large buffalo, big fish, a big duck, elephants you can climb into, weird houses, and weirder museum exhibits. It needs directions, but you'll figger it out. Send the folks a postcard back home, make 'em happy.
If your tastes run to the more sinister, look for "Monster: The True Story of the Jeffrey Dahmer Murders" by Anne E. Schwartz (Sterling, $17.99). Perfect for readers who are too young to remember what happened, this book spills the story with weigh-ins from police, detectives, attorneys, psychiatrists, medical personnel, and others who were involved in solving what happened more than thirty years ago. If you recall it yourself, you know that the details can be terrifying and a little nauseating but just in case: be aware that this is not a book for the kiddoes. Nope, it's for grown-ups all the way.
Now, lissen. These books are great for you and for someone who's missing home but if they're not what you want or if you want something else to keep in the ice-fishing shack next to the cooler, ask your favorite bookseller or librarian. He'll have ideas for you, or for the kiddoes or for your neighbor who snowblows your sidewalk when you aren't home.
Just gotta ask, for sure, don'tcha know.