A bold concert poster can mean the difference between an audience member buying a ticket or not. It can stop someone in their tracks or never even catch their eye. It can ultimately mean the success of a show or it's failure.
Behind every one of those posters, there is a Beth VanDeWalker.
Northfielder VanDeWalker has been a graphic designer for Denver music promoter AEG Live (Anschutz Entertainment Group) for nine years. She's created posters for just about every musician in the industry – from famous pop stars to local bands.
It's a vocation she never set out to pursue.
When VanDeWalker first embarked on her schooling at St. Olaf College she didn't have plans for a major.
"I didn't know what I wanted to do, so I took an art class and ended up an art major," VanDeWalker said, adding she loved painting in particular. "I didn't have any idea how I'd make a living – nor did I care."
It was after graduating when graphic design became more of a focus for her, thanks to her friend and now-husband Terry who was in a band called The Big Wu.
The band asked VanDeWalker to design their promotional materials. And though it was new territory, she accepted.
"I kind of taught myself how to use all these programs," VanDeWalker said. "When a project came up, I just had to learn how to do it."
One of the band's interns was particularly impressed with VanDeWalker's work and before long the pair started a design company. That same friend ended up moving to Denver to work for AEG Live and recruited VanDeWalker, making her the only graphic designer for the large music promoter.
It's a job that ranges greatly in scope.
AEG Live does promotional work for anything from a dive bar to a huge arena like Red Rocks, VanDeWalker said. That means the cliental varies as well, making a positive or negative affect on her work.
"The biggest bands have advertising materials they send… so that's where it's boring," VanDeWalker said.
But when a band comes through without materials, it allows her creative license.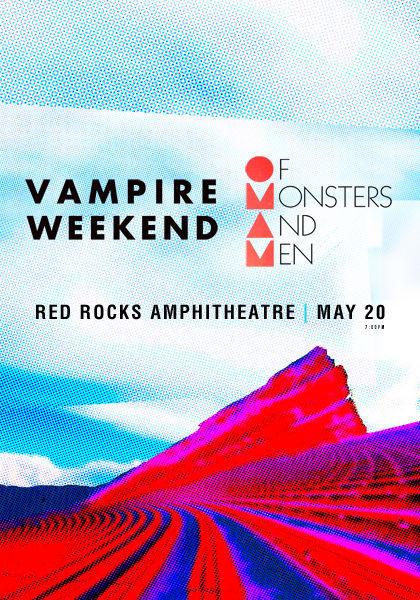 "The cool stuff I get to do is for the bands who have no promotional material… I remember making a Vampire Weekend poster because they didn't have anything," VanDeWalker said. "That's why I love my husband's band, The Big Wu. I get to do a lot more of the fun stuff."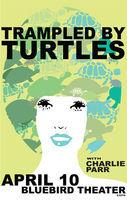 VanDeWalker, who does her work from Northfield, also gets a little extra lift in her step when a hometown band plays in Denver that she gets to promote.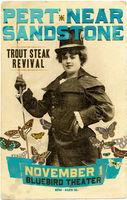 "It's always fun when local bands play out there," she said. "Whenever a Minnesota band plays out there I give them a little extra attention."
Though working in the music industry sounds like it could be glamorous, VanDeWalker said that's not always the case.
"Band management can be very picky," she said.
When VanDeWalker was working on a poster for Alesso, a Swedish DJ, she said things got particularly frustrating.
"I've gotten to a point where I can do (my work) really easily… but this was back and forth like 50 times," she said. "It was more of a headache than I can explain."
But it's not without reason.
VanDeWalker approaches her work very professionally, knowing that she holds the band's public image in her hands.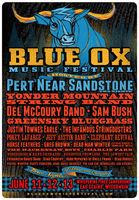 "Art carries the emotion of the music – it needs to attract the audience members that would love it," VanDeWalker said. "It's really important and the bands take it very seriously… I want the image to honor their sound."
Big Wu band member Mark Grundhoefer has known VanDeWalker for more than 15 years and has experienced first-hand the importance and impact of VanDeWalker's work.
"The artwork that Beth has created throughout the Big Wu's career has defined the bands image and helped brand the group in many ways," he said. "Her style brings the band's music and spirit alive with a very special and unique style. Just like the music, her art hooks you and pulls you in."
Art and music have a very close and intimate relationship, Grundhoefer said. If the art draws you in, you'll be more likely check out the music, he said.
"It's a beautiful partnership," Grundhoefer said.
That partnership has changed over time, VanDeWalker said.
"At the beginning, a lot of bands didn't have promotional materials that they were able to send," VanDeWalker said. "It's gotten a lot easier and more streamlined."
It's also more immediate and demanding, she said. Back in the day, she could go to a coffee shop and futz with a design, but now everything is much more urgent.
VanDeWalker also used to receive zip discs in the mail or literally go to the music store and purchase a band's CD to work on their promotional pieces, she said. These days she's just a press of a "send" button away.
Though VanDeWalker's process may have changed, Grundhoefer said the importance of graphic art has not.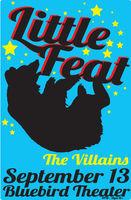 "Graphic art is at the core of advertising and that remains the same. What has changed is our attention span as a culture," Grundhoefer said. With everyone distracted by smartphones and high-speed media, great work often goes unnoticed these days, he said.
"However, a strong piece of graphic art can still grab us and captivate us regardless of the distractions," Grundhoefer said. "Just like a vintage wine or analog audio, high quality classic art does not go out of style. Period."
Those distractions are everyday challenges for VanDeWalker's work.
"I think it's really hard to make pieces of art that people are looking at for 20 seconds," she said. "I think it takes a talent to make it readable and understandable so quickly."
There is also a practicality to the style, which separates it from other art, she said.
"It's totally different. It's everyman's art," VanDeWalker said. "You don't have to go to a gallery or spend a lot of money (to see it)."
VanDeWalker's art may be functional and accessible, but that's not what Grundhoefer said makes it special.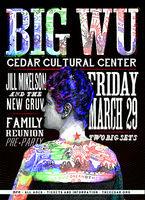 "Beth's art comes from a very natural and honest part of the human soul. That's why I believe it resonates with people so strongly," Grundhoefer said. "She has tapped into the common energy that we all share, and puts us on the same page."
And Grundhoefer would know.
He has been surrounded by art his whole life, having been raised largely by his grandfather W. Dean Warnholtz, an art professor of more than 30 years at Carleton College.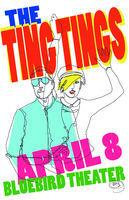 "Bringing a visual element to music in a fitting and expressive way, Beth has truly mastered this craft," Grundhoefer said. "I can honestly and professionally say, Beth is one of the most talented artists I've ever had the pleasure to work with."