If you're running errands in downtown Mankato, you might notice some pretty distinctive sights along the streets.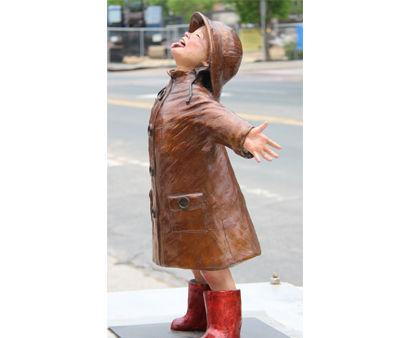 There's a chimpanzee curled into a ball on a skateboard, a little girl in a raincoat stretching out her tongue to catch water drops, a giant pair of glasses perched on a giant nose, and a shiny silver Godzilla towering high overhead.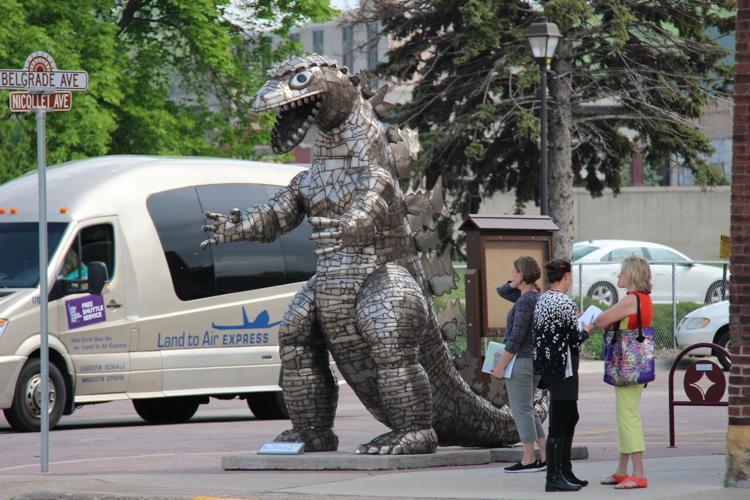 These are just a few of the 31 sculptures that make up Mankato's Walking Sculpture Tour, one of the highlights of Mankato's downtown scene. The tour is organized through a collaboration between the Twin Rivers Council for the Arts and the City Center Partnership, with funds coming mostly through business sponsorships and also through support from the city.
According to Noelle Lawton, executive director of the Twin Rivers Council for the Arts, the idea for a sculpture walk came about in 2006 when the city was holding a community-wide envisioning process to find ways to revitalize the downtown area.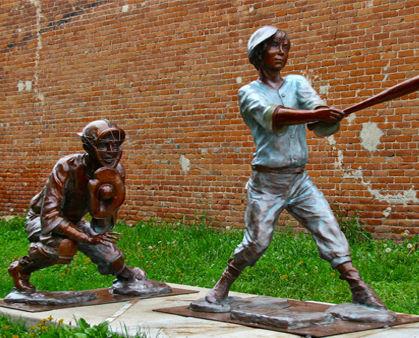 "One of the ways [the committee] saw other successful communities do that was through arts and culture," Lawton said "The committee looked at several different options and really saw that incorporating public art, and creating a public art sculpture walk, would be a great way to get people moving through the downtown area again, beautiful the area and help in that revitalization process."
After several more years of research and fundraising, the first sculpture walk was installed in 2011. It featured 25 sculptures, which were installed for a year and available for purchase by art lovers.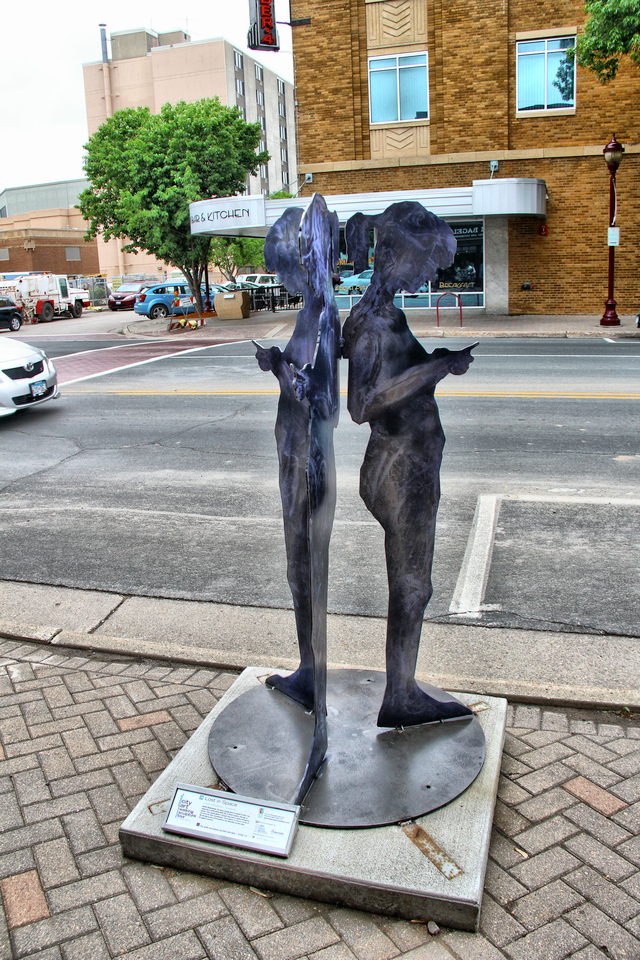 Over the years, the sculpture walk's selection committee has been able to add more sculptures through a partnership with other communities' sculpture walk programs. The Partner Program includes Sioux Falls, South Dakota; Mason City, Iowa; Eau Claire, Wisconsin; and Castlegar, British Columbia. These five partners swap sculptures every year, with representatives from each group meeting in Sioux Falls annually for make their selections.
Lawton said one of the goals of the program is to feature Minnesota artists, adding that many of the sculptures are found through a local call for work. This year, 14 of the 31 sculptures are from Minnesota artists. The other selections come from places as far away as Canada and Europe.
Besides adding more sculptures over the years, Lawton said the selection committee has also started picking larger-scaled pieces of art, since those stand out more dramatically and are easier to interact with. The committee intentionally picks creations that are durable enough to withstand both the Minnesota weather and also wear and tear from thousands of sightseers.
In addition, they've started hosting a special event on the day of installation, called "Meet and Greet on the Street." Once the sculptures are installed, people are invited to come meet the artists (whichever ones are local enough to make it to Mankato) while street musicians provide music.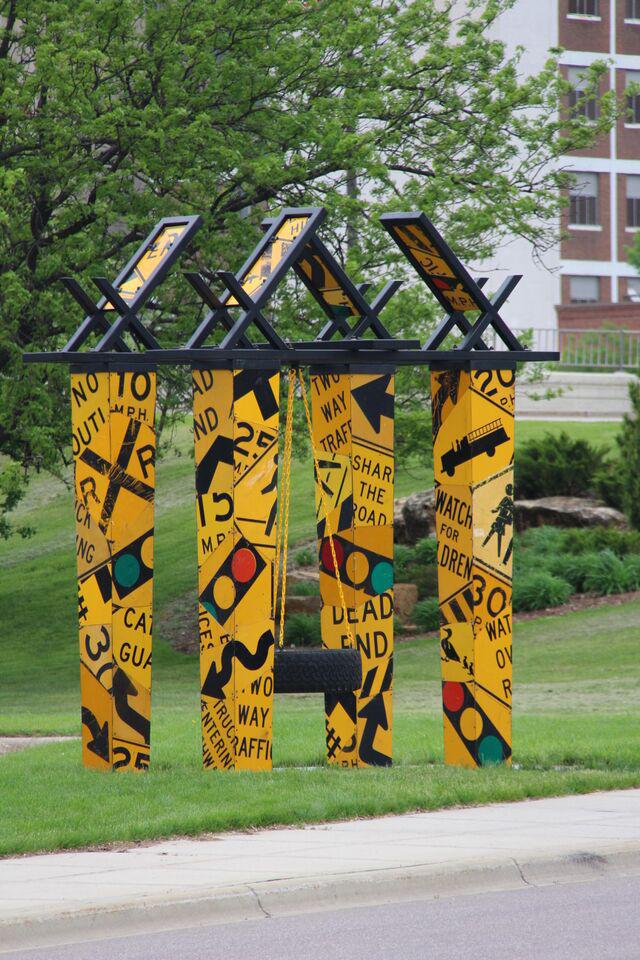 "For us, it's not about having a 'bigger, better' sculpture walk every year," Lawton said. "It's really about growing the quality of the art. Every year, I'd say the quality of the art is getting better. And we're working really hard at supporting our local Minnesota artists."
When it comes to selection, Lawton said the committee tries to pick a little of everything, so that visitors will receive a "well-rounded" tour: so many abstract pieces, so many representational pieces, so many human subjects and so many animal subjects.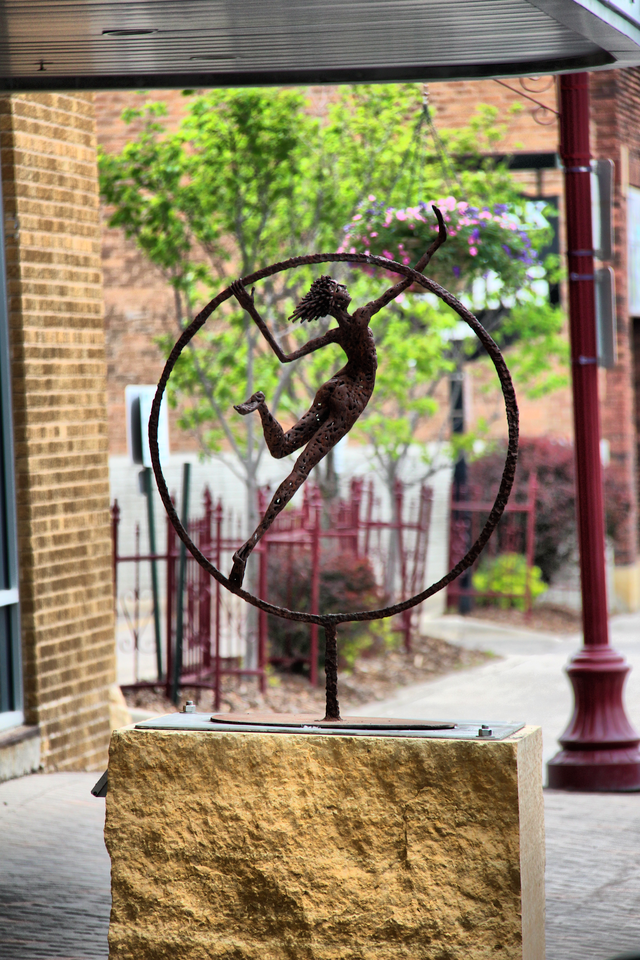 "We do keep in mind that we're trying to appeal to a wide audience," she said.
The pieces are installed in mid-May and stay until the following April. While the pieces move on after about a year, a fan favorite will always stay in Mankato. People have a say in which piece stays by voting for the "People's Choice Award," either online or by filling out a ballot that comes with the brochure. Voting is open until Oct. 31. Whichever piece receives the most votes is bought by the City Center Partnership and installed somewhere in Mankato. Last year's fan favorite, "Green Sea Turtles," was installed in the flower gardens of Sibley Park, while another sculpture, "Reading Magic," was installed outside of the Blue Earth County Public Library.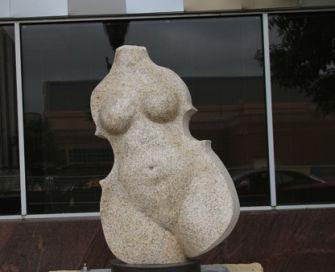 Businesses and individuals also have the opportunity to buy or lease art. The city of North Mankato recently hosted a fundraiser to purchase a sculpture and install it in front of the North Mankato Taylor Library.
Lawton guessed that the length of the whole tour is only about one mile (two if you make it a loop to see both sides of the street), and it would take about two hours if a person focused on seeing the sculptures instead of stopping at stores along the way.
While it's difficult to know just how many people take the tour, Lawton said the organization bases the number of visits on how many tour brochures are given out, which averages out to about 10,000 a year. This year, however, they're well ahead of the average, having already given out 8,000 brochures.
Looking to the future, Lawton said she hopes to install up-lighting and security cameras at every sculpture (though she said they haven't had too many instances of vandalism so far). She also wants to keep working to add more Minnesota artists to the sculpture rotation.
"We're constantly looking for ways to remain competitive and forward-thinking in the way we approach our sculpture walk program, so that we're seen as that high-quality program that people want to be part of and want to visit," she said. "It's totally free and accessible. You can do it any time of day or night. So it's really becoming that go-to activity in Mankato for people to participate in."