It's been a couple of years since Peyton Robb last stepped off the mat for the Owatonna Huskies and traded in his three-time state title winning royal blue Owatonna singlet for his Nebraska-red singlet that introduced him into one of, if not the toughest wrestling conferences in collegiate wrestling; the Big Ten.
Robb finished as one of the most decorated athletes to walk the halls of Owatonna High School with individual state titles in 2018, 2016 and 2015.
Since then, Robb has emerged as not only one of the best wrestlers at the University of Nebraska, but as one of the top wrestlers in all of collegiate wrestling.
"This year has started off pretty good, started off with a few high-level matches with some high ranked guys, like Austin O'Connor and got a win on that one," Robb said. "Had a highly ranked match against No. 1 David Carr and lost a close one in overtime, then we went out to Vegas for a big tournament and Nebraska ended up winning it, so the season's been going pretty good so far."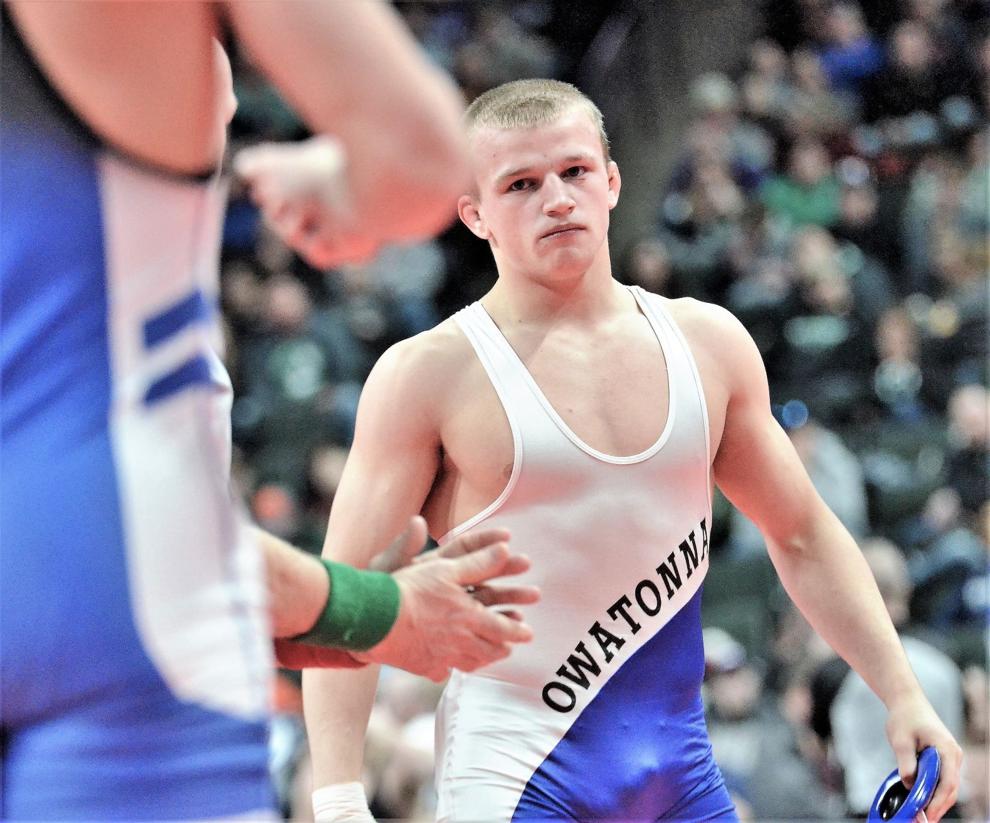 The redshirt sophomore is already a two-time NCAA tournament qualifier, finished fourth in Big Ten Championships at 165 pounds last season and third at 157 pounds the year before, which included an upset of then-No. 2 seeded Kaleb Young of Iowa.
He's also been named to the Academic All-Big Ten Team twice, as well as a National Wrestling Coaches Association (NWCA) All-American Honorable Mention in 2020, a NWCA Scholar All-American in 2020, a member of Nebraska's 2019 Tom Osborne Citizenship Team for his contributions to the community and as Nebraska's Male Newcomer of the Year in 2020.
On the international level, he won the 2019 USA Junior Pan-American Freestyle championship.
Robb ranks as the No. 5 157-pounder in the country according to InterMat in a weight class dominated by sophomores, including No. 1 David Carr (Iowa State), No. 3 Jacori Teemer (Arizona State), No. 4 Brayton Lee (Minnesota), No. 7 Jared Franek (North Dakota State) and No. 9 Kendall Coleman (Purdue).
Robb and the Huskers are enjoying a nice season where they rank as InterMat's No. 10 ranked dual meet team and as the No. 6 ranked tournament team, including a team title at one of the most premiere collegiate tournaments in the Cliff Keen Las Vegas Invitational.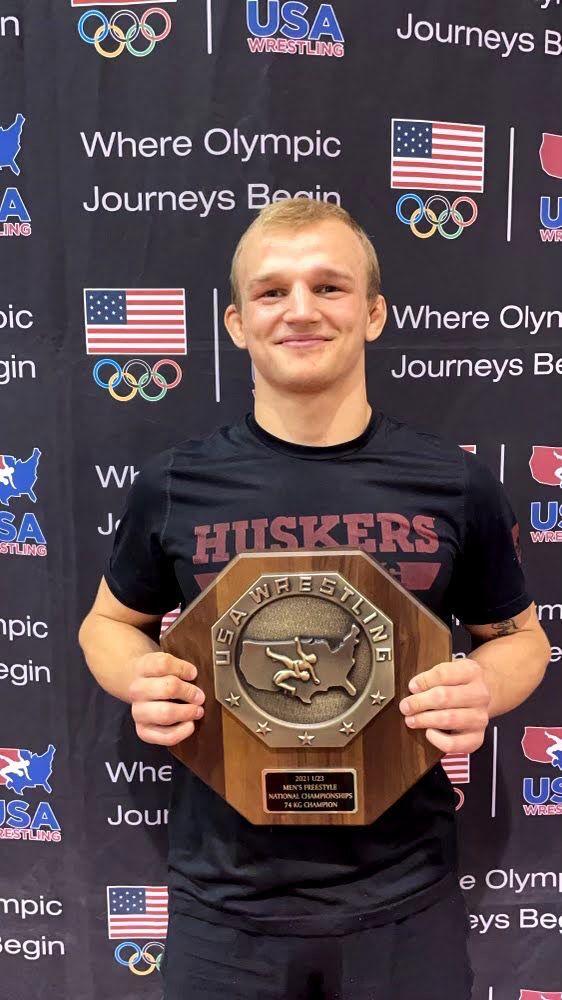 With a loaded lineup, Robb and his teammates know what the team is capable of and have their eyes on some hardware come conference championships and NCAA tournament time.
"We have a really close team, so the team dynamic isn't something we got to worry about, we just got to be able to come in and work hard," Robb said. "We see ourselves as trophy contenders this year and every year honestly since I've been here. We've always seen ourselves as that, so just keeping that image in our head and what we want to achieve is important and just striving for that goal."
As an individual, Robb has had an eventful 2021-22 season with Nebraska that's featured a few statement wins.
Nothing sent the collegiate wrestling world into shock as much as Robb's Nov. 17 match in Nebraska's 27-6 win over then-No. 15 North Carolina.
Settling back in at 157 after wrestling at 165 the season prior, then-ranked No. 16 Robb stepped onto the mat at the Devaney Center in Lincoln, Nebraska to face off against No. 2 Austin O'Connor, the reigning national champion in the 149-pound weight class.
Robb snapped O'Connor's 30-match win streak in a 5-2 decision in front of his home crowd.
"It was big," Robb said about his win over O'Connor. "It was good to get that momentum going that kind of led me into having a really good match with David [Carr] and it was big for me believing in myself for those big matches and trying to not put those guys on a pedestal and know that they're still beatable."
Not even a week later, Robb was close to setting the wrestling world on fire again when the Huskers traveled to Brookings, South Dakota, where he found himself in the 157 title match of the Daktronics Open against Carr, the defending 157-pound NCAA champion.
After two take downs and an escape, Robb forced overtime, where Carr claimed a 7-5 (SV) decision.
Nebraska's team-title winning performance at the Cliff Keen Invitational followed the Daktronics Open, where Robb beat current-No. 11 Ranked Quincy Monday of Princeton before having to medically forfeit to Wyoming's Jacob Wright in the consolation semifinals after injuring his knee.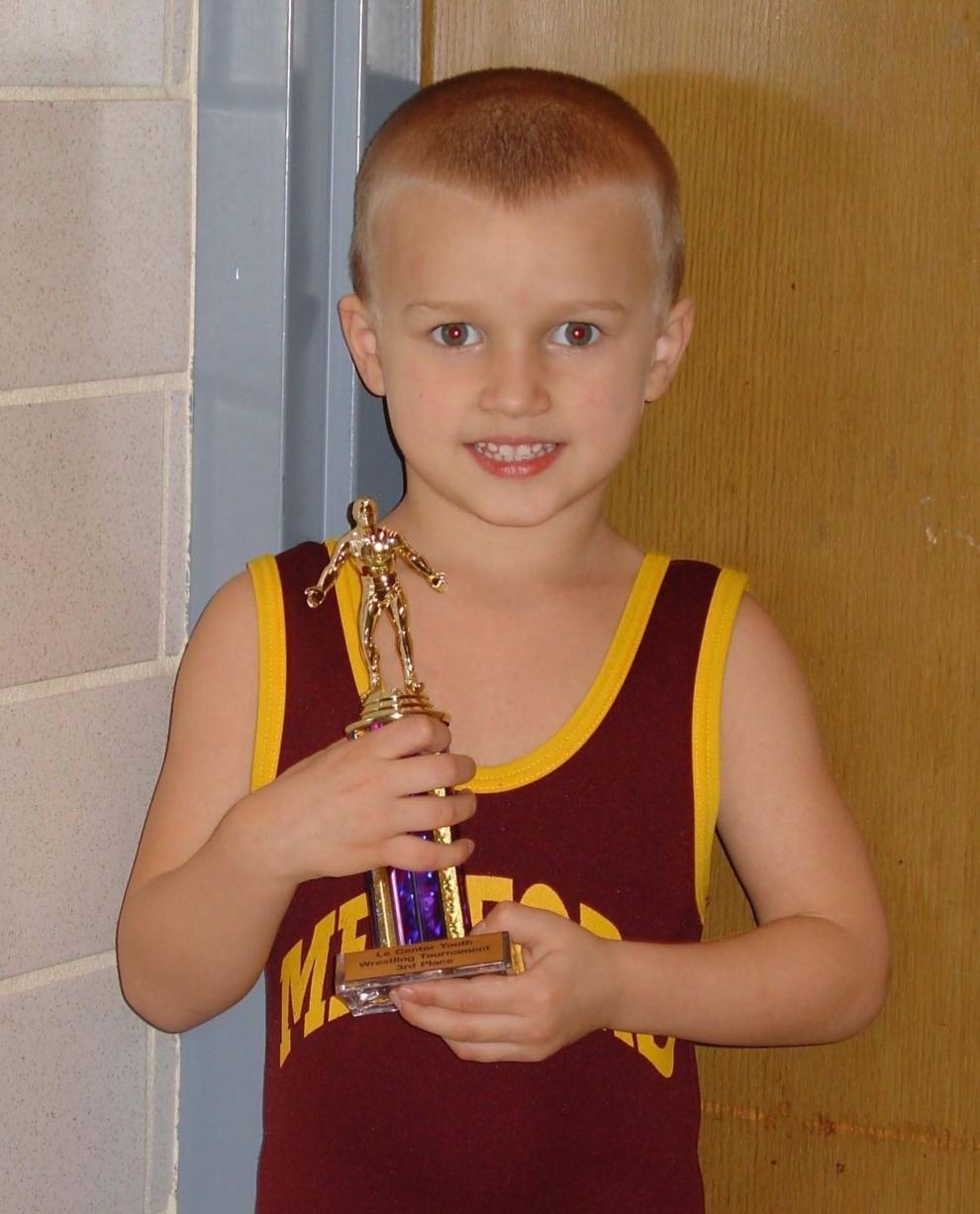 Robb confirmed that the injury wasn't major and has since returned to practice.
The next dual for Nebraska is a potential homecoming for Robb. The University of Minnesota is scheduled to host Nebraska at 8 p.m. Friday, when there's potential for a top-rove matchup between Robb and No. 4 Brayton Lee.
"It's one that I look at in the beginning of the year and get excited to be back home and see a lot of the people I know show up and wear red, so that'll be fun," Robb said. "I don't think about it like it's a different dual, but I definitely get excited for it just to be home and around people I know"
Once regular season duals come to a close in late February, Robb will gear up for the Big Ten Championships, where he's gunning for the top against a loaded field of wrestlers in early March.
After conference championships, he's on track to qualify for his third career NCAA tournament.
It's a difficult grind to endure, especially as an underclassmen, but it's become something that Robb has become accustomed to.
"I want to come out on top for sure on the Big Ten stage while I'm at Nebraska," Robb said. "I've also said this a couple times this season and I've talked with a couple of my coaches: I want to leave every match with nothing left to give on the mat.
"When you do leave the mat and feel like you have more to give, it's easy to look back and regret that and I don't want to have any regrets."