During Jerry Eggermont's 23 years of coaching the throwers for the boys track and field team at Owatonna High School, he's never been more nervous than he is for the upcoming Section 1AA meet. However, not all the butterflies scuttling about in his belly are of the Nervious nellyous species. He's also extremely excited. 
"Athletics has been such a big part of our family," Eggermont explained to me during one of the many sweltering afternoons last week. "My wife was a collegiate athlete, basketball, and both of my daughters competed for four years in college. Athletics and education runs deep in our family. It's a moment where the sports venue gets to bring us together for the first time on opposite sides of the fence."
Coach Eggermont, as he is affectionately known not only amongst his athletes but also the various schools and track coaching staffs in the surrounding area, is nervous and excited because he will be coaching against one of his daughters, Madi Smith, for the first and likely only time.
Smith (née Eggermont) is a 2014 graduate of Owatonna High School where she participated in swimming, basketball and, of course, track and field. After matriculating, she attended Minnesota State University, Mankato where she competed as a thrower on the women's varsity track and field team for three years, tossing anything and everything that could earn her team points. Shot put, discus, javelin, hammer. She threw them all, which became a valuable resource for not only her future career as a coach, but four of her father's coaching career as well.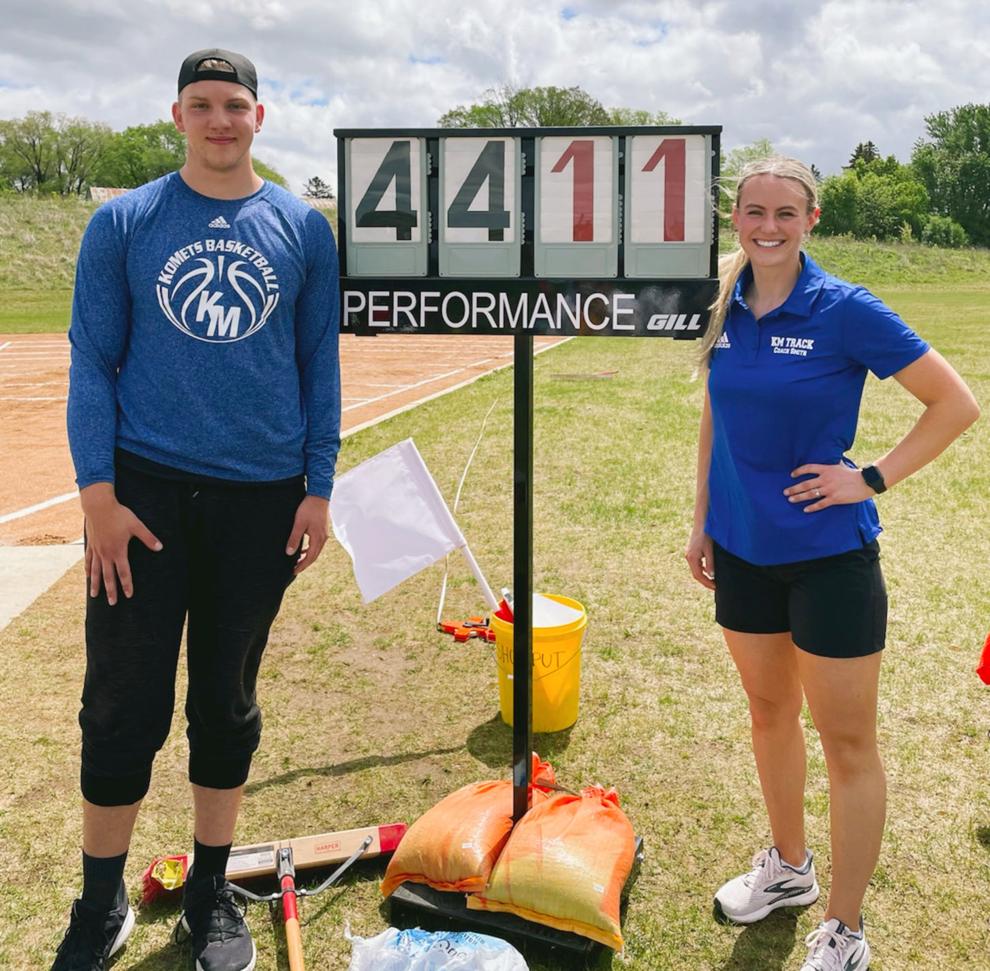 During the summer months, Smith would return to Owatonna and would dish out valuable tips and tricks to Eggermont's athletes as they practiced.
"The kids loved her and they were like, 'Hey, when is Madi coming back?' And I was like, 'Am I chopped liver or what? You don't want me anymore?'" Eggermont said with a hearty laugh.
She graduated from Minnesota State University, Mankato and moved to Colorado with her new husband, J.R., in 2018, where they coached track and field together for a year; he taught the sprinters, while she, naturally, coached up the throwers.
However, just as the two were beginning to get their footing in the coaching world, COVID-19 hit. The newlyweds remained in Colorado until the late spring of 2020 when Smith was offered a teaching job, and along with it an assistant position on the track and field coaching staff, in the Kasson-Mantorville school district. J.R. was accepted into medical school at the Mayo Clinic in Rochester and the two jumped at the opportunity to move back home.
Being a relatively small Class AA school, so small, in fact, that they will be dropping to Class A beginning next spring, Smith is in charge of directing all of the school's throwers, male and female, from the seventh to 12th grades. Her athletes have a range of talent levels and abilities, but it's that challenge that makes the job more fun, she said. She pushes her kids during drills, points out minuscule adjustments they can make to send the shot or disk flying that much further, oh, and she also regularly breaks down film with her dad.
"I'm not the end-all, be-all. There's great coaches out there. But I wouldn't turn my guys over to anyone but probably Madison," Eggermont said. "That's how strongly I feel. [Her] level of ability in relating to the kids, she's such a good mentor. And the knowledge of the game and the technique far exceeds anything [I had] when I was that age. I wouldn't even come close to having her abilities. I really enjoy it. It's been one of the highlights of my teaching and coaching career, having her close by and to see the work that she's doing over in Kasson."
'I never wanted or want anything, especially sports, to divide a loving relationship'
The relationship between coach-parent and athlete-offspring can sometimes be a contentious one. Sometimes the two can come at loggerheads due to large egos and even larger competitive natures.
Smith and Eggermont do not, and never have had, such issues.
"The relationship that Madi and I had, along with [other daughter, Lindsay], was they knew dad was highly competitive, but I also wanted to give them space and be a dad. I wanted to love them well, I wanted them to grow and, sometimes, I gave them more than they necessarily wanted after an event instead of giving them some space. But, ultimately, I wanted them to grow on their own. If Madi had the initiative to want to come and throw on a weekend, I wanted it to come from her and not me because it would be more meaningful then. I was available at any time to go throw with her, spend time with her and help her as a high school athlete, but I also knew that if I pushed too hard, it was more of 'me' then and what I wanted, not what she wanted. I certainly didn't want to live my life again through my daughter."
Sports, and track in particular, has been a bonding agent for the two since Smith was a very young age. Smith would tag along to almost every practice, meet and championship when she was in preschool and some of her earliest memories involve riding the bus and hanging out with the athletes. To this day, whenever Smith returns to Owatonna or Eggermont and his wife, Wendy, make the trip down to Rochester, the two will breakdown film and talk shop over a couple of burgers on the grill.
"He's been in the game for so long and I look up to him in so many different ways. He's just super wise with throwing and the technique. Still, to this day, I'm learning so much from him," Smith said. "Looking back now, I really wish I would have taken my dad's coaching, that opportunity, more than I did. The times where I did throw with him, I was just throwing so much further."
For Eggermont, being a father was much more important than being a coach and being there for his daughter, in whatever way she wanted or needed, took precedent to anything happening on the throwing platform. 
"At the end of the day, I never wanted or want anything, especially sports — and when they're at such a vulnerable age — to divide a relationship, a loving relationship," Eggermont said.
The Battle for Family Bragging Rights 
Father and daughter will meet in Lakeville beginning on Thursday for the first and only time as rivals. The Section 1AA track and field meet is slated to begin at 1:30 p.m. at South High School.
"We're so excited," Smith said of the matchup. "I'll still coach his throwers and he'll still coach my throwers...We're both competitive people, but we want each other's athletes to P.R. and do amazing and beat the other athletes."
Eggermont concurred...with a catch.
"Come Thursday and Saturday at the section meet, I will be Madi's biggest fan because I want her to do well. And she's done well. She's worked really, really hard. But I want to beat her. I love her to the Moon, but I want to beat her," Eggermont said fighting back tears of pride.