While the Owatonna boys swimming and diving team wasn't able to secure a Big 9 Conference win over the visiting Mankato West Scarlets in a 95-84 loss, the Huskies were still able to pull out a couple big positives from Thursday night.
Owatonna saw a combination of time drops and a couple top placements from its swimmers while it still continues to fight off a couple of illnesses.
Junior swimmer Ryan Peterson had a strong outing for the Huskies and started his night off with a first-place finish in the 200-yard individual medley behind a time of 2 minutes, 11.32 seconds. He trailed right behind West's Ethan Bartell through the first 100 yards, then overtook him and built up some separation in the tail end of the 200 yards to win the event.
To close out the meet, Peterson recorded a personal best in the 100 breaststroke behind a time of 1:09.51, then immediately prepared to swim in the 400 freestyle relay alongside sophomores Carter Quam, Matthew Larson and David Rhodes.
The quartet of Huskies dropped nearly four seconds to set a new personal best as the four combined for a time of 3:39.74 to close the meet out with a first place finish.
Before swimming in the 400 freestyle relay, Larson recorded one of the varsity team's four first-place finishes. He opened the 500 freestyle by getting out to a strong lead and never looked back. He took first behind his time of 5:27.14 with the next closest swimmer being West's Ephraim Staley in second at 5:51.30.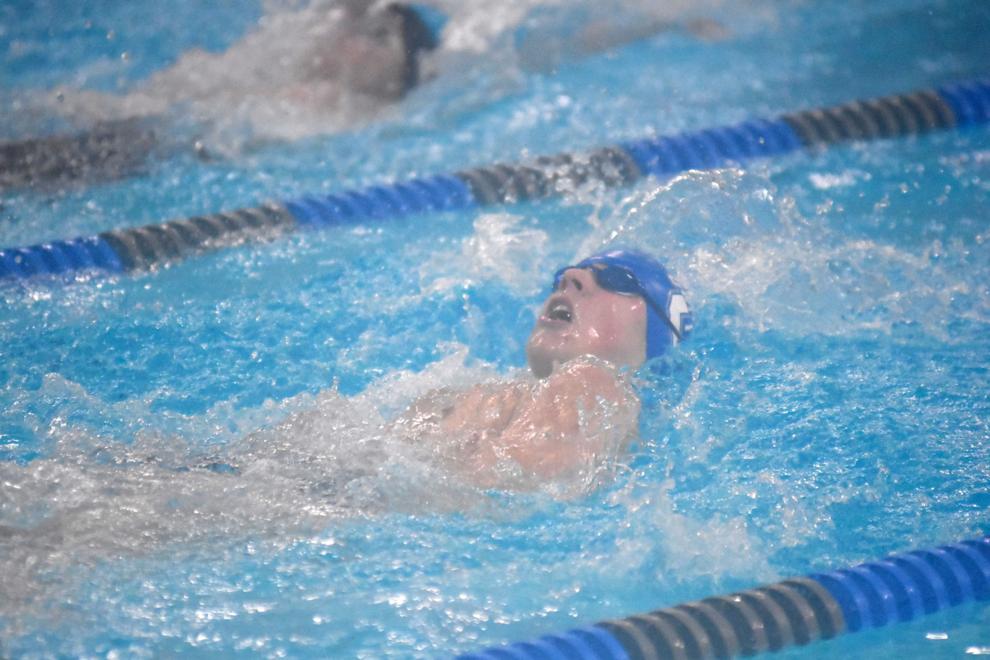 The Huskies also swept diving with a first-place finish from sophomore Ethan Peterson (136.10), second place from sophomore Henry Hilgendorf (135.55) and third place from junior Cole Piepho (108.75).
The quartet of Rhodes, Ethan Peterson, eighth grader Tegan Quam and sophomore Jack Nelson picked up a third-place finish in the 200 medley relay with a time of 2:12.36 to open the meet.
Rhodes went on to take second place in the 100 back by shaving off two seconds from his previous times and finished at 1:06.97 with eighth grader Logan Flynn right behind him in third place at 1:11.25. The two flipped positions in the 200 free where Flynn took second place behind his time of 2:14.20 and Rhodes trailed him with a time of 2:20.72.
Carter Quam nabbed a pair of second-place finishes with a time of 24.14 in the 50 freestyle and a time of 1:03.72 in the 100 butterfly. Senior Evan Fosness followed behind in fourth place with a time of 26.36 in the 50 freestyle and junior Oscar Johnson finished in fifth with a time of 1:26.76 in the 100 butterfly.
Quam, Larson, Fosness and Ryan Peterson combined for a time of 1:38.68 in the 200 freestyle relay, which earned them second place and just missed out on first place by 1.10 to the Scarlets first place time of 1:37.58.
Fosness posted the top time of the Huskies in the 100 freestyle at 1:01.95, which earned him fourth place. Sophomores Ethan Eichten (1:06.31) took fifth and Carsen Phelps (1:07.85) took sixth.
Next up for the boys is the Austin Invite on Saturday afternoon at Austin Ellis Middle School, followed by a road meet against Red Wing on Thursday.