The Owatonna Huskies girls lacrosse team advanced to 4-0 this season, both overall and in the Big 9 Conference, following their commanding 13-1 win over the Rochester John Marshall Rockets Thursday evening in Owatonna. 
"[John Marshall's] always been one of the powerhouses in the Big 9. So it is really exciting to put up numbers like that," Owatonna coach Dani Licht said after the win.
Annie Moran and Audrey Simon — the Huskies' offensive powerhouses — once again played a major role in propelling their team to victory, scoring a combined nine goals with Simon adding three assists for good measure. Owatonna's 13 goals bring them to 45 and, to make matters worse for opposing teams, they have allowed only nine on the season.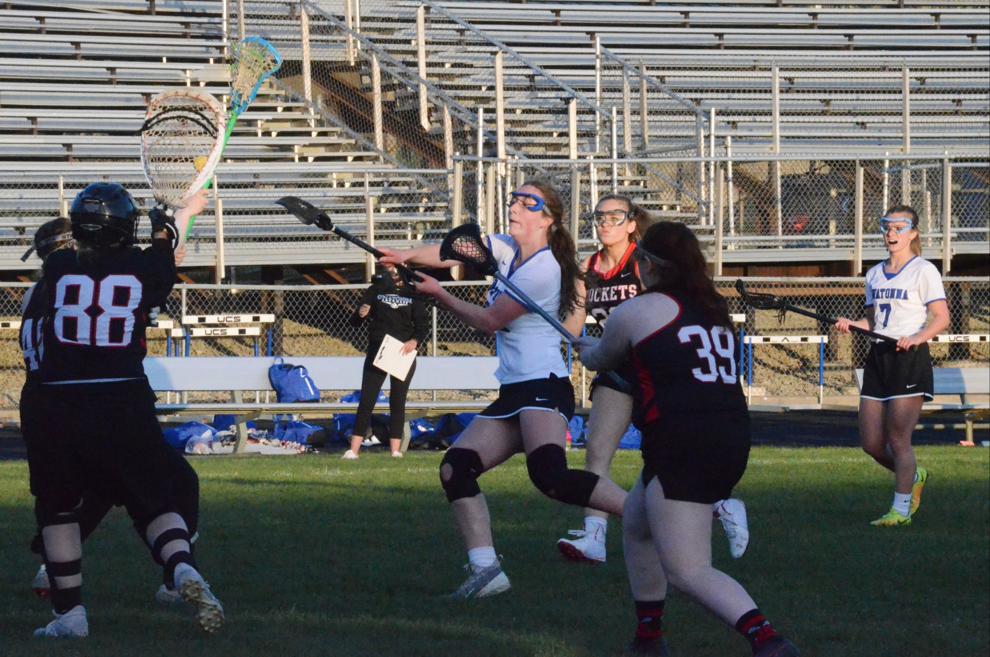 The speed and physicality with which Moran and Simon play is virtually unmatched amongst the rest of the teams in the Big 9. However, the two aren't alone in being willing to both absorb and dish out contact throughout the course of the game. The entire Huskies squad isn't afraid to play a physically with their opponents, a fact that hasn't always been the case, according to Licht. She notes that her team's physical style of play is one that has grown over the course of the young season.
"That is something that they've been working on and they've been doing a really good job in practices," Licht said. "Making sure that we're re-defending as soon as we lose the ball, we're working to get it back. I think that is one of the things that we've really stepped up in doing."
Like most big wins, Owatonna's didn't come about simply because the offense was once again firing on all cylinders. The defense — particularly that of goalie Zoe Anderson — stepped up to the plate as well.
"Zoe had a great game. She was a very aggressive goalie tonight, which, she's always wonderful in net, but we don't always see her outside of the crease and she definitely [did that]. She really stepped it up tonight. [I'm] really proud of Zoe," Licht said.
Anderson provided the Huskies with a number of stops that would have gotten past a goalie of inferior quality. Her presence in the net is every bit the catalyst behind the Huskies' hot start as the offensive prowess of Moran and Simon is.
According to Licht, Owatonna is using moments in each game — such as the second half Thursday evening — to continue to help her team grow and keep them on their upward trajectory.
"We set some goals during that second half, so even though, yes, we were up, we were still working on the things we needed to work on for our upcoming games. We have a lot of time to practice before Sections, but they're definitely learning and growing in the areas that they need to," Licht said.
The Owatonna girls lacrosse team returns to action on Saturday afternoon in a match with Simley High School. The game is scheduled to begin at 12:45 p.m. at Owatonna High School.