Megan Flom had a difficult decision to make.
In August, the Northern Sun Intercollegiate Conference cancelled all fall sports for the 2020 season. Flom, in her fourth year at Winona State and a 2017 Kenyon-Wanamingo High School graduate, felt some frustration about missing her senior season of volleyball.
Luckily for her and many others, the conference granted a universal redshirt, which allows another year of eligibility for fall athletes.
Flom had to decide if she wanted to remain at Winona State. She was already heavily considering coming back and the advice of her parents pushed her to take on more school work in order to return to the court in 2021.
"'You might as well stay for another semester,'" they told her. "'You have all your life to work.'"
Even though she could graduate in the spring of 2021, she chose to add a second minor in order to stick around for the 2021 volleyball season.
The decision to add more course work has interrupted some of Flom's career goals, but the decision to stay doesn't weigh negatively on her.
An elementary education major, Flom put off student teaching for another spring and is set to graduate in the spring of 2022.
Over the summer and into August, Flom and her teammates were wary of what was to come. There was an abundance of suspicion that there would be no season. That didn't stop Flom and her teammates from preparing.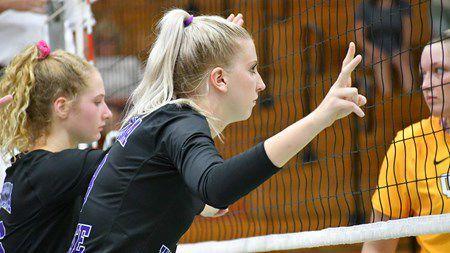 Flom said she and her roommates would gather into small groups, usually against another household of teammates, and played volleyball outside in the sand courts. It was great conditioning when not much else was available.
Once the campus gym reopened, allowing students to reserve times, players — including Flom — worked out with more regularity and with each other in small groups.
During what would have been the 2020 season, the Warriors conducted small practices that gradually included more of the entire team at one time.
Flom felt she took advantage of what was given at every step.
"When we played this summer, we tried to get the team together," Flom said. "A lot of times we're on different schedules. Just playing with friends and playing the game you love even if it's not as competitive is still fun...It was good to be back with everyone because we hadn't seen each other since March when everything got shut down."
Working closely with her small practice groups and the incoming freshmen, both in person and virtually, elevated the excitement about a team that ended last year 21-8 overall before losing in the first match of the NSIC tournament.
"That kind of irritates us that we couldn't prove ourselves this past fall," Flom said. "Next fall, as a team, we have a lot of potential to do good things.
"It kind of motivates us a lot more knowing that we couldn't play in our last season together," she added. "There are a lot of underclassmen that have stepped up so next fall will be fun too."
Last season, Flom set a program record with a .391 hitting percentage. She led the Warriors with 358 kills, was second in total blocks with 77 and third in aces with 20. That helped her be named Winona State's Female Athlete of the Year for the 2019-20 school year.
She has a total of 644 kills in the last two seasons and has led the Warriors in kills in each year. Another full season could vault Flom into the top 15 of Winona State's all-time kills leaders.
To help the freshmen, she and the other seniors made themselves available to help in any way possible.
"We tried to stay connected with each other and motivate each other to stay active even though we didn't have a season," Flom said. "It's hard to keep pushing if you know it's for something a year away."
One way they kept engaged and connected was by making TikTok challenges for each other.
It certainly helped relieve some of the tension.
The desire to play, to lead and to teach are all factors into Flom's decision to stay for the 2021 season.
Flom has already coached a Junior Olympic team and been a part of volleyball camps put on by Winona State. In addition, she feels her leadership skills have grown exponentially after helping lead teammates through the pandemic thus far.
Most importantly, Flom wants to complete her final season with the Warriors.
"With all the craziness in the world, it's OK that I'm taking my time," Flom said. "It's kind of hard to get into the profession right now with all the online stuff. It's been a change, but I'm OK with it."