With no one to wrestle this summer, Cade King opened up lis laptop.
King, a 2019 Owatonna High School graduate, was back home in Minnesota after wrapping up his freshman season wrestling for South Dakota State. A frequent starter as a true freshman, King struggled to replicate the level of success in high school that delivered more than 200 victories, an individual state championship, a pair of state runner-up finishes and a third-place medal at state.
In his first season in college, King finished with a 9-19 overall record and a 2-12 mark in duals.
"When I showed up as a freshman I was really bad on bottom," King said. "I couldn't ride any guys, I got ridden out most matches and I was only good on my feet."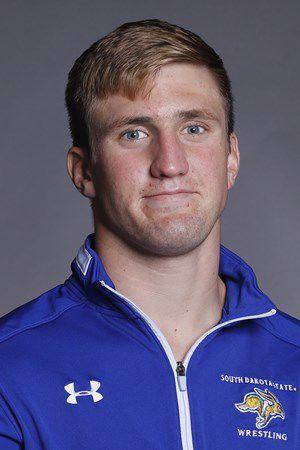 So in addition to individual strength training, King studied the matches from his freshman year and dissected where his losses spiraled. He also examined tape from other wrestlers, in particular Zain Retherford — a 2018 Penn State graduate that won three individual national championships with Nittany Lions and claimed a gold medal for the United States at the 2019 World Cup.
It was the first time King said he watched wrestling for a reason other than pleasure, and it helped him realize what more he can do to become more dangerous on the mat.
"He just scores a bunch of points," King said of Retherford. "He doesn't do it flashy, but he's just constantly coming forward and is really good at turning guys and getting back points. He's really good at top and really good at mat wrestling. He just smothers guys. He'll get a few takedowns in the first period, but eventually he just wears guys down."
That video work combined with a training regimen that targeted improvement on where King thought he was worst last year meant he showed up to SDSU's first practices in August looking and feeling like a new wrestler.
A routine of 100 rope pull ups during quarantine and other exercises to improve his grip strength — plus the overall changing of the composition of his body — also allowed King to better compete at the college level, while also not requiring him to bump up from his 174-pound weight class.
"I think my body is just a lot more muscle," King said. "I also didn't manage my weight as well last year. I cut a lot of weight last minute, which would make me really weak and I couldn't compete as well. This year I'm doing a better job of managing my weight post weigh in, so eating healthy all week and getting my body fat down and stuff like that."
King and the Jackrabbits started the dual season last week. In the first outing against No. 12 Missouri, SDSU dropped a 33-9 match, while King lost a 10-4 decision against Sean Harman, who last year redshirted but posted a 20-1 record while competing unattached.
In the second match of the day, SDSU topped Oregon State 20-12 with the help of King's 8-6 overtime victory against Colton Beisley, a redshirt junior that finished 2-11 last season.
"I felt a lot more physical, but I also feel good on bottom," King said. "I feel a lot more completed and a lot better wrestler all around."
Through the preseason and in those first two matches, King said he felt comfortable and strong wrestling on the mat — especially from a bottom position, where last year he said felt consistently overpowered.
King is hoping to utilize his additional strength, knowledge and overall ability into more improved results on the mat as a sophomore.
"I'd like to be the Big 12 champ. I want to win Big 12 and be an NCAA All-American, and then for our teams goals, I want our team to win the Big 12, which is probably the biggest one."
This Sunday, the Jackrabbits will wrestle at home for the first time against No. 23 Northern Iowa and North Dakota State, which was part of the same quadrangular last weekend as SDSU. The Bison registered a 19-15 win against the Beavers, while they lost 38-3 against the Tigers.