The gymnasts from Owatonna made their way to Faribault High School to take part in the 43rd annual Faribault Gymnastics Invite. The Huskies took second place out of 16 total teams behind a final team score of 141.500, which trailed only Wayzata's 143.900 score for first place.
As a team, Owatonna tied with Wayzata for the top team score on vault at 36.150, took second place with floor routines with a 37.250, third on the bars with a 34.300 and fourth on the beam with a 33.800.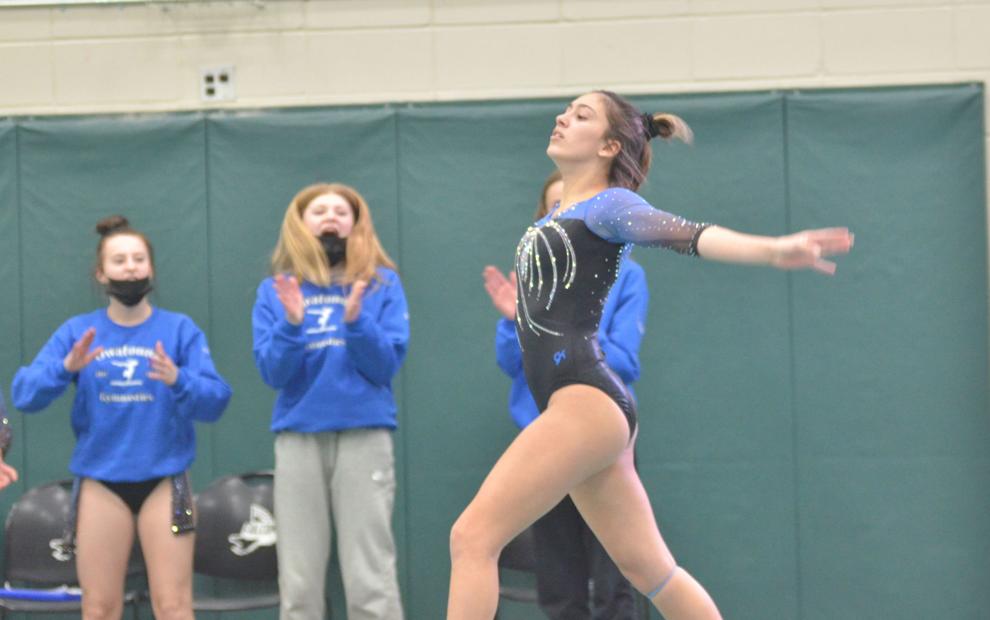 Sophomore Emma Johnson finished as the Huskies' top-ranked gymnast in the all-around with her fifth-place finish out of 114 total gymnasts behind final score of 35.450, which trailed only Cambridge-Isanti's Laci Leverty (36.150) in fourth, Wayzata's Ashley Mouyenga (36.450) in third, St. Michael-Albertville's Jackie Bergeron (36.675) in second and Wayzata's Izzy Hayden (36.850) in first.
Johnson finished 16th on vault with a 8.950 and 20th on the beam with an 8.150, but powered her fifth-place finish in the all-around with her 9.500 floor routine that earned her third place, as well as a sixth-place finish on the bars with an 8.850 score.
The Huskies also notched two individual second-place finishes with senior Janessa Moore taking second on vault thanks to a 9.250, which trailed only Leverty's 9.350. Junior Kaitlyn Cobban took second on the beam with a 9.250 and only fell .050 short of Hayden's 9.300 first-place score.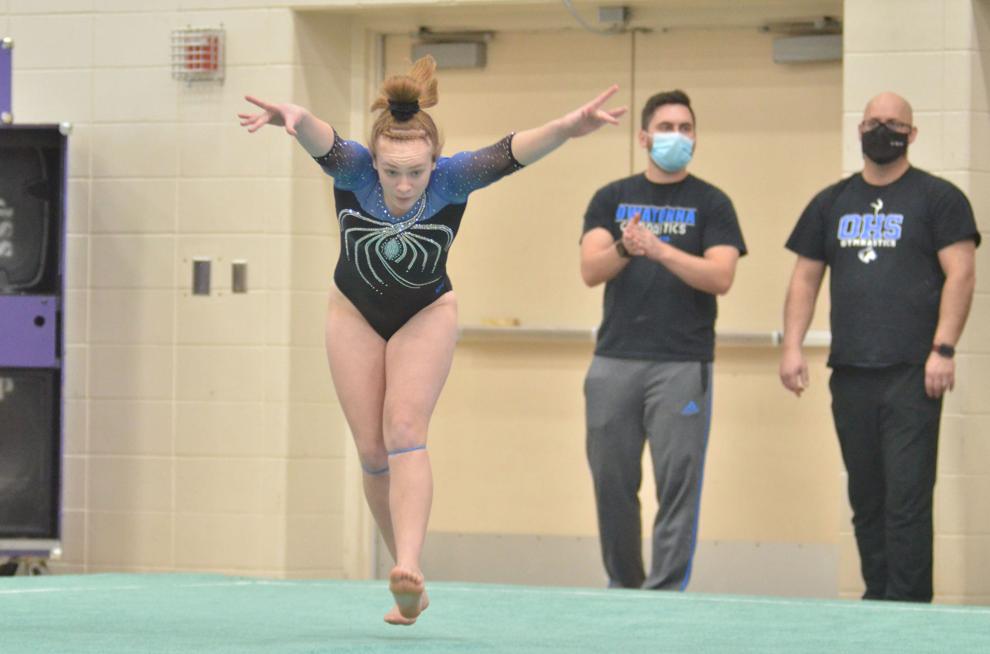 Moore took 13th place on the uneven bars with an 8.600.
Freshmen Averie Rousch and Jozie Johnson were the only other two Huskies to compete in all four events.
Rousch finished in 14th place with Farmington's Emma Oden in the all-around with a final score of 33.900. Her top finish came on the floor, where she notched 12th place with a 9.300. Outside of that, she took 25th place (8.650) on vault, 27th place (8.150) on the bars and 33rd (7.800) on the beam.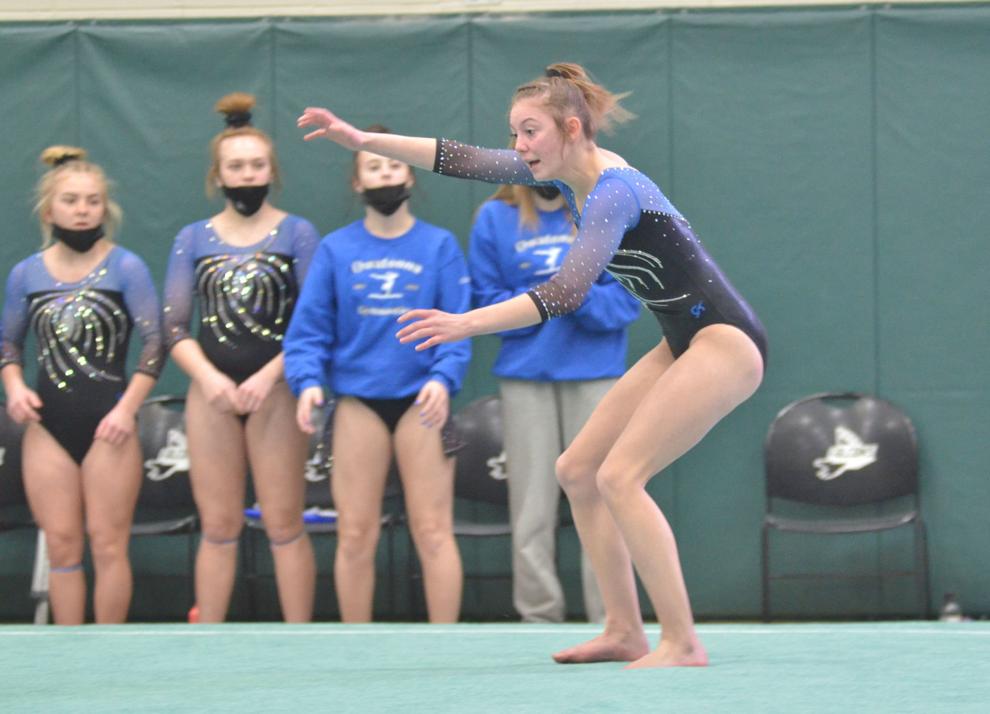 Jozie Johnson trailed just behind in the all-around, finishing with a 33.000 for 18th place. Johnson's day was highlighted with a top 10 finish on the bars, where she took ninth behind an 8.700. She also finished 20th (8.900) on vault, 35th (7.800) on the beam and 66th on the floor (7.600).
Eighth grader Kendra Miller had a big showing for Owatonna after hovering around top 10 in all three events she competed in. Miller finished with a 9.400 on the floor for seventh place, a 9.050 on vault for 10th place and an 8.600 on the beam for 11th place.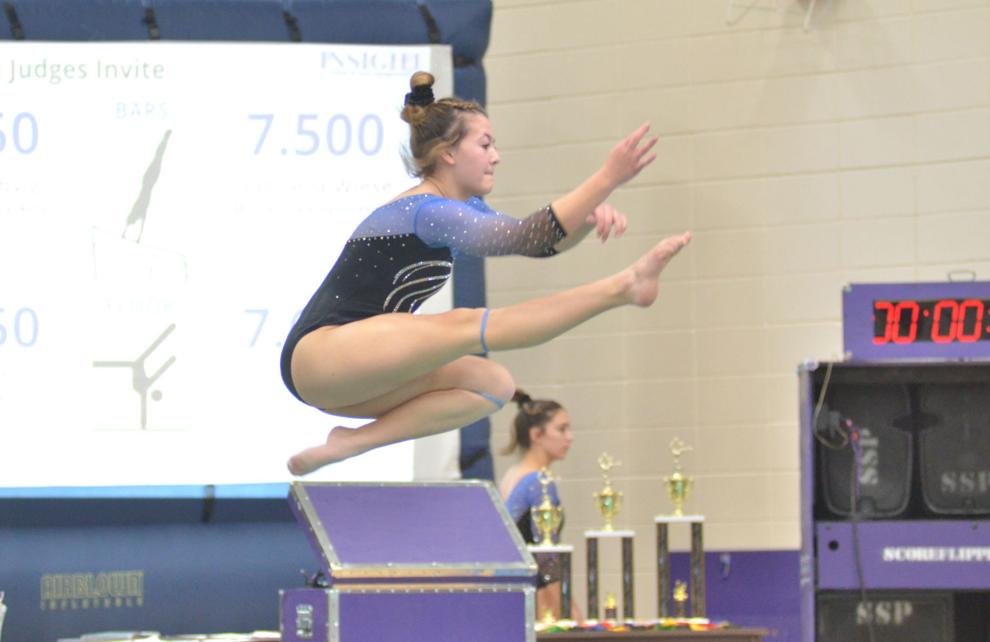 Fellow eighth grader Chloe Myer finished 26th on the floor (9.050) and 32nd place (8.100) on the bars.
The Huskies return to home Tuesday night when they host Lakeville North at 6:30 p.m. and again Friday night at 6:30 p.m. when they host Faribault.