Understandably, many older adults at greater risk of illness took a break from volunteering in the early months of the pandemic. Fifteen volunteers have returned, but that isn't enough to restore the shelf's Saturday hours. According to Pathways Executive Director Nancy Ness, it will be quite some time before weekend hours resume.
"Staff is picking up open shifts, making sure everyone is getting served correctly, just ensuring this place is operating correctly," Ness said. "It's kind of hard to ask people to work on Saturdays when by the time Friday comes, we're all pretty tired and worn out."
Community Pathways isn't the only local food shelf struggling to recruit and maintain volunteers during the pandemic. Northfield Community Action Center and the Lonsdale Area Food Shelf are also short on help, and the up and coming food shelf in Faribault will need volunteers in the weeks ahead as well.
"I think with the rising levels of COVID, people are really not excited to come out of their homes, which they shouldn't be, but we need them in order to keep our program running," Rychner said.
To ensure volunteers' safety, the CAC has a page on its website detailing its COVID-19 response, including social distancing guidelines, sanitizing procedures and other safety protocols. If prospective volunteers feel reluctant to step up, they can also contact the CAC at volunteer@communityactioncenter.org with questions. Opportunities are both mobile and in person, outside distributing products into vehicles or inside organizing food shelf items.
At Community Pathways, Ness said ideally volunteers contribute three hours of their week to helping out. They might help sort clothing donations, like in a retail setting, do the shopping for clients' monthly food supply or simply man the front door. Social distancing and masks are required to protect volunteers and the community.
Ness has found that high school students doing distance learning sometimes have three hours to volunteer, if they only have half a day of classes.
"That's been nice because they have a lot of energy," Ness said. "We've been doing this now for eight months, and it wears us out, so having new volunteers is a benefit for us. We're also finding stay-at-home moms are coming in to help."
The Lonsdale Area Food Shelf (LAFS) has a unique dilemma: finding volunteers available from 11:30 a.m. to 5:15 p.m. on Thursdays — the shelf's only open day during COVID-19. Since the small facility makes social distancing more difficult, only four people may volunteer at a time. Volunteers are asked to help at LAFS at least a couple times per month.
"The hard part is the Thursdays [criteria] because fortunately so many people are still able to work, and those who aren't seem to be part of the senior population who need to be staying home and staying safe," said Tami Heimer, LAFS executive director.
Due to COVID-19 restrictions on building capacity, Heimer said LAFS needed to make the hard decision to not allow children to volunteer with their parents for the time being. She would be open to interviewing available high school students, however, since a few volunteered at the shelf during the summer months.
An up and coming food shelf in Faribault, which moved into its space at 1400 Cannon Circle last week, will soon need volunteers to pack boxes of food and produce on the day of distribution. Volunteers will either place food into vans or go out for deliveries.
The food shelf doesn't have a name yet, but a number of community organizations that made it possible refer to the project as the Faribault Food Access Initiative. Friday marked the first mobile distribution, and Rychner said, "We have so much food going out we have to rent a U-Haul and a transit."
Donations and other needs
Those who want to help local food shelves but can't volunteer might consider making donations instead.
"Channel One has received a lot of food due to COVID, so there's different avenues for them to receive this food; some of it is no cost," Community Pathways' Ness said. "We have a good supply of food and are actually increasing the amount of food we give people now and hopefully through the Christmas season."
Ness said money is also preferred because when Community Pathways receives food donations, items need to be separated for three days in case of COVID-19 exposure.
Community Pathways also collects winter apparel, especially coats and boots, from 9 a.m. to noon each Friday.
Those who want to make donations to the CAC may visit the website and find a list of the 5 Most Wanted CAC Food Shelf Items, which changes throughout the seasons. Currently, those items include shelf-stable proteins like peanut butter, canned meat and fish, canned and dried beans and plant-based proteins; cooking items like sugar, oil, condiments, spices and flour; fruits and vegetables that are canned, dried, fresh or frozen; grains like pasta, rice, flour and whole grains; and monetary donations.
Food aside, Rycher also recommended donors consider giving paper towels, toilet paper, dish soap, laundry detergent, diapers, wipes, formula and personal feminine hygiene products, which can be expensive and can't be purchased with SNAP Food Assistance/food stamps.
Some local food shelves have needed to cancel their holiday endeavors due to the pandemic, but others have adjusted plans to fit health and safety guidelines.
At LAFS, Heimer said clients already registered for both the Thanksgiving meal pick-up and the Christmas wish list program for children. Instead of volunteers distributing the Thanksgiving meals on one day, clients have picked up their meal preparation packages throughout the month of November. The Lonsdale SnoWizards' monetary donation funded the meals for the project.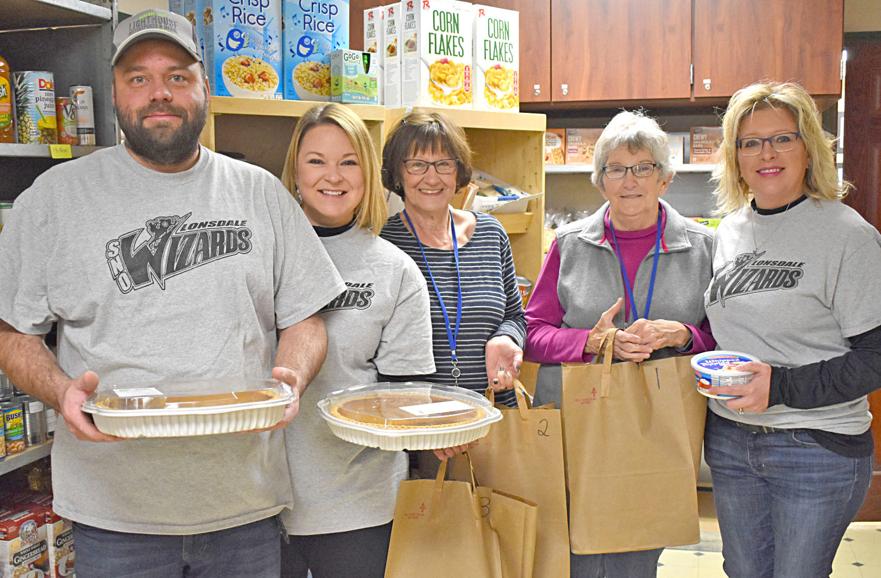 Plans are already underway for the LAFS Christmas project. This year, children of client families will receive gifts from anonymous community members who already received their wish lists from local churches or organizations. Adults in the families' households will also receive a surprise gift to pick up in mid-December along with the children's gifts.
St. Vincent de Paul Society in Faribault is also making Christmas special for its client families by distributing gifts and toys. Clients and their families, including grandparents of client children, and anyone who qualifies for food and clothing assistance at St. Vincent de Paul may register for a Christmas box by calling by the St. Vincent office at 507-334-2100 or completing a registration form, available at the office, and returning it to the drop box at St. Vincent.
Families may include wish lists for children in their registration as well as the ages, genders, shoe sizes and clothing sizes of children ages 1 through 14. This will help volunteers know the appropriate gifts to package. Boxes will also include some hygiene products.
St. Vincent de Paul Society will arrange appointments for families to pick up their boxes at the northwest door of the building starting Nov. 27.