The Steele/Waseca Drug Court celebrated three new graduates Wednesday. This year's ceremony was held virtually to accommodate social distancing restrictions.
The drug court team, Judge Joseph A. Bueltel and James Eberspacher (Director at National Center for DWI Courts), met virtually to celebrate the accomplishments of their program graduates. Graduates' friends and family were also encouraged to join the ZoomGov meeting. Others interested in watching the virtual meeting could do so by visiting the Steele County Courthouse.
"We are very excited to acknowledge all the hard work put forth by our participants to change their lives," Drug Court Coordinator Nicole Grams wrote in an email prior to the commencement.
On Wednesday, Alison Johnson, Janiffer Miller and Adam Lopez became the program's 60th, 61st and 62nd graduates.
So far Steele/Waseca Drug Court has served around 197 people, with 93 participants either withdrawing from the program to serve their jail time, transferring to another drug court, terminated due to new criminal activity or refusing the services provided. The five-step program currently has 45 participants. The total number of sobriety days among the group is 10,977 or about 30 years combined. The average sobriety for a program participant is 243 days, according to Grams.
Eberspacher representing the National Association of Drug Court Professionals was also in attendance. Eberspacher was the former Minnesota State Drug Court Coordinator when the Steele/Waseca Drug Court was first started and is an ex probation officer. He was responsible for completing site visits at each court site during his program evaluation for the association.
"It's heartwarming for me to be able to speak at events like this because they're really truly important," he said. He added that he likes to see the life changes people make and the "Minnesota nice" of supporting and helping others.
Often people in the justice system are assigned numbers, which can silence a person's voice, story, emotions, ideas and values. Numbers are impersonal.
"This team knew your name from day one," Eberspacher said to the graduates. "Alison, Janifer and Adam, you're not numbers, you're individuals."
Other members of the drug court team gave words of advice and congratulations to graduates.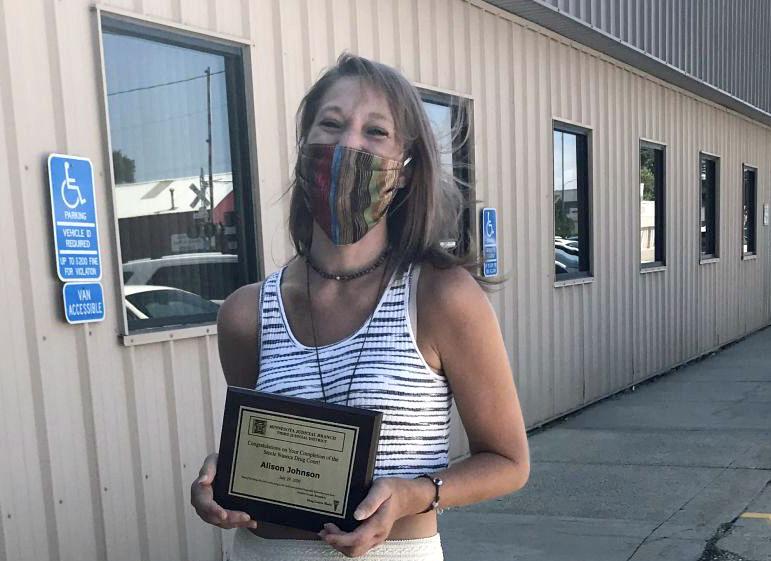 Johnson began the program mid-January 2019, entering following a charge of first-degree possession of controlled substance. As a result of completing the program, Johnson avoided a 65-month sentence. She completed 132 tests during her time in the program and is on day 321 of her sobriety journey as of Wednesday.
"I feel like I'm ready to be able to keep myself accountable," Johnson said. She says she is looks forward to finally moving on, being a mother to her child and focusing on her goals. One of which is to get her driver's license.
Grams described Johnson as quiet and humble.
"Your whole focus has been how to take care of your personal health, how to take care of your personal recovery and how to be a better parent and how you continue to be a better daughter," Grams said at the commencement.
Johnson thanked the team for holding her accountable.
"I got to remember that addiction is a lifelong process," Johnson said. "I have to monitor it and be aware."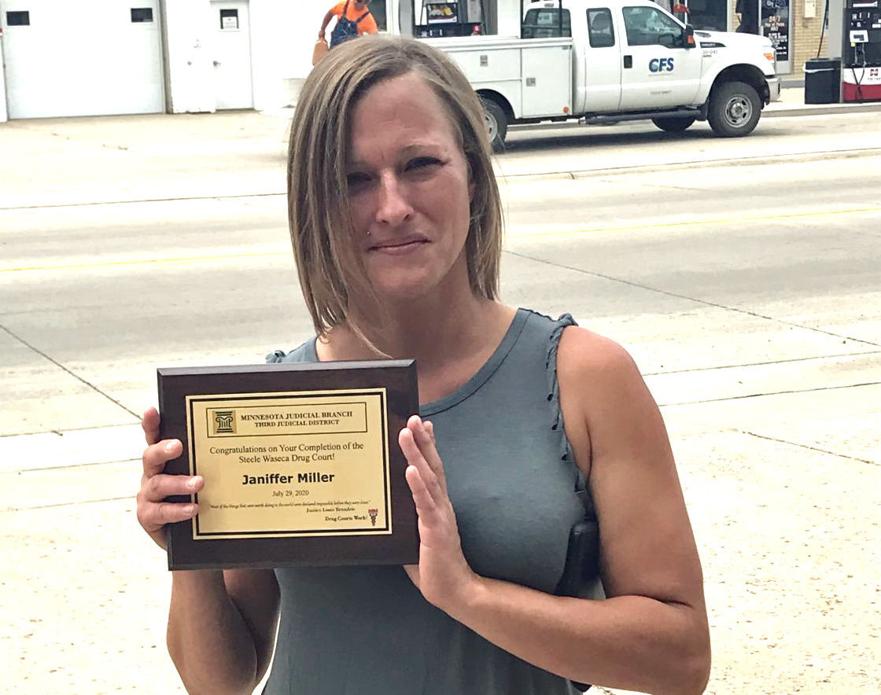 Miller entered the program after being charged with felony terroristic threat, two counts of felony violating orders for protection and a gross misdemeanor DWI. She has been in the program since Feb. 2, 2017. She had been at risk of incarceration for 21 months. During her time in the program she took 317 tests and spent 495 days sober as of the commencement.
"You worked through a lot of adversity during the time that you have been in our program," Grams said. "You were able to pull yourself up each time."
She has a strong connection to fellowship and the recovery community, whether it is attending the softball and kickball tournaments or making connections with others in recovery.
"I encourage you to continue to be a role model for others that don't have to show perfection when they go through the program, but they can continue to show personal growth," Grams said to Miller.
Miller wants to continue to focus on her recovery and connect with the network she has built during the program that will support her sobriety. During the commencement she said the program was great and that she is thankful for it.
"I'm grateful for the program and all of you," she said.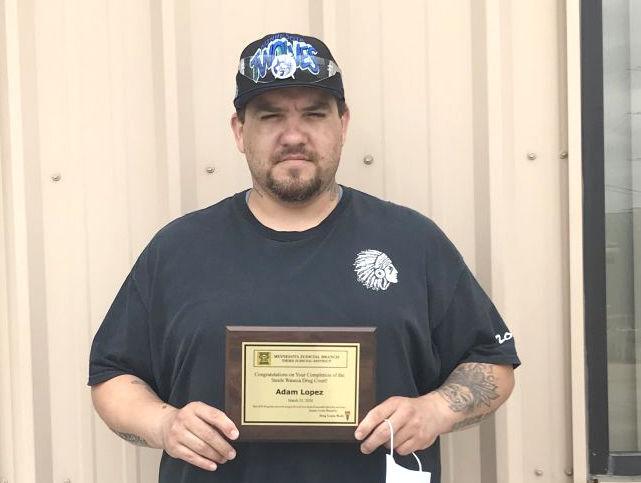 Lopez joined the drug court in September 2018. He was supposed to graduate in March, but the pandemic delayed that. He came into the program with felony first-degree burglary and felony fifth-degree controlled substance possession charges. He was at risk of a 51-month sentence in prison, but has received a downward departure. Lopez completed 151 tests and has been sober for 777 days.
Grams added that Lopez, too, has a strong connection to his family, a strong work ethic and is committed to his recovery program.
She also mentioned how Lopez had become a mentor to his brother. At one point Lopez's brother had shared on Facebook that watching Lopez recover motivated him to also seek recovery.
"I want you to know that others have watched and they have observed, and they too have looked to you to be a mentor," Grams said to Lopez.
Lopez thanked everyone for their involvement in his recovery.
"I'm on a mission and I got my kids back and everything like that," Lopez. He has gone on family trips to Duluth and is getting to experience new things with his family.
A brief look at the program
The six-year-old drug court program was created to help high risk and high-need substance abusers that were continually coming in and out of the court system.
The drug court program is voluntary, and allows people with drug or drug-related offenses the opportunity to reduce their jail time by completing a substance abuse treatment plan and meeting certain requirements. The general requirements include completing a substance abuse evaluation and continued assessments, substance abuse treatment, attending regular drug court hearings, submitting to random drug tests, maintaining employment, completing their GED and obeying the law, among any other requirements for a particular participant. A participant must be in the program for a minimum of 18 months, according to the Steele/Waseca Drug Court website.
Evidence has shown that drug courts can be a cost-effective way to reduce drug use and crime. Program participants reported less criminal activity (40%) and fewer rearrests (52%) compared to similar offenders (54% and 62% respectively), according to the National Institute of Justice's Multisite Adult Drug Court Evaluation. In addition, program participants reported less drug use (54%) than comparable offenders (76%). They were also less likely to test positive on a drug test than their counterparts (29% and 46% respectively). Although treatment costs were higher for those that participated in the program, the decrease in recidivism saved an average of $5,680 to $6,208 per participant, according to the evaluation.