In line with a statewide trend, area hospitals are uncomfortably close to meeting their capacity limits.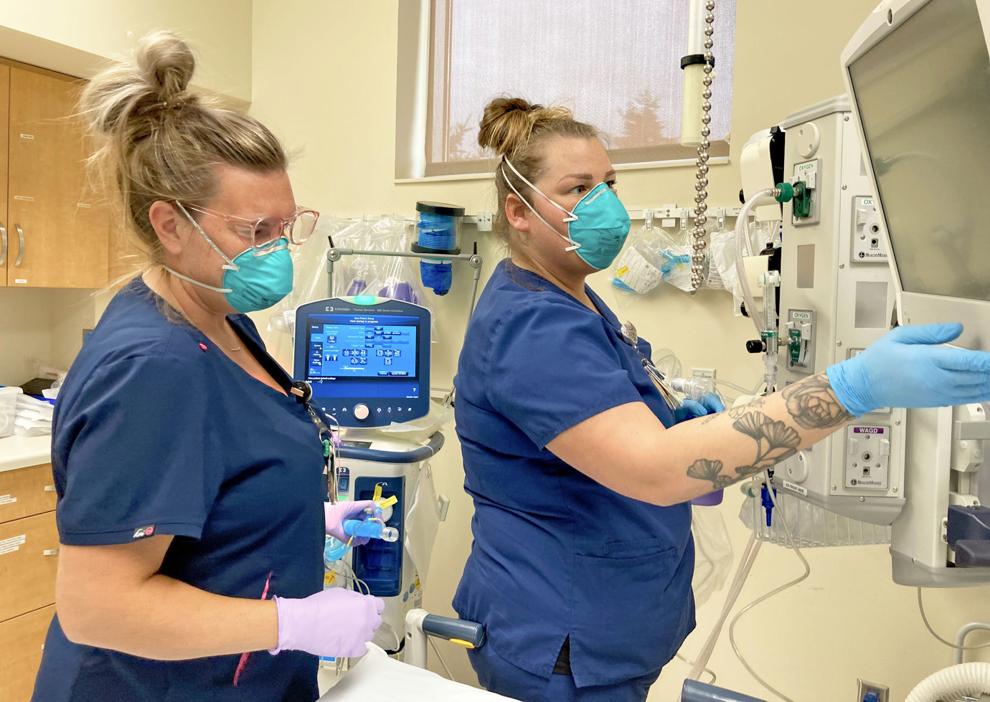 According to Michael Johnston, president of the Allina's Owatonna Hospital and District One in Faribault, the emergency departments in both hospitals have seen record volumes of patients coming through the doors over the last few months. Since April, District One has seen 20-50% higher volumes in the emergency department compared to 2020, and in Owatonna, the numbers are about 20-40% increased. Since July, however, it has only become more severe.
"The last two months have been the highest numbers we have ever seen," Johnston said of both locations. "There has been an extreme increase coming into our [emergency departments]."
The overall capacity levels over the last several weeks in both hospitals has continued to hover around 90-95%, said Johnston.
While he confirmed that there has been a surge in COVID-19 patients over the last couple of months, taking up roughly 30-40% of the available beds in both locations, he said there are other patients who are "very seriously ill" with no relationship to the pandemic. However, Johnston said the number of unvaccinated people taking up hospital beds is a glaring issue.
"Of the COVID patients we have, about 80% of them are unvaccinated," Johnston said. "Of our ICU patients, it's even higher at about 90% unvaccinated. I cannot stress this enough — we need people to get vaccinated. They are getting sick, because they didn't get the vaccine, and now they are taking up a bed that could go to someone who is extremely sick for some other reason."
Though the hospitals are "definitely busy and full," said Johnston, both locations are also experiencing a constraint on staffing. Johnston said that staff is feeling the pressure of the surge on both the emergency departments and the med floor; it's been taxing.
"This is causing our staff to make patients experience wait times that are a lot longer than normal, because we just don't have all the staff that we need for this huge increase in volume," Johnston said. In Faribault specifically, he said the limited number of staff impacts what the facility's actual "capacity" could be.
Having worked in health care for more than a decade, Johnston said he has never before seen the mass exodus from the industry as what can be seen around the country at this time. He said people are "obviously burnt out" and tired. In Owatonna and Faribault, turnover has been more manageable.
"For us, locally, it is more the fact that we have this huge surge in volume, but our staff has really stepped up and taken care of more than they normally would have to when it's busy," Johnston said. "I want to make it clear that we are here to take care of you — there are no issues with getting patients in and cared for, despite being busy and full."
Aside from getting the COVID-19 vaccine, Johnston said there are other ways the community can help in easing the stress on their local hospitals. Instead of going to the emergency department, Johnston reminds people that it is important to first seek help from their primary care provider.
"Your primary care provider will be able to direct you the right way, which may include trying to find an urgent care before coming to the emergency department," Johnston said. "Telehealth is also a great way for patients to connect with a doctor if they are feeling ill before they ever step through our doors – this is a way to see a provider quickly and get some direction."
According to the Minnesota Department of Health, as of Friday there are 19,334 confirmed, active cases of COVID-19 in the state. This is a level that has not been seen since mid-April, with much of the new case growth happening in greater Minnesota.
"These are numbers we had hoped we would not see again," Health Commissioner Jan Malcolm told reporters on Friday. Within the next few days, Malcolm said the state expects to top 700,000 total known cases in the pandemic.
Current hospital and intensive care needs have risen during this summer-fall wave — 752 people around the state are in hospital beds currently with COVID-19, including 213 ICU cases. Those counts have ticked down in recent days, although they're still higher than in the April surge.
"We continue to have grave concerns about the impact of this latest wave on our hospitals," both in the pressure around hospital capacity as well as the impact on health care workers, Malcolm said.
Minnesota Public Radio News contributed to this article.