Technology is evolving and it is becoming clear that developing computer, coding and programming skills will be a crucial asset to the next generation of workers.
Throughout the pandemic, people have come face-to-face with technology, being forced to quickly learn new platforms, software and all things online. Many folks have spent the last year connecting online and working from home, while nearly every student has spent some time logging into class from afar.
Medford Elementary changed the emphasis of its typical afterschool robotics program into a coding program and Principal Josh Carlson said it has been a huge success.
"We took a little twist here from what we've done in the past with a robotics focus and purchased an online curriculum focusing on the coding and students developing certain skills on how to build software, what the process looks like going into building video games, and they're just really doing some pretty cool hands-on activities," Carlson said.
Students learn about computer software, and website, app and video game development. Beyond the curriculum, students are also practicing team-building skills, math skills and high-level thinking skills. When problems arise students are encouraged to think differently to solve the issue. Students are also learning from their failures and implementing a growth mindset, according to coach Amy Hanzlicek.
"They're just so used to succeeding at the first time, so it's good to see them fail and figure out why they're failing, and that's how they learn from it and learn how to make the codes work and the missions run smoothly," Hanzlicek said.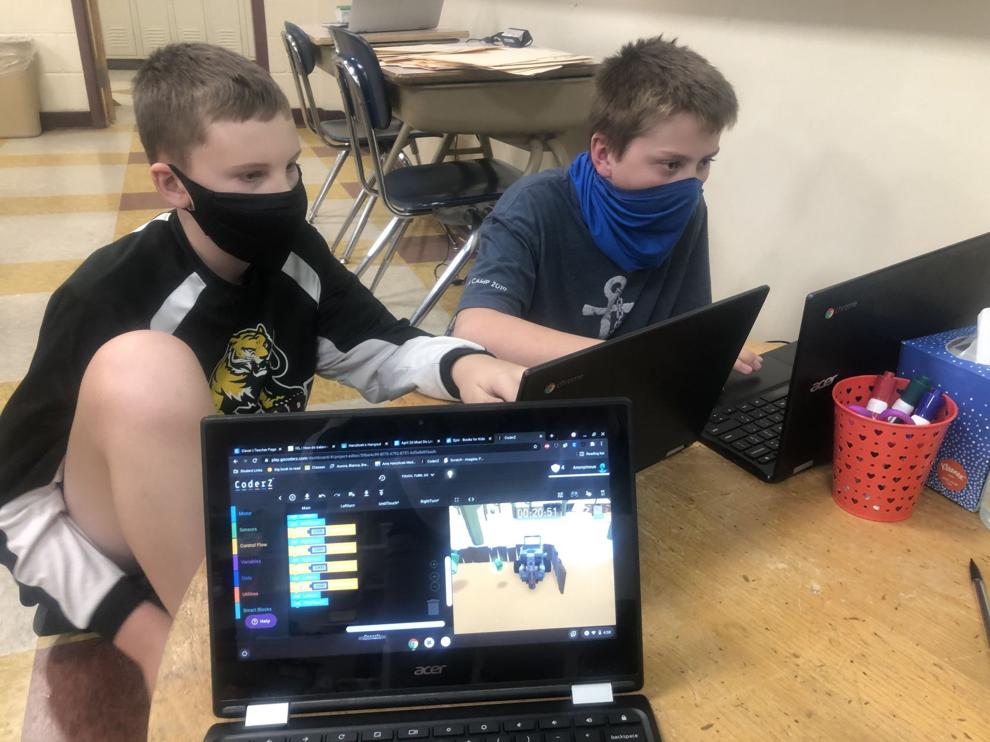 There are about 50 third- through fifth-grade students split between two classrooms in the program. Having originally anticipated only 25 or so students, Hanzlicek and the other coaches were pleasantly surprised to see twice as many applications, leading them to open the program to more participants. The robotics program has seen a lot of growth over the years, said Hanzlicek, who has been involved in the program for three years. Attendance to the six-week program has been outstanding, with very few ever missing a class.
"(The students) are so excited, and they asked, 'Are we doing this next year?' They're looking forward to doing it next year so we'll have to reevaluate and see what we can offer next year too," Hanzlicek said.
Even when it's time to go home after the program, some students are still on their Chromebooks determinedly working away at their coding missions.
Some passionate students, who pick up skills quickly, go on to help other students who may be struggling. Fifth grade student Anthony Wilson has really been "rocking the coding," according to Hanzlicek. In fact, Wilson often helps out younger students during the program when they get stuck.
Wilson's experience in robotics began in a couple years ago. As a self described "tech-type person," Wilson has really taken the lead when it comes to this year's new coding curriculum.
"Anything with robots I absolutely love," Wilson said. "When I'm older I wish to be an engineer."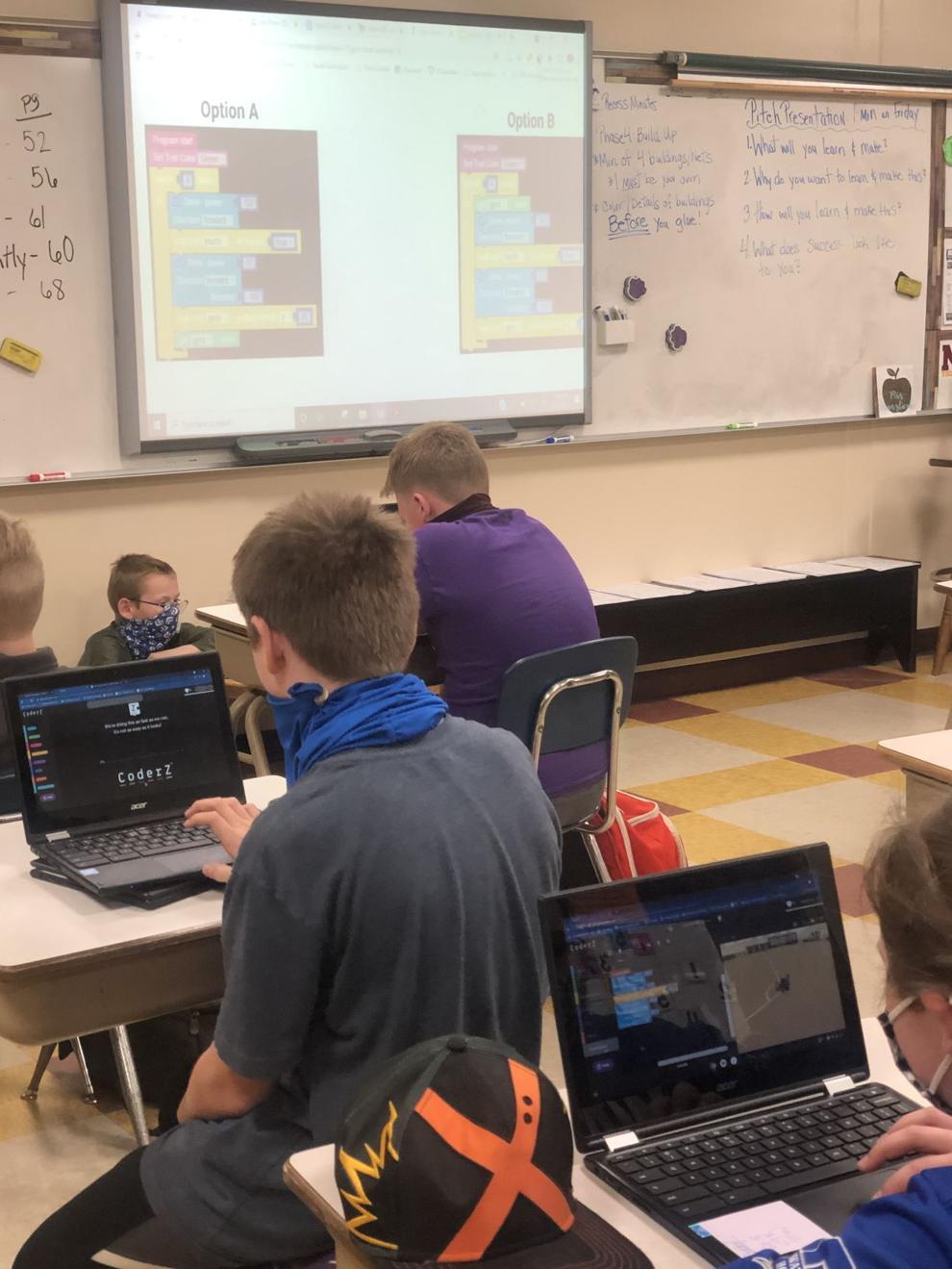 Wilson explains that he and his classmates use a program called CoderZ. The program contains various levels using a EV3 robot, a robot which is typically used for their level in the robotics program, which is called Lego League. According to Wilson, students were unable to join Lego League this year because of the pandemic, thus the coaches decided to make a coding program for the students. Using the CoderZ program, students are tasked with writing missions for the EV3 robot to complete.
"There's a whole bunch of coding blocks and you place them together and then when you run the mission, the robot does that," Wilson said. "There's also a Heads Up Display, in the manual control. When you use manual control and look at the Heads Up Display, you can tell what degree you have to turn to in order to get to a certain spot and what to put your gyro at and also what you put your left motor at or your right motor motor at."
Wilson helps other students who are struggling or don't understand what to do next. He guides them through what certain blocks can do, for example the repeat block, which allows users to repeat their action more efficiently.
Each of the program's 15 lessons teach students new skills in coding, for instance how to make a robot complete a right turn, make point turns or move forward. Students have also determined the degrees at which a robot needs to move in order to drive or move in a square. Other lessons have students working with sensors.
Students are practicing skills that will definitely come in handy as the developing workforce integrates advancing technology. Coaches too are learning along with the students from the program as well as the students themselves. Hanzlicek states she has even been challenged by some of the coding missions.