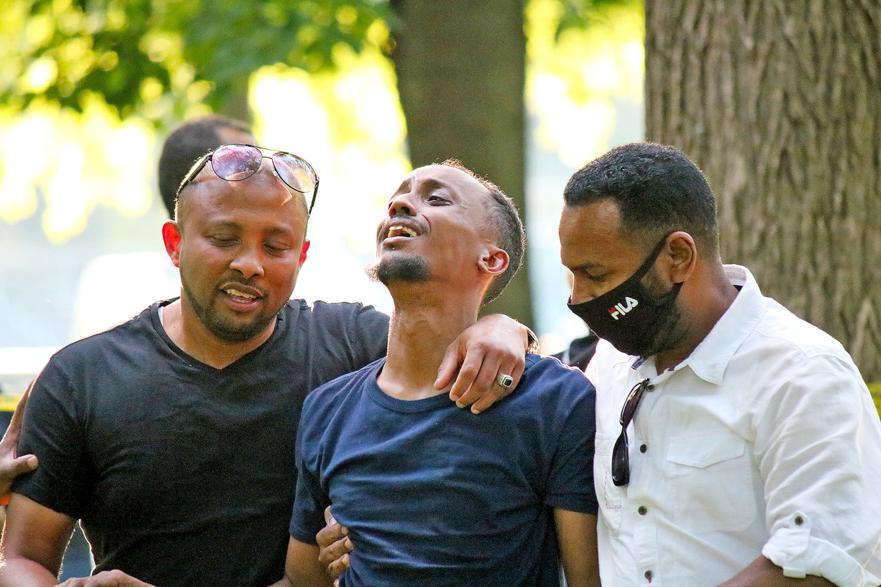 The story: Owatonna police responded to a report of a stabbing at Dartts Park at 5:17 p.m. July 12. Upon arrival, police found Mohamed Aweis Mohamed, 32, of Owatonna, on the ground, unconscious with stab wounds, in the park's southeast parking lot.
Witnesses told police that Mohamed and Hassan Nur Hassan, 28, had a disagreement earlier at Manthey Park before going to Dartts Park to "hang out." At Dartts Park, they began fighting and Hassan stabbed Mohamed, then stole a witness' vehicle and left the park, according to witnesses.
Mohamed died at the scene as a result of a stab wound to the chest, despite efforts made by first responders. While there have been a handful of homicide investigations in Owatonna over the years, this was the first homicide in more than 20 years to involve the use of a deadly weapon.
Police sought the public's help in locating Hassan in connection to the stabbing. Hassan was arrested without incident by Minneapolis police shortly after midnight on July 14.
Hassan was charged July 15 with two counts of second-degree murder, one count of second-degree assault with a dangerous weapon and one count of theft of a motor vehicle, all felonies.
Update: Hassan remains in the Steele County Detention Center and a settlement conference in his case is scheduled for Jan. 21.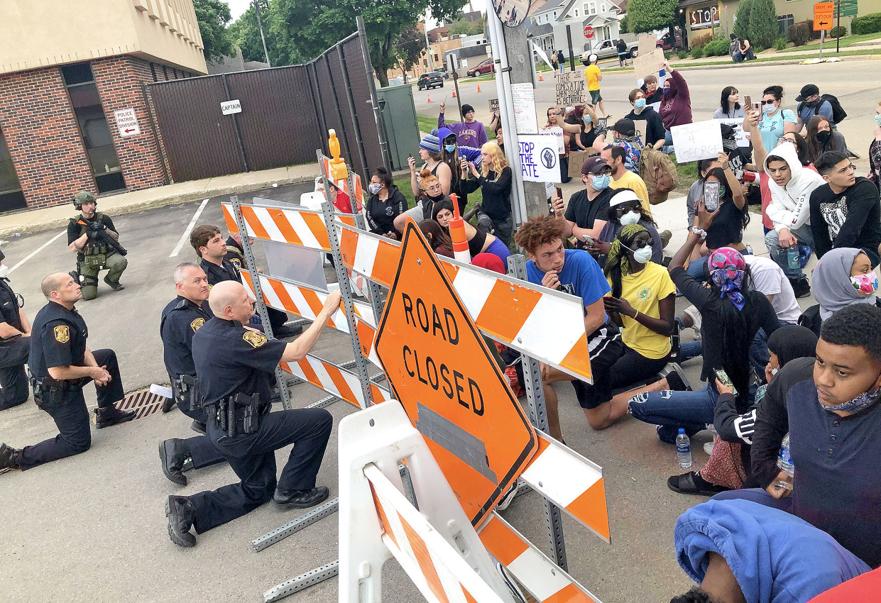 2. Protest over George Floyd's death
The story: A day full of protests in multiple locations in Owatonna on May 31 ended with local law enforcement taking a knee with demonstrators outside the Law Enforcement Center on Pearl Street in response to the death of George Floyd in Minneapolis police's custody.
The protests largely took place along Hoffman Drive near downtown Owatonna, in Jaycee Park and around the Law Enforcement Center. The protest along Hoffman Drive swelled to more than 200 participants holding signs and soliciting honks of approval from the community.
Organizer Percy Mayer, 16, of Owatonna said he was nervous about the turnout.
"As more and more people started to come, though, all we really got inside the protest was positivity," Mayer said.
Law enforcement took a knee with the protesters for eight-and-a-half minutes, the time the Minneapolis police officer was kneeling on Floyd's neck. Mayer called the officers kneeling with the protesters "a big step toward change."
Owatonna Police Chief Keith Hiller said it was an opportunity for officers to physically show support and appreciation for the message the group was trying to get across.
"We're always hoping for enlightening communication today, tomorrow and in the future," Hiller said.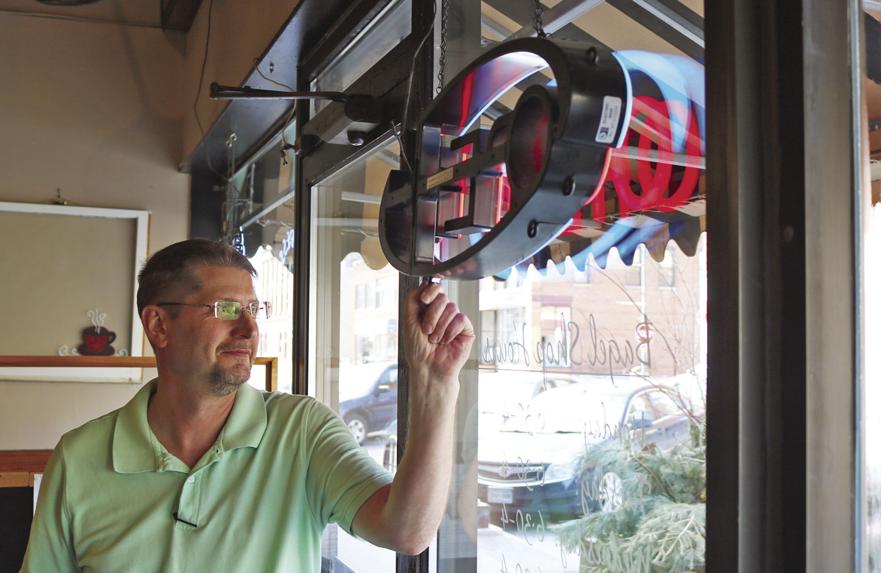 3. Businesses impacted by shutdowns
The story: Businesses in Owatonna went dark after Gov. Tim Walz announced that all restaurants, bars and places that provide public accommodations and amusement would close effective at 5 p.m. March 17 until March 27 as Minnesota saw its first COVID-19 cases. Walz's stay-at-home order was not to be short lived, however, as cases continued to climb in the state. Walz lifted the restrictions on restaurants, bars and salons on June 1.
About 70 businesses in Owatonna were directly impacted by Walz's executive order. Take-out and delivery options were still available for businesses, but for many in Owatonna, Walz's executive order meant locking their doors.
Brad Meier, president of the Owatonna Area Chamber of Commerce and Tourism, said at the time that everyone was concerned about how the economy would react to the shutdown.
"People will be a little tighter to the vest with their money and that always impacts things. That's a reality that we're worried about," Meier said.
Some businesses and elected officials opposed the shutdown and attempted to reopen, including Country Goods gift shop and the Owatonna Smoke Shop.
Update: Walz again closed bars and restaurants to indoor dining, in addition to closing gyms, theaters and organized sports on Nov. 18 as COVID-19 cases surged in Minnesota. On Dec. 16, Walz extended the restrictions on bars and restaurants until Jan. 10, effectively curbing any celebrations for New Year's Eve.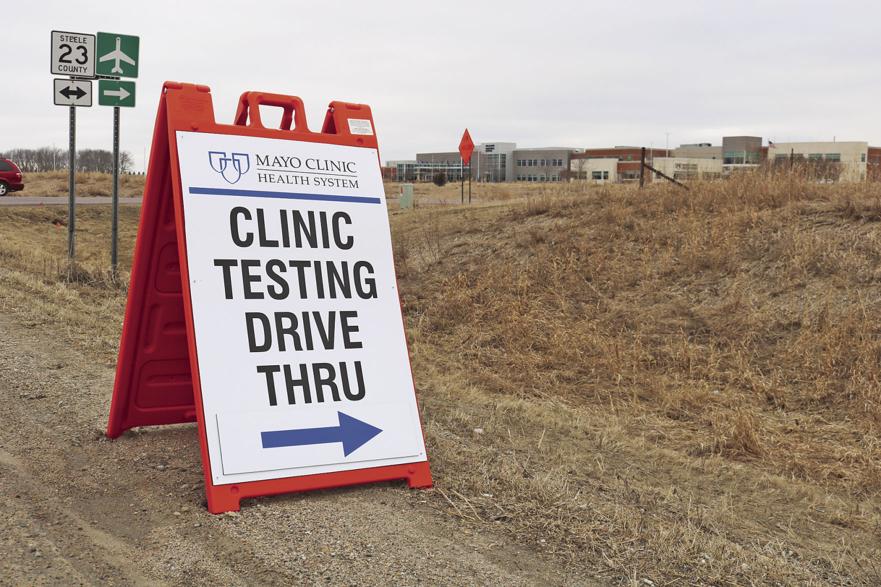 4. First cases, first death from COVID-19
The story: The first two COVID-19 cases were confirmed in Steele County on March 21, with a third case being confirmed the following day.
At the time, Minnesota had 169 confirmed COVID-19 cases.
The first two Steele County cases were a person in their 40s and a person in their 50s who apparently caught the virus while traveling to other states. They were in isolation and recovering while health officials worked to provide guidance to others who may have had contact with them.
However, the first COVID-19 death didn't occur in Steele County until months later. The Steele County Public Health Department announced the death of a resident in the 80-89 age range on July 2.
"We hope that someday a vaccine will be created to help combat this virus so others do not have to suffer," Steele County Public Health Director Amy Caron said at the time.
Update: Steele County has had a cumulative 2,479 COVID-19 cases as of Dec. 28, ranging from younger than 1 to residents in their 90s. Thirty-two Steele County residents were hospitalized with COVID-19 as of Dec. 28 and nine residents have died of COVID-19. The first doses of the COVID-19 vaccine arrived in Steele County Dec. 20 and were administered to healthcare workers.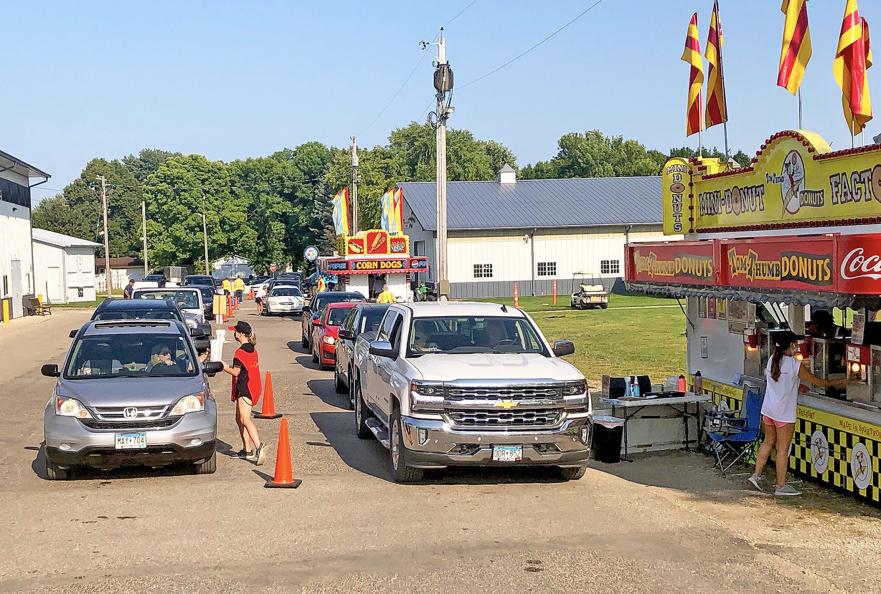 5. Steele County Free Fair cancelled
The story: The COVID-19 pandemic put the brakes on Steele County's largest event in 2020.
The directors of the Steele County Free Fair unanimously voted in May to postpone the fair until 2021 due to the pandemic, a week after the Minnesota State Fair was canceled. Prior to the vote, city officials said it would be difficult to meet the safety guidelines for COVID-19 at the fair. It was the second time in the fair's history that it was canceled. The only other year it was canceled was 1943 due to World War II.
"Unfortunately, we got that bad news on Friday morning that the State Fair had pulled the plug as well, and it's been a domino effect of county fairs since," Fair Board President Dan Deml said.
However, fair officials found a way to bring some fun to the fairgrounds despite the cancellation. A three-day, drive-thru Food Fest brought an estimated 6,143 vehicles through the fairgrounds in August.
"People left with full bellies and big smiles on their faces, and we cannot wait for next year when we'll be bringing back the fun in 2021," Fair Manager Steve Kozelka said at the time.
Update: Despite the uncertainty of what 2021 will bring, fair officials began planning the 2021 Steele County Free Fair in September. The fair is scheduled for Aug. 17-22 in 2021.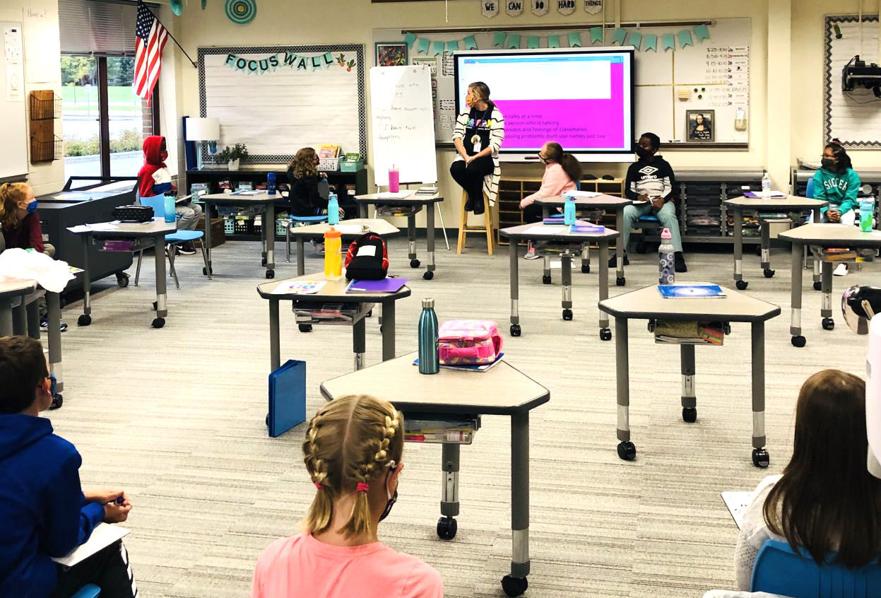 The story: Steele County schools have seen their fair share of challenges this year as administrators, educators, families and students navigate new learning styles during the COVID-19 pandemic. From emergency distance learning to hybrid learning, students and teachers have had to be flexible like never before.
Under Gov. Tim Walz's order, schools across Minnesota temporarily closed their doors in the spring to mitigate the spread of COVID-19. Schools were closed March 18-27 to give educators time to prepare for the possibility of continuing the year virtually. All public school districts and charter schools were required to enter a period of distance learning starting March 30 and running through the remainder of the academic year.
Students and staff had to quickly figure out the new distance learning technology. Many schools quickly began working on getting tablets, laptops and internet access to students. Summer came and went, but the virus stuck around. With more experience, data and knowledge, school districts made strategic plans to return their students safely into the classroom.
Area schools began the 2020-21 school year welcoming some students back into the building. Older students were placed into a hybrid model and younger students were placed into an in-person and socially distanced model. District officials said they wanted to provide as much consistency for students as possible. But an increase in the number of cases statewide and locally eventually forced Owatonna, Medford and Blooming Prairie school districts to switch to distance learning as they neared Thanksgiving break. While the break for some schools was initially targeted, the virus raged on and school officials eventually decided to prolong the distance learning period into the new year.
Update: Local schools will reopen their doors Jan. 11 for younger students for an in-person model and a hybrid model for older students. As of Dec. 24, Steele County's 14-day COVID-19 case rate per 10,000 residents is at 92.61, down from the previous week's 141.24. The rate peaked at 172.87 during the week of Nov. 8 through Nov. 21.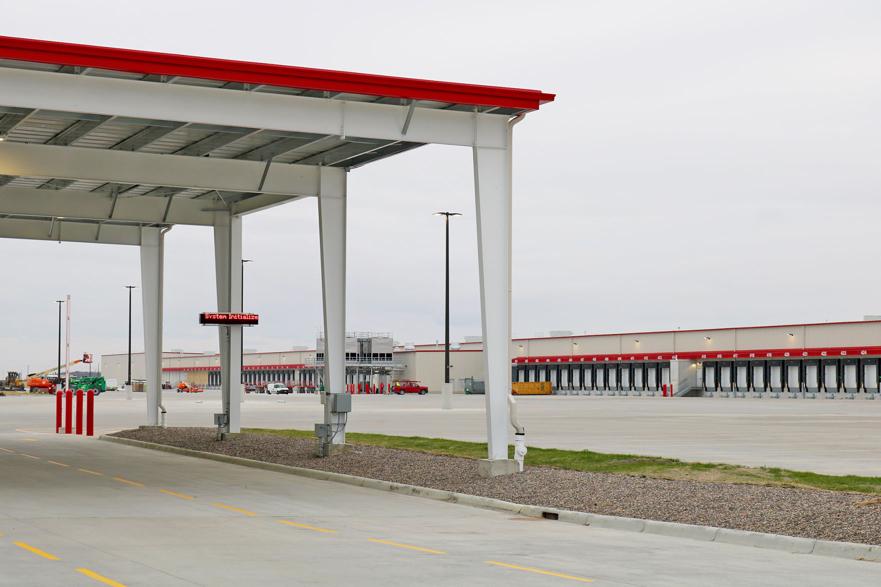 7. Expanding businesses, more jobs
The story: Owatonna's permits for new construction topped $100 million in 2020, obliterating its previous record of $78 million set in 2008.
The city issued more than 1,780 permits totaling more than $102 million this year.
The record was due to several large projects getting underway.
Construction projects this year included Bosch building a new warehouse facility that included creating 50 new jobs in Owatonna's industrial park. Bosch began hiring for those jobs in October and the new warehouse distribution center is slated to open in the spring.
"This new facility builds off the existing Bosch Aftermarket Service Solutions manufacturing plant, increasing efficiencies for distribution and adds even more jobs to the local economy," Matheus Contiero, regional president for Bosch, said in October.
The industrial park has also been busy in 2020 with Costco constructing a 345,415-square-foot distribution center that opened this fall. That project added 200 new jobs in Owatonna.
Daikin Applied's expansion project to construct a 150,000-square-foot warehouse in the industrial park also neared completion in 2020. That project brought an additional 50 jobs to Owatonna and Faribault.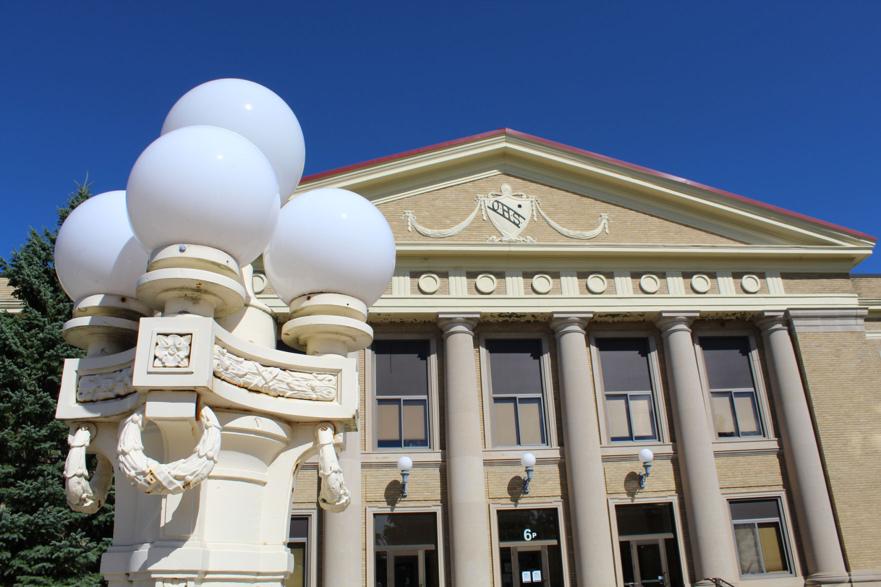 8. School referendum passed
The story: Voters in the Owatonna school district supported one referendum question, but rejected the second question in November.
Voters passed the first question, with 52.35% support, to renew the district's current operating levy, which was set to expire June 2021. But nearly 61% of voters voted "no" on the second question asking for a phased-in increase to the levy.
"It takes the learning, or levy, dollars for us to continue to offer the quality programming that our community has come to know and expect," Superintendent Jeff Elstad said at a school board meeting prior to the vote.
Levy money is used for the district's operational costs such as funding for staff, instruction and classroom supplies. The average homeowner should expect to see a tax increase of 50 cents per month in 2021 with an inflation adjustment.
"I certainly am grateful that the community renewed our current levy that we have in place," Elstad said following the Nov. 3 vote.
But as a result of the votes, the district will have to continue to make budget cuts, despite already making $2 million worth of cuts.
"It's certainly going to have a big impact on our financial stability moving forward and so we'll need to do some thinking and some reflection on how we can successfully get that message out to our community perhaps next November," Elstad said.
School officials say future cuts might impact class size, reduce teachers and support staff and cut activities and clubs. State funding for education has not kept up with inflation and the increasing costs of education, making many districts rely more on local sources of money.
Come this new year, the district will have to start determining where budget cuts will need to occur, most likely cuts will be made to staffing and programming.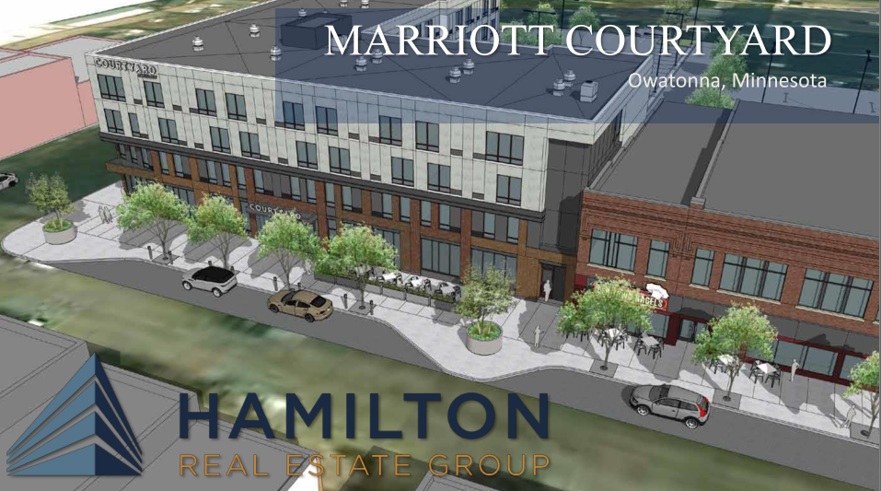 9. New downtown hotel announced
The story: A longtime dream is becoming a reality in downtown Owatonna.
Mac Hamilton, CEO of Hamilton Real Estate Group, announced in October that he has secured a franchise with Marriott to bring a Marriott Courtyard to downtown Owatonna, which will be located on the 200 block of North Cedar and wrap around Pearl Street. The site will also fill the green space on the site of the former State Theater. The hotel plans include an in-house restaurant where the former Jerry's Supper Club sits and providing a space for Old Town Bagels to continue operations.
Brad Meier, president of the Owatonna Chamber of Commerce and Tourism, said he has confidence the project will move forward because Hamilton has developed every previous project he set out to develop in Owatonna.
"This project represents a lot of hard work over a long period of time," Meier said at the city council when Hamilton announced the project.
Update: The Owatonna City Council approved Dec. 1 the sale of the old theater lot and the public parking lot to Hamilton to use for the new hotel. The council has a public hearing on the proposed tax-increment financing for the two parcels scheduled for Jan. 5. The hotel is scheduled to open in June 2022.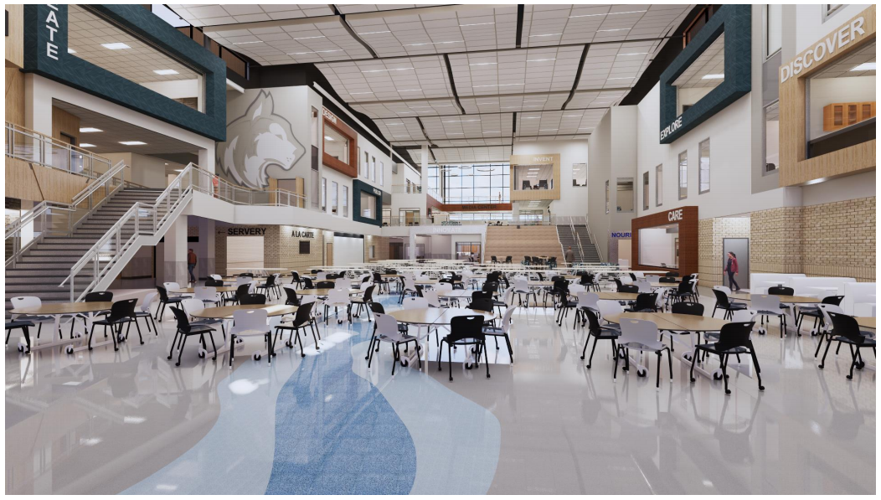 10. Design of new high school unveiled
The story: Owatonna residents got a detailed look inside the future Owatonna High School in November with renderings of several of the building's spaces. The large project moved forward after voters approved a $104 million bond referendum in 2019.
Wold Architects and Engineers presented the renderings at a school board work session, along with information about the building's rooms, exterior and floor plans. A Core Planning Group of parents, community members, staff, students and local stakeholders have put in hundreds of hours developing the design, Superintendent Jeff Elstad said.
"I'm just so proud of the work that has gone into the planning and work that's gone into it by our staff and community members and their dedication to this project," Elstad said in November.
The focal point of the three-story design is a commons area located directly inside of the main entrance. The commons space doubles as the cafeteria and stretches the height of the entire building. Classrooms in the new building are designed to be flexible, visible and fostered 21st century learning. Learning communities will feature operable walls to facilitate collaboration, while other classrooms will be open without walls.
Construction drawings with final details will be completed. Elstad says project bids will go out in January with the hopes of breaking ground in 2021. The new school is set to be open in August 2023.