One of Steele County's most trusted voices on COVID-19 and other health-related issues is about to begin a new chapter of her career.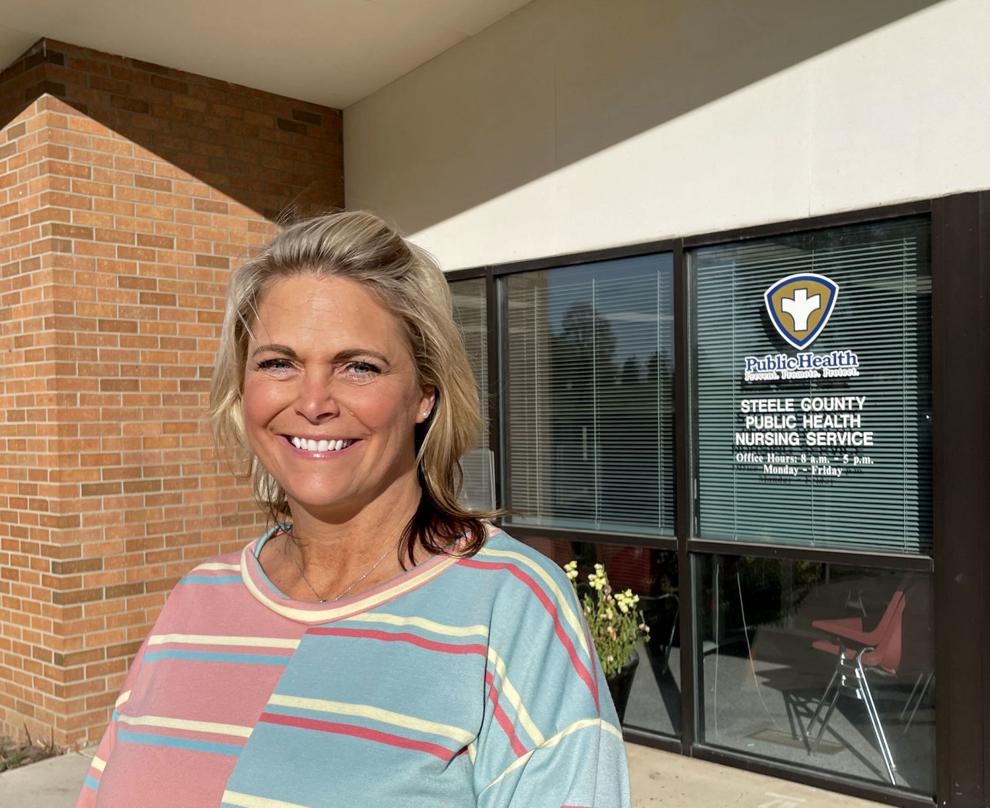 Amy Caron, director of public health for Steele and Dodge counties, will have her last day of work on Thursday. She will then begin her new role as clinical improvement and quality manager for Planned Parenthood North Central States, serving the five-state area that includes Minnesota, Iowa, North Dakota, South Dakota and Nebraska.
"I really wasn't out there searching," Caron said about the transition. "I just felt like it was maybe time for a little change."
With a degree in community health education, Caron began her career in earnest as the first public health educator for Countryside Public Health in west Minnesota. She also worked for nonprofits and the state of Minnesota, including work trying to enhance highway safety for Minnesota Toward Zero Deaths.
Caron's career took a turn when her son was diagnosed with asthma. Touched by the experience and eager to learn more about the condition, she began asthma work for the American Lung Association. That ended when her work for Toward Zero Deaths turned into a permanent position in the public safety department of the Minnesota Department of Transportation (MnDOT).
From MnDOT, Caron went on to become the public health director for Waseca County, a position which became the community health services administrator position for Waseca and Le Sueur counties upon the resignation of those counties' previous public health directors. Her next stop was the community health services administrator for Steele and Dodge counties in 2015, a position in which she acted as public health director for both counties for six and a half years.
Out of all that time, Caron said, the most difficult thing she's had to deal with has been COVID-19.
"It involves putting in lots of extra hours," she said, adding that her hands-on management style propels her to do lots of on-the-ground work herself, rather than delegating tasks to those under her. That included getting involved with the county's vaccine drive-thru clinics, delivering food, medication and cleaning supplies, and more.
Caron recalled her Christmas Eve, when just as her family was getting ready to open presents, she had to take an hour-long phone call regarding somebody who desperately needed prescription medication. Caron counted herself lucky that she could wait until morning — Christmas morning — to carry out the delivery.
"In a normal time you can usually leave your work at work, but with [COVID-19] it's not the case," Caron said. "Other healthcare workers are struggling too. You just never get that break."
The stress of managing the pandemic was a significant part of her decision to leave the position, she said.
"It's not like one traumatic event," she explained. "It's just been a long period of time and we don't have any end date. What's the endgame here?"
When Caron was named a top three finalist for the "Outstanding Contributions for Public Health Education" award from the Minnesota Society for Public Health Education in October, Steele County Administrator Scott Golberg recognized the work ethic Caron demonstrated throughout the pandemic.
"What comes to mind for me is the dedication, the commitment and the perseverance — as well as her positive attitude — that Amy has had throughout this whole long, drawn out pandemic," Golberg said. "She did it, and she did it all with a smile on her face."
Though her position will be changing, Caron emphasized her belief in the importance of being a public servant as her career takes her down different paths.
"That's really where my heart lies," she said. "I'm there to serve people."
Since Caron is not moving out of the area, she added that she would consider doing some volunteer work with the community health board in the future, especially if the pandemic stretches on much longer.
As of Nov. 5, her successor as public health director has not been named.