A nonnative and destructive species that releases an odor when a person tries to crush it is making its way into Minnesota.
In addition to living up to its name when killed, the brown marmorated stink bug can cause significant economic damage to fruits, vegetables and crops. Largely found in the mid-Atlantic states, the states applied a significant amounts of pesticide in response to the damage. But the reliance on pesticide has gone down and experts are trying to find other ways to control it, according to Minnesota Department of Agriculture entomologist Angie Ambourn, an entomologist with the Minnesota Department of Agriculture (MDA).
Brown marmorated stink bugs were first discovered in Minnesota in 2010, and the insect continues to spread. The majority of brown marmorated stink bug sightings reported to the MDA have been in the Twin Cities and southeastern Minnesota. So far, the MDA has received one reported sighting in Steele County and 26 reported sightings in Rice County.
The MDA has been receiving reports of stink bugs in homes and has asked residents to report their findings to the MDA's Arrest the Pest program. A chart showing the brown marmorated stink bug and look-alike insects that are native to Minnesota can be found at mda.state.mn.us/plants-insects/brown-marmorated-stink-bug.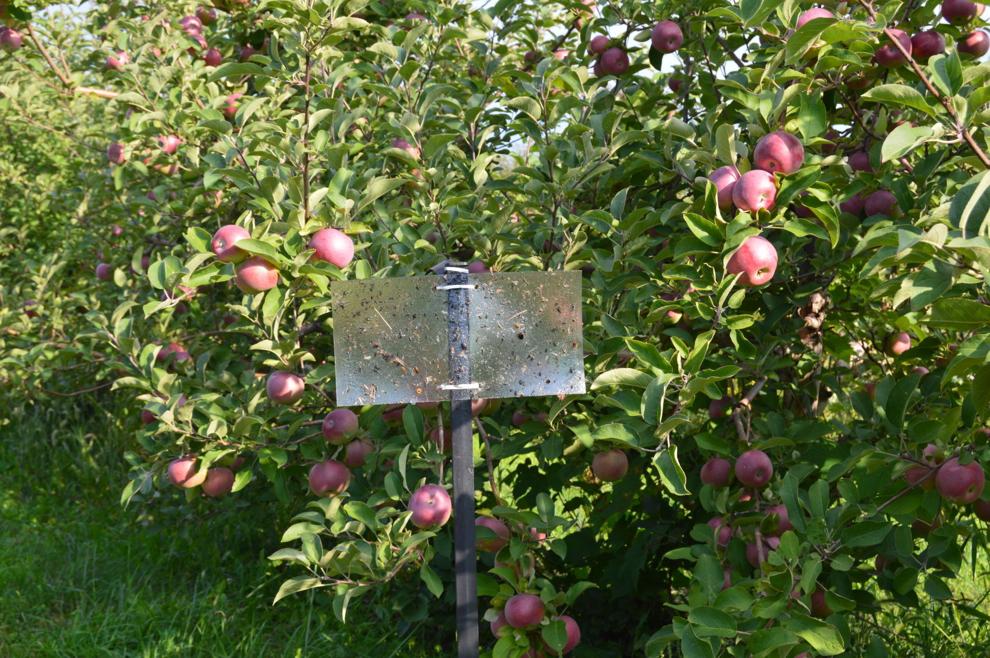 MDA is focusing on monitoring the issue at this point and the agency hasn't reached the management phase. From the MDA standpoint, Ambourn said they probably will not do any management other than potentially working with biological control release, if necessary one day.
"It's not an insect that is easily quarantined and so the management will be up to the specific grower," Ambourn said.
For now, the MDA is working closely with apple orchards, helping owners get ahead of any potential problems via monitoring and trapping. Clear sticky traps are baited with species specific pheromones. MDA has been placing these traps in apple orchards and in residential areas in the Twin Cities metro where there are known large populations. From there the MDA can direct owners to the latest and best management practices if the insect is found.
Reports of stink bugs have come in from people who found the insect on their car, inside their RV and even inside their mail packages. Ambourn encourages folks to be smart consumers and recreators, keeping an eye out for those easily overlooked hitchhikers.
Even though many organizations are working to monitor and combat invasive species, Ambourn notes that one organization alone does not have the capacity to be everywhere at once, so help from the public with monitoring is beneficial.
"Citizen science has really become a big deal in finding early on invasive species, I mean not just in Minnesota, but across the country," Ambourn said.
Residents that report their findings to the MDA's Arrest the Pest program are asked to capture the insect and send in a photo to confirm its identification. The program accepts reports of all invasive species, and it is a resource for people who want to monitor invasive species in the state.
Findings of stink bugs can also be reported to EDDMapS, a nationwide website for invasive species through the University of Georgia. Visitors to the site can download data and view distribution maps. The Great Lakes Early Detection Network app is an invasive species early detection and warning system for the Great Lakes region and can be used to easily submit sufficient information regarding their findings from a smartphone. The Arrest the Pest distribution map is hooked up to pull information from EDDMapS every night, according to Ambourn.
"We've kind of been pushing EDDMapS for reporting invasive species because it's really specific, if you're on your phone it'll take a GPS coordinate of exactly where you are. It asks you to take a picture, it asks you what do you think you're reporting, and there's a guide in there," Ambourn said.
State identifiers receive the submission through EDDMapS, and reports are triaged before moving on to the next invasive species expert. Confirmed cases are then added to the distribution maps, allowing people to see where species are located and where they are spreading.
Arrest the Pest will soon be getting an overhaul, making the submission process easier to use. An online form will prompt people to submit more thorough information regarding their finding. It is unknown when these updates will come to fruition, according to the MDA.