From public officials to the heads of nonprofits, the American Experiment's early morning panel discussion on the workforce shortage at the Owatonna Country Club on Wednesday drew major figures from all over Steele County and surrounding regions.
Sen. John Jasinski and Southern Minnesota Initiative Foundation President Tim Penny were among the few dozen attendees who showed up to hear from an economist with the American Experiment and four panelists, including two local leaders in Owatonna: Owatonna Area Chamber of Commerce President Brad Meier and Owatonna High School Principal Kory Kath.
The morning began with John Phelan presenting on Minnesota's current economic and workforce outlook. Phelan is a London School of Economics-educated economist, who has been published in the Wall Street Journal and elsewhere; his employer, the American Experiment, is a Minnesota-based conservative think tank that advocates for free market principles.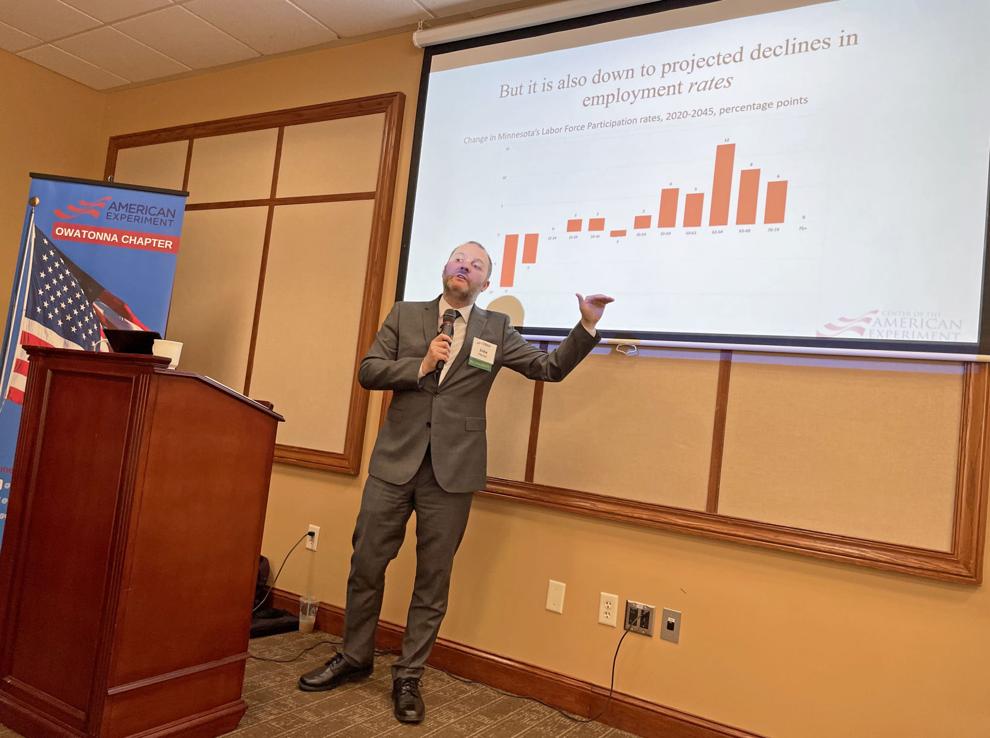 Phelan began his discussion of Minnesota's current economic situation by pointing out that Minnesota enjoys a higher than average gross domestic product (GDP) and personal income per capita compared to the national average. He said that this is true, in spite of the fact that Minnesota produced $123,348 of GDP in 2018, making it less productive than the national average of $131,571.
Given that Minnesota's above average economic strength is based on above average employment, Phelan said, the fact that its labor force participation rate is projected to continue trending downward for the next roughly 15 years is serious. His projection used data by the Bureau of Labor Statistics and Minnesota State Demographic Center.
Workforce participation rates for young people — under 22 generally, but most acutely at the 16-19 range — is falling, while workforce participation for those ages 55-74 is rising. Phelan attributed this trend largely to students' "malinvestment" in what he called "useless degrees."
"If they're all in college learning to become nuclear physicists or something, that's great," he said. "This is where I start to get a little bit speculative — I have not done research on this, but I do not think that the big increase in 16-to-19-year-olds dropping out of the workforce to stay in full-time education are in school learning to become nuclear physicists."
With their "useless degrees," Phelan said, many of these young people then go on to think "capitalism has failed because their dance degree got them working in Dairy Queen."
One alternative, Phelan said, is to get young people interested in trade schools. A welder, he pointed out, can earn more than $50,000 after only two years of on-the-job training, without taking on any debt. Beyond earning "hard skills," he also said that the importance of "soft skills" like learning to deal with different people, arriving to work on time, and more are a reason to be concerned about young people dropping out of the workforce.
Phelan's proposals were wide-ranging, from increasing openness to trade, scrapping trivial occupational licensing requirements and abolishing the state minimum wage, which he argued has not made workers better off, but effectively "outlawed unskilled work."
"No employer is going to pay you more than they think you will add to their revenues," Phelan said, except for the public sector, who "have no bottom line, just the bottom of your pockets to worry about."
After Phelan's presentation, four panelists were invited to speak, including Kath and Meier, as well as Laura Brady of Spherion Staffing, and Jinny Reitmann, of Workforce Development, Inc. in Rochester. Together, the panel shared their thoughts on the causes of and solutions to the workforce shortage, as well as what their organizations are personally doing to alleviate the problem in their own community.
Focused on local initiatives, the panelists did not directly engage with nor address most of Phelan's views and proposals.
For Meier, one of Owatonna's key organizations working on workforce development is SteeleCoWorks, a program that operates as a partnership between Workforce Development, Inc., the United Way of Steele County, and Steele County's five public schools.
While SteeleCoWorks has historically targeted the 25% of students who say they do not have a career plan for the time after they graduate from high school, Meier said that the program has expanded to also include students who do have a plan but want additional exposure and experience to jobs in the community as well. It's a program, he said, "geared around keeping young professionals in the community."
"The whole push of it is to get students in to see and identify opportunities," Meier said.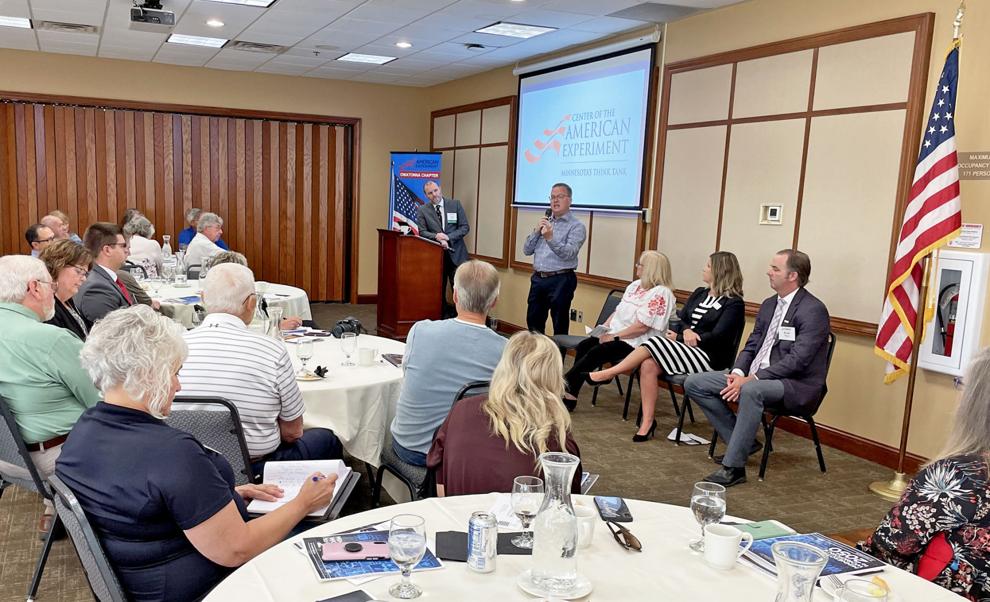 At the high school, Kath said, there is also a program called Career Pathways, which aims to prepare students for careers after high school. Before the program was created, he said, those involved in local youth workforce development had been observing students matriculating into college to seek further education, but without connecting that education to what their imagined future career might be.
The aim of Career Pathways, Kath said, is to connect students with their skills and interests, so that they are ready to go into a career field when they graduate high school or college. It will accomplish this in a few different ways, including providing every student with an adult mentor in their high school who will design a four-year plan for their education — what courses they will take, how those courses will connect them to their future endeavors and so on.
The program will also include opportunities for students to take career personality tests and skill assessments for various jobs, as well as to engage in internships or mentorships within their own community.