Winter's weather has left plants across the state dormant, but in a few months greenery will sprout from the ground once more and flower petals will open to entice bees, butterflies and other pollinators to visit.
As the days begin to warm and spring arrives, so too will pollinators. The Minnesota Interagency Pollinator Protection Team (IPPT) has increased its efforts to engage with the public on the topic of pollinator importance to the environment.
The IPPT has recently asked for the public's feedback on the 2020 Minnesota State Agency Pollinator Annual Report and its usefulness to residents via a survey.
"We want to get feedback from the public on how they use a report, if they use a report, if it's going to different audiences," said Rebeca Gutierrez-Moreno, state pollinator coordinator at the Minnesota Environmental Quality Board. "Then we hope that with the feedback, we can work on the current report for this year and make it accessible to all Minnesotans."
The public survey will help IPPT determine what actions people and organizations are taking to encourage pollinator populations and what future action could be taken to ease the hurdles pollinators face. The 2020 report describes challenges and makes suggestions on pollinator protection efforts within Minnesota. The survey can be found at https://survey.mn.gov/s.asp?k=161038710365 and will be open until March 12.
Gutierrez-Moreno coordinates IPPT which is made up of staff representing 10 different state agencies. The group works within the framework of Executive Order 19-28, which directs the IPPT to its desired outcome goals for pollinator protection within the state. Meeting monthly to plan, each agency has its own role in the effort to achieve IPPT's goals.
"We're looking for opportunities to engage with Minnesotans at different levels, not just organizations, but also even at the individual level," Gutierrez-Moreno said, adding that she hopes the survey will give the team insight into who is interested in learning more about pollinator protection efforts.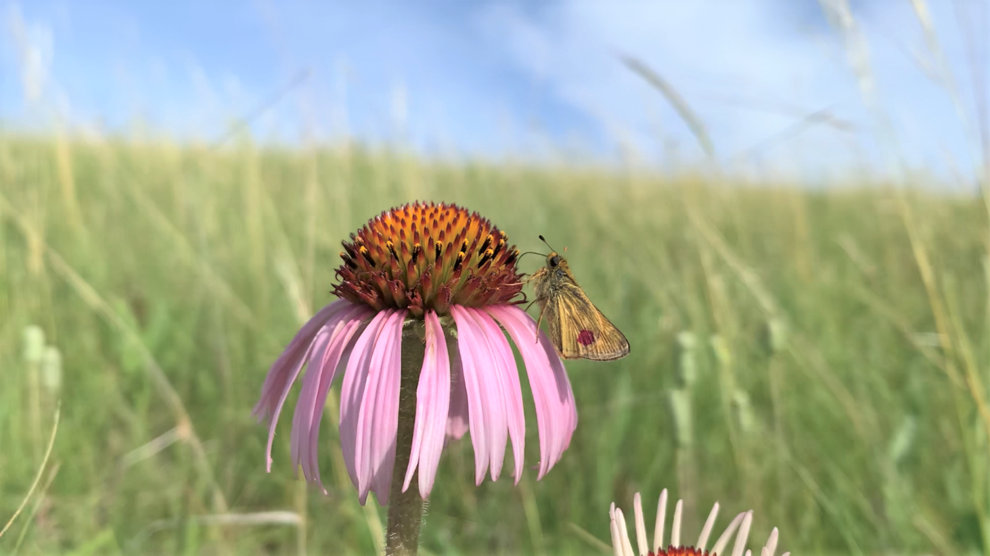 2020 report and actions individuals can take
The 2020 report includes information about desired outcomes such as creating a healthy and diverse pollinator population, along with three goals that fall under that aim. The first goal aims to restore pollinator habitat, the second is related to the judicious use of pesticides and the final goal is to get Minnesotans to value and support pollinators.
"We've put forth a scorecard in each one of the sections to kind of show the public and legislators where we're at in terms of progress and we also have challenges and recommendations," Gutierrez-Moreno said.
IPPT has been releasing yearly reports since 2017. The most notable advances have occurred in outreach, awareness and individual participation in pollinators protection. The IPPT has also seen small advances in terms of knowledge about pollinators from the public.
"That's one of the things that we see as a big need, is to learn more about what pollinator populations are in Minnesota," Gutierrez-Moreno said. "Not just managed honeybees, but also native bees like rusty patched bumblebee and other lepidopteran, like the Dakota skipper, and we also try to keep track of monarchs and how they're doing. There's a huge knowledge gap in terms of what is out there and what we need to protect."
Despite the cold and snowy weather, spring is coming and considering how to attract and support pollinator populations is important now. There are some simple ways people can get involved in pollinator protection efforts. Gutierrez-Moreno suggests planting pollinator friendly plants, even small gardens and patches can help.
"As soon as the weather starts warming up, a lot of these species are coming up and looking for food. So if we can provide that early forage for them, that is a great way that we can all help," Gutierrez-Moreno said.
People can also ask their city representatives to make pollinator-friendly decisions, enroll in pollinator-friendly programs and manage pests and public areas in a sustainable way. The Minnesota Department of Agriculture has put forward best management practices for pollinators in different settings including backyards, gardens to big scale agriculture, according to Gutierrez-Moreno.
"People are more aware of pollinators and get excited about it. They also spread information around to their friends and to their family. Just spreading the word is a great way to help," Gutierrez-Moreno said.
The most important message drawn from the 2020 annual report is that everyone can do something, no matter how small, to help pollinators in the state. She encourages every resident to fill out the survey, even those that are unfamiliar with the annual report.
"We might not like the bugs around us, but we're all part of a whole and we all need each other," Gutierrez-Moreno said. "We need pollinators for our food, we need pollinators to keep our green and natural areas healthy."