When it comes to Zentangle, founders Maria Thomas and Rick Roberts say "Anything is possible, one stroke at a time."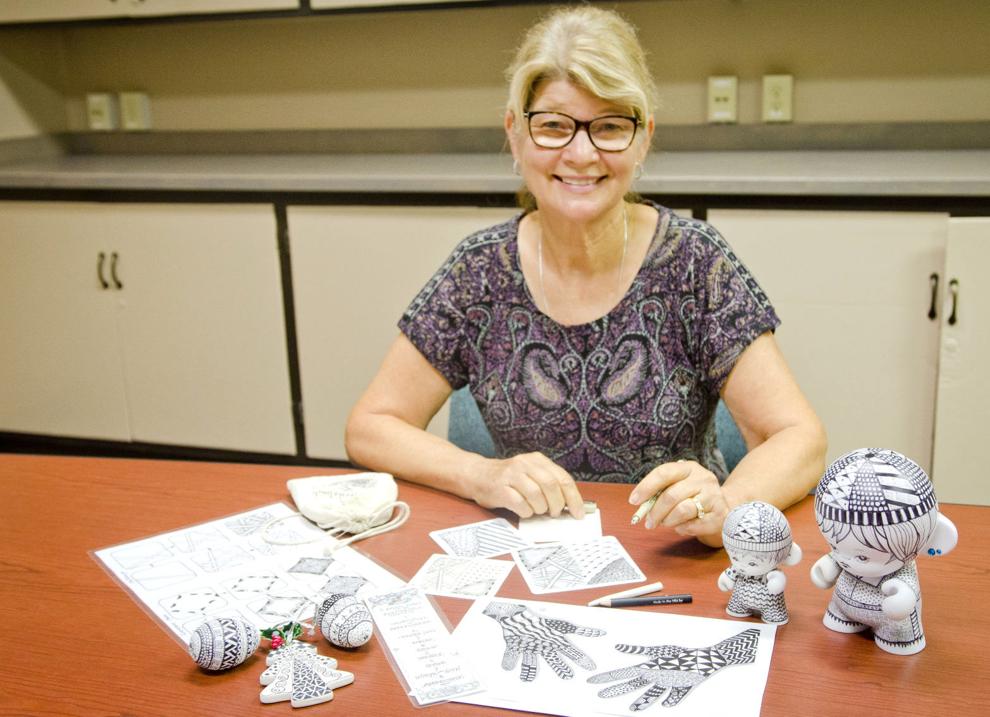 In the early 2000's the Rhode Island duo developed the Zentangle Method, known as an easy-to-learn, relaxing and fun way to create beautiful images by drawing structured patterns. Faribault resident Ruth Murray picked up on the meditative art form several years ago, officially becoming a certified Zentangle teacher in 2017.
Next month, Murray plans to teach two classes at the Paradise Center for the Arts. Though this will mark her first time teaching a class at the Paradise, in previous years, Murray has taught friends and family members alike. She had high hopes to branch out into offering classes to others last year, but the COVID-19 pandemic put a damper on that.
During the pandemic, Murray was pleased to be able to go to her room and draw some tangles. The Zentangle website states tangles are made with combinations of dots, lines, simple curves, S-curves and orbs. Those patterns are drawn on small pieces of paper called "tiles" and can be assembled into mosaics once complete.
The ceremony of the Zentangle Method has eight steps, with the first being gratitude. Murray explains taking the time to think of something she is grateful for puts her in a positive state of mind, ready to begin tangling.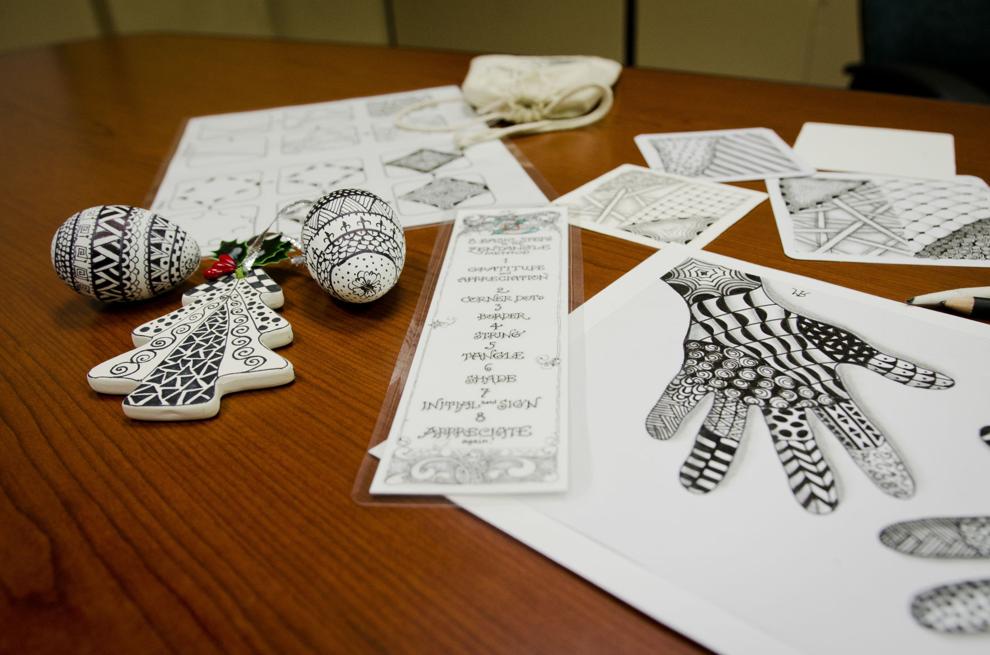 Next, tanglers draw dots in the four corners of the tile, then create a border by connecting the four dots.
A zigzag, wavy or straight-lined design is then drawn on the tile to separate the different tangle sections. The tangling then begins by following patterns developed/provided by Thomas and Roberts.
Each technique has a different name, though the name doesn't necessarily describe what the end result will look like.
Murray says the idea behind that was to keep tanglers' minds open and not focus on making the tile look a certain way. Shading is completed with a pencil and tortillon (a paper tool used to blend in pencil into the paper). Once finished tangling, creators move into the seventh step: initialing and signing. The final step asks them to appreciate their work, and if in a class with others, this step also encourages creators to place their tiles next to one another and appreciate them together.
Murray says this also helps build a sense of community, something she feels can be done best in person. That is just one of many benefits Murray has found in her years of tangling. Some other benefits are increased relaxation, a kickstart to creativity, improved confidence, focus, empowerment, inspiration and increased awareness of patterns seen on a daily basis.
She also enjoys the unplugged aspect of the process, as it only requires a pencil, a tortillon, a tile and Zentangle patterns to follow.
The beauty of Zentangle, Murray says is that there is no right or wrong way and no mistakes can be made.
"It is approachable for someone who has never picked up an art tool. Yet Zentangle is still inspiring enough for an advanced artist," said Murray.
Previously dabbling in the painting world, Murray enjoys the accessibility with Zentangle, since is doesn't require a lot of supplies and can fill a lot of spare time while doing things like waiting at a doctors appointment or while getting a hair cut.
She's explored tangling on different colored tiles like white, brown, gray and black. After mastering the techniques, colored markers are introduced, something Murray particular enjoys drawing flowers with. She's even incorporated some tangles into 3D objects like on plastic, white figurines, Easter eggs and Christmas ornaments.