Jack Helget sat waiting for his job interview.
He was dressed casually in a T-shirt and shorts and had his eye on three positions. A good interview would place him as the CFO of a bank, a web designer or the CFO of a property management company. He said that he's a math guy, so crunching numbers is no problem.
About 10 minutes later, the 10-year-old finished the conference. He said he was a little nervous going in, but it went well. His judgment on whether or not he would land a job sounded like the hopeful whim of an adult job seeker.
"I think I might get it," he said. "I don't think many other people applied for it."
Helget's experience was part of two early afternoon programs that came together for the first time in Owatonna this summer. It's hosted at Wilson Elementary, three days a week after summer school.  About 23 kids have participated, many of them sticking around after summer school classes there.
One of the programs is BizTown, an introduction to financial literacy and business for kids that's put on by the local Junior Achievement chapter. Afterwards, the kids go outside for DRIVE, a golf class developed by The First Tee organization and picked up by Big Brothers Big Sisters of Southern Minnesota.
Greg Zweber, executive director for BBBS, said that he collaborated with Laura Heyne, a local representative for JA, to bring the independent programs together at Wilson. The kids at summer school volunteered to register and stick around for the programs, and Owatonna public schools sends a bus to take them home in the afternoon.
An hour of BizTown starts after lunch in a Wilson classroom. They learn about entering the business world, getting jobs and managing finances — skills like managing a bank account, earning a paycheck and managing a business.
The class will end with a field trip to Maplewood on Aug. 4, where the kids will do business with other JA groups by heading up their own companies. That will be the result of the ongoing job interviews, in which the students apply for positions within each business.
"It's definitely putting them in a grown up situation," Heyne said. "And the thing that we find with the program is that kids really thrive in that situation."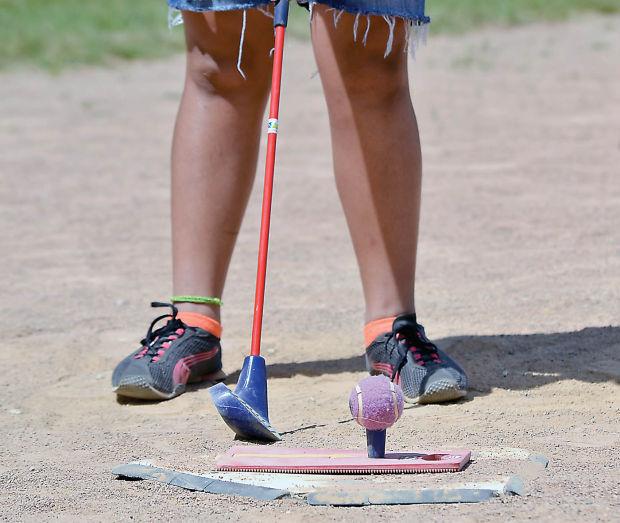 On Wednesday, they were learning about writing checks. Everyone in the class had his or her own faux checkbook to use for purchases on the field trip.
Though it's likely that checks will be phased out by the time these kids get their own bank accounts, they learned the mechanics of spending without cash in hand. As they made fictional purchases, they logged the deductions. The teacher, Leslee Swenson, asked them how that relates to bank cards. The kids replied that debit cards are like checks and credit cards represent borrowed money.
Afterward, the kids head outside for DRIVE. It's focused around introducing them to the game of golf, but the lessons carry a set of values that the kids apply to the sport. Zweber said that it's a way to make ideas like honesty, respect, responsibility and judgment stick in their minds.
"The nine core value thing is why we were interested in the program," he said. "It kind of ties into everything we're doing at Big Brothers and Big Sisters. We're basically asking these kids to role model themselves when they go home to their siblings or their parents or when they go back to school."
One of the values this week was perseverance. Zweber told the group that even though they sometimes hit a bad shot, the best thing to do is keep playing.
The kids use specialized golf clubs with oversized plastic heads and color-coded grips. The balls are colored tennis balls. They had lesson on basic techniques like stance and swing and played various games. Early in the program, they focused on chipping and putting. On Wednesday, Zweber asked them if they were ready to take full swings. And they were.
They set up an impromptu driving range on Wilson's dusty baseball diamond and let the kids take shots. Then the kids set up for a hybrid baseball-golf game—like tee-ball with oversized golf clubs.
At the end of each day, they kids are debriefed about the values they've learned. Zweber asks them to look for ways to apply them at home, as well as in sports.
"We're teaching them that value technically through the game, but then it's just a way to transition," Zweber said.
Helget said he got interested in the after-summer-school programs for the golf. Now that BizTown and DRIVE are coming to a close in the coming week, he still thinks the golf is fun, but ended up liking the financial workshops more.
He said that job interviews seem like a tough thing for adults to do, especially those with families. But it's necessary to get a foot in the door.
"(It's) probably the most important," Helget said. "That, and your education."