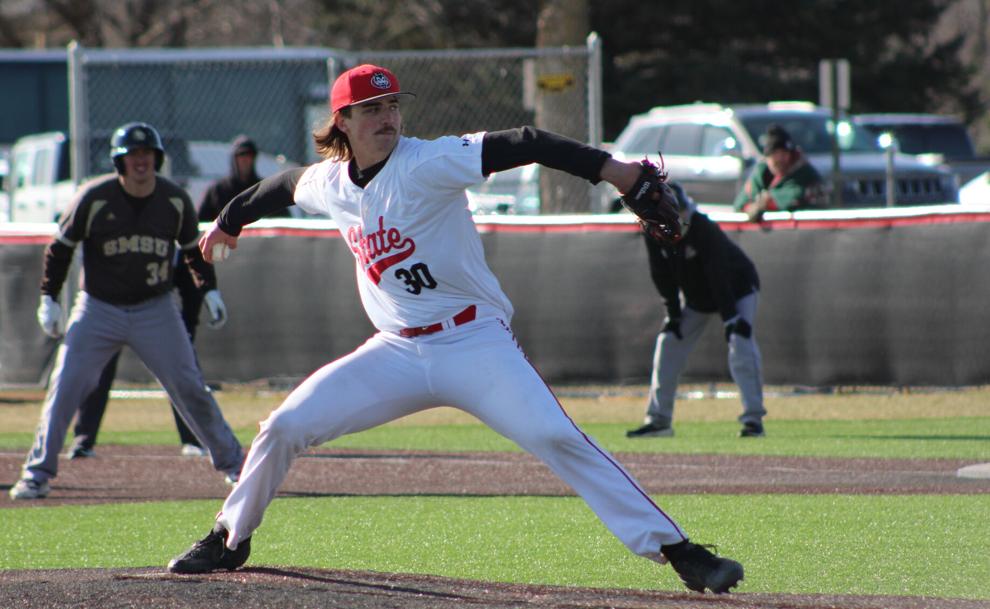 A former prep pitching ace out of Northfield High School, Ethan Lanthier is already making a major impact on the baseball roster at NCAA Division II power St. Cloud State University in 2022.
A 6-5 right-handed freshman, Lanthier graduated from Northfield High School in 2021 and currently owns a 6-0 record with one save to his credit for the Huskies (thru April 24).  His current earned run average checks in at 2.48 with 41 strikeouts in 29.0 innings of work both as a starter and a relief pitcher.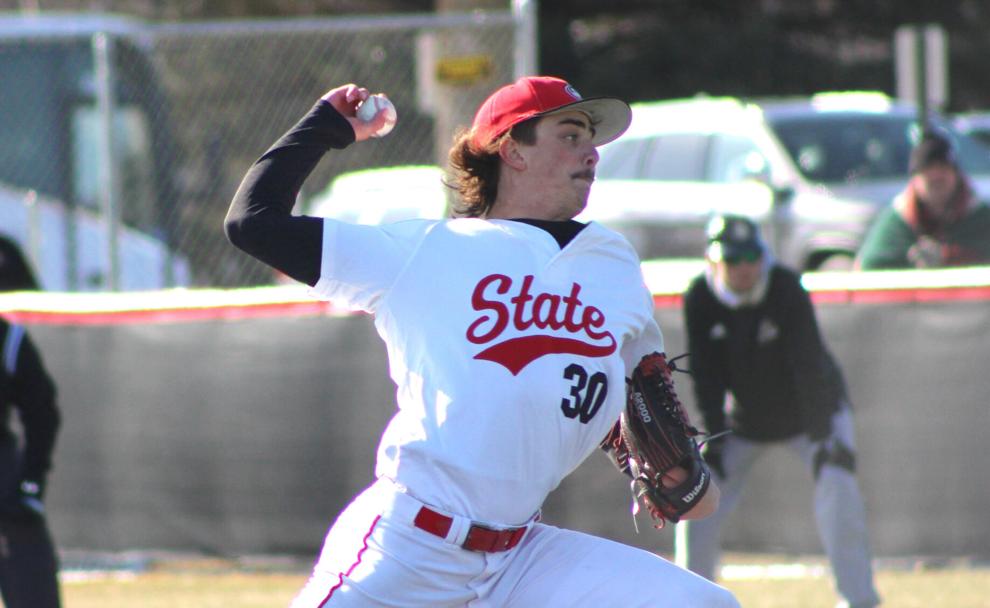 We knew he would be a guy with a power arm, but he has already come in and made a huge impact on our pitching rotation this spring as a freshman," said SCSU head coach Pat Dolan, who is in his 15th season with the Huskies.  "He fits in well with our top guys and we've been able to use him as both a relief pitcher and as a starter this spring."
Northfield High School's Male Athlete of the Year in 2021, Lanthier gained All-Conference and All-State honors in baseball for the Raiders and also earned All-Section and All-Conference notice on the gridiron at Northfield.
In the summer months, Lanthier played American Legion ball and also played summer baseball at Elko last year before making the move to SCSU.  
The transition to college ball has been a relatively smooth one so far for Lanthier.
"It wasn't as drastic as I thought it would be," Lanthier said. "There's a lot more road trips and the competition is a lot better but making the adjustment from high school to college wasn't too big of a deal for me."
One hurdle that Lanthier faced during the offseason was coming back from an injury that sidelined him for for first weeks of the fall practice season in St. Cloud. 
"An injury limited his playing time during the fall but he was able to get back on the field in the final two weeks of fall ball and he goes out and hits 92 mph on the first pitch he throws for us," Dolan said.  "Since then he has been consistently throwing in the low 90s with his fastball.  We've never had a freshman come in here and throw like that."
Lanthier added, "Just out of nowhere, when I came back instead of hitting 90 mph like I was used to, I was hitting 95 mph and that was a big insane jump for me."
As a team, St. Cloud State currently owns a 28-10 record (as of April 24) and that includes a 20-4 record in the always rugged Northern Sun Intercollegiate Conference. The Huskies started the season with a 2-5 record but have since charted a 19-1 record in their last 15 outings, which includes a current 13 game winning streak.
"I think for us the biggest key for our team's success was just putting everything together," Lanthier said.  "At the start of the season, it seemed like when our fielding and hitting was really good our pitching struggled and when our pitching was really good our hitting really struggled but it seems like these last 15 games everything has just come together.  All parts of the team are really firing right now."
Lanthier has been used as a relief pitcher and made his first start on April 10 against Concordia-St. Paul, which resulted in a 13-1 victory that included three hits allowed and two strikeouts in five innings of work.  In his last six outings for SCSU, Lanthier has gained six wins and has allowed more than one earned run in only one outing this season.
"For me, personally, this stretch of success was just getting used to the whole college thing,"Lanthier said. "In the first few innings I pitched, there was a little bit of adjustment to the new strike zones, the advanced hitters and better talent, but working with the coaches has helped and honestly, I've been throwing harder than I've ever thrown before and that's helped too…just getting into the groove of it has helped me get better as the season has gone on."
Lanthier pointed to the training and working with the coaches and staff at the college level as another reason for his success. This includes plyometrics, weighted ball workouts and "J-Band" workouts.  
"The college workouts and mobility workouts that they have the pitchers do here have really helped as well," Lanthier said.
Dolan said that often times with a power pitcher you have control issues but Lanthier has been able to keep his control and still keep his speed. Lanthier's go to pitch is his fastball, but he also works in a slider and will drop in a curve ball at times.
"I'm definitely learning which pitches to throw in certain situations and which ones not to throw," Lanthier said.
Dolan added, "Ethan has been very tough on opposing batters this season."
Another adjustment to college life has been getting used to the road trips.  So far this season, SCSU has played games in Arkansas, Colorado, Florida, South Dakota and Wisconsin. The cold spring has also limited the Huskies to just three home games so far in 2022.
"It is definitely a big difference from high school," Lanthier said about the travel.  "I think the shortest bus trip we've had this year is longer than the longest bus trip I had in high school but it is something you get more and more used to as the season goes on."
Lanthier, the son of Ernie and Jenn Lanthier, was attracted to St. Cloud State's success in baseball along with the academic offerings provided by the school.
"When I came for my visit, they had really nice facilities, an awesome weight room and a great baseball field," Lanthier said.  "I got to meet some of the players and they all seemed like pretty cool guys and they have consistently been a team that wins a lot of games.  St. Cloud State also had the academic major I was looking at, which is construction management.
"Another thing that attracted me was that it was far enough from home where I get the college experience but it's not too far away from home that I can go back if I need to."
On the topic of back home, Lanthier plans to play town ball for the Northfield Knights this summer but before that happens, he hopes St. Cloud State can make an impact in the postseason this spring.
The Huskies currently sit in third place in the NSIC standings and should have a very good shot at making the top eight field for the conference's postseason tournament.  The NSIC tournament will take place May 11-14 in Sioux Falls, S.D.  In addition, SCSU will be looking to gain a potential NCAA Division II tournament bid.  SCSU has earned an NCAA tournament bid nine times since the 2010 season under the direction of Dolan, who was named the NCBWA Division II National Coach of the Year in 2015.