Big 9 title implications on the line Thursday for Northfield boys hockey, girls hockey and wrestling
THREE STARS: Big 9 title on the line in girls hockey clash between Northfield, Owatonna
Game: Owatonna (16-6-1, 1451) at Northfield (15-7, 11-0), 7 p.m., Thursday, Northfield Ice Arena.
First matchup: The Raiders pulled away for a 4-0 win in Owatonna thanks to three goals in the final six minutes.
Recent results: Northfield has won six of its last eight games, with the two losses coming via a 4-2 defeat against Class A No. 9 Mahtomedi in an outdoor game in St. Paul and a 3-2 overtime setback against Dodge County in Northfield. Owatonna, meanwhile, has won nine of the last 11 games, with the losses coming via a 5-3 defeat against Class A No. 10 Rochester Lourdes and 3-0 loss against Rogers.
1. Simply put, there's not much that's not at stake Thursday night in Northfield. With a win, Northfield will capture its second consecutive outright Big 9 Conference title and finish the season without having lost a conference game since Jan. 16, 2018 — a stretch that's 28 victories long entering Thursday night. An Owatonna win provides the Huskies with a share of its eighth conference title and first since 2011. It also might cast a shade of doubt into the hierarchy of Section 1AA, in which Northfield and Owatonna are ranked third and fourth, according to minnesota-scores.net's Quality Results Formula.
2. This might be the start of a healthy and sustained rivalry between the two programs, given the amount of youthful scoring on both sides. For the Huskies, freshman Ezra Oien leads the team with 30 goals and 16 assists, while sophomore Olivia Herzog (20 goals, 14 assists) is third in scoring, junior Sydney Hunst (10 goals, 21 assists) is fourth and junior Anna Herzog (10 goals, 15 assists) is fifth. Eighth-grader Molly Achterkirch, meanwhile, is sixth with nine goals and 14 assists, while freshman Abby Vetsch is eighth with seven goals and 16 assists.
On the Northfield side, the top seven scorers are slated to return next season with freshman Ava Stanchina (35 points, second on the team), eighth-grader Ayla Puppe (26 points, third), freshman Tove Sorenson (21 points, fourth) and sophomore Cambria Monson (19 points fifth) all possessing at least two more years of high school eligibility. Junior Jessica Boland leads the team with 45 points, while junior Payton Fox is tied with Monson for fifth with 19 points.
3. Perhaps the biggest asset for Northfield's claim to repeat as conference champions has been sophomore goalie Maggie Malecha, who in her first season of varsity hockey is second in the state in save percentage (.945) and fifth in goals against average (1.41). She's notched a 15-7 record while recording seven shutouts, six of which have come against Big 9 opponents. For Owatonna, the bulk of the net-minding has been done by senior Asia Buryska, who has compiled an 12-6 record with a save percentage of .913 and a goals against average 1.75. She's been relieved at times by sophomore Ava Wolfe, who's posted a 4-0-1 record with a .966 save percentage and a 0.52 goals against average, although she hasn't played enough minutes to qualify for the state leaderboards.
THREE STARS: Northfield boys hockey travels to Owatonna with chance at revenge
Game: Northfield (12-7, 10-1) at Owatonna (14-4, 8-1), 7 p.m., Thursday, Owatonna Four Seasons Centre.
First matchup: The Huskies stifled the Raiders in a 2-0 victory in Northfield. Zach Wiese made 21 saves in net to notch the shutout for Owatonna.
Recent results: Since that game, Northfield has won eight of its last 11, including all six matchups against Big 9 Conference opponents. Owatonna, meanwhile, has won nine of 12 games since the first matchup, with the only losses coming against Duluth Denfeld, Rochester Century and Gentry Academy, which has also beaten Northfield.
1. Success for the Huskies starts between the pipes, specifically with Wiese, their senior goalie. So far this year, Wiese is 12-3 with three shutouts and a .929 save percentage with a goals against average of 1.46. The one game in which he's recorded a save percentage below .900 was in a 6-5 loss against Rochester Century, which snuck five of their 22 shots past Wiese (one of Century's goals was an empty-netter). The Huskies have also utilized Preston Meier and True Gleseke for a combined three starts this season, but it figures the Raiders will see Wiese on Thursday night.
For Northfield, senior Cal Frank has started every game this season and sports an 12-7 record with a save percentage of .868.
2. A byproduct of Wiese's solid play this year has been Owatonna's performance on the penalty kill, which has kept the puck out of the net on 55 of 58 opportunities, good for 94.8%. Conversely, the power play unit for Northfield has sputtered this season, with the inconsistent success resulting in a conversion rate of 20.3%. It's worth noting, though, that when the unit is clicking there's been little opponents can do to stop it. In a 6-0 win at Winona on Jan. 16, the Raiders scored on all three of their power plays. In a recent three-game stretch, Northfield converted on six of nine power-play opportunities to help it top Mankato West, Austin and lastly, Winona. Since then, the unit is 1-for-6 in its last three games.
3. One of the driving forces behind Northfield's recent success has been its most visible source of offense: junior forward Carson VanZuilen. He's in the midst of an nine-game point streak in which he's racked up five goals and an eye-popping 21 assists. Behind that production, the Raiders have piled up 48 goals in the last 10 games. Along with VanZuilen, junior defenseman Josh Kruger has notched a point in nine of his last 10 games, including 11 in the last six. Sophomore forward Spencer Klotz has also ratcheted up his offensive production recently, with 24 points in the last nine games. For the season, VanZuilen leads Northfield with 40 points, while Klotz is second with 37 and Kruger is third with 20.
On the Owatonna side, junior forward Zach Kubicek has 19 points in his last eight games, while junior forward Dom Valento has produced a more steady 15 points during the same stretch. Valento leads the team with 33 points and Kubicek is second with 30 points, while Valento scored the second goal in the 2-0 win against Northfield earlier this season.
Northfield wrestling travels to Faribault with Big 9 title up for grabs
Match: Class AAA No. 5 Northfield (18-4) at Faribault (18-2, 8-0), 7 p.m., Thursday, Faribault High School.
Recent results: Northfield finished first at the Lake City Invite on Saturday, while Faribault most recently fell 50-15 in a dual meet against Class AAA No. 9 Farmington.
Last year: Northfield won 50-10, the first win for the Raiders in the series since Geoff Staab became the head coach prior to the 2016-17 season.
What's at stake: Conference title aspirations. With Northfield and Faribault tied for first in the Big 9 Conference at 8-0, Thursday's result may be the deciding factor in which team claims the conference crown. For the Raiders, it would be their first Big 9 title in program history. For the Falcons, it would be their 13th, but first since 1995.
Three matchups to watch
126-pound weight class
For Faribault's Gael Ramirez, the difference this season can be boiled down to a matter of a few pounds. Starting the year wrestling in the 132-pound weight class for Faribault, Ramirez experienced choppy water en route to a sixth-place finish at the season-opening Dick Shiels Faribault Invite and a second-place finish at the Larry Severson Northfield Invite. In both tournaments, he lost to Northfield's Sam Holman in his final match. In those first 12 matches of the season, Ramirez finished 7-5.
Since then, Ramirez has dropped down to the 126-pound weight class and caught fire. In the 16 matches in his new weight class, Ramirez is 15-1 with the one loss a 9-3 decision against Zimmerman's Joe Montplaisir, ranked No. 10 in Class AA at 120.
Ramirez should have another opportunity to notch a win against a ranked opponent Thursday, where if he sticks at 126 he'll meet Northfield sophomore Jake Messner. Messner, a two-time state qualifier, is ranked No. 8 in Class AAA at 126. In 36 matches this year, all at 126, Messner has lost only six times and has picked up bonus points in 25 of his victories this year, including in each of his last 11 matches.
132-pound weight class
In the next weight class, the aforementioned Holman will look to build off what might have been his best weekend of the season. At the Lake City Invite, Holman was named the most outstanding wrestler after upsetting Rochester Mayo's Marshall Peters (No. 4 in Class AAA) in the semifinals and Medford's Charley Elwood (No. 2 in Class A) in the finals.
Holman, who's unranked, now sports a 29-8 record and has won eight matches in a row. Prior to Saturday, the junior was searching for signature wins to add to his resume, since four of his losses came at The Clash National Duals at the start of January and another two occurred at the Rumble on the Red in late December against some of the best competition he'll face all year.
He'll look to continue that recent forward trajectory Thursday against Faribault's DJ Saunders, who's 25-6 this year. Like Ramirez, Saunders has been enjoying greater success at a lower weight class after starting the year at 138, but since bumping down to 132, where he's 10-3. The three losses have come via a fall against Mankato West's Charlie Pickell (No. 1 in Class AA), a fall against Coon Rapids' Nick Lattery and a 13-11 decision against Peters, the Rochester Mayo wrestler Holman upset 3-2 on Saturday.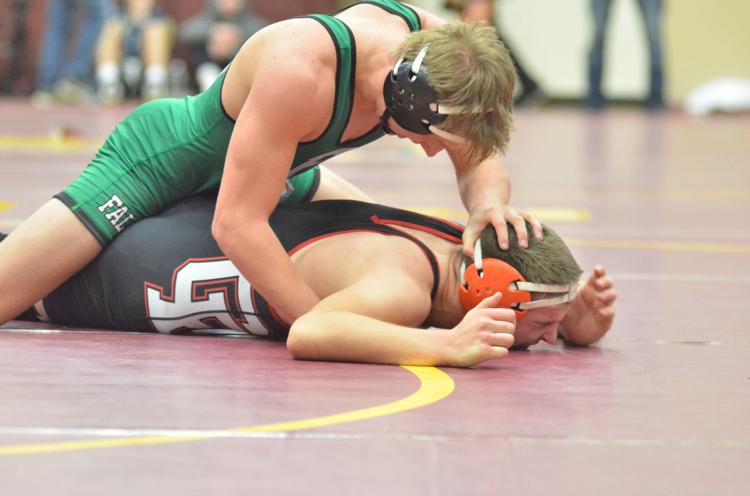 170-pound weight class
A blueprint for a Falcons win Thursday almost certainly includes a win from senior Josh Oathoudt, who will also likely need to take some bonus points with him.
Oathoudt, ranked No. 6 in Class AAA at 152, has lost only three times while wrestling all but one in the 170-pound weight class. The one exception was against Albert Lea, when he bumped up to 182 and pinned Tyler Barney. The only losses have been a 4-3 decision against Mankato West's Wyatt Block (No. 3 in Class AA), a 6-5 decision against Staples-Motley's Owen Bjerga (No. 1 in Class A) and a 7-3 decision against Mahtomedi's Bryce Fitzpatrick (No. 5 in Class AAA). Oathoudt has won 11 of his last 12 matches, and earned bonus points in nine of those victories.
He'll likely face Northfield sophomore Nick Mikula, who's been relatively boom or bust lately. In his last eight matches, Mikula is 4-4 with all four of the victories by fall, while two of the losses are by fall, one by technical fall and one by decision.
For the season, Mikula is 18-15.

Sports Editor for the Northfield News. Also a California native looking for tips on surviving the winter and an Indiana University grad on the quest for a good breaded pork tenderloin.