When summer workouts started a few weeks ago for the Northfield girls basketball team, a clear dichotomy was present.
First, a transition was in place with a new coach and a young team taking the reigns without any seniors on the roster. On the other side, though, that new coach is Paul Eddy, who spent last year as an assistant for the girls basketball team and brings 20 years of experience coaching high school basketball in Northfield, including a six-year stint as the head boys basketball coach.
"Especially since I was on staff ... last year, I don't think it'll be much of a transition at all," Eddy said. "We've been working for the last three weeks for our summer workouts, and it's been great. It's been fun to get in the gym and start putting in some of the things we'll be doing."
Rather, that shift will be because of a change in personnel.
"We're going from about six years of having one to four 6-foot post players that were all talented to our tallest player being 5-10, probably," Eddy said. "We need to play a different style with the players that we have now. That's our biggest transition, and I talked with Tony about it, and he's thinking the same thing. We can't continue to do what we've been doing, where everything revolves around having these 6-footers on our back line."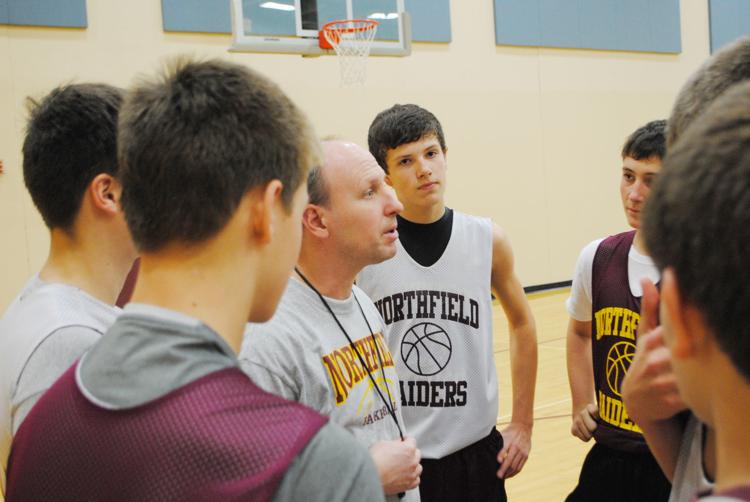 That likely means no more slow, defensive battles, the likes of which helped the Raiders play in the last three Section 1AAA title games and finish as state runner-up two years ago. Instead, a faster pace will be key with three perimeter-oriented starters returning in rising juniors Lizzie Berkvam (7.9 points a game, 5.2 assists a game), Annika Richardson (7.5 points a game, 5.6 rebounds a game) and Emma Hodapp (5.8 points a game, 3.2 steals a game).
Those new philosophies have started to be implemented over the last three weeks, but will stop during this week's MSHSL no-contact period. Many of the changes were mapped out before Eddy officially accepted the job.
After Mathison stepped down, Eddy took a few days to mull whether or not he wanted to apply for the opening. Once he did so, his mind started racing with possibilities.
"Once you make the decision to go for it you start dreaming a little bit about, 'What about this offense with this personnel?' or 'What about this defense?'" Eddy said. "You start thinking through those things and you start to get excited about the prospect of being back in charge and running the program."
Another shifting variable for next season will be the competition. After being bumped up to Class AAAA, the highest of the state's four classes, the Raiders will face a tougher road in Section 1AAAA from the likes of Farmington, which spent much of last season ranked in the state's top five before being upset in the section final by Lakeville North, which has won four straight section titles but will be moving to Section 3AAAA at the start of next year.
"In terms of postseason victories, those will be harder to come by based on the fact we'll be playing with larger schools," Eddy said. "While we have three returning starters, and that's a great thing, there's no seniors and anytime you're missing a full class of juniors or seniors, it's going to lead toward issues with depth...Hopefully, some of the other younger players will be able to step up and fill those reserve roles."