From the start, Emma Torstenson and Tim Torstenson were a package deal.
The Northfield volleyball program was looking for a coach for its sixth grade team and reached out to Tim, who accepted with one exception. He agreed to coach the team, which was short on players, if Emma — then a third grader — and her fourth grade friend Bronwyn Timperley were able to play on the team.
That season started Emma's official Northfield volleyball career, which ended with last week's sweep of Owatonna.
In reality, however, Emma's volleyball career started well before then. Growing up, her father was a former college volleyball player at Minnesota State, Mankato, and her mother, Kari, played volleyball at the University of Minnesota.
"My mom and dad say I was pretty much born with a volleyball in my hands," Emma said.
While Emma's entire five-year stretch as a high school starter was spent at the libero position, she was initially a setter.
That changed once she started formally playing, however, and the age difference on that Northfield sixth-grade team and her first club team at Northern Lights, meant her relative lack of height was too much of a detriment.
"When I went to Northern Lights in fourth grade, I played a year up because there wasn't a team for my age group and I was the smallest one there, so I tried out as a libero and I made it," Emma said. "I've been playing there ever since. I just love to play libero, fell in love with the position and that's what I kept doing."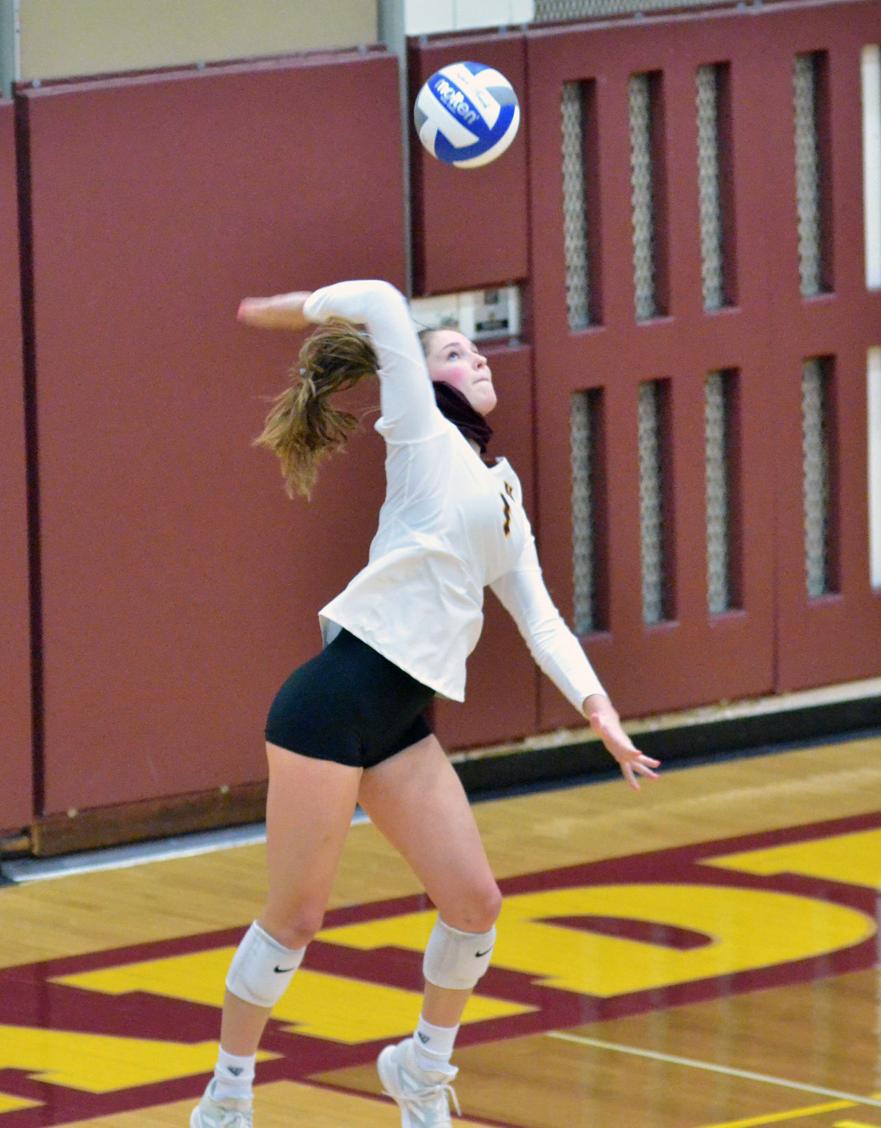 Before Emma, there were numerous players that might spend their club seasons playing at libero, but then shift over to a hitting position once they returned in the fall to play for Northfield.
That was never seriously considered for Emma, whose ability and passion for the position meant she was locked into that spot.
"Her talent just kept her in that position for us," Tim said. "In eighth grade, she was already able to take control of the position and be a really good player at that position as an eighth grader and she has continued to get better. We rely on that kind of ball control and that kind of defense from her."
"I love being on the court all the time and the libero is involved in all the plays, whether I'm digging or the setter is taking the first ball and I get to set it up," Emma added. "I just love being involved in all the plays and defense is like my favorite thing ever."
As an eighth-grader, Emma was able to step in and captain a defense the helped the Raiders finish second in the Big 9 Conference. The next four years, Torstenson made sure Northfield never lost another conference match, and drop only two conference sets in that timeframe.
Through those five years, Emma continued to improve in ways that weren't always visible.
Yes, she continued to sharpen her serve, which this year produced 53 aces in 13 matches, which is the sixth-highest total in the state and the most of any Class AAA player.
Defensively, however, her improvements resulted in less eye-popping plays.
"She'll make flashy plays once in a while, but if you watch other liberos a lot of times they're diving all over and going all over the place," Tim said. "I think that's fine, but I think you see that more when you have a libero that doesn't read the court and doesn't anticipate. Emma doesn't (make flashy plays) as much because she's already in the right position so she doesn't have to make a diving play because she's already there."
The defensive stats still stood out plenty, with her 216 digs this year ranking seventh in the state, and last year earning her a spot on the Class AAA all-state team.
One spot where Emma might not have fit the prototypical mold of a libero when she first entered the starting lineup was as a leader. As an eighth grader, handing out instructions and encouragement to teammates that are five years older wasn't something that was necessarily expected of her.
As she played more matches and grew more confident, her voice progressively rose.
"Winning and performing well developed my confidence, and when I developed my confidence I was a better leader to my teammates," Emma said. "Especially this year and last year to the younger girls like Sydney (Jaynes), Teagan (Timperley) and Annelise (Larson). I think it was easier to be a leader for them because I've gone through what they've gone through with playing as young players on varsity. It's just easier to tell them things I would want to hear when I was in their position."
The past two years, in which she was a captain for the Raiders, Emma developed into a complete extension of Tim on the court.
Her departure to play at the University of Colorado next year will leave a hole — not only at the libero position — but in the locker room and for Tim, who has grown accustomed to coaching his daughter all these years.
"It's been awesome," Tim said. "It's crazy. I wouldn't say I take it for granted, but you just get used to it every day and being around her and having her there. It's been a great experience for me and I hope it's been for her, too, and I think it has. It didn't really hit me. I was emotional before the match, but after she came off for the last time, that's when it hit both of us the most. I wouldn't trade it for anything. It's been great to have that time with her and to watch her become such a good volleyball player."