In a normal year, the first two months of the season are mostly a wash for the Dundas Dukes.
With a mostly-veteran team, the months of May and June serve as an extended spring training for hitters to regain timing and pitchers to stock up on arm strength.
Dundas usually aims to start its peak around the annual Fourth of July contest against Northfield, and continue its ascent leading into August and the postseason. This year, however, that Fourth of July clash will be the third game of the season, and the postseason will start after only a month after opening day.
"Every game counts," Dundas manager Mike Ludwig said, "so we don't have those weeks, games and those non-league games to get everyone ready and see what people are going to be able to do."
In what's expected to be a tightly-contested Section 1B (four teams start the year ranked in Class B) each win and loss could be vital to avoiding the one-game play-in round between the bottom two teams.
Last year, in a typical regular season, the Dukes entered the final two weeks of the regular season unsure of where it would slot in the then six-team Section 1B playoffs with seeding options ranging from one of the top two seeds to one of the bottom two.
Dundas ended up fourth, and qualified for the state tournament by sweeping third-seeded Hampton, before surging to its eighth state runner-up finish.
With a smaller margin for error this year, the depth of the Dukes — especially on the mound — will be put on display.
"It's going to be interesting to see how big our pitching staff is," Ludwig said. "In that way, it's going to look more like early May where guys are going two to three innings every time in the first two to three weeks. Other than that, I think it's going to look a lot different in a lot of ways."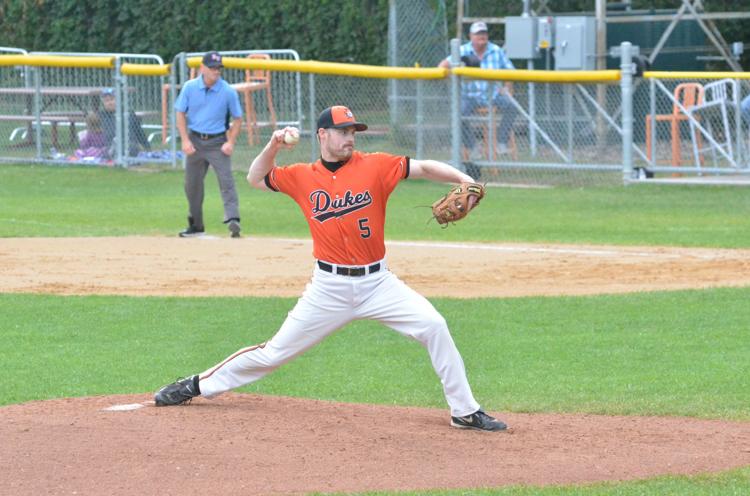 Ludwig said Tuesday the team still has not met yet this summer, but he hasn't heard of any of last year's players not returning this season out of health concerns surrounding COVID-19.
"We're not quite sure if everyone's going to be with us this year or not, and if they're not that's fine," he said. "We totally understand, but we just don't know yet."
If everyone does return, that pitching staff will again be anchored by the trio of Todd Mathison (68 1/3 innings last year), Charlie Ruud (46 innings) and John McCaustlin (58 2/3 innings).
They will be supported by Derek Albers (49 2/3 innings), Mick Dudero (42 2/3 innings) and Matt Neuger (20 1/3 innings), who will all transition from primarily pitching in those non-league games to a steadier diet of high-leverage appearances.
Alec Holcomb also joined Dundas late last summer and for the state playoffs after playing the majority of the year in a summer league for college baseball players, and would be a vital late-innings weapon if he returns again this year.
In terms of additions, Ludwig said the team will add 2017 Prior Lake High School graduate Cody Kashmark, an outfielder last summer for the Class C Prior Lake Jays, while a few other potential additions are still pending.
The team's first game will be Saturday afternoon at Memorial Park against the Moorhead Brewers, a Class B state tournament mainstay and the only non-league or non-section foe on the schedule for Dundas this year.
"By and large, our group is excited to be around each other again, play baseball and have a little bit of normalcy with the restrictions that we have," Ludwig said. "We're excited to get back out there and play a little bit."