Five of the six teams in the Section 1B tournament played in last year's state tournament. Dundas, Elko, Miesville and Northfield all represented the section at last year's Class B state tournament, while newcomer New Market participated in last year's Class C state tournament.
The one exception — Rochester — is the No. 4 seed and enters the postseason on a four-game winning streak that includes a 13-1 win against top-seeded Elko and a 13-3 victory against second-seeded Miesville.
To put it frankly, with only four qualification spots to the state tournament, two talented teams will be left out in the cold.
The action starts at 8 p.m. Friday with games at the higher seed, follows with game two at 2 p.m. Sunday at the lower seed and a potential winner-take-all game three at 8 p.m. Tuesday at the higher seed.
The three series winners advance to the state tournament, while the three series losers will drop into a three-team playoff for the final state-advancing slot. The two lowest seeds will play in an elimination game Aug. 14, at the higher seed. The winner will then play the highest seed of the losing teams in a final elimination game with the winner advancing to the state tournament.
NO. 3 NORTHFIELD VS. NO. 4 ROCHESTER
Head to head: Rochester won 6-2 in Rochester on July 5, while Northfield won 8-2 at home on July 22.
Last five games: Northfield, 3-2; Rochester, 4-1.
Northfield's top three pitchers
Jake Mathison: The right-hander got off to a slow start this summer, but has ramped up into the pitcher who has led the Knights to three straight tournaments. For the season, he sports a 2-3 record with a 4.38 ERA in 39 innings pitched with 33 strikeouts compared to 12 walks. In his last three starts, Mathison has allowed only four earned runs in 24 innings with 20 strikeouts and only five walks.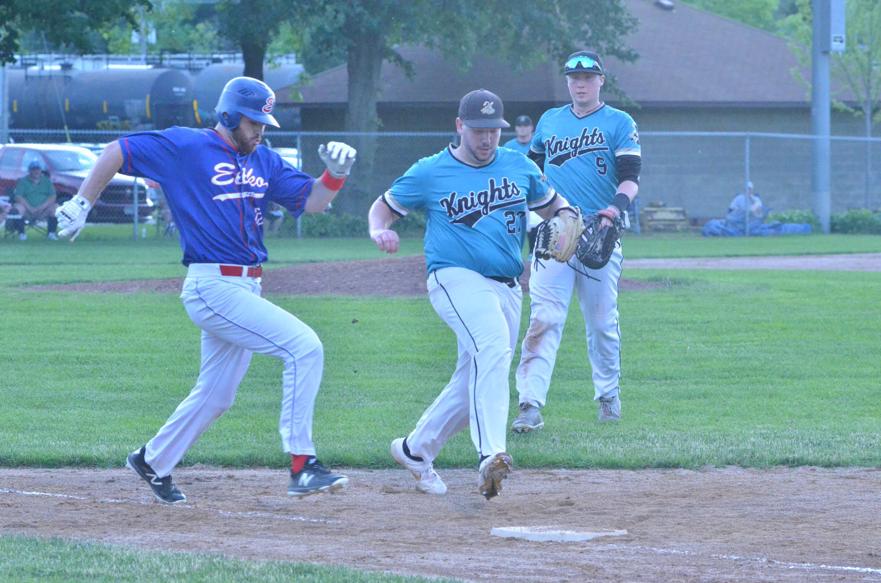 Eli Patrikus: A big reason Northfield has garnered the No. 3 seed is due to Patrikus, who hurled a complete game in Friday's 12-8 win against Miesville. For the season, the right-hander is 2-1 with a 4.13 ERA. His worst start of the season, however, came in the July 5 loss at Rochester, where Patrikus surrendered six runs on 12 hits in six innings. Outside of that and the Miesville game, Patrikus has allowed two earned runs or less in each of his five other appearances.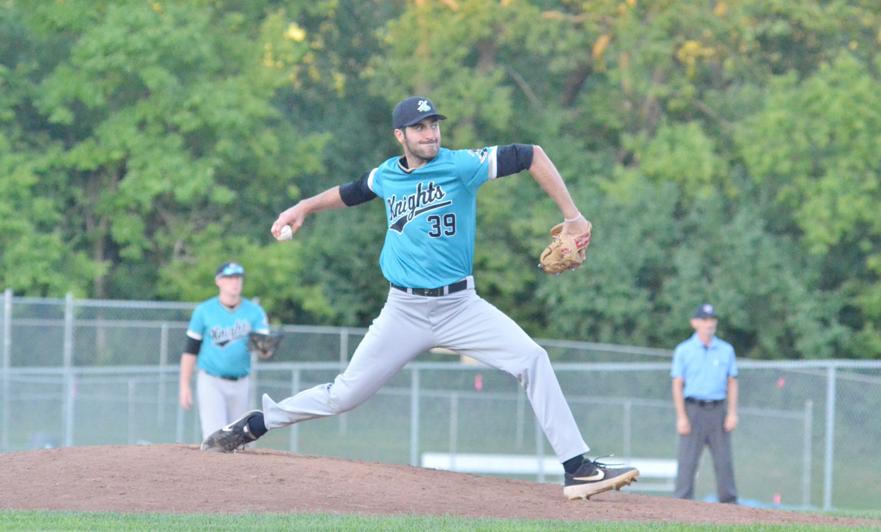 Jon Ludwig: The 2020 Minnesota State University, Mankato, graduate has possessed the best pure stuff of any Northfield pitcher this season. In 14 2/3 innings, the right-hander has struck out 18 batters and surrendered only two runs. He had been used solely as a relief pitcher this season prior to Thursday's 7-2 loss to Hampton, in which Ludwig struck out 10 batters in five scoreless innings before departing with a 1-0 lead. It will be interesting to see whether Ludwig is saved for a potential start in the three-game series, or if he operates in a "fireman" role, in which he enters out of the bullpen in high-leverage situations late in the game.
Northfield's top three hitters (official stats not available from final two games)
Scott Benjamin: Northfield's starting center fielder and leadoff hitter has been a dominant force. In the shortened season he's posted career highs in batting average (.457), on-base percentage (.500) and slugging percentage (.543). He was one of four players to homer in the 12-8 win against Miesville.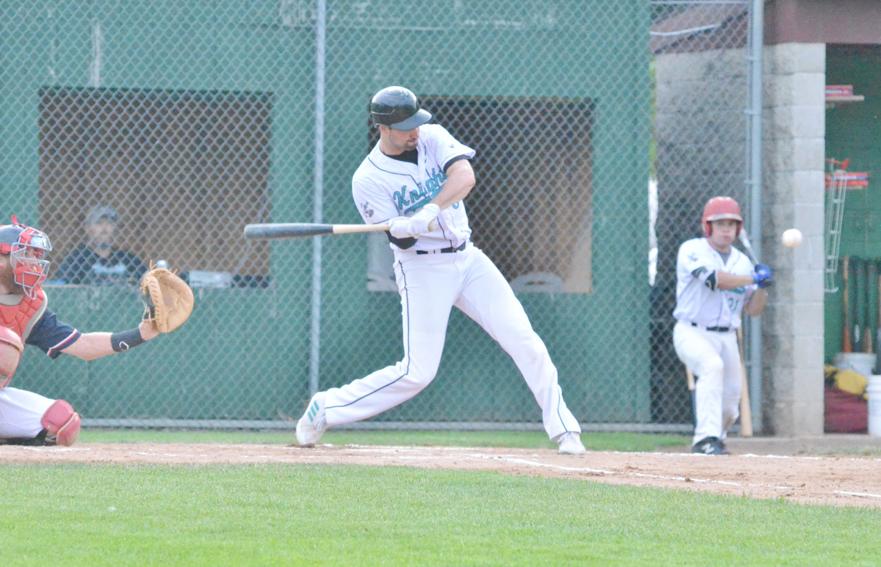 Tim Maus: After a down 2019, Maus is back to swinging the bat like the middle-of-the-order force who has paced Northfield's offense in recent years. His homer against Miesville on Friday was his third of the season and helped bolster his career-best slugging percentage of .543 to go along with an on-base percentage of .475.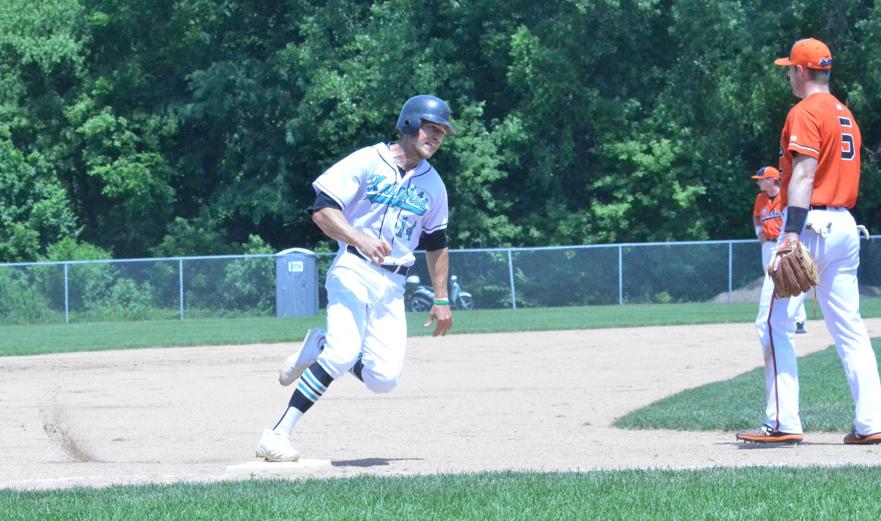 Tommy McDonald/Aldon Severson: Both players have seen their relative productions drop this year, but with a down offensive season so far for Northfield on the whole, both McDonald and Severson still slot in among the team's most potent weapons. McDonald also homered against Miesville, and he sports an on-base percentage of .372. Severson, meanwhile, is still searching for his power stroke this season. The first baseman is slugging below .400 for the first time in his career.
Rochester's top three pitchers
Matt Meyer: The 35-year-old left-hander is still one of the best pitchers in the section and the state. This season, he sports a 4-1 record and a 2.43 ERA in 33 1/3 innings, along with 51 strikeouts and only four walks. In the July 5 win, Meyer tossed six innings while allowing two runs and striking out 12.
Mitch Brown: The right-hander spent most of the season as a reliever, but transitioned well into a starter's role and finished the season with a 2-0 record. He pitched seven innings in a win against Miesville while allowing three runs and striking out eight, before he tossed seven shutout innings against Hampton and striking out 10. The 26-year old is a Rochester Century graduate who was drafted by the Cleveland Indians in the second round of the 2012 MLB Draft.
Mike Stubbs: Rochester's second-most used pitcher has tallied 23 innings and a 6.65 ERA with 17 strikeouts compared to 18 walks.
Rochester's top three hitters
Hayden Brown: The left-handed utility player (and amateur baseball rookie) has been a stud for the Royals so far. The 2019 graduate of Rochester Lourdes sports a slash line of .333/.433/.579 with three home runs and five doubles. He also has a team-high 15 RBIs and 17 runs scored.
Jared Campbell: The infielder who just wrapped up a college baseball career at Augustana sports a slash line of .318/.434/.568 with six doubles, a triple and a home run.
Michael Michalak: The Rochester Mayo and University of Illinois baseball graduate has a team-leading batting average of .338, to go along with an on-base percentage of .392 and a slugging percentage of .529. He's also swiped five steals and swatted three home runs.
NO. 5 DUNDAS VS. NO. 2 MIESVILLE
Head to head: Miesville swept the season series with an 8-1 win in Miesville on July 15 and a 4-3 win in Dundas on July 27.
Last five games: Dundas 2-3; Miesville 2-3.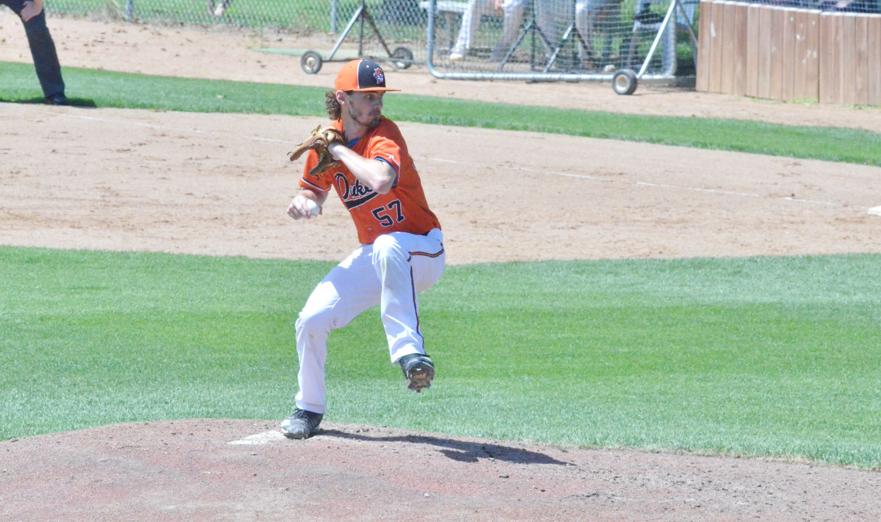 Dundas' top three pitchers
Derek Albers: The right-hander has taken over the role as the team's No. 1 starter this season. Albers, who will be a junior at Crown College next year, features a 3.58 ERA and a 4-1 record in 32 2/3 innings. He's struck out 24 and walked only two batters.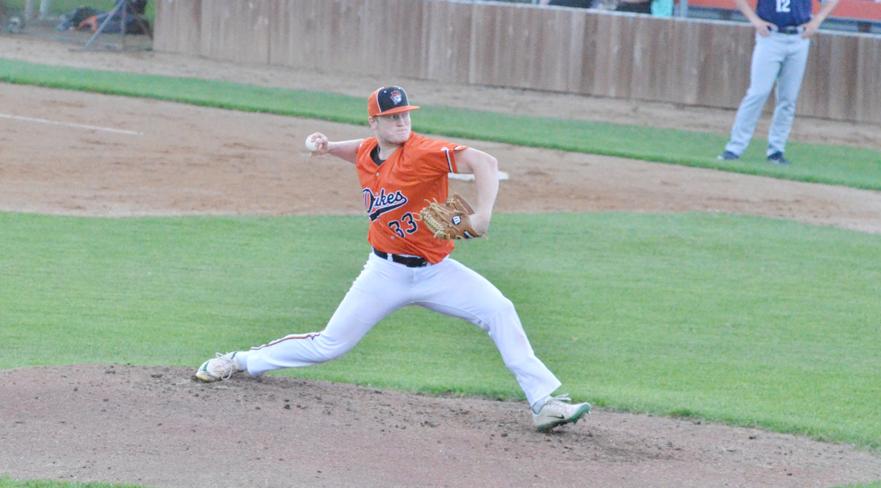 Gabe Pilla: The newcomer only has two official appearance so far this season, but both have been solid. In 11 1/3 innings, the North Dakota State player struck out 12 and walked six while allowing two earned runs. In the 4-3 loss against Miesville, Pilla fired six innings while allowing only one run and striking out five.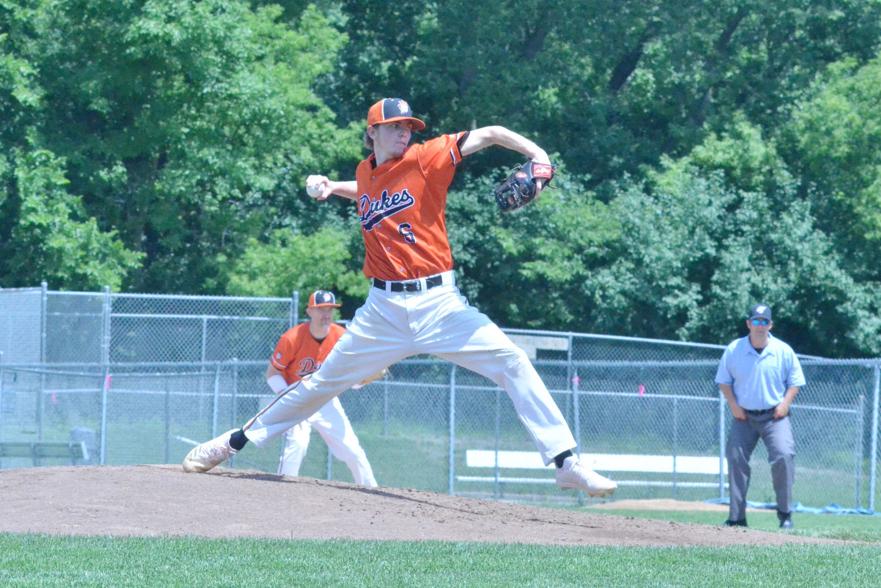 John McCaustlin: The tall right-hander earned this slot because he's the most likely to start out of Dundas' remaining arms. He's started four games this season and totaled five appearances, while compiling a 4.70 ERA with 17 strikeouts and 21 walks. This also could have gone to Charlie Ruud, who as a reliever this season has notched a 4.30 ERA in 14 2/3 innings with 15 strikeouts and one walk. Additionally, in a small sample size, Todd Mathison and Alec Holcomb have combined for 4 2/3 innings of scoreless relief in the second half of the season.
Dundas' top three hitters
Jon Bishop: While Bishop has always been a feared threat in the middle of the order for the Dukes, that role has become more pronounced so far this season. The lefty has swatted three of the team's five home runs and driven in a team-high nine runs, while slugging .605 — more than .100 points higher than his next closest teammate. Combining that with his .447 on-base percentage makes Bishop the key to Dundas' offense.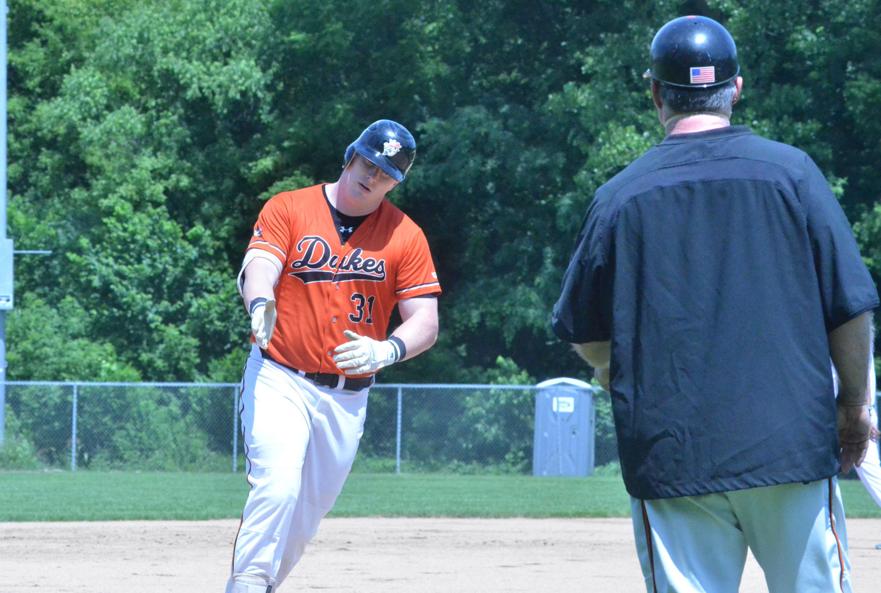 Haydn Lanoue: The outfielder has served as the prototypical leadoff hitter for Dundas this season. The left-hander has racked up a .348 batting average along with a sterling .474 on-base percentage. Even if the slugging percentage (.370) doesn't stand out, Lanoue has jumpstarted the offense just by how often he gets on base.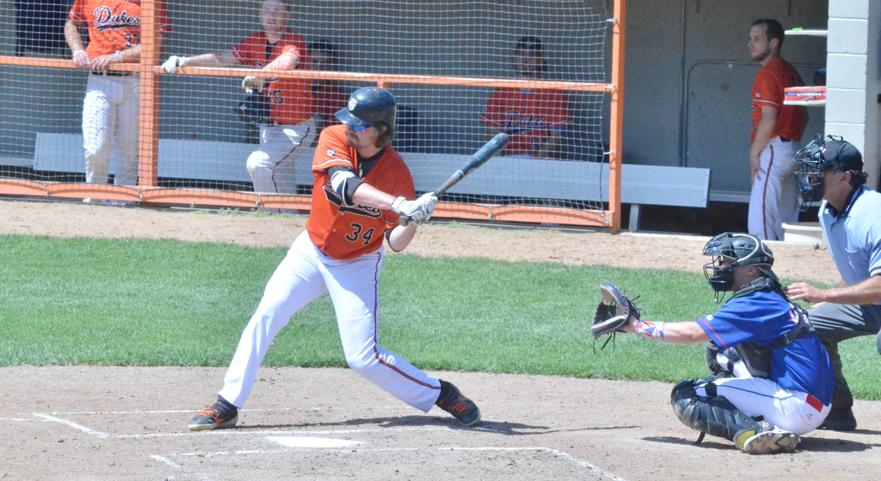 Drew Sathrum: The sure-handed second baseman/catcher doesn't traditionally hit in the top half of the order and might not be among the first names an opponent circles, but his steady presence has helped Dundas. He's doubled once and tripled twice to fuel a slugging percentage of .400, which may not jump off the page but is the third-highest on the team, and his on-base percentage of .340 ranks fifth.
Miesville's top three pitchers (stats are unavailable for final three games)
Jacob Dickmeyer: The right-hander remains the ace for the Mudhens. In 20 innings, he's allowed only two earned runs with nine strikeouts and no walks. In the July 15 win against Dundas. Dickmeyer fired seven shutout innings.
Connor Malcolm: In the July 27 win against Dundas, Malcolm fired 8 1/3 innings while allowing three runs. For the season, Malcolm has tallied 21 1/3 innings and struck out 21 batters while walking only five and tallying an ERA of 2.11.
Thomas Bruchu: After a one-year hiatus from amateur baseball, Bruchu is back to round out a very strong Miesville rotation. This season, Bruchu has a 1.62 ERA in 16 2/3 innings with seven strikeouts and four walks.
Miesville's top three hitters (stats are unavailable for final three games)
Reed Collins: Entering this season, Reed Collins never posted a slugging percentage higher than .450. This season? That figure has skyrocketed to .808 thanks to three home runs, three doubles and a triple in only 26 at-bats. He's also worked five walks and been hit by two pitches to compile an on-base percentage of .400.
Austin LaDoux: Tied for the team lead in home runs with Collins is LaDoux, who also features an on-base percentage of .469 and a batting average of .359. He's driven in 12 runs and scored nine more, in addition to slapping a pair of doubles.
Joey Werner: There's certainly some more powerful options available (Ronnie Sweeney, Deryk Marks or Matt Van Der Boesch), but Werner provides a skillset that allows each of those big hitters to better thrive. With a an on-base percentage of .519, it's a bit surprising Werner has only scored 12 runs. In addition to hitting .314, Werner has also drawn an eye-popping 16 walks in 51 plate appearances.