Game: Northfield vs. Faribault, 7 p.m., Friday, Bruce Smith Field.
Last meeting: The Raiders raced past the Falcons 29-0 in 2018 in the last meeting of this Rice County rivalry.
1. In the offensive backfield, Northfield returns most of the players who contributed to its 695 rushing yards in eight regular-season games. The faces the Raiders are missing, however, did a lot of the heavy lifting. Quarterback Gavin Rataj accounted for four of Northfield's six rushing touchdowns, while running back Joey Glampe scored another. Both have now graduated. The last touchdown came from Charlie Monaghan, now a sophomore, but that was scored in the dying seconds of a game that was already decided. Northfield also loses Simon Dickerson, who consistently was the most productive option on the ground for the Raiders. Looking to fill in those gaps will be senior Josh Johnson, who emerged throughout last year to eventually accumulate the most rushing yards of any running back, plus Monaghan and senior Blake Mellgren.
2. The holes are even bigger to fill in the air for Northfield. On top of losing primary quarterback Gavin Rataj, the Raiders will need to replace Daniel Monaghan, who accounted for 439 of the team's 850 receiving yards. Overall, 635 of last year's receiving yards have graduated. At quarterback, Rataj's replacement will be a combination of senior Cole Stanchina, who finished 16 of 29 for 185 yards and a touchdown in limited work last year, as well as junior Spencer Klotz, last year's junior varsity quarterback. On the outside, the Raiders will be helped by a few relative newcomers. Senior Ethan Lanthier was only able to play in part of one game before missing the rest of the season due to injury, while senior Kip Schetnan, a two-year starter at point guard for the basketball team, has joined the football team this year and is expected to start at wide receiver.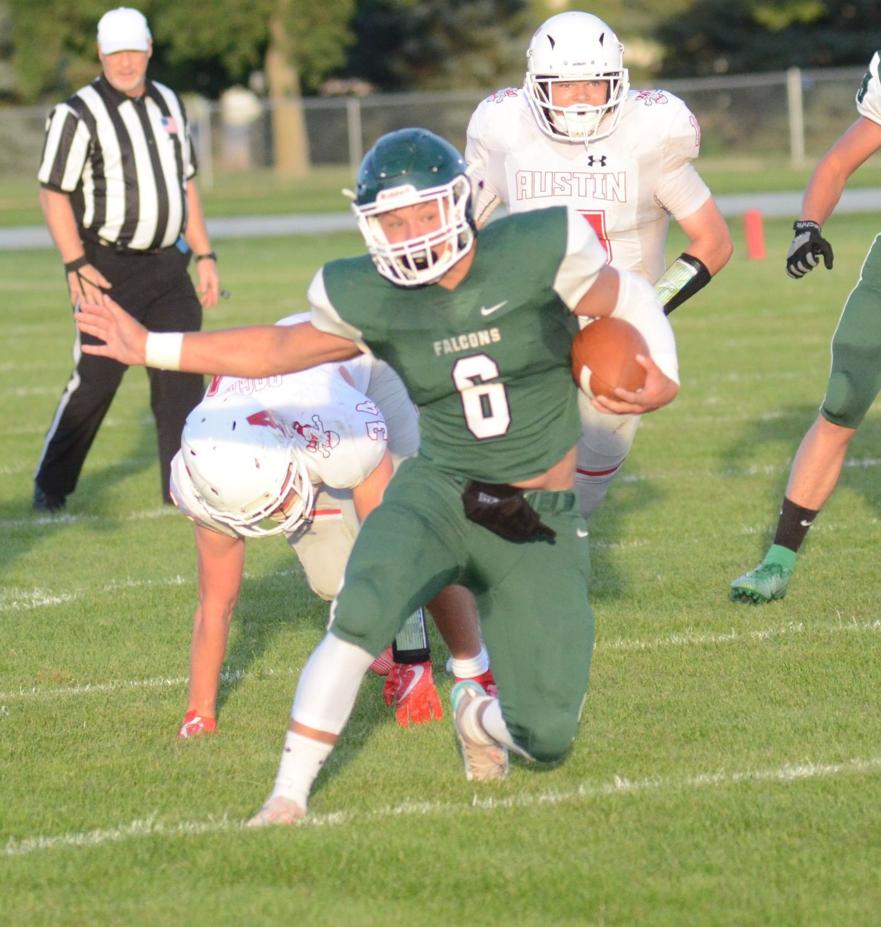 3. Faribault will also be undergoing a passing game transition. Last year's primary quarterback, senior Nick Ehlers, is set to move to tight end for this season. Last year's leading wide receiver, Nick Flom, has graduated to leave an open spot at the top of the depth chart. Replacing Ehlers under center will be junior Hunter Nelson, while senior Taylor Day, who finished as the second-leading receiver last year for the Falcons with 240 yards and three touchdowns, is the best bet to turn into the team's primary option in the passing game.
4. Where the Falcons did most of their damage last year, and where they return the most firepower, is on the ground. Faribault gained more rushing yards than passing yards a year ago, and is set to return its No. 1 back with senior Alex Gardner. Last year, Gardner rushed for 635 yards and eight touchdowns with 4.5 yards per carry, including a playoff performance of 26 carries for 180 yards and two touchdowns to help Faribault past Albert Lea 21-14 in the Section 1-4A quarterfinals. Also returning in the backfield is Day, who scored a pair of rushing touchdowns, as well as senior Cael Casteel. Ehlers also did a fair amount of damage on the ground last year at quarterback.