Macalester junior Kieran Cuddy has wasted little time in getting adjusted to a new season, as the 2017 Northfield High School graduate set a new school record in the 3-meter diving competition Friday in a dual meet loss against St. John's.
His score of 319.75 was good enough for first place at that meet, in which Cuddy also snagged second in the 1-meter diving competition with a score of 275.45. Last year, as a sophomore, Cuddy finished 14th in the 3-meter diving competition at the Division III NCAA Championships.
Macalester is next in action Friday in St. Paul against Carleton.
Elsewhere in the pool, the Gustavus tandem of senior Will Clark and freshman Andrew Becker blazed to a number of top finishes Saturday to lift the Gusties ahead of University of Wisconsin-Stevens Point in the first competition of the season.
The meet started with a dual between the two former Raiders, as Clark anchored a 200-yard medley relay team and narrowly out-touched Becker, who anchored a different 200 medley relay team, by .10 seconds to claim second in the event.
Later on, Becker claimed first in the 50 freestyle in 21.96 seconds to edge Clark, who finished second in 22.20 seconds, before Becker narrowly topped Clark again in the 100 freestyle with a second-place finish in 49.09, which came in ahead of Clark in third place at 49.79.
Becker was then part of a winning 400 freestyle relay, while Clark was part of a quartet that snared fourth in the event.
Gustavus is next set to host St. Olaf at 11 a.m. Saturday in St. Peter.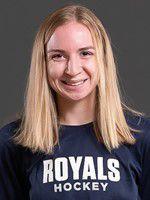 On the ice, Bethel sophomore Mallory Tidona was sterling in net during a season-opening 3-0 victory on the road against Northland College on Friday night.
Tidona made 25 saves in the win, before she sat out the following night to watch Northland claim a 2-0 victory.
It was the second career shutout for Tidona at the collegiate level, with the first coming last year in a 4-0 victory against Northland. Last year, as a freshman, Tidona played in 18 out of 25 games with 17 starts and posted a 4-8-4 record with a shootout loss. She recorded an .895 save percentage with a total of 477 stops, buoyed by a 54-save performance in a 4-4 tie against Hamline.
Bethel is next in action Friday night in Blaine against the University of Wisconsin-Eau Claire.