The adrenaline for Drew Woodley peaked when he needed it most.
Woodley, then a sophomore, was wrestling in the championship semifinal of the state tournament against second-seeded Israel Navarro from Willmar, and was trailing in the second period.
Then, in an instant, he pulled a reversal on Navarro and within seconds had him pinned before turning around and celebrating with the crowd. Ask Woodley about that 10-second stretch, and it's still a blur a year and a half later.
"I had so much adrenaline it didn't even feel real at the time," said Woodley, who will be a senior next fall. "That was probably the match I was most pumped for, because it was to get to the state finals as a sophomore and I was the underdog."
Adrenaline can often provide athletes with that extra push to succeed in a difficult moment.
It can also overwhelm and seemingly handicap an athlete, like it did for Woodley in his next match after his dramatic pin, when he lost 6-4 in the finals to Stillwater's Reid Ballantyne.
Harnessing the adrenaline that arrives before every game or match and funneling it into energy that helps an athlete is key, Woodley and other Northfield High School athletes say.
For Jess Boland, a rising junior on the girls hockey team, that adrenaline can often bring out her best play.
"You start feeling your blood pumping and it gives me a lot more energy," Boland said.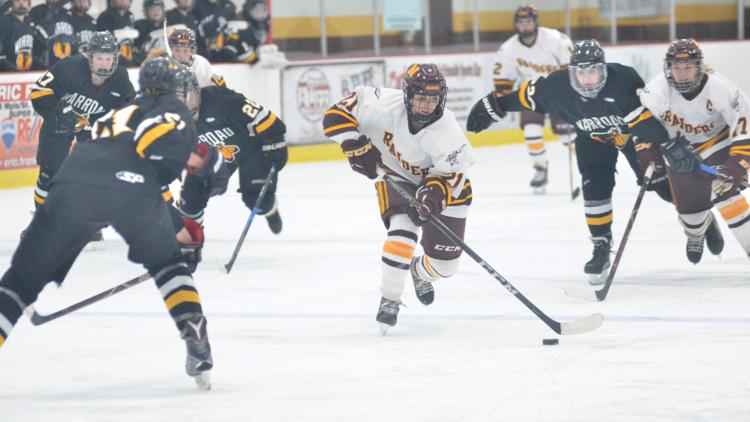 That extra surge can manifest in moment's like Woodley's dramatic pin, or Boland and the Raiders winning the program's second straight section title in 2017 when Boland was an eighth-grader.
In that game, a 2-0 Northfield win against Red Wing, the combination of the crowd, the magnitude of the moment and the eventual result all culminated in the most adrenaline Boland's said she's ever felt.
"You kind of stop thinking so much and you're just in the moment," Boland said. "I don't even know how to describe it. I have this nervous tick when my adrenaline's going really hard, I just tap my skate a lot."
For Boland, that energy starts building a couple hours before the puck drops. Woodley starts to feel the stereotypical butterflies in the minutes leading up to his match.
Bronwyn Timperley, a rising senior on the volleyball team, feels the adrenaline start the accumulate the minute she wakes up.
"Just the anticipation to play the game that night, and then it increases throughout the day as it gets closer to game time," Timperley said. "That's when I have it the most, before the first serve of the match."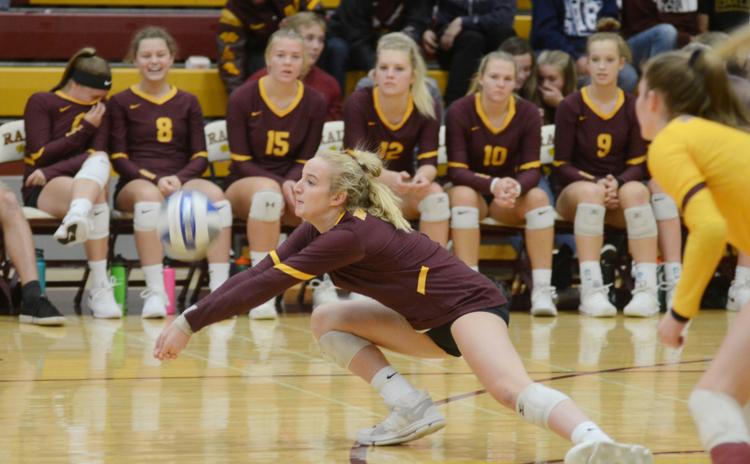 Sometimes, that energy overflows, Timperley said, resulting in her over-hitting serves.
Since she's not reacting to a ball coming toward her, and instead starting the action herself, the anticipation can occasionally result in a service error.
Funnily enough, that's what the post-point huddles are engineered to control. After every point, Northfield huddles in the middle of the court, with the huddles that follow winning a point starting by the players on the floor, sprinting, screaming and jumping toward each other.
Once they're huddled up, however, the task of bringing each other back to Earth begins.
"Our huddles are definitely important for our team," Timperley said. "When we come together we refocus each other and calm it down in the huddle, just because we have goals we want to accomplish and we want to keep our minds clear and not overthink the bad plays."
For Woodley, since wrestling is an individual sport, he essentially holds one of those huddles in his own head.
He'll remind himself to stay calm and take a few deep breaths to level himself if he ever feels himself start to tense up.
That excess energy caused by adrenaline can be a major issue, he said.
"I've had this happen before, where I get so amped up for the match and I have so much adrenaline going on that it'll make me tired," Woodley said. "I'm wasting so much energy on adrenaline and getting hyped up for the match versus just being calm, cool, collected and going out there and using it for my wrestling."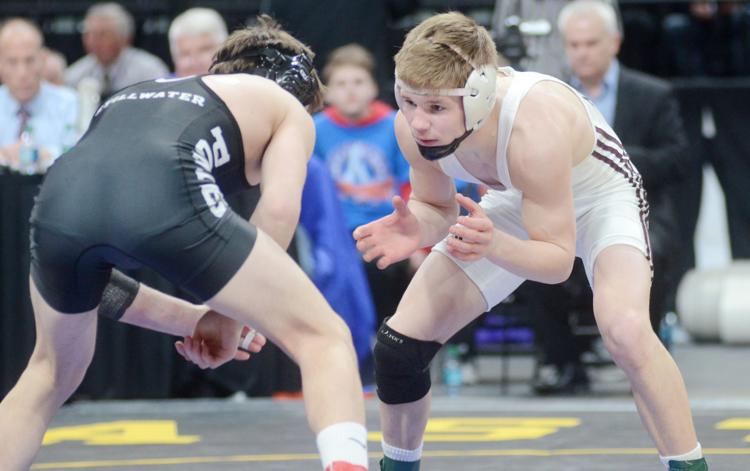 That means finding balance is key. The right amount of adrenaline is a positive and can provide that extra boost, but too much and all of a sudden an athlete is essentially incapacitated, whether that be from lack of energy or nerves.
Boland's discovered a trick of her own, with the help of her older sister, Kate Boland.
"Something Kate always told me was to turn the nerves into excitement," Jess Boland said. "If I got super-nervous and my adrenaline was going, I just try to turn it into excitement so I play better instead of being nervous about it."
There's no one set type of adrenaline.
For instance, Woodley said his butterflies differ from football to wrestling, and from regular season to postseason.
Timperley agrees, saying that her energy shoots up depending on how closely a certain match aligns with Northfield's ultimate goal of winning a section title.
A section semifinal win against Lakeville South in 2017 is her peak adrenaline moment, considering it was the first time the Raiders had beaten one of the Lakeville schools and put the program one win away from the state tournament.
"In those bigger matches against Lakeville North and Lakeville South, I think it's definitely got more adrenaline," Timperley said.
Boland even said her adrenaline levels at the state tournament didn't match the preceding section final win against Red Wing.
"It was my first year of high school hockey, so I don't think I really appreciated how big of a deal it was," Boland said. "Just getting there — it's kind of a different feel in the section final than when you're actually at the state tournament."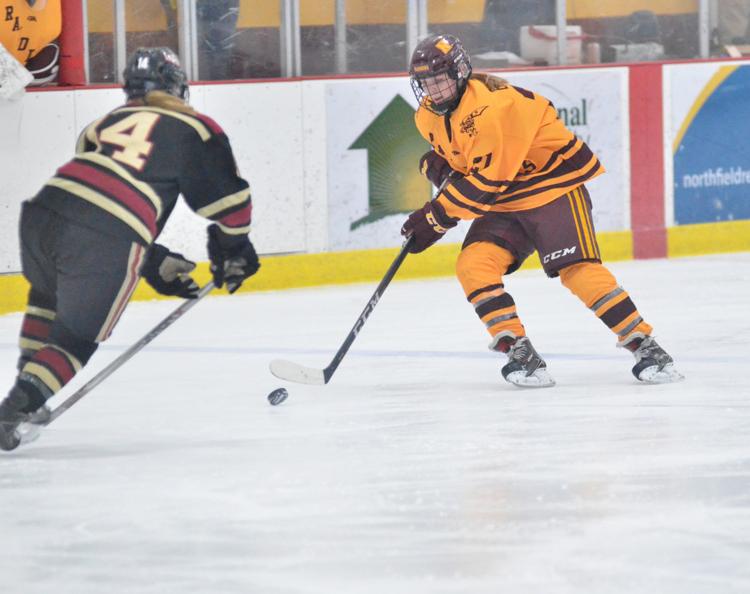 For Woodley, wrestling at the Xcel Energy Center has trumped every experience so far. In general, he said, his adrenaline during wrestling season is consistently higher than when he's on the football field since there's no safety net.
In wrestling, it's entirely up to him whether he wins or loses. If he misses a tackle in a football game, there's conceivably a teammate waiting behind him to bring the ball carrier down.
That adrenaline, or pressure, crescendoes at the wrestling state tournament.
"When I get adrenaline at the state tournament, that's when I wrestle my best," Woodley said. "I'm super amped up, I'm ready to go and I don't have to think about anything at all. I just go out there and the crowd helps me get focus."
The crowd is key for Woodley, Boland and Timperley.
Timperley's lasting memory of the section semifinal win against Lakeville South is the raucous celebration by the fan section after the final point.
When the Xcel Energy Center packs fans into the upper deck for the championship session at the state wrestling tournament, Woodley says the only task left for him is to make sure his energy levels don't reach dangerous heights.
The reason Boland said the section championship against Red Wing carried more adrenaline than the state tournament was because the atmosphere inside a packed Four Seasons Centre in Owatonna topped a partially-filled Xcel Energy Center.
"The fans obviously change the flow of the game, to be honest," Boland said. "If the fans are all hyped up about a play or they think a bad call was made and they're cheering or yelling or whatever, I think that hypes up the players a lot. If people are just quiet it changes the way I play. I know I play better if people are cheering me on."