All year, Northfield and Austin were building toward Tuesday night.
The two best teams in the Big 9 Conference last year returned talent in droves this season, setting up a clear clash at the top of the conference standings that was set to culminate on the final day of the regular season, Tuesday, when the Raiders and Packers battled at Northfield High School.
For a fourth straight year, Austin claimed the Big 9 title, this time thanks to a 2-0 victory. Northfield's status in the conference standings is still a bit muddled, however. Both teams leave the night with 28 points, but the Packers have yet to play a game against Winona that was postponed when the Winhawks were sidelined due to their county's rising COVID-19 case numbers.
There has still been no determination on whether the game will be rescheduled or not, and if it won't be played, whether or not the Raiders are able to claim a share of their first Big 9 title in program history.
Regardless, Northfield entered Tuesday with an opportunity to wipe away any of that confusion with a win. After a testy 80-minute game, the Raiders were unable to achieve that feat and trudged — and in some cases, hobbled — off Memorial Field disappointed they weren't able to break down the Packers.
"The better team won this evening, because they put the pressure on and could have scored a couple extra goals," Northfield coach Westley Dayus said. "We let ourselves down by getting drawn into it."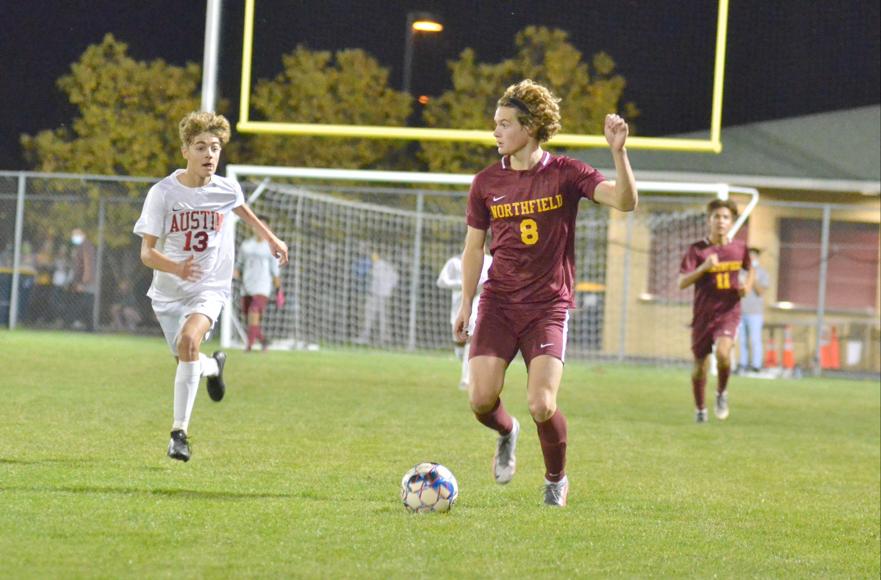 The "it" Dayus is referring to is what surrounded and permeated through the game. Due to a logistical problem from the referee association, the game was played with only two refs when the center ref didn't show up. He was out of the state, according to the two assistant referees who then were forced try and handle the game themselves, and no replacement was scheduled.
What followed was the emotions of a rivalry match with hardware on the line spinning out of control. Both teams, benches and fans protested calls throughout the evening, each believing the game's two arbiters were vastly tilting the game toward the opposite sideline.
A handful of yellow cards were distributed to both sides throughout the match, while an Austin player was shown a straight red card after shoving a Northfield player behind the play.