Northfield wrestling coach Geoff Staab looks at the preseason rankings and listens to the conversations surrounding the upcoming wrestling season, and he sees an opportunity.
An opportunity for the Raiders, who are slotted in at No. 11 in Class AAA and the second-highest team in both the Big 9 Conference and Section 1AAA, to surprise squads with their ability to rack up bonus points. An opportunity for those on the team who aren't mentioned in the preseason individual rankings, to prove that they belong in the conversation as some of the better individuals in the state.
"I think we're going to be better than what they have us predicted at," Staab said. "This is a team that we've been waiting for for a while. We always knew with Drew (Woodley) and when Trayton (Anderson) came that was going to be a good year and we thought last year we were going to do well, but this year was the team that when our seniors were sixth graders they won the state tournament."
Woodley is one of four senior starters who graduated from last year's varsity starting lineup, along with Ethan Johnson, David Tonjum and Jack Holman, who helped Northfield claim the Big 9 Conference title with a 10-0 record in dual meets before dropping a 28-27 match in the Section 1AAA team final.
Staab believes, however, that the top-end talent and depth of this year's senior class possesses enough skill to capably fill in for those gaps.
"Does a youth team state champion project into a really good high school team? There's a lot of other variable that go into it," Staab said, "but you know you've got a good set of seniors along with a backup of juniors and sophomores that have competed at a very high level."
Senior Chase Murphy is ranked fifth in the state in the 138-pound weight class, while senior Sam Holman is ranked sixth at 132 and senior Nick Lopez is eighth at 285. All three have qualified for the individual state tournament in years past, while Murphy finished on the podium as a sophomore at 106.
The Raiders will also be helped at the heavier end of the lineup by senior Justin Malecha, who was set to contribute on varsity last year for the first time before a knee injury during the 2019 football season wiped away his junior wrestling season.
The same goes for Nick Mikula, who started to gain his footing as a starter toward the end of last year and picked up a key win against Matt Seykora (ranked No. 9 at 182 in the preseason) in the Section 1AAA team final against Owatonna that provided Northfield with a shot to come back.
Add in senior Gavin Anderson, who Staab expects to be ranked at some point this season at 145, and Carter Seeley, who after years stuck behind ranked wrestlers has a chance to contribute in the middle of the lineup as a senior.
"I think Gavin Anderson is going to come through his senior year and really turn some heads," Staab said. "He's kind of a die-hard wrestler and does a lot of offseason wrestling, and I think he'll do very well."
Adding the team's depth is an equally-strong junior class that's headlined by Jake Messner (No. 6 at 126) and Beau Murphy (No. 10 at 120), but also features a pair of wrestlers returning from injury-riddled seasons last year in Darrin Kuyper (160/170) and Mason Pagel (195).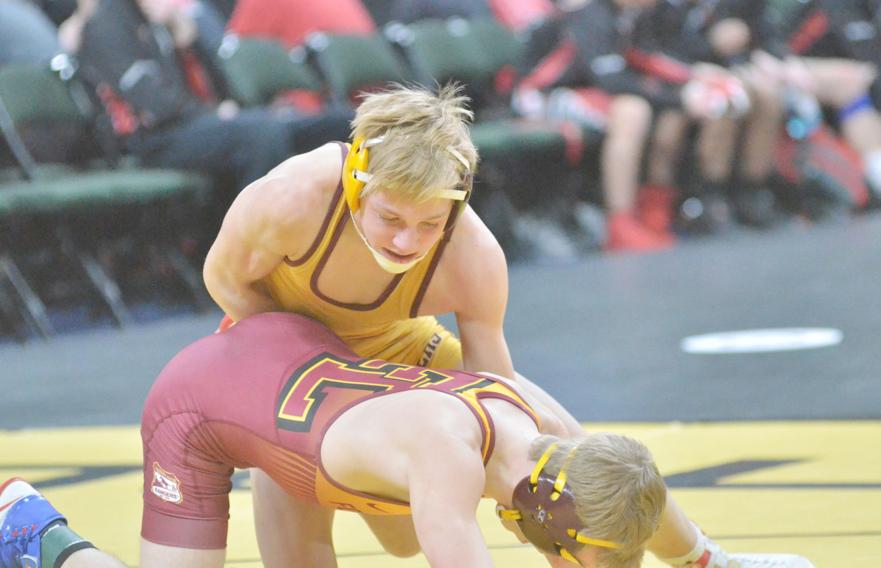 As freshmen, Kuyper and Pagel both wracked up more than 30 individual wins apiece.
"The only reason you don't see Darrin Kuyper or Mason Pagel on (the rankings) is because they were injured last year," Staab said.
Moving down in age, sophomore Jayce Barron figures to factor in regularly to the varsity lineup at either 160 or 170 after he emerged last year while filling in due to other injuries. The biggest question entering the season is at 106 and 113, where Northfield possesses plenty of options but no surefire favorites yet to emerge as full-time starters.
"I've got a bunch of younger guys there that are all — no one's going to beat out the other one," Staab said. "No one's head and shoulder above."