When Caroline Pritchard played in her first varsity game for Northfield softball, her thoughts were far from Friday afternoon.
Sure, Pritchard, who along with Jillian Noel started playing varsity softball together as eighth-graders, daydreamed about potential successful situations, but never as extreme as helping the Raiders win the first state title in program history with an 8-3 victory against Mankato West at Caswell Park in North Mankato.
Not even her wildest dreams managed to match reality.
"Honestly, my No. 1 goal has always been making it to state," Pritchard said. "It never even occurred to me that we could make it to the state championship and win. It's just a dream come true, and I wouldn't want to end my season any other way and with any other people."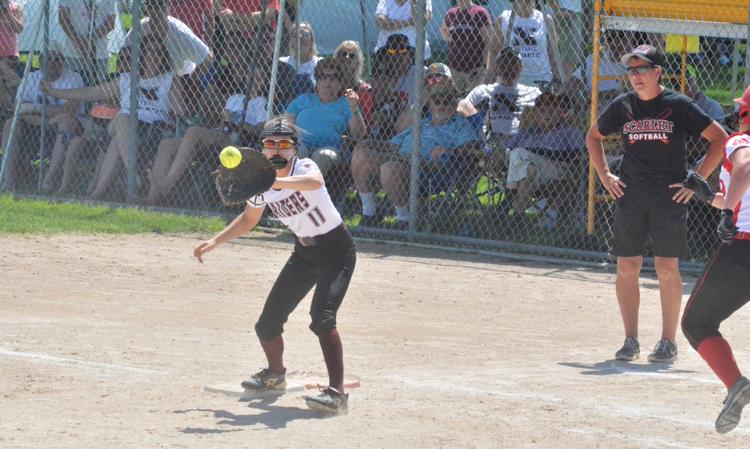 Pritchard and Noel were two of four seniors for Northfield along with Anika Guggisberg and Marissa Nelson. Pritchard and Noel both started regularly as eighth-graders, Guggisberg joined the lineup as a freshman and Nelson was a part-time player as a freshman who started seeing regular playing time as a sophomore.
In Noel and Pritchard's first varsity season, Northfield finished the regular season 8-12. As freshmen and sophomores, that record ticked up to 10-10, before the quartet helped Northfield to an 11-6 regular-season record last year and an appearance in the Section 1AAA final.
Entering this season, the goal was to continue that steady progression by winning a section title and appearing in the program's first state tournament. They decided to take it a step farther and win a state title.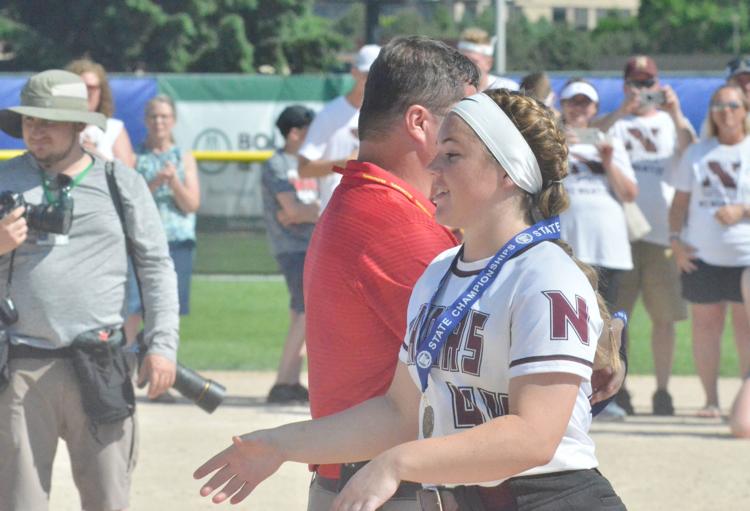 "I don't think we even knew what (a state title) was as eighth-graders," Noel said. "Every year we got a little bit closer, and this year we got there. Last year we lost in the section final, but this year we got to state and we won state."
Noel helped the Raiders reach the section final with a home run in state quarterfinal and the state semifinal games, before Pritchard helped Northfield race out to a 7-0 lead Friday against Mankato West after the second inning.
In the first inning, Pritchard drove in Noel with an RBI single before coming around to score. Then, in the second inning, Pritchard drove in junior Anne Fossum and sophomore Chloe Rozga with another RBI single.
Caroline Pritchard ropes a two-RBI single to right field to score Anne Fossum and Noelle Hauskins.

Northfield leads 7-0 in the top of the second pic.twitter.com/O4b87xcsTb

— Michael Hughes (@NFNewsSports) June 7, 2019
"As a senior, it's just such a great feeling because there's nowhere I'd rather be," Pritchard said. "Being in this situation is just a gift and executing is just — wow."
The contributions of Noel and Pritchard, as well as Guggisberg and Nelson, extend past two days in North Mankato, though.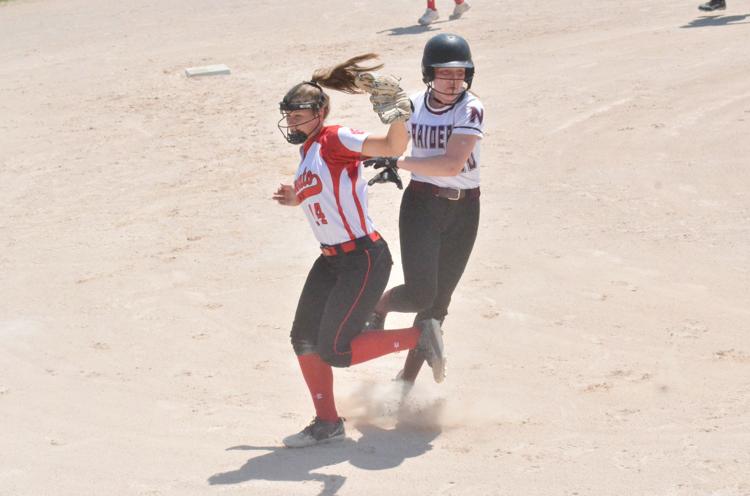 Northfield coach Ryan Pietsch credits the group with helping usher the program to where it stands now.
"They've done so much for this program, and I couldn't be happier for them than to send them out with a state tournament title," Pietsch said. "They're great kids. They do so much for the younger kids even now. It's a great way to end their careers and head into college."
Maybe by the time they reach their respective college campuses in the fall, the reality of winning the program's first state title will have fully set in.
"It hasn't even hit me yet," Noel said. "It honestly hasn't even hit me yet that we just won state. We're that one team that did it."