Sometimes the tides seem to turn all at once.
After losing the first seven games of the season, Northfield baseball has now won seven on the last nine after Tuesday's 10-0 five-inning victory against Faribault at Northfield High School.
"It can happen. We get on runs, the guys are hitting now and we've got some good pitching. Hopefully things will keep going our way this week and into the section tournament a little over a week from now."
Sophomore Gunnar Benson started and shut out the Falcons (2-16, 0-9) for all five innings, allowing only two hits along the way. It's his second win in as many starts since making his varsity debut last week.
Offensively, the Raiders (7-9, 4-4) were helped by a two-run homer to left by senior Michael Ims, his second long shot of the season, as well as an offensive onslaught that totaled seven hits, five walks and a pair of hit batsmen in only four turns at the plate.
Northfield will battle Albert Lea on Wednesday at home, and although the hot streak may look similar to last year's late surge after a slow start, Auge says this time's not quite the same.
"Anytime you get on a run you think about past runs, but this year's maybe a little different," Auge said. "We've had to count on guys like (freshman) Joey Malecha, who was a big spark when he came up and had to close games out. That was big, and now Gunnar has helped us out a couple times. Guys are starting to believe in themselves now and play for each other."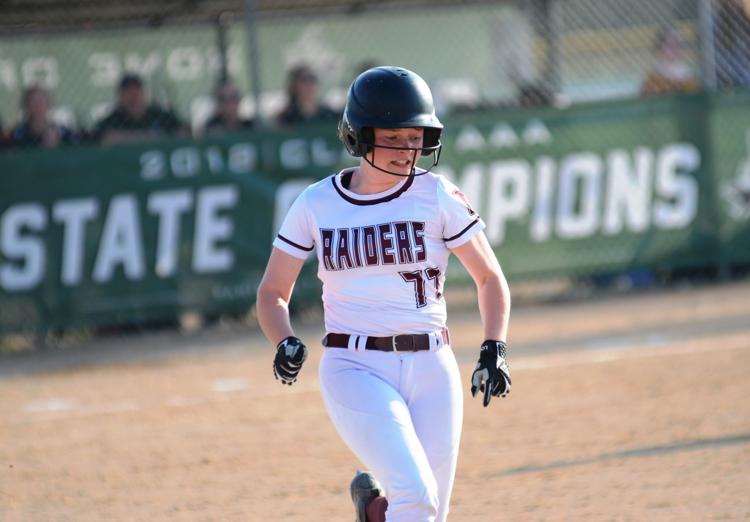 Northfield softball drops thriller in Faribault
Faribault softball won the marathon Tuesday, clipping Northfield 1-0 after 10 innings.
The Class AAA No. 2-ranked Falcons (17-1, 12-1) were able to string together three singles in that final frame, the final by senior Makayla Ambruster to drive in the only run of the game.
Ambruster also hurled 10 shutout innings herself, striking out 15 and avoiding trouble when necessary. The Class AAA No. 3-ranked Raiders (10-3, 9-2) placed a runner on second with two outs in the third and runners on second and third with two outs in the seventh, but each time Ambruster used a strikeout to escape the jam.
For Northfield, sophomore Brynn Hostettler tossed nine shutout innings while while striking out 20 batters and allowing only a pair of hits before ceding to senior Caroline Pritchard to start the 10th.
Northfield will close the regular season Thursday at home against Rochester John Marshall.
Randolph baseball walks off
Randolph baseball maintained its perfect Southeast Conference record Tuesday afternoon with a 3-2 victory, although Alden-Conger/Glenville-Emmons put up more of a fight than the Rockets may have been used to.
After Randolph (14-1, 11-0) jumped in front 2-0 in the bottom of the first, both teams were unable to score until AC/GE (4-11, 3-7) tied it up with a pair of runs in the top of the seventh.
Then, in the bottom half, junior AJ Weidner provided his third hit of the afternoon to drive in the winning run.
Sophomore Brandon Gerster started and pitched the first six innings, before freshman Nathan Weckop pitched the final frame to eventually earn the win. Randolph will put its perfect conference record to the test again Thursday, when it travels to Kingsland to take on GMLOK.
Randolph softball sweeps doubleheader
In the final regular-season home date, Randolpl softball dispensed with the drama early in a doubleheader sweep, first with a 15-1 win against Glenville-Emmons, and then with a 10-1 victory against Stewartville, a Class AA team.
In the first game, which was over after four innings, senior Lindsey Grant pitched a complete game for the Rockets while allowing only two hits. Offensively, Randolph racked up 15 hits and was helped by three errors from Glenville-Emmons.
In the second game, sophomore Morgyn Otten hurled a complete game while striking out five and allowing only three hits. Stewartville scored its only run of the game in the top of the first to grab a quick lead, but Randolph responded with five runs in the bottom half. Megan Erickson totaled five hits across the two games.
The Rockets close their season Thursday against GMLOK in Kingsland, where they will attempt to finish off a perfect conference season.