With 18 of the 22 varsity roster spots for the Northfield girls soccer team occupied by juniors or seniors, there doesn't appear to be much room for younger players to receive many varsity minutes.
That calculus is done without factoring in the speed of sophomore defender Grace Dickerson, though, along with freshmen forwards Regan Childress and Ava Stanchina.
During Tuesday's 4-1 victory against Rochester John Marshall at Northfield High School, Childress, Dickerson and Stanchina started, with Childress pocketing the first two goals for the Raiders, the second off an assist from Stanchina, and Dickerson operating as the team's last line of defense.
While Dickerson and Childress have started before this season, it was the first appearance in the starting lineup for Stanchina, who Northfield coach Sebastian Burset inserted to help jump start an offense that struggled in a 2-0 loss Saturday against St. Paul Academy, which survived an 18-shot onslaught from the Raiders without allowing a goal.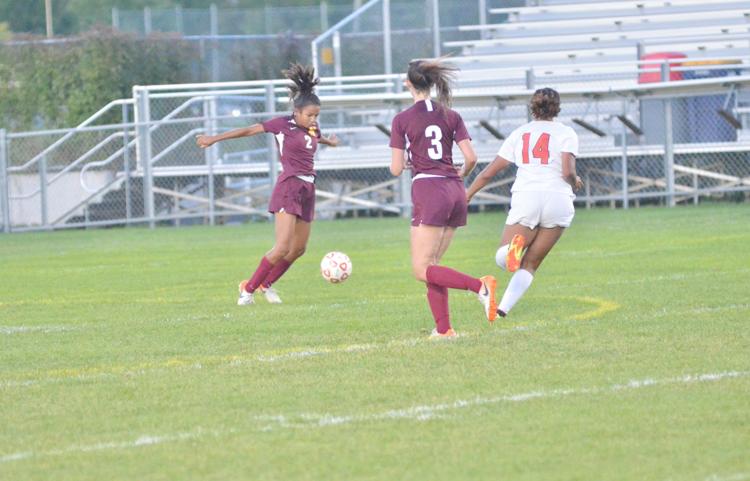 "Today was a different lineup, but everybody still got to play today," Burset said. "The idea was we had to break that ice we have in front of us. We played against St. Paul Academy the other day, and we had pretty much the same chances, if not more, but we couldn't connect or make it happen."
Childress and Stanchina started on opposite wings of Northfield's 4-3-3 formation, with senior Erin Morris occupying the central striker role. The opening goal started down Stanchina's left side of the field, before it was worked into the middle to Morris, who moved the ball along to a wide open Childress, who was able to shoot back across goal and into the net in the 12th minute.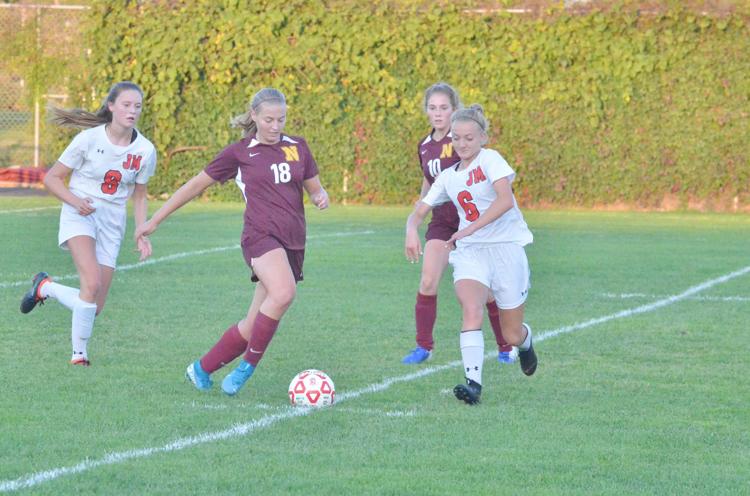 About six minutes later, it was the same progression, except on this occasion Stanchina directly provided the assist to Childress, who finished in an almost identical fashion to her first goal.
"We know the speed that (Childress and Stanchina) have," Burset said. "We have to work a little bit on controlling the ball and making sure we control it before we try to push forward right away. The reason why we put Erin in the middle is she has really good control and she can go to one side or the other, plus she has a really nice shot."
That provided the Raiders with a 2-0 lead entering halftime, after which Morris added a goal, her team-leading fifth of the season, before the senior added a second assist on senior Leah Kovach's goal with four minutes remaining in the match.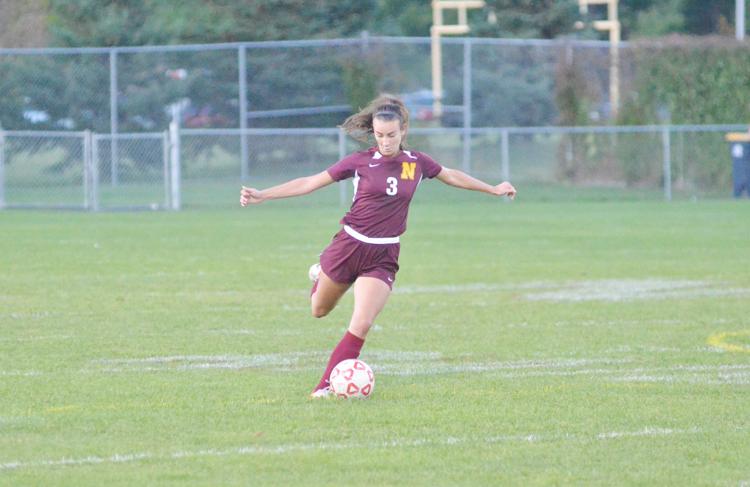 Rochester John Marshall (1-5-1, 1-2-1 Big 9 Conference) added its only goal of the match shortly after Northfield's final tally, a letdown Burset was hoping to avoid, but one that still doesn't effect the Raiders (4-2, 3-0) in the long run.
The win provided Northfield with a Big 9 Conference record of 3-0, which translates to nine points in the standings. That's good enough for a tie for second with Mankato West, which has played an additional conference match so far. Mankato East leads with 15 points, although the Cougars have played three more conference matches than the Raiders.
Northfield's unblemished conference record, the only of its kind in the Big 9, has been aided by the team's defense, which up until that late tally from the Rockets had yet to allow a goal in conference play. That's in large part to Dickerson's effort in the back.
"Honestly, she's been really, really good for us," Burset said. "She's saving a lot of chances that other teams have, not only today but in other games that we've had in the past. We try to give her some time at midfielder because she likes to play that, but as she knows we really need her (on defense)."