On a team with youth players, there's bound to be losses mixed in with victories.
After a pair of 5-2 road victories last week at Faribault and Austin, Northfield girls tennis fell 7-0 Monday afternoon against Lakeville South with a lineup that featured four freshmen out of 10 starting positions.
"We brought quite a few of them up as eighth-graders last year and they put some time in this winter and summer, too," Northfield coach Mark Johnson said. "They're court rats. They like to play and that's what it takes. Good athletes equals good tennis players, too."
While that youth wasn't able to earn a point against the Class AA No. 5-ranked Cougars, it did provide plenty of resistance at a few positions. At No. 1 doubles, a pair of freshmen in Gabbi Grant and Courtney Graff joined together in a 6-3, 6-0 defeat against a Lakeville South duo that included what Johnson said was its top player in Cora Anderson.
"I was proud of them," Johnson said. "They're scrappy and they don't beat themselves a ton."
At No. 3 doubles, freshman Marie Labenski joined with senior Celine Falcon-Geist to narrowly fall 6-1, 4-6, 10-8. In two matches last week, Labenski and Falcon-Geist combined to earn a pair of straight-set wins.
"They've been playing together here a little more and I just told them they're getting better," Johnson said. "They lost in a third-set super-breaker 10-8, which could have went either way. They're getting better."
Northfield boys soccer prevails in OT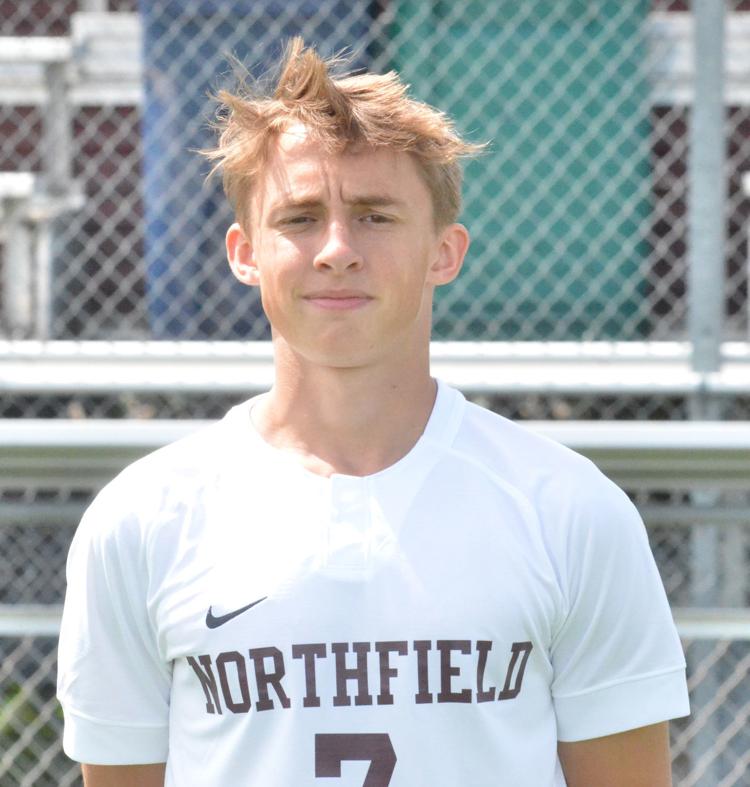 The Raiders stayed perfect in 2019 with a 2-1 overtime victory Monday night at Rochester Century (4-4-1, 3-1-1 Big 9 Conference).
Both goals for Northfield (7-0, 5-0) came from junior Griffin Regnier, with his second tally coming in the first overtime period. That win followed a 5-2 triumph in Owatonna (2-3-3, 1-3-3) on Saturday, when Regnier buried a couple goals, junior Pascal Cogan added two more and senior Peter Skoglund contributed a score.
Monday's thriller vaulted the Raiders into first place in the Big 9 Conference with 15 points in five games, ahead of Austin (13 points, five games) and Mankato West (13 points, seven games). Northfield is next in action Tuesday night at home against Mankato East (2-7-1, 2-3-1), before traveling to Albert Lea (3-5, 1-5) on Thursday night.
Raider girls soccer falls
In a matchup with Section 1AA foe Farmington (5-4), Northfield was unable to make a dent on the scoreboard in a 1-0 road defeat on Monday night.
The loss drops the Raiders (4-3) to a 1-3 mark in non-conference play, compared to a 3-0 record against Big 9 Conference opponents.
Northfield is next in action Tuesday afternoon at Mankato East (7-2, 5-1) before welcoming Albert Lea (3-4, 2-2) to Northfield on Thursday night.