The first couple months of the 2019 track and field season were stressful for senior Grace Acheson, junior Ella Palmquist and freshman Clara Lippert.
That trio, who spent last year on Northfield's B-team for the 1,600-meter relay, were now fighting for spots on the top foursome after Katie Brust, Hailey Mackenthun and Sofia Sparby graduated from last year's group, leaving senior Elizabeth Acheson as the only returner this year to a relay that's finished in the top three two years in a row at state.
Due to that newfound history of success, those three open spots were a hot commodity.
"It seemed like early in the season our teammates were our biggest competition, like not even people from the races," Palmquist added. "We were just competing to be on the relay in the first place."
At one of the first practices of the year, Northfield coach Karl Viesselman staged a run-off for the four spots on the top relay. Typically, filling out a 1,600-meter relay can be a bit of a challenge due to the grueling nature of the 400 — a length that is longer than sprinting or distance races but still requires a runner to sprint the entire way.
That's no longer the case at Northfield, where so many runners were interested in the relay that two heats were required in the run-off.
"It was stressful," Grace Acheson said. "It could have went any way, really, but I think what it turned out as was pretty solid."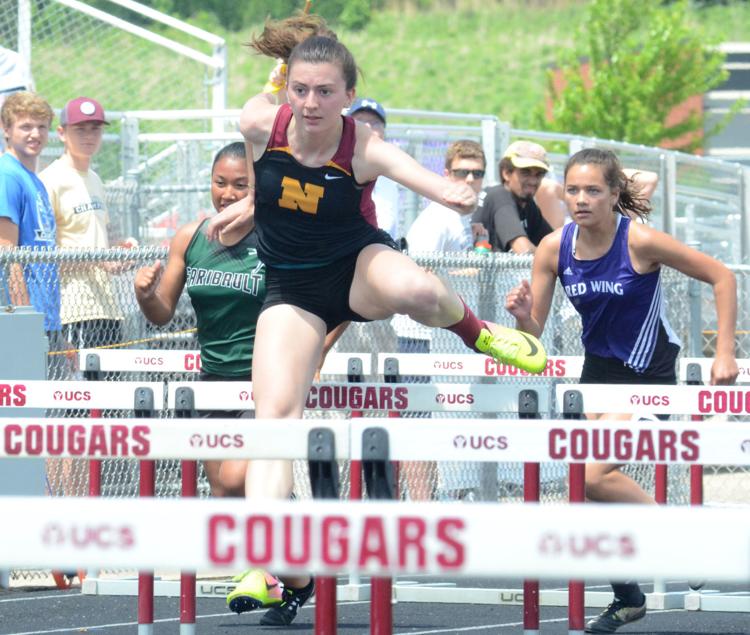 Not only have those three held off any internal competition, they've also joined with Elizabeth Acheson in out-pacing the ghost of last year's team. At every major checkpoint so far this season, this year's group has been a tick or two faster than last year's.
If that trend continues, the Raiders will establish a new school record in the event, which was set during the preliminaries at last year's state meet in three minutes, 57.53 seconds. Northfield ran a 4:00.41 to finish second at Saturday's Section 1AA championships at Lakeville South High School. That time enters Friday's state preliminaries at Hamiline University in St. Paul as the fifth-fastest in the 16-team field.
If that record is broken, it won't be a surprise to Brust, Mackenthun or Sparby, who have consistently been checking in all season to see how their replacements are doing.
"There's definitely a legacy with this relay, so we wanted to carry on the tradition and make the alums proud," Palmquist said.
The fact that no drop off has occurred is a testament to the collective speed of this year's group. In addition to Elizabeth Acheson, who holds the school record in the individual 400, was in both relays that placed second and fourth at state and finished second at state in the individual 400 last year, the newcomers are no slouches.
Lippert, still just a freshman, sped to third at the Big 9 Conference meet in 1:00.76, then snagged fourth at the Section 1AA championships in 59.46, her first time under the minute mark.
"I've been trying to keep improving, and I felt pretty good that race," Lippert said.
That's in addition to Palmquist, who placed seventh at the Big 9 Conference meet in 1:03.37 before not running in the individual race at sections to focus on the relay, and Grace Acheson, who nabbed seventh in the 100 hurdles and fourth in the 300 hurdles at the conference meet, and 10th in the 300 hurdles at the section meet. Grace Acheson and Elizabeth Acheson will both run cross country and track next year at Division-II University of Mary in Bismarck, North Dakota.
Plus, if that early season run-off was any indication, the Raiders certainly won't have an issue filling out a quick team in the event next year.
"It's a lot of fun," Viesselman said. "I've always said you can make a good track team if you have a bunch of good 400 runners, and ever since three years ago when they had that good four-by-four, everybody wants to be on it and everybody works hard to be on it. That just makes the whole team better."