Even without a couple staples of its lineup, the Northfield boys soccer team was able to absorb the first solid punch an opponent has thrown all season and survive with a relatively comfortable 3-0 victory Thursday against Owatonna at Northfield High School.
Senior forward Griffin Regnier missed the game altogether with a nagging injury, while junior center defender Teigen Hoff was shown a yellow card 15 minutes into the match and was kept on the bench for the remainder of the game.
In his stead, senior Max Kasten shifted over from outside back to partner with senior Brett Price in the middle of the defense to lock down the Huskies, who created more sustained possession and pressure than any opponent all season.
"It felt good, it really did," Kasten said. "We finally got a challenge and it was a lot of fun."
"Before we weren't really tested that much defensively," Price added. "I knew how good of a team we were offensively, but it's really nice to see we can hold up really well on defense, too."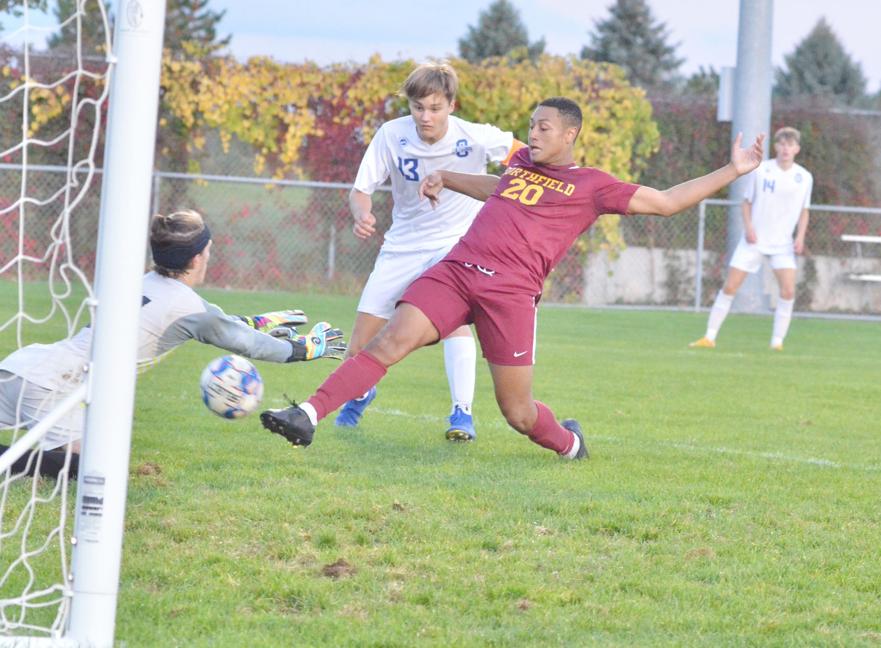 Offensively, the Raiders needed to work a bit harder Thursday night. After a flurry of chances in the opening 10 minutes, Owatonna was able to stabilize itself and start to control the flow of the game for the following 15-20 minutes.
That stretch ended when Northfield senior midfielder Grant Roney was able to drive forward toward the Husky penalty box, and when the defense all prepared to Roney to fire a shot, he instead chipped a through ball to the back post, where senior forward Pascal Cogan was able to flick a header past the charging Owatonna goalkeeper and into the back of the net.
That was the only goal the Raiders managed in the first half, however, marking only the third instance they led by just one goal at halftime this season.
In the second half, Northfield capitalized on a pair of mistakes by Owatonna to extend their lead.
First, an Owatonna defender whiffed on a clearance of a ball played forward from the midfield, and Roney was able to corral the loose ball and blast his shot into the far corner for a 2-0 lead. Then, sophomore forward Leo Runestad's soft header slipped through the hands of the Owatonna goalie for the final goal of the night.
That created sufficient breathing room for the Raiders, but the Huskies continued to control possession for the majority of the second half. All throughout, however, Northfield didn't allow a swath of quality scoring opportunities, with senior goalkeeper Jair Ascensio-Puga needed for only a couple of lunging stops.
"I know (Owatonna coach) Bob (Waypa) and I know what to expect from Owatonna and they're going to put us under pressure and work us hard and they're going to be aggressive," Northfield coach Westley Dayus said. "For the boys to come through that challenge is outstanding."
Even when under consistent pressure for the first time this season, the defensive corps that also included junior Pablo Gallardo, senior Anders Ripley, senior Will Knutson, senior Maison Fisher and junior Isai Duque never wavered.
"We work really well together," Price said. "We've been playing together for at least two years and some of us longer than that. We're on the same page whenever we're defending someone."
"Especially with Jair, he's been my goalie with club and with high school ever since I can remember," Kasten added. "The communication is key and that's what we've got in the back."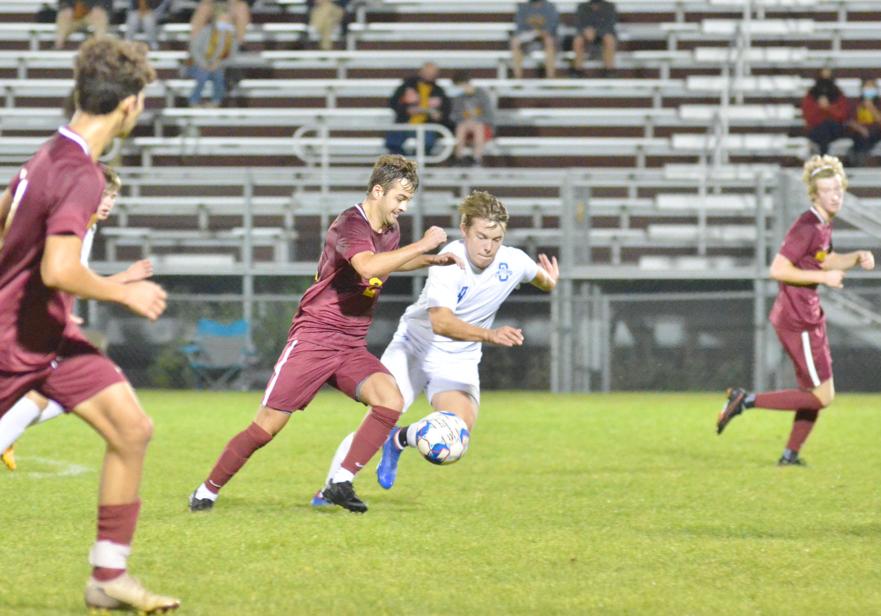 If it was necessary, Hoff was available to re-enter Thursday's game, but Dayus and his assistant coach Cale Steinhoff wanted to use the opportunity to see how their defensive corps might fare without the 6-foot-4 center back.
In particular, they wanted to give a shot to Kasten, who was able to start Thursday's game at outside back, but has been dealing with a litany of recurring injuries that have limited his availability through the last three years.
"Max has threatened this for so long, but because of his injuries he hasn't been able to do it," Dayus said.
"Max has been in that position before," he continued. "With him being so calm, we thought 'Teigen is young, and we don't want to lose him,' so we threw Max in and he dealt with it."
Moving forward, Northfield will have another relative test Tuesday, Sept. 29, at Mankato West, which is only 3-3 this year but topped the Raiders 4-3 last year in an eventful back-and-forth contest.
Then, Northfield travels to Winona on Friday, Oct. 2, before closing the regular season Tuesday, Oct. 6, with a home game against Austin, the three-time defending Big 9 Conference champions that narrowly edged the Raiders by two points for last year's conference crown.
Last year, the two teams played to a 1-1 draw in the second-to-last game of the season that more or less sealed the two points of separation and conference title for the Packers.
This year, the roles might be reversed, with Northfield possessing a two-point edge and Austin perhaps in need of a victory to close the gap to first.
"I think that we had a really good shot last year," Price said, "so being able to prove this year that we're the best team, that's important to us."