The opening stanzas for the Northfield boys basketball team against Rochester Mayo on Tuesday night at Northfield High School ventured away from the rhythms and rhymes established before tip-off.
In a matchup with the high-scoring Spartans, the plan was for the Raiders to value possessions, take their time and make sure each shot they took came after careful consideration of the available options.
That changed quickly, though, as Northfield started firing early and often in possessions, but instead of calling a timeout to reinforce the initial gameplan, Northfield coach Ryan Driscoll did the opposite. He encouraged the aggressiveness due to its success, and while Rochester Mayo (16-5, 14-3 Big 9 Conference) eventually prevailed with an 85-75 victory, Driscoll was pleased with the results after the game.
"The idea was not to do that, and we went hard in the other direction," Driscoll said. "It worked tonight."
The main reason it worked, Driscoll said, was the universal aggressiveness from the Raiders (6-15, 5-12). Not only were the team's typical leading scorers, junior guards Kip Schetnan and Karsten Clay, looking for their shot, that attitude spread to every player on the floor.
While Clay piled up a team-high 26 points and Schetnan contributed nine, junior guard Luke Labenski scored 13, sophomore forward Alex Organ added 12 off the bench, senior forward Nick Touchette pitched in eight and junior forward Anders Larson scored seven.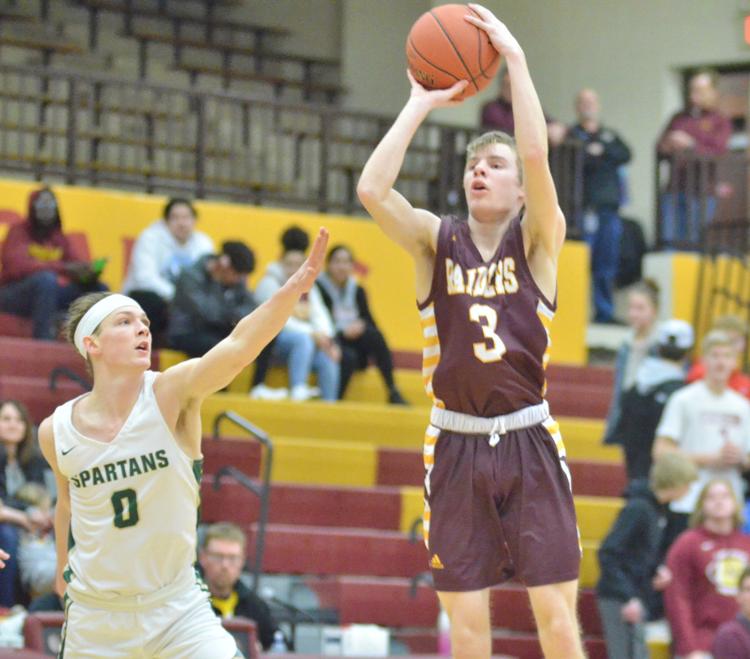 "The one thing is that we need not Kip or Clay to be aggressive," Driscoll said. "Luke was very aggressive, Al put the ball in, Nick was looking for his shot, so when we're getting that — Kip was our fourth-leading scorer, and tonight that was good. We got some other guys in double figures."
That resulted in Northfield compiling its second-highest offensive output of the season, only behind a 79-65 victory against Red Wing on Dec. 6.
Labenski drilled all three of his 3-point attempts, in addition to four assists and four rebounds, in a game Driscoll said continued a positive trend for the team's first-year point guard.
"I don't think he's been bad in any games, but the last few weeks he's really come on and we've been talking about how he has to take it," Driscoll said. "We have to be aggressive in going for it, and when he does we play better."
Of course, the Spartans were plenty aggressive themselves, as they have been all season. The 85 points Tuesday were merely the eighth-highest total of the season.
With senior twin brothers Gabe and Mason Madsen, who will both play at Cincinnati next year, Rochester Mayo grabbed a 40-38 lead at halftime, but gathered enough separation in the second half thanks in large part to the efforts of Gabe Madsen, who finished with a game-high 43 points while making 16 of his 28 shots, including a 10 of 18 performance from behind the arc.
"I'll figure out how many later, but I want to say at least three of his threes came on second-chance kickouts," Driscoll said. "Those are opportunities when we're going to lose him, probably. There were a couple in transition where we just fell asleep there, and late a couple times we just didn't know our matchups and didn't guard him."
Gabe Madsen, who Monday was named one of 10 finalists for Minnesota's Mr. Basketball award, scored 13 of his team's 15 points to open the second half, and his 3-pointer with 12 minutes, 58 seconds left in the game built the lead for the Spartans to 55-46.
After a timeout, though, the Raiders punched back. Organ scored eight of Northfield's next 13 points, before a pair of free throws from Clay trimmed the deficit to 67-61 with seven minutes remaining. The Raiders remained within striking distance when Touchette capped off a personal 6-0 run with a pair of free throws to make it a 77-71 difference with 2:57 left.
After that, Northfield employed a full-court press that rattled Rochester Mayo, but not quite enough to force enough turnovers to offset the number of open layups the scrambling defense allowed.
"We play hard until the end, and we're unbelievably proud of that," Driscoll said. "(The full court press) is great and it gives teams problems. In the flow of the game early we weren't really able to do it."