In the first half of Tuesday's 4-0 victory against Rochester Century, the Northfield boys soccer team was in danger of disrupting the continuity of its central defenders.
Senior Brett Price had stepped in to block a shot from a Panther attacker, but the ball had struck him in an area of the midsection that left Price struggling to stand up straight. His central defending partner, junior Teigen Hoff, checked on Price to see if he needed a substitute at the next stoppage of play, but Price shook him off.
That allowed the center defending combo of Price and Hoff to continue their streak of consistently playing the entirety of games, a fact their coach Westley Dayus credits with Northfield starting the season with five consecutive shutouts.
"The defensive cohesiveness, that's what's really done it for us," Dayus said. "Now we have two guys that know each other, Anders (Ripley) knows it, too, Max(Kasten) knows what's going on and Pablo (Gallardo) has just fitted in perfectly, and then our goalkeepers."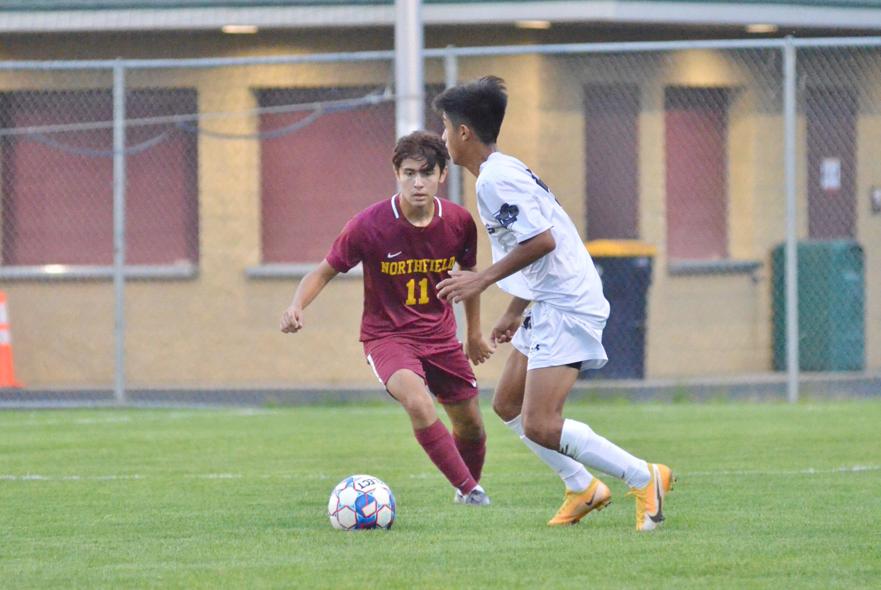 Gallardo, a junior, has joined the program for the first time this year and has fully entrenched himself as the team's left back. Along with Hoff and Price, Gallardo was never subbed out in Tuesday's win. Ripley, a senior, was a fixture throughout Tuesday's win after Kasten, a senior and the typical starting right back, missed the game with an injury.
The Raiders (5-0) missed Kasten, Dayus said, because of his technical ability to maintain possession and his physicality to win the ball back from opponents, but also noted there wasn't a noticeable drop off in play with Ripley filling in.
"Unfortunately Max was hurt today, but Anders stepped in and it was no problem for Anders," Dayus said.
The quartet of Ripley, Hoff, Price and Gallardo helped keep the majority of traffic away from senior goalie Jair Ascencio-Puga, who played the first 70 minutes Tuesday. Junior Ethan Olson closed out the game in net after Ascencio-Puga attempted a flying clearance and collided with a Rochester Century attacker.
While the final result of a shutout was the same as the first four games of the season, the process of reaching that point was a bit tougher against the Panthers (3-2) and their coach Hal Houghton.
"We've played Hal before and Hal is an outstanding coach that will always find chinks in our armor," Dayus said. "He'll move that No. 10, he'll put big No. 3 up and then have us overloading as well. With us knowing what kind of competition has come down here, we drilled it into them yesterday to not expect a walk in the park from these guys."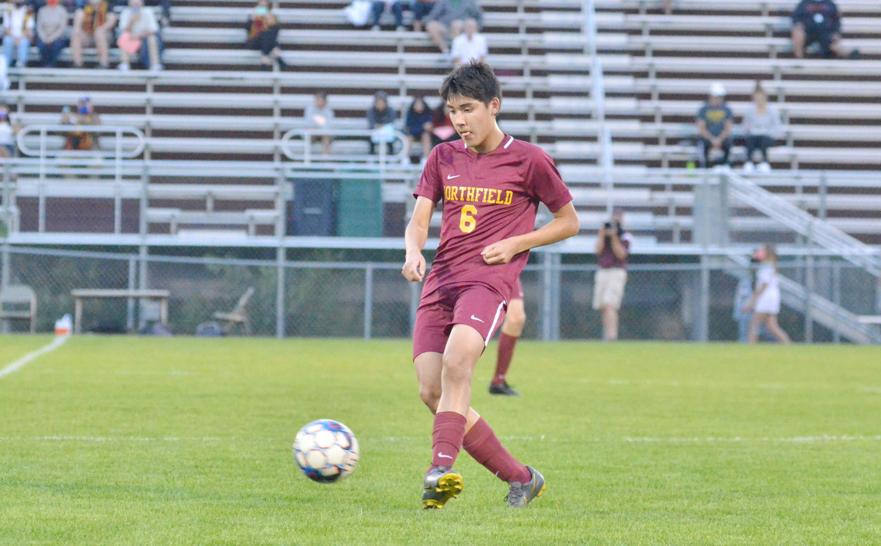 Those shifting offensive fronts provided the Northfield defense with a steady stream of pressure after the Raiders took an early 2-0 lead in the first 10 minutes with goals from senior Griffin Regnier and senior Pascal Cogan. That defense stood strong throughout the rest of the first half and in the second half, when Northfield tacked on goals from senior Grant Roney and sophomore Leo Runestad, with Hoff picking up an assist on the final goal.
So far this season, the Raiders are the only Big 9 Conference team to not allow a goal. Undefeated Austin (5-0) has allowed just one on a penalty kick against Owatonna (3-2), and the meeting between the two teams on the final day of the regular season is looking more and more like it may decide the conference champion.
Whether or not the Raiders maintain their sterling defensive record remains to be seen, but any goals surrendered likely won't be because of a lack of familiarity or skill on the back line.
"They're good players, and I think the thing is they know how to play," Dayus said. "It's just a shame that we're in this strange year where we won't be able to go to state, because I think we could have a great go at anybody."