Elizabeth Acheson was worried about herself, not the swarm of competitors behind her.
As the Northfield senior was finishing the first of two laps in the finals of the 800-meter run at Saturday's Class AA finals at Hamline University in St. Paul, she was out front of the nine-runner field, but that wasn't on her mind.
Instead, she was worried about not channeling her instincts from her experience running the 400 and go out too fast. She balanced the two laps to perfection, leading the entire way to capture her first state title in two minutes, 12.18 seconds.
"I was kind of going by pacing and not my place," Acheson said. "I planned to run like a 64 first split, which usually puts me ahead of the other runners, but I knew they were coming up on me."
The Northfield coaching staff estimates it's the first state title for any Northfield track and field athlete, boy or girl, since 1994.
That title was part of an eighth-place finish for the Northfield girls track and team, which was also helped by sophomore Emma Hodapp blazing to third place in the 100, the 1,600-meter relay team of Acheson, senior Grace Acheson, junior Ella Palmquist and freshman Clara Lippert finishing sixth, and senior Emma Roethler grabbing sixth in the shot put and seventh in the discus.
All six athletes the Raiders brought to state earned at least one all-state finish, with Elizabeth Acheson and Roethler each earning a pair.
"Coming into this season," Northfield coach Karl Viesselman said, "I thought truthfully we were geared more toward a True Team kind of event, but our girls came on and were stronger as individuals than I thought they were going to be. We had a great day today."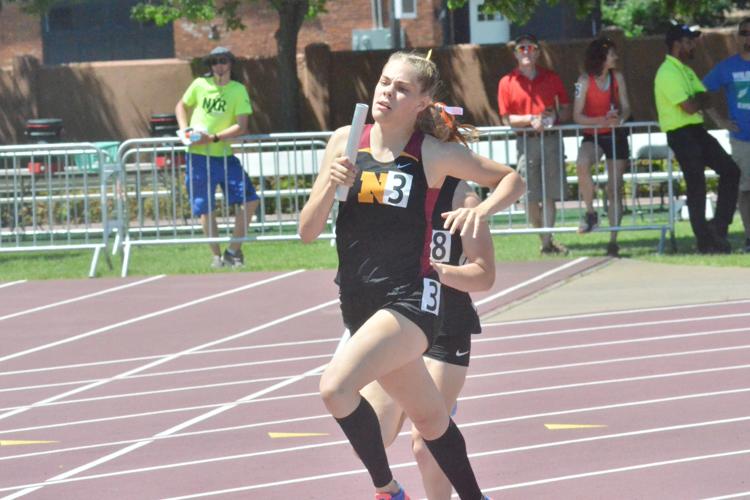 It was also a busy one for Elizabeth Acheson, who about a half hour after winning the state title in the 800 was taking the baton as the anchor for the 1,600 relay.
During Friday's preliminaries, she eased up down the backstretch of the 800 once she was confident in her position to qualify for the finals. That wasn't an option Saturday, when Andover's Alexa Havon was storming up behind her.
"Oh I could hear her," Elizabeth Acheson said of Havon, who finished .38 seconds behind.
"That was probably my 100 percent (effort)," she added.
STATE CHAMP: Elizabeth Acheson leads the entire way to win the 800 in 2:12.18.

It's her first state championship after finishing second in the 400 last year. She'll anchor the 4x400 relay in about 30 minutes pic.twitter.com/IQnrE8bHM1

— Michael Hughes (@NFNewsSports) June 8, 2019
Then, she started her recovery period before her anchor leg in the relay.
During Friday's preliminaries, that quartet established a new school record by nearly two seconds in 3:55.86, before posting a 3:58.93, the third-fastest time in school history, to finish sixth Saturday. It's the third consecutive season the relay has finished on the podium, following up a second-place finish two years ago and a fourth-place finish last year.
"It feels amazing," Grace Acheson said. "We've been working toward this, so it feels really nice to finish this off."
"It was just a little hectic with traffic and all of the girls moving," Palmquist added. "When I was coming in I had to merge all the way over, so that was kind of difficult, but we just did our best."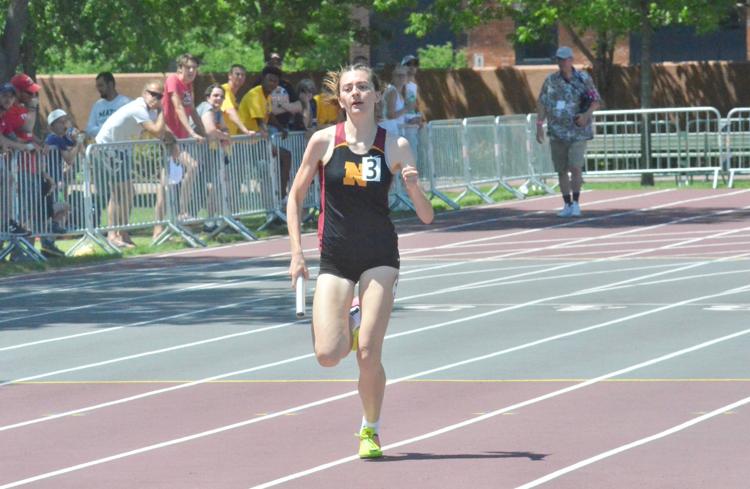 Roethler started her state finals docket Friday, when she earned seventh in the discus with a top throw of 122 feet, six inches.
She then moved up a spot on the podium Saturday, with a personal-best throw of of 41 feet, 1.75 inches to finish sixth in the shot put.
"It felt amazing," Roethler said. "It's so weird, because your best throws always feel most effortless because everything just works right."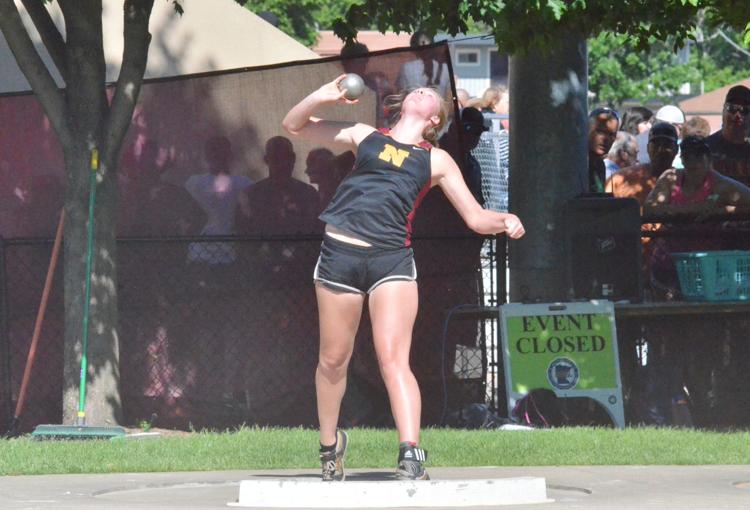 Parts of Saturday's race looked effortless for Hodapp, who sped to a time of 12.36 to finish third in the 100.
"Emma had the best start I've ever seen her have," Viesselman said. "I've seen pictures and with eight meters to go she was in second place by a full stride, so she had a great almost-complete race, but it was still a great race. Third place in the state is fantastic."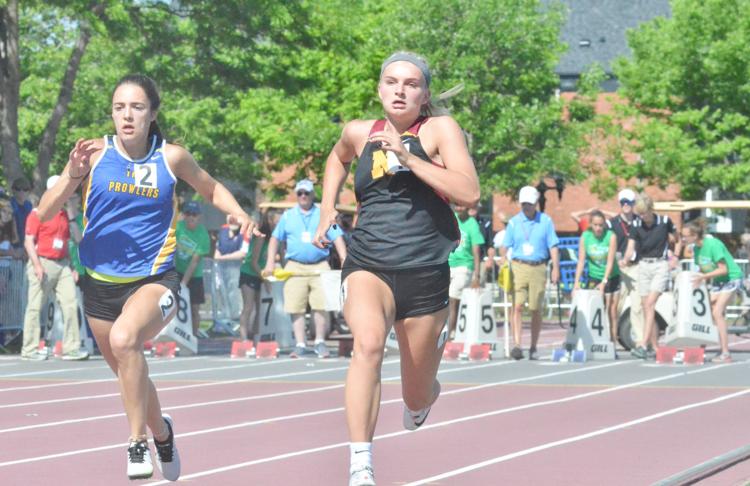 Running out of lane one, Hodapp led for large parts of the race before she started to feel North St. Paul's Shaliciah Jones, who won her second title with an 11.90, creeping up behind her and eventually a hectic middle of the pack that led to a tight finish.
Second- and seventh-place spots were separated by only .05 seconds, but Hodapp held off a number of challengers to solidify her third-place finish after missing out on the finals at state last year.
"It's awesome," Hodapp said. "I dropped 10 spots from last year, which is really surreal, so that's awesome."