Whatever nerves are associated with a first career varsity start, Northfield girls hockey sophomore Maggie Malecha's butterflies were soaring prior to Thursday night's season-opener at Northfield Ice Arena.
A year ago, Malecha played only as a substitute in a handful of varsity games and started a few more junior varsity contests, but she was far from her normal self — embroiled in a rehab process trying to repair an injured ACL.
That's no longer the case for Malecha, who turned away all 32 shots she faced to power Northfield (1-0) to a 3-0 season-opening victory against Hastings (0-3).
"It feels amazing," Malecha said. "Coming back from that long injury I played a couple JV games last year and it was just slow and I wasn't ready. I worked hard this summer and tried to come back my hardest."
That work throughout the summer has meant Malecha entered the season with a firm grasp on the starting goalie job for the Raiders, who scored twice in Thursday's second period and again in the final frame.
She said she was on the ice practicing nearly every single day in addition to almost-daily weight training and physical therapy three times a week to help her put away a season that she said was "tough mentally and physically."
"Maggie did awesome (tonight), and she's just thriving right now," Northfield coach Paige Haley said. "I think she's just super excited to finally be a starter. She's a game goalie, so I'm really proud of her, and she's just so excited."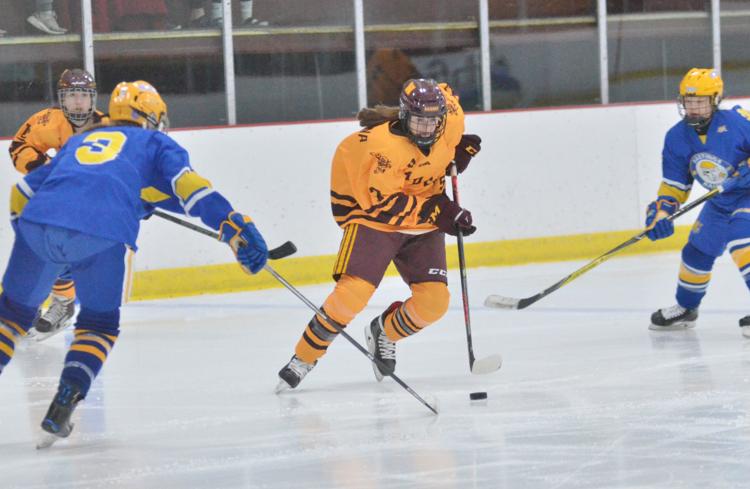 Now healthy, Malecha has three years of runway to handle the starting responsibilities. That's a theme across the Northfield roster, which featured six eighth-graders or freshman out of the 13 skaters to see ice time Thursday.
Among that youth was freshman Ava Stanchina, who started the scoring with 12 minutes, 53 seconds, left in the second period when she gathered the puck behind the net and sent it toward the crease, where it ricocheted off Hastings goalie Lauren Dubej and into the net.
"That was fun and brought a huge smile to my face," Haley said. "This game was really fun for me to watch things like that, because I'm excited to see them in two years, but right now I'm right in the middle and have to have perspective. They're going to be so awesome for us, and I'm excited they got the start to the season that they deserve. They work so hard and we put a lot of responsibility on their shoulders and they stepped up and took it."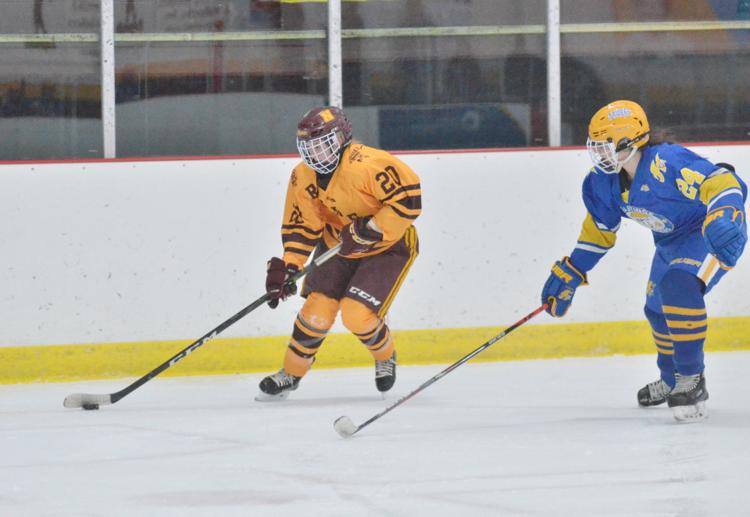 Stanchina was involved in the second goal later in the period, wjunior forward Jessica Boland broke into the offensive zone and slid a pass across the crease, where both Stanchina and sophomore defender Cambria Monson were waiting. With Stanchina tied up by a Hastings defender, Monson was free to tap the puck into the back of the net.
"We have a group that's buying into the fact that we have to be grittier," Haley said. "We're young, we're thin, we don't have a lot of people, so we just have to do things like that."
The final goal was a bit more picturesque than the first two, when junior defender Payton Fox pounced on a loose puck and wrist her shot over Dubej's shoulder and underneath the crossbar.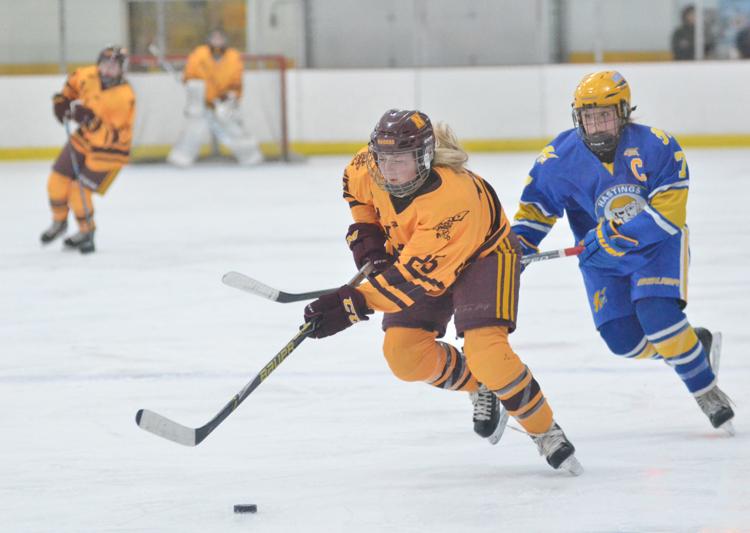 Fox started the game alongside senior Anne Fossum as Northfield's top defensive pairing, while Monson and freshman Lucy Boland made up the other defensive pairing that saw ice time. In the third period, Monson and Fox swapped positions.
In terms of forward lines, Boland, Stanchina and junior Rachel Braun made up the first line, while freshman Tove Sorenson centered the second forward line with eighth-graders Emerson Garlie and Puppe flanking her. Senior Audrey Pagel centered the third line, which was also occupied by junior Marta Sorenson and freshman Megan Snyder.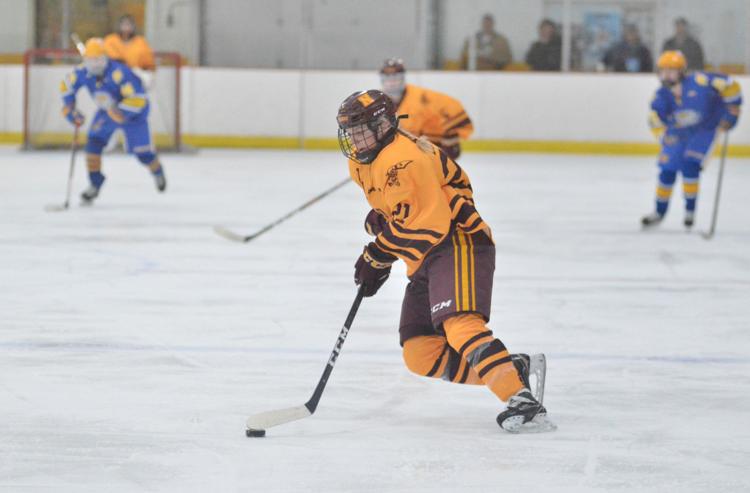 In the third period, the Raiders utilized only two forward lines with Pagel replacing Garlie because of an issue that will continue throughout the season. Without a roster overflowing with numbers, some players are skating in varsity and junior varsity games and are allotted a total of only four periods in a day by the Minnesota State High School League.
"We're trying to find the pieces that fit," Haley said. "We have Rachel Braun, who's usually a defenseman that's (now) playing forward, and we're seeing that she's actually doing really well up there. We have Lucy Boland, who's a brand-new D, and she's fitting in pretty good. We're just trying to figure it out and find those line combinations, because we don't have a lot for our JV, either. We have kids that are only playing two periods of varsity and two periods of JV, so we're just trying to figure out the flow and keep kids as rested as possible, even though we're going to run into getting tired."