In reality, Jacob Halvorson was ready to commit months ago.
After taking an initial visit in early January with his junior hockey team, the New Ulm Steel, the 2018 Northfield High School graduate was quickly sold on the idea of playing hockey at the University of Wisconsin-Stout.
Then, the school's coach, Terry Watkins, retired to end a 50-year association with the school that included resurrecting the men's hockey program in 1988. Once UW-Stout announced Mike MacDonald as its new coach a couple weeks ago, Halvorson made him college commitment official.
"(Watkins) was my main resource for talking about Stout and recruiting me," Halvorson said. "He really wanted me to come there and I kept talking to him, and he was the main guy that made me choose Stout, overall."
It helped that MacDonald appeared as such a good fit for Halvorson and a logical successor to Watkins. MacDonald has spent the last four season as an assistant at Curry College — a Division III school in Milton, Massachusetts.
In those four years, Curry posted a combined record of 64-31-9 with MacDonald in charge of the program's recruiting, strength and conditioning, power play, video analysis, analytics and defensive coaching.
"He's got a couple players to go play pro, too, so that's very appealing to see the development that his program before had," Halvorson said.
In the press release announcing his hiring, MacDonald said he wants to coach an offensively-focused team that's determined to dominate puck possession. For Halvorson, a center who led the Steel last season with 65 points (34 goals, 31 assists) in 43 games played, that proposed style of play fits directly into his ideals.
"It's an offensive, speed game, which is kind of my strength," Halvorson said. "That really appeals to me and it's an up-tempo, north-south and a lot of offensive plays with puck control and puck management. That's what I like to hear from a coach."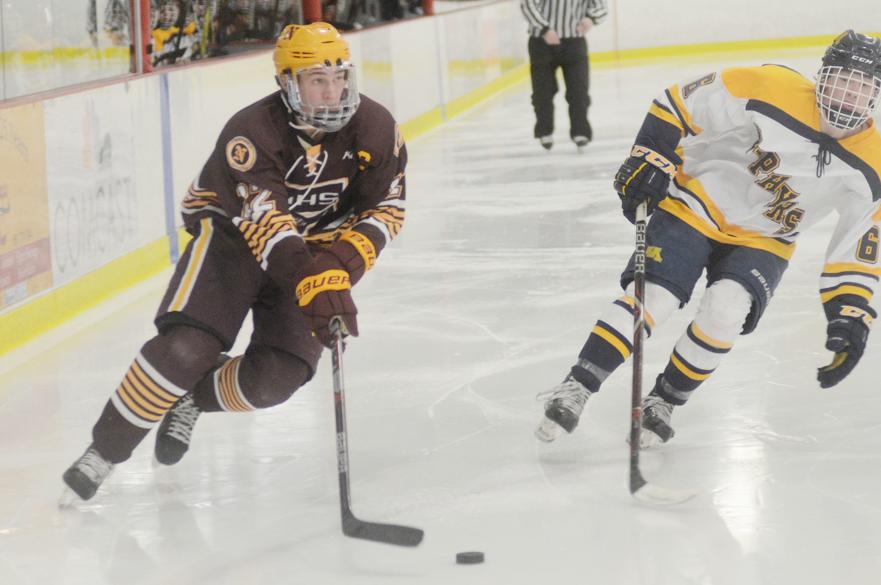 Beyond the ice, UW-Stout was nearly exactly what Halvorson was searching for in a college destination.
The campus and student body was the appropriate mix of not too big and not too small, while also offering the rigorous academics desired by Halvorson, who's planning on majoring in applied mathematics and computer science.
"That was the other reason I wanted to go there," Halvorson said. "Not many other can schools can offer basically a double major in one major, especially at a polytechnic university where they really emphasize hands-on learning."
For most of the time Halvorson was waiting to make his college commitment, he also was unable to channel that nervous energy directly onto the ice.
That presented a challenge in terms of keeping his game sharp entering his first season of collegiate hockey. In recent weeks, access to ice arenas has been granted by Minnesota Gov. Tim Walz, allowing Halvorson to resume fine-tuning and improving his game.
Four days a week, he's at Northfield Ice Arena coaching through the Northfield Hockey Association's summer camp. He's also on the ice on Tuesdays, Thursdays and Sundays for individual training, with Tuesdays typically reserved for skill-based drills and Thursdays and Sundays centered around skating.
That's on top of his three days of off-ice training on Mondays, Wednesdays and Fridays.
"I've been trying to just do as much as I can to get ready for the season as much as possible," Halvorson said.
As far as Halvorson is concerned, he's preparing for a normal hockey season until he's told otherwise.
The college-wide plan at UW-Stout is for students to arrive on campus at the usual time, while there's still some discussion surrounding whether classes will be in person or a hybrid of in-person and online learning.
"As of right now, all of mine are going to be in person, but I believe they're having a meeting in mid-July to decide what they're going to do and what's going to go down," Halvorson said. "It's kind of wait and see with that."