On most nights, Mya Wesling's defensive task is relatively simple.
Find the other team's attacking midfielder or offensive playmaker and follow her around all night to make sure she is unable to receive or deliver a pass unless she's under serious pressure.
On nights like Thursday, however, Wesling's role as the defensive midfielder for the Northfield girls soccer team is complicated, since Rochester John Marshall deployed a formation without a set player in the middle of the field who is sitting just behind the forwards.
Instead, the Rockets aimed to overload the sidelines, with different players darting in and out of the middle of the field Wesling typically patrols.
"Their offense was a little higher up and their middle was more spread out than I was used to," Wesling said. "I just had to mark space instead of mark a girl."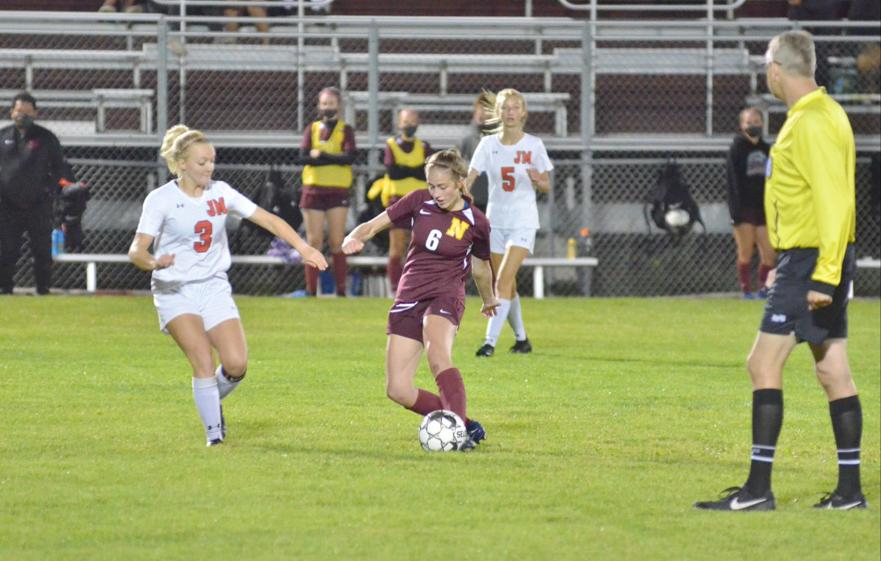 Throughout Thursday's 2-1 victory for Northfield, Wesling darted all around the field. Whenever Rochester John Marshall gained possession in its defensive half, Wesling took stock of which players were around her, who might be moving up or in to offer a passing option, and where the Rocket player in possession of the ball might be looking to distribute it.
The result was Wesling in constant motion to disrupt Rochester John Marshall's transition from defense to offense, win back possession and then quickly look for an avenue to move the ball forward for Northfield.
"We know she has good intensity, and not only does she understand the game but she can hold that position for a long time," Northfield girls soccer coach Sebastian Burset said. "It makes us pretty strong in that sense. Sometimes when they have some of the runners in the middle there's space we're not covering with the offensive mid, but thankfully we have her there to help."
Wesling is also returning this season after she was forced to miss the back half of last year when she suffered a torn ACL in a game at Farmington. Including that game at Farmington, Northfield won only twice in its next six games after winning three of its first five with Wesling in the lineup.
Now, the senior said she's feeling close to 100% physically, with only occasional aches and pains in her knee, but that's to be expected following an ACL surgery.
"I did all my (physical therapy) and I worked really hard, because my goal was to be back for the soccer season," Wesling said. "I'm really grateful that I had a full recovery and I'm back now. It's been great playing, and I ran a lot this summer to get in shape, because I couldn't really do that during the winter."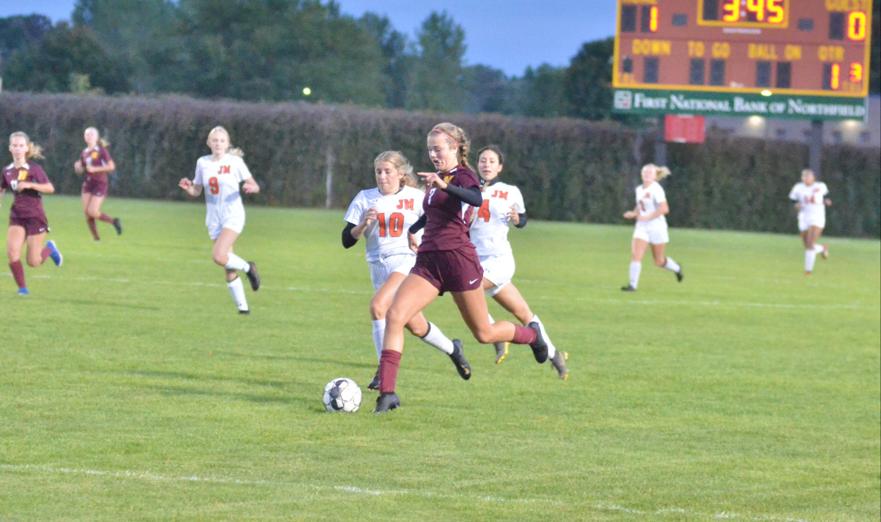 After sophomore forward Ava Stanchina provided a 1-0 halftime lead for the Raiders off an assist from senior forward Moran Aug, Wesling played the entire second half. After about 20 or so minutes as the team's only defensive midfielder, she transitioned up into an attacking midfielder role for the final 20 minutes following a shift in strategy.
The Rockets had started to not try and build possession through the middle of the field, but instead work entirely down the sidelines, so Northfield changed its formation from a 4-4-2 to a 5-3-2, so there were five defenders and two defensive midfielders to counteract the number of bodies John Marshall was throwing forward.
That allowed Wesling to operate as part of the three-headed tip of Northfield's defensive pressure, along with Stanchina, sophomore forward Regan Childress, Aug, junior forward Evelyn Salgado and senior forward Jessica Boland, who all filtered in and out of the game in the second half.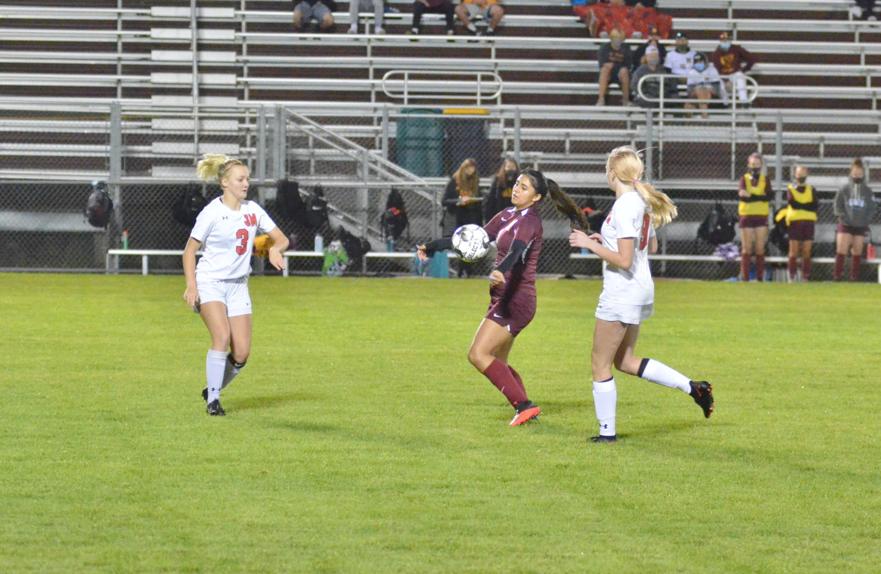 Soon after the change, Stanchina forced a turnover and scored her second goal of the game and provide a 2-0 lead. After the Rockets scored with 50 seconds remaining to trim the difference to one goal, the Raiders maintained possession in their offensive half of the field and run out the clock.
"It was much better," Burset of his team's ability to maintain possession. "We've been working on that — passing it, controlling the ball especially under pressure. That's what we did this past week when we had some more days to practice, so we were happy to see that. We still gave some balls away, so we have to keep working, but for the most part it was pretty good."