Senior Khayleb Willis ran for three first-half touchdowns, as the St. Olaf College football team opened up a 45-0 halftime lead and went on to defeat Crown College, 45-14, in its season opener on Saturday afternoon at Klein Field at Manitou.
Willis scored on runs of six, 20 and 10 yards in the first 20 minutes of the game for three of five first-half rushing touchdowns for St. Olaf (1-0). Crown (0-1) scored the lone two touchdowns of the second half on short runs by Avory Caruthers and Ameer Lee.
The Oles gained 262 of their 306 yards in the game in the opening half, outgaining the Storm by a 262-75 margin before the break. Of the 306 yards of total offense for St. Olaf, 210 came on the ground, led by 91 from Willis on 12 carries.
First year Jordan Embry had a 48-yard rushing touchdown late in the second half in his collegiate debut and finished with 75 yards on eight rushes. Classmate Kuzi Mvududu added 41 yards on 15 carries. Sophomore tight end Isaac Coutier led St. Olaf in receptions (6) and receiving yards (63), both single-game career highs.
Senior Leandro Ferreira and junior Jordan Bartholomew each had six tackles, with Bartholomew also contributing a sack. Senior Josh Vannornam returned an interception 40 yards for a touchdown late in the first quarter.
On the third play from scrimmage, senior Max Karpinske forced a fumble by Crown's Ameer Lee that first year Payton Schott recovered to set the Oles up at the Crown 35-yard line. Four plays later, Willis scored from six yards out to open the scoring to give St. Olaf a 7-0 lead inside the first three minutes of the game.
A 30-yard field goal by sophomore Ethan March with 7:16 left in the opening quarter stretched St. Olaf's lead to 10-0 and started a string of six-straight scoring possessions for the Oles.
On the ensuing Crown possession, Vannornam snagged a pass that popped into the air off a Storm receiver's hands and returned it for a touchdown to stretch the lead to 16-0.
After a three-and-out by Crown, Willis capped a five-play, 50-yard drive with a 20-yard touchdown run and the two-point conversion pushed St. Olaf's lead to 24-0 at the end of the first quarter.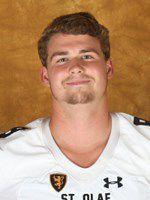 A 33-yard pass from sophomore Lars Prestemon, a 2018 Northfield High School graduate, to Coutier on a third-and-10 play on the Oles' next possession set up a one-yard touchdown plunge by first year Siegel Howard III less than two minutes into the second quarter.
Prestemon finished 8 of 13 for 92 yards while receiving a majority of the action at quarterback for St. Olaf.
St. Olaf was 5-for-5 in the red zone on offense and held Crown to 3-for-17 on third down in the win.
The Oles travel to Luther on Saturday, Sept. 14 for a 2 p.m. kickoff against the Norse. St. Olaf snapped a five-game Luther winning streak in the series with a 34-29 victory at home last season.
Knights claim Book of Knowledge
With a total team effort, the Carleton College football team dispatched Macalester College by a 41-0 score and seized control of the Book of Knowledge Trophy that is awarded annually in the matchup of the two highest-ranked academic institutions in the state.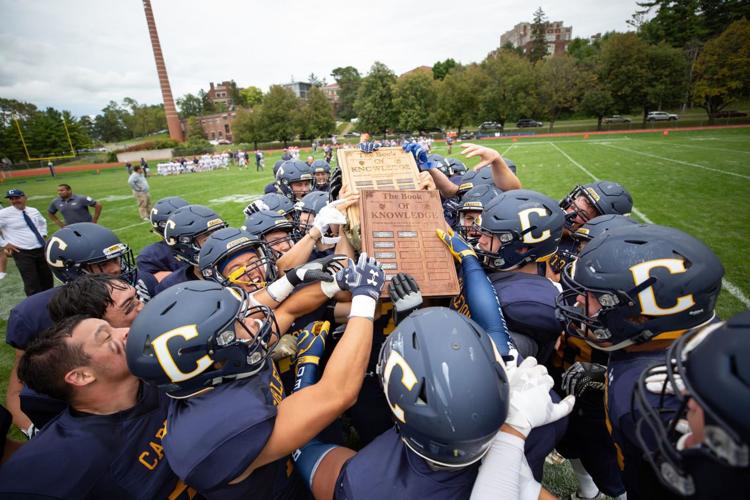 Carleton (1-0) was better than the Scots (1-0) on offense, defense and special teams as the Knights outgained the opposition 474 to 219, forced four turnovers and converted all seven of their place kick opportunities.
"I'm really happy for our players and the way they've bought in," said Carleton head coach Tom Journell. "The ability to raise the standard of performance and expectations has been senior and upperclassmen led. This is an example of what we can do here. A year ago we lost by 10, but this year we win by 41.
"Defensively, to not give up a big play and shutout a team that we gave up 48 points to a year ago, that makes me really happy with our performance."
The Knights took advantage of a bad snap on a Macalester punt and cashed in on an early 1-yard touchdown toss from Beau Nelson to Sean Goodman. The Knights then turned two Macalester fumbles into a pair of field goals by Alex Chertoff and led 13-0 at the break.
After halftime, it looked for a moment that Macalester might build some momentum as the Scots came up with their lone turnover of the afternoon. The Scots were forced to punt and pinned the Knights at their own two-yard line.
Carleton responded by engineering a 10-play, 98-yard scoring drive. Nelson was 7-for-7 on the drive for 76 yards, including a 16-yard connection with senior wideout Mack Journell, who outjumped two defenders to catch the ball.
Journell finished the day with 14 catches, matching his career high, and was later named the MIAC Player of the Week. He totaled 181 receiving yards, the highest figure in his career, and added 31-yard touchdown reception on the next Carleton drive.
Emanual Williams and Bert Bean also had touchdown receptions of 46 and 19 yards, respectively.
Making his first collegiate start at quarterback, Nelson played one series into the fourth quarter and closed the afternoon 32-for-48 for 301 yards and 4 touchdown tosses.
Linebacker Peter Hagstrom paced the defense with nine tackles and a forced fumble. Defensive back Travis Brown collected eight tackles and had two interceptions as the Knights posted their first shutout since the 2011 season.
Next week Carleton travels to Lawrence University in Appleton, Wis. for a 1:00 p.m. kickoff.