Reality started to set in for the de facto bullpen catcher for the Elko Express and another player who trotted down the first base line at Sechler Park to protect against foul balls while another potential relief pitcher got loose.
They had watched a couple hours earlier as Elko leaped out to a 5-0 lead in the top of the first inning. Now, they watched as Northfield racked up what would turn out to be six runs in the bottom of the seventh to help secure a 15-9 victory in the Section 1B opener for both teams Wednesday night.
"Man, they just keep tacking on runs every inning," one of the players realized while staring out at the scoreboard beyond the left field fence.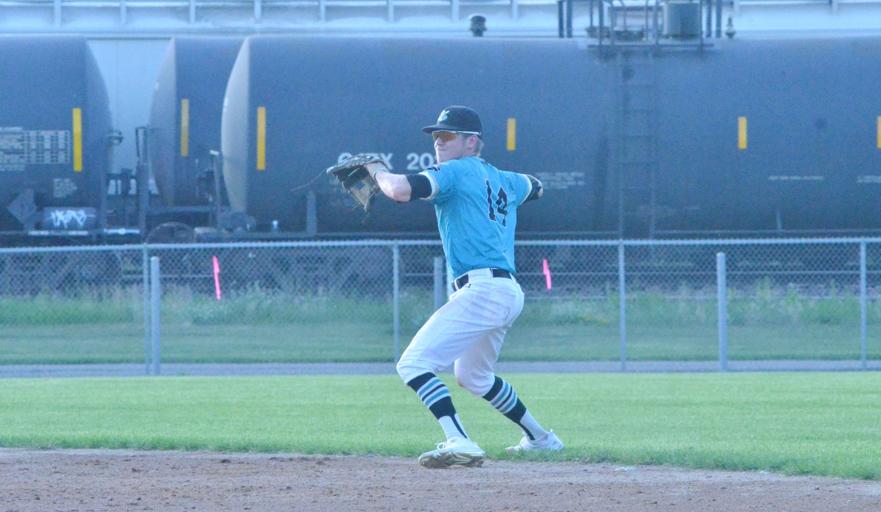 He was nearly right. After falling into that initial 5-0 hole, the Knights scored in every inning except for the second while stacking up 13 hits and inducing another 13 walks or hit by pitches.
For Elko's part, it racked up an eye-popping 19 hits throughout the game, but grounded into a trio of double plays and had a runner thrown out at the plate in the top of the first inning.
"We gave up five in the first, we gave up 19 hits and we won by six," Northfield manager Troy Deden said. "Some of these new guys are probably like, 'Oh, god.' Everybody else is like, 'Oh, this is fine. This is planned. This is what we do.'"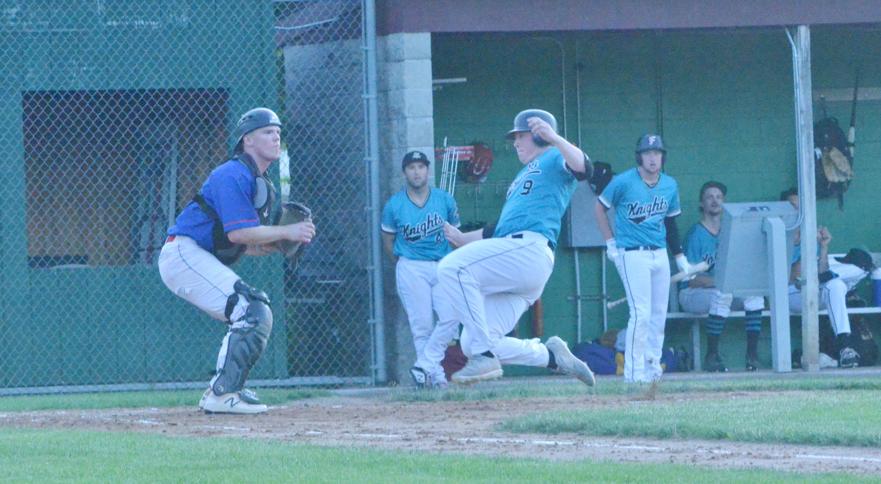 Northfield took its first lead of the game in the bottom of the sixth. First, the Knights tied the game when Aldon Severson beat the throw to first for a fielder's choice to allow a run to score and keep the inning alive. Then the next batter, Tim Maus, launched a two-run home run to left field to provide Northfield with a 9-7 lead.
The Express fought back to tie the game 9-9 in the top of the seventh, but Sam Maus raced down a fly ball in the right field corner to strand the bases loaded and allow Northfield's six runs in the bottom of the frame to create a relatively comfortable margin of victory.
"Obviously you don't like to give up 19 hits and nine runs," Deden said. "Nobody does, but it's early. It's our fourth game, and honestly I think a lot of our games are going to be like this."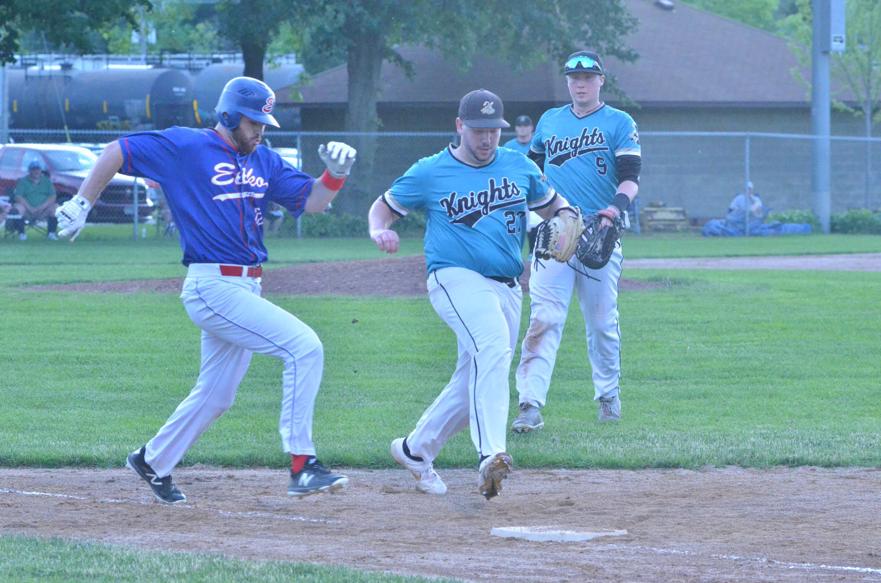 Eli Patrikus started on the mound and lasted five innings while allowing seven runs, Jon Ludwig pitched 1 2/3 innings of relief while surrendering a pair of runs and Cameron Gray earned the win for not allowing a run throughout the final 2 1/3 innings.
Third baseman Jake Mathison tallied three hits and drove in three runs, Tim Maus drove in three runs and scored four times, and Severson drove in a pair of runs while scoring four times. Nine out of 10 Northfield batters who stepped to the plate recorded a hit.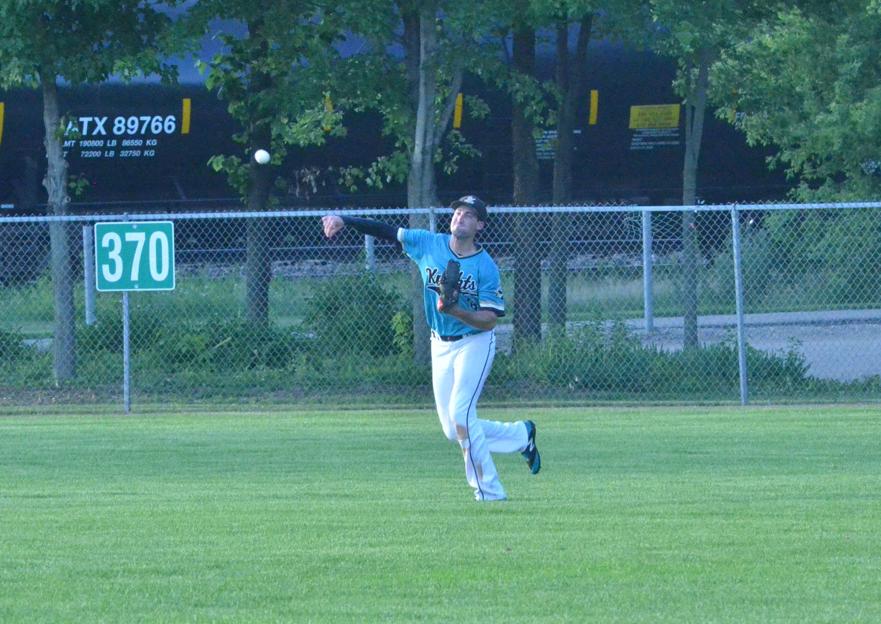 The lone exception was designated hitter Zach Walton, who walked twice and was hit by a pitch. Walton, who just graduated from Farmington High School, was one of a few players making his debut Wednesday night for the Knights.
"He's a young kid and he battles," Deden said. "He has a great approach."
Also debuting was Ludwig, a pitcher who just graduated from Minnesota State University, Mankato. Last year as a junior, he earned first-team All-Northern Sun Intercollegiate Conference honors after compiling a 1.94 ERA across 46 1/3 innings with 56 strikeouts and only eight walks.
"Luddy is obviously pretty good and he'll help," Deden said. "But even for him on a very high level, it's still a process. It's not like he's been pitching against opponents for three months. He just has to work up to it. He could have kept going, but at that point, it's like, there's no reason to."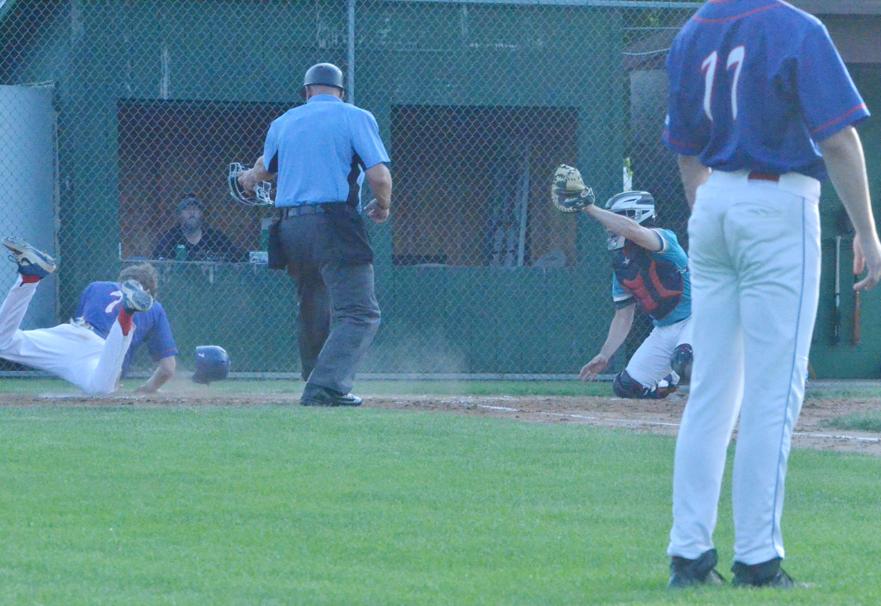 He was throwing Wednesday night to Nick Juaire, a catcher who graduated from Lakeville North in 2018 after being named Minnesota's baseball player of the year by the Star Tribune and Pioneer Press.
He then redshirted as a freshman at TCU in 2019, transferred to Iowa Western Community College in 2020 and will enroll and play baseball at Notre Dame this fall.
"He's obviously going to be a very good player," Deden said. "He won't be here for the whole time, but that's OK. It gives him an opportunity to play, too, before he goes back to school and that's what this is about."